Welcome once again to my newsletter.

Dear Friends,

This week's newsletter is full of numerous important events currently happening in the Fourth District. Please keep reading to remain up to date on some of the events I was able to attend on behalf of the County in the last two weeks. Not only did I attend a Buena Park Rotary and the Anaheim Chamber's Legislative Committee meeting, but La Habra's annual Corn Festival occurred earlier this month. If you could not make any of these, there are many more community events planned in the district in the near future.

I have also provided brief descriptions on a number of policies currently being implemented throughout the Fourth District and the County. In my capacity serving on both the Board of Supervisors and on the Orange County Transportation Authority (OCTA) Board of Directors, I have some positive news to report, which is detailed below. Much of this progress comes from successful collaboration with various interested parties.

I hope you enjoy reading the newsletter and, as always, your feedback is greatly appreciated.

Sincerely,
Shawn Nelson.
---
Note from Supervisor Nelson regarding Kelly Thomas

As many of you are aware, Kelly Thomas, a local homeless and schizophrenic man, died July 10 following an encounter with Fullerton PD, a city I represent on the Orange County Board of Supervisors. While we are all shaken by this tragedy, I hope that a thorough investigation will bring justice, closure to the Thomas family and healing to our community.

To facilitate this process, I submitted a formal request on July 28 to the U.S. Department of Justice, Civil Rights Division to investigate the circumstances surrounding Mr. Thomas' death. I want to ensure that a complete and impartial process occurs. Here is a copy of the letter I sent requesting their involvement. Fortunately, I received a very prompt and positive response.

If you have any information, I urge all witnesses to immediately contact investigators at the following numbers:

Department of Justice Field Office – Los Angeles
(213) 894-2879

FBI Field Office – Los Angeles
(310) 477-6565

Orange County District Attorney
(714) 834-3600
Buena Park - Rotary Meeting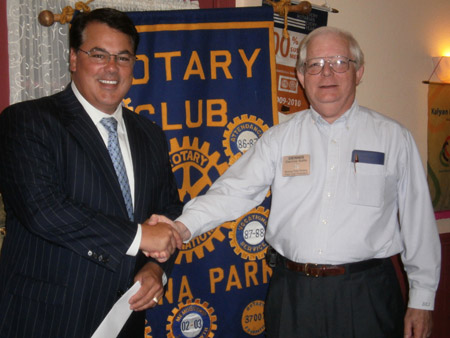 Dennis Salts of the Buena Park Rotary welcomes Supervisor Nelson to their membership luncheon at Knott's Berry Farm this past Tuesday to discuss County topics, projects and public policy issues. Supervisor Nelson briefed the attendees on the approaching bicycle summits and the upcoming Super Senior Saturday that will be held on August 27th at the Walt Ehlers Center. Please see flyer under our "Attention Seniors" section of this week's newsletter.
---
Anaheim Chamber of Commerce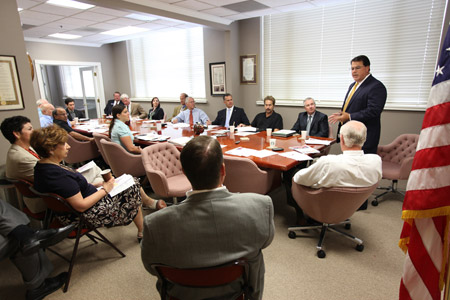 The Anaheim Chamber of Commerce welcomed Supervisor Nelson on August 12th to address business leaders and representatives from various elected offices in the community.

After a rousing introduction by Assembly Member Chris Norby, his predecessor on the Board, Supervisor Nelson discussed various topics ranging from interactions with the State, including the County's Vehicle License Fee loss and redevelopment updates, to the County's redistricting process. Touching on his role on the OCTA Board, Supervisor Nelson informed the chamber members about recent traffic signal synchronization achievements, in particular the easing of congestion along Harbor Boulevard, a major thoroughfare in Orange County.
---
La Habra – Corn Festival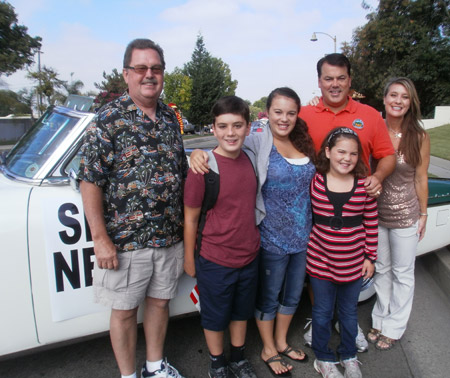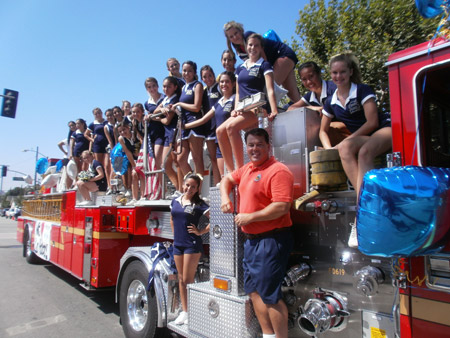 The 63rd annual La Habra Corn Festival was a huge success!!! Bringing the La Habra community together for several days of fun, the festival provided a wide array of free games, rides, and music to kickoff the last month of summer. Supervisor Nelson attended the parade on Saturday with his family as they enjoyed the second day of the festival with the community. Special thanks to Jay Johnson who graciously drove the Supervisor in his 1954 Packard convertible. The festival is known for being a great fundraiser for various community projects and teams, raising around $100,000 that will go to local projects. We hope you had a great time and look forward to seeing you again next year!
---
Anaheim Angels – OC Forum

Recently the Angels hosted the monthly Orange County Forum luncheon. Team Chairman Dennis Kuhl addressed community stakeholders and leaders regarding the organization's partnerships and the implementation of successful business models, including the introduction of periodic post-game music concerts throughout the season. The team also offered signed player memorabilia and collectibles during a silent auction with proceeds benefitting local charities.

Fresh from a no-hitter at Cleveland on July 27, special guest Angels starting pitcher Ervin Santana arrived at the end of the lunch to discuss his major league milestone. He then auctioned off a signed jersey and graciously remained for a few minutes to take photos with attendees.

From left to right: District Representative Nick Constantino, Chief of Staff Denis Bilodeau, Ervin Santana, Policy Advisor Mark Lopez, Policy Advisor Scott Carpenter.
4TH DISTRICT BIKEWAYS COLLABORATIVE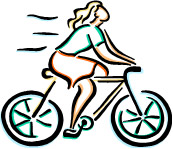 The Fourth Supervisorial District Bikeways Collaborative was initiated to identify, prioritize and implement regional bikeway improvements within this area of Orange County. The Collaborative includes OCTA, the County of Orange, Caltrans and the cities of Anaheim, Buena Park, Fullerton, La Habra, and Placentia.

Over a nine month period, the Collaborative will work together to identify opportunities and constraints associated with bicycle facilities in the Fourth District. The study process is divided into four phases described in the links below.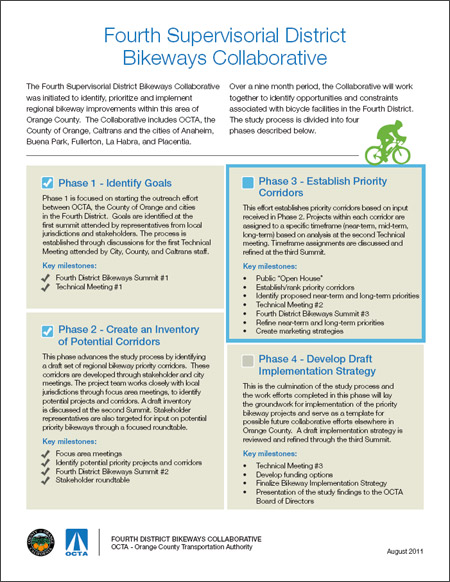 Click on the image above to view a larger version.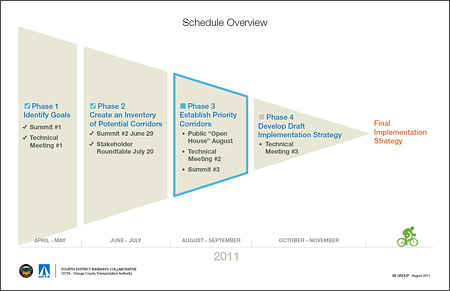 Click on the image above to view a larger version.
Traffic Signal Synchronization

Through collaboration among the County of Orange, OCTA and Caltrans, $450 million in renewed Measure M funding (a countywide half-cent transportation sales tax) will synchronize 2,000 intersections in Orange County, reducing congestion on more than 800 miles of streets. For the Fourth District, this improves traffic flow along Chapman Avenue and Harbor and State College Boulevards.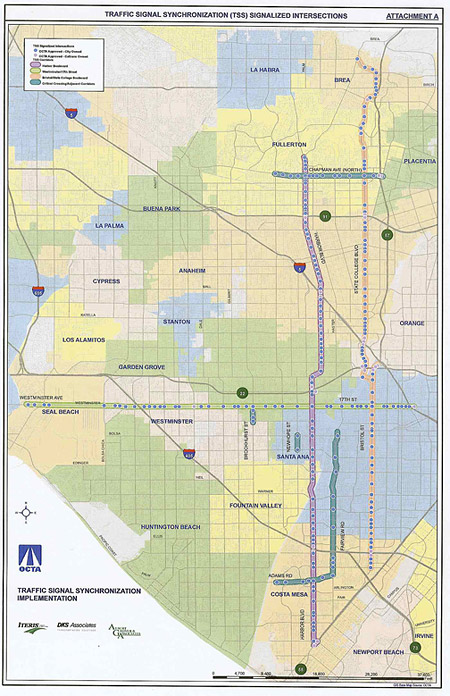 Click on the image above to view a larger version.
---
HOV Continuous Access Construction Plan

Using funds from the voter-approved Measure M renewal (M2), OCTA has implemented continuous access to HOV lanes throughout the County. In the Fourth District, this plan is already under construction on the 57 freeway, from the 91 freeway to Lambert Road with completion expected in November 2013. Construction from Katella Avenue to the 91 freeway will be completed by September 2014. There is also current construction on the 91 from LA County to the 55 freeway to be completed next year. Completion has already occurred on a portion of the 5 freeway from the 91 freeway to the Los Angeles County line.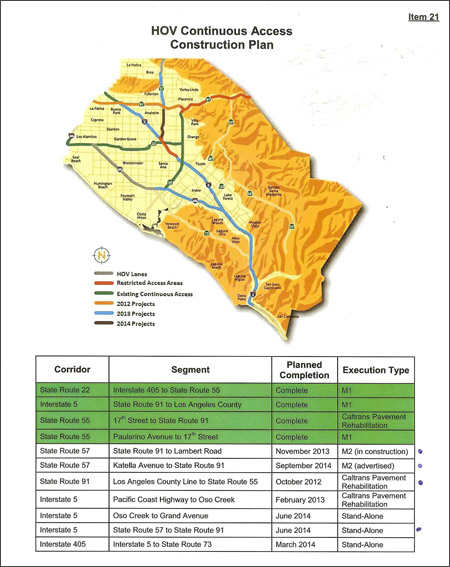 Click on the image above to view a larger version.
The 4th District has vacancies on the following commissions:

Waste Management Commission

Public Finance Advisory Committee


If you are interested in serving on one of these committees,
please call Audra Adams at (714) 834-3998.

Click on the image above to view a larger version.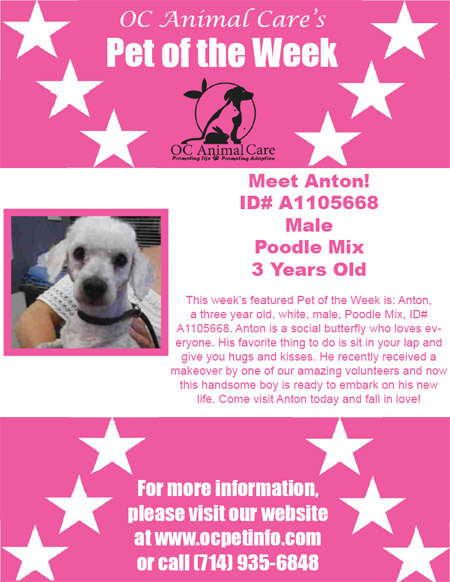 Click on the image above to view a larger version.
Please click on the link below to view Buena Park's
one stop center calendar!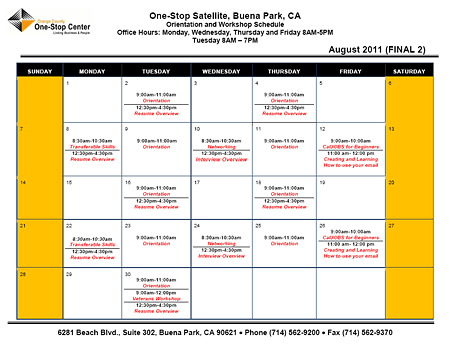 Click on the image above to view a larger version.

Don't Forget the Tdap Booster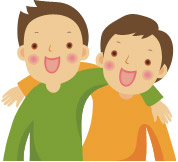 August is National Immunization Awareness Month, and CalOptima would like to remind Orange County residents about a new immunization law affecting children.

All students in grades 7–12 are now required to get a Tdap booster shot no later than 30 days after the start of the 2011–12 school year. Children may not be able to attend school if they do not have proof of having this shot. The Tdap booster is important because it protects against pertussis, also known as "whooping cough." Whooping cough causes severe coughing and makes it difficult to breathe. The disease spreads easily and can also cause death if not treated early.

CalOptima advises parents to contact their children's doctor today to schedule a well-care visit to get the Tdap booster and other recommended immunizations. Tdap shots are also widely available in the community at pharmacies and clinics.

For more information, go to www.shotsforschool.org.
Placentia - CTS Home Appliance Center reopening!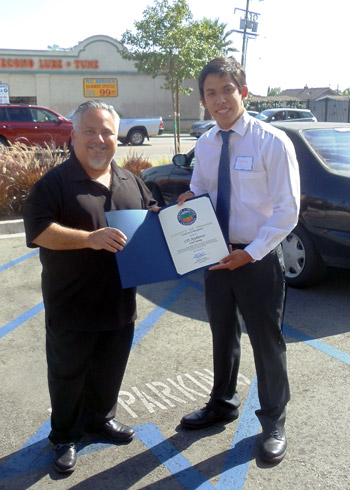 Above, Fourth District staffer Gerald Espinosa (right) presents the Certificate of Recognition to Tj Shephard (left), second-generation owner of CTS Home Appliance Center congratulating them on their reopening and recent expansion. Family owned since 1976 and located at 101 W. Chapman Avenue in Placentia, CTS Appliances' friendly and knowledge staff are available to meet your appliance needs. They carry a wide selection of ovens, stove tops, washers and drawers with prices that promise to draw in many returning and new customers in Orange County. We are confident that CTS Appliances will remain a place that will continue to exceed all their customers' desires.
---
Fullerton - Sansai Sushi Opening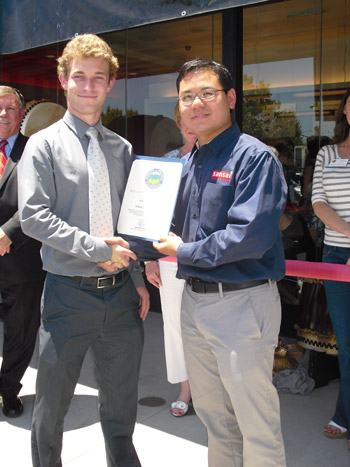 Above, Nelson staffer Sebastien Welch presents a Certificate of Recognition congratulating Sansai Sushi and Grill on their opening and welcoming them to the Fullerton community. Sansai seeks to provide fast and delicious Sushi to its customers and is very excited about joining the community. The opening ceremony included a fun and entertaining taiko performance that celebrated Japanese culture. With its unique appetizing cuisine, Sansai promises to fit right in and become a great meal center in Fullerton.
---
4th District Certificates

McAulay and Wallace Funeral Home – 100th Anniversary of Opening
California Welcome Center, Buena Park – Grand Opening
Sansai Sushi and Grill – Grand Opening
Randy McWilliams- Placentia Police Department
Ricki Menely- Placentia Police Department
Shaun Miller- Orange County Fire Authority
Matthew Fitzgerald- Emergency Ambulance Services
Delbert Fradejas- Emergency Ambulance Services
Edward Guzman- Emergency Ambulance Services
Michael Sanchez- Emergency Ambulance Services
Fullerton Rangers Boys U14 Soccer Team – National Champions


Please contact our office if you know of an individual who deserves recognition for outstanding community or public service.
Contact: Steve Spernak 714-834-3440.
Fullerton
What: Summer Concert in the Park – featuring "The Lucky Stars"
Where: Fullerton Sports Complex - 560 E. Silver Pine
When: Wednesday, August 17th
Time: 6:30 PM – 8:30 PM

Buena Park
What: Buena Park Downtown Concert Series
Where: 8308 On the Mall, Buena Park Mall Shopping Center
Buena Park, CA 90620
When: Wednesday, August 17th
Time: 7:00 PM – 9:00 PM

Placentia
What: Concert in the Park – featuring "Sportive Tricks"
Where: Tri City Park, 2301 N. Kraemer Blvd., Placentia, CA 92870
When: Thursday, August 18th
Time: 6:30 PM – 10:00 PM

La Habra
What: Outdoorsie Rosie Nature Program @ The Children's Museum
Where: 301 South Euclid Street, La Habra, CA 90631
When: Tuesday, August 23rd
Time: 10:00 AM – 11:00 AM
For questions or comments regarding Nelson's E-News
please contact the Supervisor's office staff:
Audra Adams Ph: 714-834-3440 Email: audra.adams@ocgov.com.