Welcome to Nelson's E-News!

Dear Friends,

Since my last newsletter, many significant issues have been decided at both the County and State levels. Among them, the Citizens Redistricting Commission released its final statewide maps. Additionally, I have included some important highlights from the last Board of Supervisors meeting and several events that I was proud to attend as a representative of the County. Continue reading to see what events you will want to attend in the Fourth District and Orange County in the next couple weeks!

Please note that a special Board meeting will be held Tuesday, September 6 at 9:30am to adopt the County redistricting ordinance, discuss purchasing a property to build a park trail and to review the County's real estate assets. The Board's next regularly scheduled meeting is set for Tuesday, September 13 at 9:30am. Both meetings will be held in the Board Hearing Room at 333 W. Santa Ana Blvd., Santa Ana 92701.

Sincerely,
Shawn Nelson.
Expensive Airport Party

Supervisor Nelson strongly opposed the amount of County money being spent on John Wayne Airport's new Terminal C and parking structure grand opening.

The reason behind the party's $50,000 food and beverage price tag was to draw more attention to Orange County and increase travel through the airport. However, Supervisor Nelson contended that flight prices and availability are stronger measures to increase ridership than a grand opening event. In addition, any event expenses should be the responsibility of the vendors who stand to benefit by showcasing their products and services.

A substitute motion that lowered the County cost to a budget of $25,000 while authorizing the airport director to seek sponsorships passed 3-1, with Supervisor Nelson opposed.

Supervisor Nelson said during the discussion: "I wish them congratulations and that didn't cost me anything. That's about the extent of the participation I want to get into financially."

To read the entire story, please click link below:
http://voiceofoc.org/countywide/county_government/article_70008b76-ce73-11e0-9e93-001cc4c03286.html
---
Board Wants to Decide What's on TV

Supervisor Nelson questioned spending $150,000 on TV programs without the Board's decision on what process and content they have. A company, Curiosity Quest, would perform the production work, which covers two public service announcements for a beach clean-up costing $43,000 and a program for water conservation costing $26,000. The remaining $81,000 would go toward future programs.

However, the Board of Supervisors has never given any direction as to what content should air. As a result, Supervisor Nelson stressed a desire for the Board to have a central role in what is shown on television, either by receiving suggestions from County agencies or selecting from a menu of options.

The discussion is continued to the September 6 Board meeting.
---
Office of Independent Review…Independent?

The Board voted 3-2, with Supervisor Nelson in the minority, to approve a one year contract for two OIR positions. The Board slashed the agreements from three years costing $210,000 per year for the Executive Director, plus an annual $9,180 car allowance, and $91,800 per year for the Investigations Analyst.

Supervisor Nelson questioned the three year contract length, especially given the current economic uncertainty of the County's recent $48 million Vehicle License Fee loss to the state and upcoming labor union negotiations.

The one year contract is effective September 1, 2011 to August 31, 2012, with a performance review in 6 months, despite Supervisor Nelson's objection that "this office does not do what it was intended to do." Although it does assist the OCSD with policies and procedures, it lacks the "independent analysis" necessary to justify its continuation.

To read more on this story, please click link below:
http://voiceofoc.org/article_e05afadc-cf40-11e0-b8b4-001cc4c002e0.html
---
Crime Lab Presentation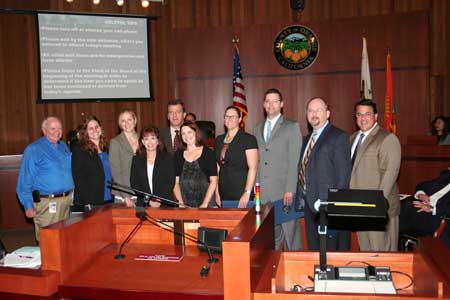 Chairman Campbell (far left) and Supervisor Nelson (far right) presented the staff of the OC Crime Lab's Breath Alcohol Calibration Laboratory with International Accreditation recognition from the American Society of Crime Laboratory Directors/Laboratory Accreditation Board (ASCLD/LAB). This accreditation is a testament to OC Crime Lab's commitment to meeting the highest standards of calibrating the accuracy of breath alcohol testing devices and combating driving under the influence of alcohol. This honor is owed to the hard work of the OC Crime Lab staff on behalf of the residents of this county.
Buena Park – Welcome Center Opening

Supervisor Nelson attended the Grand Opening Celebration for the California Welcome Center in Buena Park on July 21st. Approx 200-300 guests attended the celebration along with several elected officials including Senator Lou Correa and all five Buena Park City Council Members. The Buena Park location is the only California Welcome Center in Orange County.

California Welcome Center Buena Park
Region: Orange County
Address: 6601 Beach Boulevard, Buena Park, CA 90622
Phone Number: 800-541-3953
Hours of operation: 9:00 a.m. to 5:00 p.m. - 7 Days a Week

About California Welcome Centers: California Welcome Centers are California's Official State Visitor Centers offering valuable information and services for today's traveler. The CWCs are here as your personal travel concierge to assist you in all aspects of your California trip. There are currently 20 Welcome Centers across California that promote their regions as well as the entire state, giving travelers a reason to stay longer in a certain location.
---
Air Quality Management District - Documentary "The Right to Breathe"

This past week Supervisor Nelson was interviewed for the AQMD signature documentary air quality film, titled "The Right to Breathe." In addition to this 20-minute film, the Board directed the development of five shorter videos, focusing on the unique air quality issues of the five sub-regions of our jurisdiction. Please stay tuned for when and where the film will be shown or you can also visit their website at www.aqmd.gov.
---
AQMD – Special thanks to our interns!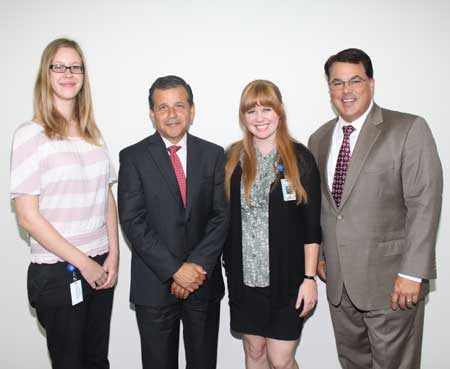 Supervisor Nelson would like to thank Jacquelyn Hirzel and Mandy Shold for their service as interns for the AQMD. Jacquelyn was placed in the Science & Tech advance office and Mandy was positioned with the Leg & Public Affairs division. We wish them the best of luck and success in all of their future endeavors.
State Commission Releases Maps

The Citizens Redistricting Commission finalized its State Assembly, State Senate, Congressional and Board of Equalization maps for the State of California on Monday, August 15. Below are the maps as they were drawn for Orange County. Maps for the entire state may be found at http://wedrawthelines.ca.gov/maps-final-drafts.html.

In accordance with Proposition 11 (the Voters FIRST Act) passed by voters in 2008, a commission was assigned the task of drawing Assembly, Senate and Board of Equalization districts. The commission is comprised of eight members – five registered Democrats, five registered Republicans, and four who are either Decline-to-State or are registered with another party. Passed in 2010, Proposition 20 (the Voters FIRST Act for Congress) added Congressional districts to the commission's jurisdiction.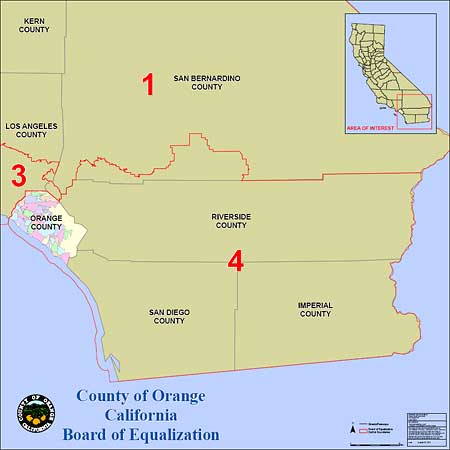 Click on the image above to view a larger version.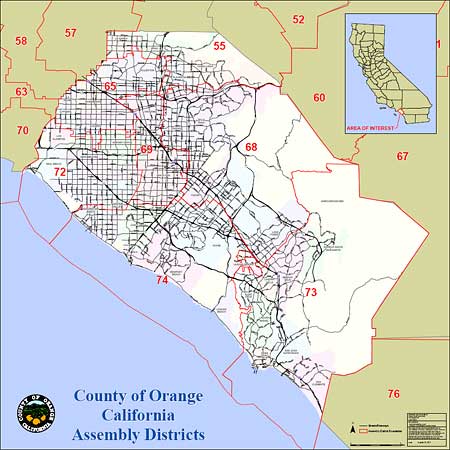 Click on the image above to view a larger version.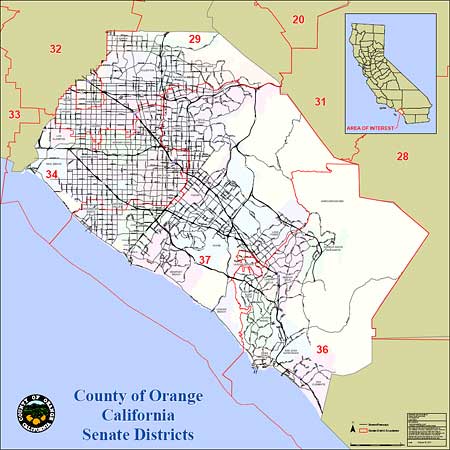 Click on the image above to view a larger version.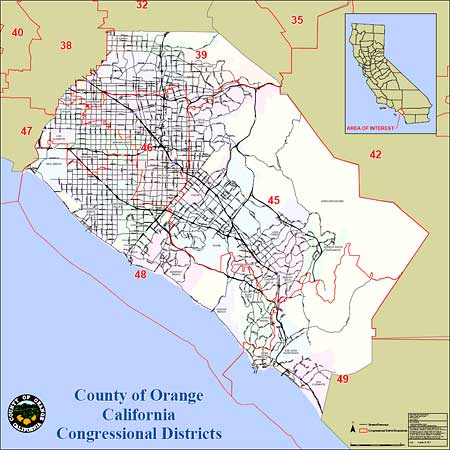 Click on the image above to view a larger version.
4TH DISTRICT BIKEWAYS COLLABORATIVE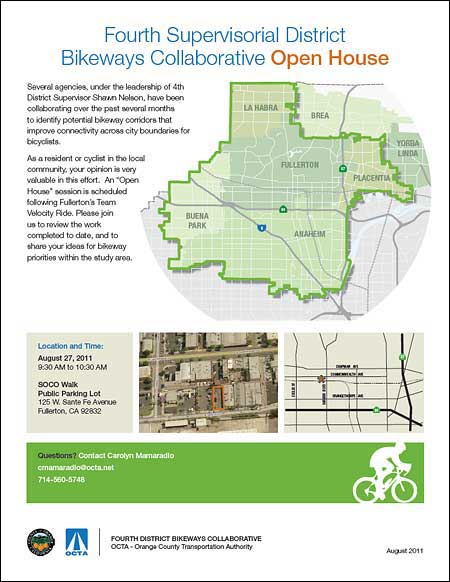 Click on the image above to view a larger version.
The 4th District has vacancies on the following commission:

Public Finance Advisory Committee


If you are interested in serving on this committee,
please call Audra Adams at (714) 834-3998.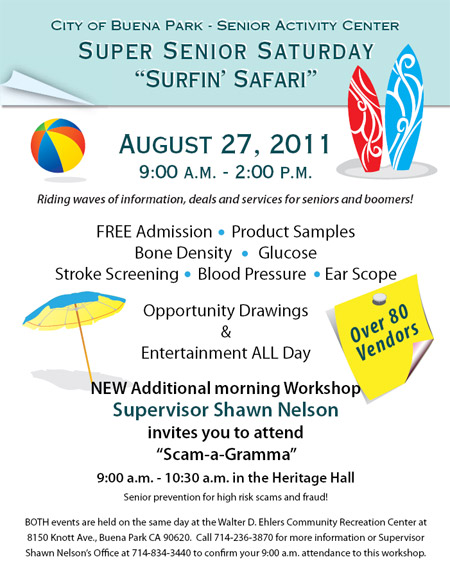 Click on the image above to view a larger version.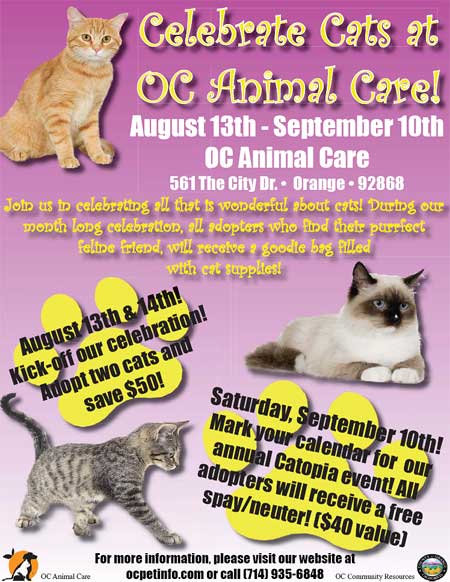 Click on the image above to view a larger version.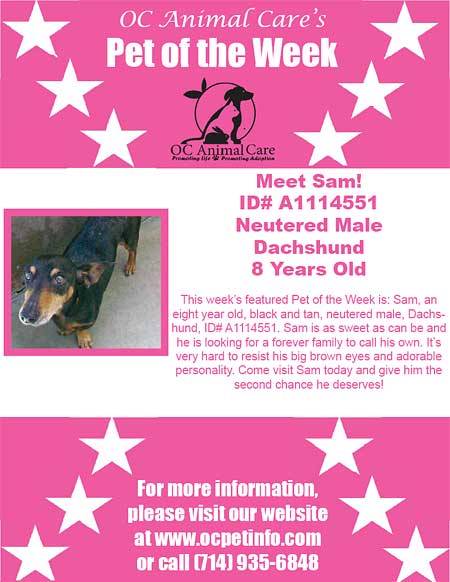 Click on the image above to view a larger version.



---
Orange County Housing Authority receives $927,747 to assist homeless Veterans through the Veterans Affairs
Supportive Housing Program
FOR IMMEDIATE RELEASE:
August 22, 2011

CONTACT: Karen Roper
(714) 480-2805
(Santa Ana, CA) – The Orange County Housing Authority (OCHA) has been awarded $927,747 to expand its ongoing Veterans Affairs Supportive Housing Program (VASH). This funding, from the U.S. Department of Housing and Urban Development (HUD), is a coordinated effort involving HUD, the U.S. Department of Veterans Affairs, and local housing authorities to provide permanent housing for homeless veterans in conjunction with supportive services.

OCHA has been designated as one of 178 housing authorities nationwide to receive VASH funding this year. The funds will provide OCHA with an additional 75 Housing Choice Vouchers that are reserved for homeless single veterans or veterans with families. Under the VASH Program, the Veterans Administration Medical Center in Long Beach provides supportive services and case management to eligible homeless veterans and then refers the veterans to OCHA for rental assistance.

Qualified veterans receive a Housing Choice Voucher and are able to rent apartments, condominiums or homes from property owners who are willing to participate in the program. In addition, veterans will pay approximately 30% of their income for their portion of monthly rent and OCHA will pay the balance directly to property owners.

OCHA previously received funding for 70 VASH Vouchers in 2009 and 150 VASH Vouchers in 2010. The 2011 award will expand OCHA's ability to assist a total of 295 homeless veterans and their families and will support strategies in Orange County's Ten Year Plan to End Homelessness.

OCHA assists over 25,000 people per month with monthly housing assistance payments to approximately 4,000 property owners.

Veterans who are interested in the VASH Program should call the HUD-VASH Interest Line: (562) 826-8000, extension 2336.

Property owners who would like to rent to VASH veterans or other low-income households, should contact the Orange County Housing Authority Owner Hotline: (714) 480-2866.

For more information about the County's efforts to end homelessness, please contact Karen Roper at (714) 480-2805.
Anaheim
What: Ponderosa Park Certified Farmers Market
Where: Ponderosa Park 2100 S. Haster Street
When: August 30, 2011
Time: 11:00 AM - 3:00pm

Buena Park
What: Super Senior Saturday "Surfin' Safari"
Where: Walter D. Ehlers Community Recreation Center at 8150 Knott Ave., Buena Park 90620
When: August 27, 2011
Time: 9:00 AM-2:00

Fullerton
What: Move to Stop Slavery Walkathon
Where: Craig Regional Park, 3300 N. State College Blvd.
When: Saturday, August 27, 2011
Time: 8:00 AM

Placentia
What: Natural History Museum & Butterfly Pavilion Trip (Pre-register)
Where: La Habra Community Services Department, 101 W. La Habra Blvd.
When: September 4, 2011
Time: 9:00 AM 5:00 PM
---
Library Overdue Fines – No Worries!!
Amnesty week: September 12th to September 18th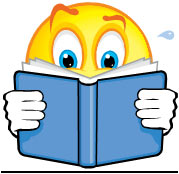 OC Public Libraries is encouraging its borrowers to participate in the library's Overdue Fines Amnesty Program. The program gives library borrowers a chance to return overdue library material and clear their accounts during the Libraries' Amnesty Week scheduled from September 12th to September 18th, 2011.

The Amnesty Program, which coincides with the Libraries' 90th Birthday Celebration and National Library Card Sign-up Month, was approved on July 26 by the Orange County Board of Supervisors, will be promoted in all 34 library branches. For more program information or a list of branch libraries and phone numbers, please visit OC Public Libraries website at www.ocpl.org.
For questions or comments regarding Nelson's E-News
please contact the Supervisor's office staff:
Audra Adams Ph: 714-834-3440 Email: audra.adams@ocgov.com.