February 4, 2011
Volume 2, Issue 2
NELSON TEAM
Denis Bilodeau
Chief of Staff

Audra Adams
Policy Advisor /
Communications Director

Steve Spernak
Policy Advisor

David Zenger
Policy Advisor

Scott Carpenter
Policy Advisor

Mark Lopez
Executive Aide
---


Welcome to Nelson's E-News!

Dear Friends,

Although it is difficult to believe that the first month of 2011 is already behind us, I look forward to continuing to improve Orange County for the remainder of the year. One way I plan to accomplish this is through my commission appointments. Each year, the Chair appoints members of the Board of Supervisors to sit on a number of boards, commissions and committees, in addition to our Board meetings, that address various issues of Countywide and regional significance.

At the January 25 Board meeting Chairman Campbell divvyed up this year's annual assignments. For the next twelve months, some of the appointments that I will be returning to serve on include the Orange County Coalition of Governments, Southern California Association of Governments and the Mental Health Board. For 2011, the Air Quality Management District (AQMD) is a welcome addition to my list of appointments. A synopsis of AQMD can be found below.

The next Board of Supervisors meeting will be held Tuesday, February 8 at 9:30am in the Board Room on the first floor of the Hall of Administration.

Beyond committee appointments, there were many exciting events occurring in the County this past week. I had the opportunity to attend District Attorney Tony Rackauckas' swearing-in ceremony on Monday, January 31. On Wednesday, February 2, I met with representatives from Irvine-based Kia Motors America to discuss job growth and their contribution to the local economy. Please see the summaries below for more information.

There are still also several opportunities available to get involved in the community. Continue reading for information on fundraisers benefitting the community and other opportunities to serve the public.

Thank you again for reading. I hope you find this newsletter informative and will continue to find it helpful throughout the year.

Sincerely,
Shawn Nelson.
On January 25, 2011, Supervisor Nelson was appointed by Board of Supervisors Chairman Campbell to serve as the County of Orange representative on the 13-member Governing Board of the South Coast Air Quality Management District (AQMD). The AQMD is the regional agency responsible for achieving health-based clean air standards in the four-county South Coast Air Basin, comprised of Los Angeles and Orange counties and the urban portions of Riverside and San Bernardino counties. The AQMD works to accelerate deployment of lower-emission technologies and products and is internationally recognized for its successful clean-vehicle / clean-fuel demonstration program utilizing extensive public-private partnerships.


The 4th District has a vacancy on the Mental Health Board, if you are interested in serving on this committee, please call Scott Carpenter at (714) 834-7087.
District Attorney - Swearing In Ceremony

Last week the Board of Supervisors was honored to participate in the swearing in ceremony for District Attorney Tony Rackauckas entering his 4th term. District Attorney Rackauckas is now one of the longest serving District Attorneys in the history of Orange County. Supervisor Nelson was proud to be a part of the historical occasion celebrating the District Attorney's past accomplishments and looking forward to continuing his office's record of excellence. Just a few of the accomplishments include:
Innovative use of technology to fight crime by cataloguing DNA data and improved fingerprinting technology.


Creating a partnership with the FBI to effectively investigate crime through the use of the Orange County Regional Computer Forensics Laboratory


Developing a partnership with trial attorneys to efficiently process and streamline many cases, utilizing resources and saving taxpayers money.


Advocating for victims rights and implementing Marsy's Law to ensure justice is delivered.


Continuing the battle against gangs and gang violence, since assuming the District Attorney's office Mr. Rackauckas' efforts have resulted in a decline in gang membership of 6,500 and there are 95 fewer gangs in the last 12 years.


Under a tough economic climate new levels of fraud have emerged; however, new ways to combat this rise in crime have been developed by the District Attorney's office as well.
These accomplishments are only a few of the countless achievements the District Attorney's office has delivered under Tony Rackauckas.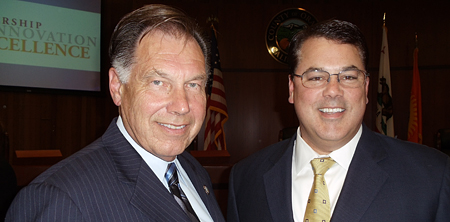 KIA Tour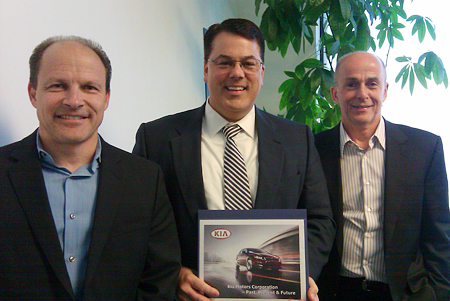 Supervisor Nelson is joined by Greg Georgianni, director of human resources (left) and Victor Borghese, manager of corporate facilities at Tuesday's tour and briefing at the Kia North American Headquarters in Irvine. Supervisor Nelson was impressed with their record-breaking sales and innovative design center that is part of the 400 people Kia employs in OC. Kia is looking to promote their products at the June 22nd Korean International Sports Festival at Cal State Fullerton as a patron-sponsor where tens of thousands are expected to enjoy Olympic-level competition and cultural exchanges at this world-class venue.
Teen Car Wash & Bake Sale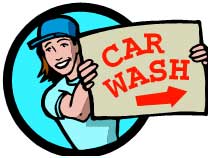 [Buena Park] – The Buena Park Library teen volunteers will be holding a car wash and bake sale at the Library on Saturday, February 5th, 2011, from 12 noon to 4:00 p.m. The money raised from this fund raiser will be used to furnish and purchase books for the new teen space in the library. Treat yourself to yummy brownies, delicious cookies and other tasty baked goods. So, bring your dirty car, dusty van or muddy truck and let us send you home sparkly clean!

For more information, please call the library at 714.826.4100 x 125, or visit our virtual branch at www.buenaparklibrary.org. The Buena Park Library District is located at 7150 La Palma Ave, Buena Park, CA. The library is open Tuesday through Thursday, 10:00 a.m.-8:00 p.m. and Friday and Saturday, 10:00 a.m.-5:00 p.m.
Buena Park Senior Activity Center
Loving "Adult" Day Care

The goal of Adult Day Care is to maintain the highest level of functioning for as long as possible. Without mental and social stimulation these clients deteriorate quicker. The potential client is evaluated for the program and must meet strict criteria. The client must be 60 yrs. of age and older, being somewhat independent with his or her daily needs. The adult day care program strives to maintain the social skills of all its clients. The Adult Day Care is open Monday-Friday 8:30 a.m. to 4:00 p.m. We serve a light breakfast, a hot lunch and an afternoon snack. The cost of the program is $25.00 to $45.00 per day of service and a sliding scale is available. We are located in the Buena Park Senior Activity Center at 8150 Knott Ave, Buena Park. Call (714) 826-3163 for detailed information or drop on by.

For more information on activities at the Buena Park Senior Center, please click link below:

http://bos.ocgov.com/legacy4/newsletters/pdfs/Vol2Issue2/senior_center.pdf
Ms. Senior Orange County Contest

Have you ever dreamed of being Ms. Senior California? Here is the chance of a lifetime! Simply enter the Ms. Senior Orange County Preliminary Pageant March 25 and 26, 2011 and place as one of the top three winners, and you are automatically a contestant in the State Pageant held in August 2011. The Orange County Pageant will be held at the Walter D. Ehlers Community Senior Activity Center in Buena Park.

Contestants are asked to model, perform and share some life time experiences. We have had contestants who were singers, dancers, stand-up comics, baton twirlers, concert pianists….the list of talent possibilities is endless. To enter, a contestant must be 60 years+ and a US citizen. For more Pageant information, contact Orange County Pageant Director, Pamela Wheeler at pwheeler94@cox.net or call Pamela at (949) 241-4007.
Family Fossil Day - Clark Park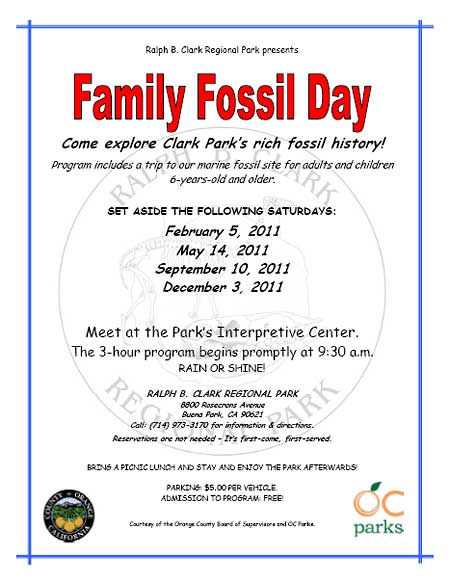 Click the image to view a larger version.
SUPERVISOR NELSON'S CERTIFICATE CORNER
The El Dorado High School Mock Trial Team won the 2010 County of Orange Mock Trial Championship. Mock Trial is a challenging elective activity that gives students the first hand opportunity to learn about the world of trial attorneys, understand the judicial system, and develop critical thinking skills. The following students were awarded a certificate of recognition from Supervisor Shawn Nelson: Madeline Suchard, Brianna Acuesta, Dana McIntosh, Kristen Darling, Bailey Castle, Eddie Lu, David Cotton, Nam Kang, Semantha Yu, Sohayla Farman, Danica Kinne, Gerard Gully, Brittany Schnebly, Jessica Gopiao, Sara Arroyo, Brian Schill, Jacy Levine, Ali Arndt, Katie Bell and Dave Arndt.


On January 20th Nelson staff was pleased to join the Placentia Chamber of Commerce at the Ribbon Cutting for the JP Morgan Chase bank's newest branch in Placentia. Though economic challenges still exist in our county, seeing new financial institutions is an encouraging sign. The new branch also announced a promotion that will give new customers $125 to open a checking account with direct deposit until January 25th. The bank is located at 670 N. Rose Drive in Placentia.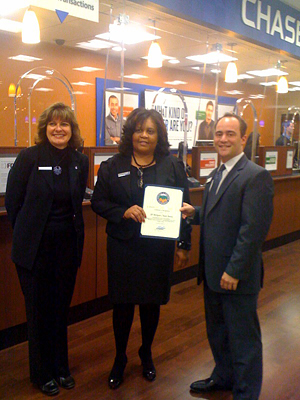 Nelson staff member Scott Carpenter was on hand to present a certificate of congratulations to the new Chase Bank managers
Supervisor Nelson awarded Certificates of Commendation to twenty student-volunteers from Sunny Hills High who volunteered time from their Christmas break to deliver gifts and serve Christmas dinner as part of the Buena Park Knights of Columbus Holiday 2010 project. Students served food to almost 1,000 attending the Buena Park center and helped KoC program director John Muller sort age-appropriate gifts to make sure low-income kids had a Christmas gift. " I was happy to recognize the donated time these outstanding kids from Sunny Hills and Troy provided to the residents- in- need in Buena Park. I look forward to continuing this Lancer tradition of caring by attending the 2011 holiday event and was happy to donate hams from Costco as part of the food drive that helped make this all possible." For more information on how you or your company can help the Buena Park Knights of Columbus Christmas 2011, please call John Muller at 714 883 1836 or Steve Spernak at my office at 714 834 3440.

Sunny Hills High School "Christmas Elves" : Ryan O'Sullivan, Eric Evans, Tommy Valenzuela, Brandon Vitiello, Liz Lin, Jimmy Valenzuela, Kyman Oune, Chad Borgogio, Danny Gutierrez, Matt Hannah, Carlos Flores, John Joshue Suh , Ryan Galvan, Walter Lindo, Davis Barr, Mathew Campos, Chris Campos, Troy High School, Raymond Moreno


Below, District Representative Nick Constantino welcomes Gold's Gym to the community at their grand opening in Fullerton on January 20th. Gold's Gym is a brand new gym located at 1973 W. Malvern Ave in Fullerton that offers full service to it's members. The facilities include a pool, a jacuzzi, tanning beds, weights, various workout machines, and a knowledgeable and trained staff available to help you at anytime.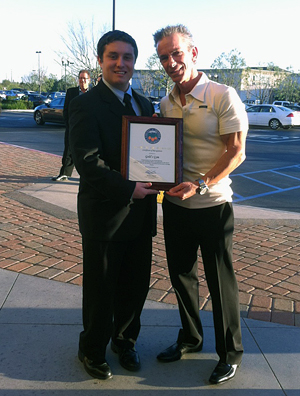 Jerome Pecoraro of Angelo's and Vinci's celebrates his receiving Supervisor Nelson's Restaurant of the Week award from Nick Constantino that recognizes outstanding 4th District eateries and industry-leaders delivering fabulous food, unique dining environments and "restaurants with personality and character". They serve terrific food at his all-you-can-eat lunch buffet of pastas, sweet sausage and peppers, alfredo penne pasta and to-die-for lasagna along with fresh breads and salads worth a stop and try for busy lunch crowds coming from the North Court or Cal State. Located at 550 N. Harbor in Fullerton, about 200 ft north of the Fox Theatre, Angelo's has a football field size parking lot, offers big event catering and can open the walls for receptions and company pasta parties. Call Jerry at 714 879-4022 for details and menus where fans come from as far as Riverside and Lake Forest to enjoy his premier Italian fare.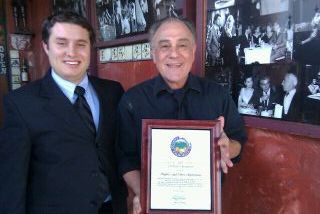 Please contact our office if you know of an individual who deserves recognition for outstanding community or public service.
Contact: Steve Spernak 714-834-3440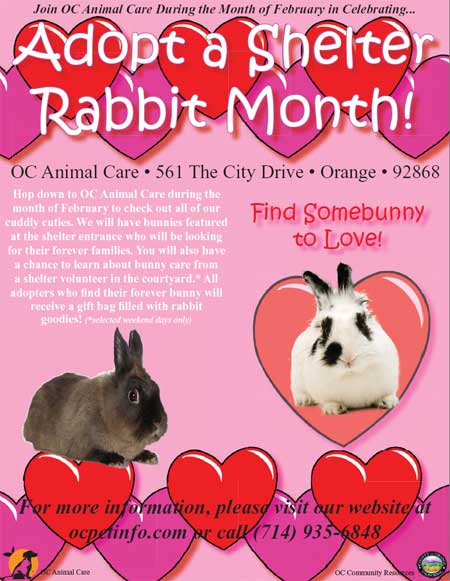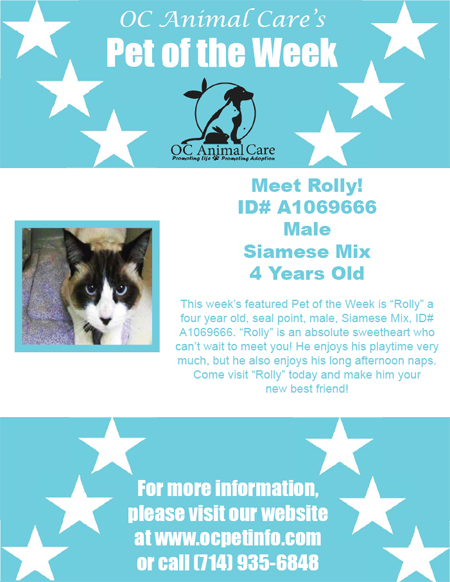 For questions or comments regarding Nelson's E-News
please contact the Supervisor's office staff:
Audra Adams Ph: 714-834-3440 Email: audra.adams@ocgov.com