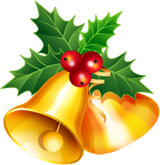 Welcome to Nelson's E-News!

As we near the end of 2011, and my first full year as an Orange County Supervisor, I remain committed to protecting taxpayer dollars and maintaining transparency in government. I have highlighted below some of the more significant items to residents of the Fourth District, including those touching on the County Human Resources Department and the California High Speed Rail.

I have continued to take advantage of every opportunity to get involved in the community. I recently had my first visit to Carbon Canyon Regional Park since it joined the Fourth District in October. I also attended the debut of the 2012 Senior Guide O.C., an informative guide targeted to seniors in the county. Please continue reading for descriptions of these events.

During this holiday season, it is also important to remember and take care of those with significant needs, especially the elderly. This may also include pets. Therefore, you will find some opportunities below to increase awareness of those who cannot take care of themselves and help during both the holidays and year-round.

Sincerely,
Shawn Nelson.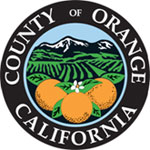 HR Audit Recommendations Approved (cont.)

On Tuesday, the Board of Supervisors approved the two remaining recommendations of the HR Audit Subcommittee's second report. The Board approved the committee's three other recommendations on November 8, which included recommendations to employee benefits; creating specific job descriptions for Executive Management positions; and implementing other cost saving measures through payroll deductions.

Tuesday's vote resulted in proceeding with the recruitment for a new Human Resources Director by March 2012 ahead of labor negotiations. The CEO has already drawn up a schedule for the recruitment and is confident of accomplishing this goal by the established deadline. The other recommendation involved reclassifying and adjusting the salaries and perquisites of several specific employee positions included in "Appendix B" of the audit recommendations.

The HR audit ad hoc sub committee's five recommendations may be found on page 10 of its second report.

An Orange County Register article summarizing Tuesday's approval may be found here.

An article covering the Board's initial hearing of the recommendations may be found here.
---


California's High Speed Rail off the Tracks

At Monday's OCTA meeting, the Board of Directors voted to send a letter to the California High Speed Rail Authority (CaHSRA) Authority regarding concerns over the rising cost, prolonged schedule and dubious funding sources within the authority's business plan.

Among these crucial issues mentioned during the meeting, Supervisor Nelson added that the CaHSRA also failed to address the rail gap existing from Bakersfield to Los Angeles, which currently requires bus service to connect passengers between Northern and Southern California.

Separately, the Board accepted an invitation from the Congressional Committee on Transportation and Infrastructure to send a representative to yesterday's hearing in Washington, D.C. to personally convey these concerns at the federal level. Attached is the testimony delivered during the hearing on California's High Speed Rail Plan.


Carbon Canyon Regional Park

Supervisor Nelson along with his staff and family were guided by OC Parks Director Mark Denny on a hike this past weekend at Carbon Canyon Regional Park in the City of Brea. Before the hike, Supervisor Nelson visited the interpretive center that offers a variety of hands-on activities for children to learn about the birds, bugs and animals native to the area. The park consists of 124 acres including a ten acre grove of Coastal Redwoods! For more information on Carbon Canyon Park, please visit http://ocparks.com/carboncanyon/
---
Council on Aging

The Orange County Council on Aging recently released its annual "Senior Guide O.C." for 2012. This valuable resource is a one-stop guide to hundreds of services and resources available to senior citizens in Orange County. The guide is available at various senior centers, libraries and through advocacy organizations. Supervisor Nelson visited the Council on Aging to witness distribution operations of this year's Senior Guide O.C.

For information on where to obtain a copy of the 2012 Senior Guide O.C. visit the Council on Aging's website at: http://www.coaoc.org/html/welcome.htm

Or you can view the guide online at: http://www.nxtbook.com/nxtbooks/freedom/seniorguide2012/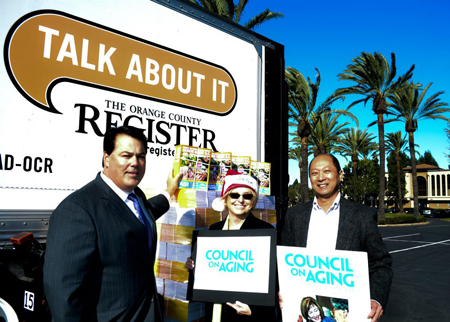 The 4th District has a vacant appointment on the following commissions or committees:



Public Financing Advisory Committee

Historical Commission



If you are interested in serving on these committees, please call Audra Adams at (714) 834-3998.

This week's featured Pet of the Week is: Poka, a four year old, white and black tabby, spayed female, Domestic Medium Hair, ID# A0874610. Poka is a sweet and active kitty who loves to play and explore her surroundings. She has become an OC Animal Care staff and volunteer favorite.


A generous volunteer donated $40 towards her adoption fee. She
is looking for a forever family to call her own. Could it be you?


For more information, please visit www.ocpetinfo.com or call 714-935-6848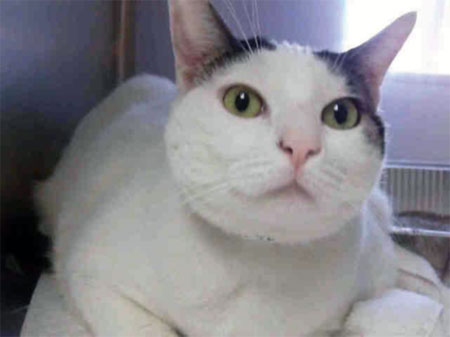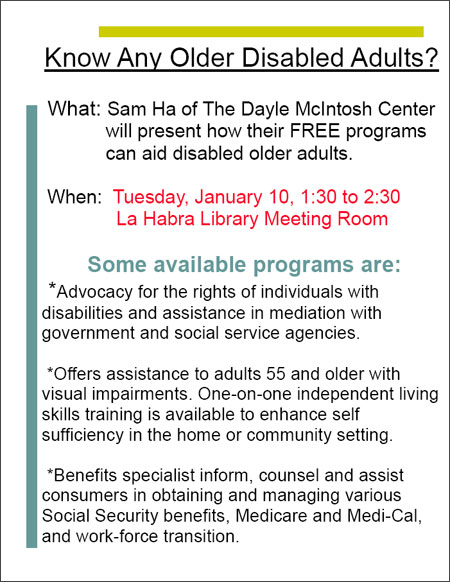 Click on the image above to view a larger version.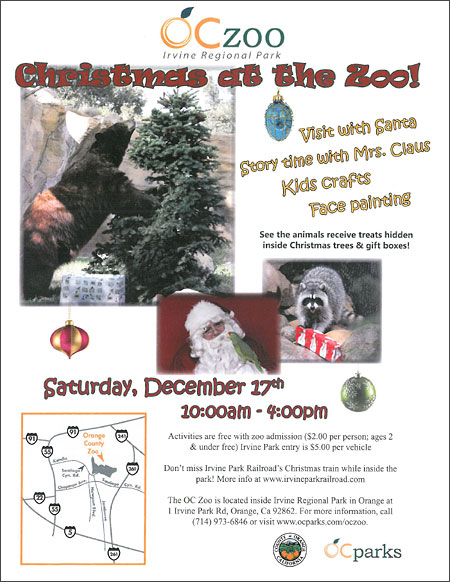 Click on the image above to view a larger version.
Clerk of the Board – Darlene Bloom announces retirement

Supervisor Nelson is proud to honor the service to the County of Orange by Clerk of the Board Darlene Bloom who is retiring at the end of the year. Under Darlene's leadership the public was able to easily access information from all aspects of county government. Darlene's work was vital to ensuring that county government provided transparency and was held accountable to the taxpayers. While it is sad to see her leave, Supervisor Nelson wishes Darlene the very best and happiness in her retirement.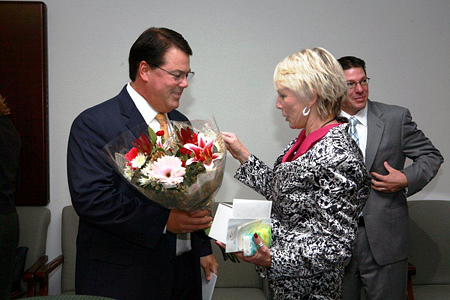 Please click below to view December's calendar for the One-Stop Center in Buena Park!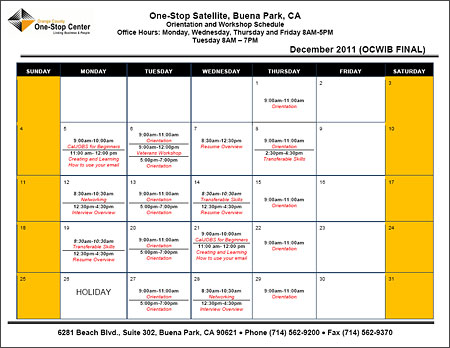 Click on the image above to view a larger version.

Anaheim
What: Katella High Swap Meet & Holiday Boutique
Where: Katella High School, 2200 East Wagner Avenue, Anaheim
When: Saturday, December 17, 2011
Time: 8am – 1pm

Fullerton
What: First Night Fullerton
Where: Downtown Fullerton
When: Saturday, December 31, 2011
Time: 7pm – midnight

La Habra
What: Castles and Kings Fall Exhibit at The Children's Museum
Where: The Children's Museum, 301 South Euclid Street, La Habra
When: Open through January 15, 2012
Time: 11am – 4pm

Placentia
What: Miss Teen Placentia and Miss Placentia Pageant
Where: Valencia High School Auditorium, 500 N. Bradford Ave., Placentia
When: January 7, 2012
Time: 2pm & 7pm


For questions or comments regarding Nelson's E-News
please contact the Supervisor's office staff:
Audra Adams Ph: 714-834-3440 Email: audra.adams@ocgov.com.