Welcome to Nelson's E-News!

Dear Friends,

Although there were no Board of Supervisors meetings for the past two weeks and County offices were closed Monday, February 21, in observance of Presidents' Day, I have nevertheless kept myself busy representing you at various community events and working on County-related issues. Therefore, I hope you had a wonderful holiday weekend and that you are ready for some County updates.

During the Board's recent break, I took the opportunity to once again meet with constituents in the Fourth District and Orange County. In Fullerton, the INET Corporation impressed me with a recent invitation and tour of their facility. In addition, I was honored and humbled to receive a Legal Leaders Award this week. I thank the organization for their recognition of my contributions. Please see my photos and read below for more information.

There are still many opportunities to serve and become involved in our community. Please continue reading for important information on events helping those in need, including HomeAid Orange County's campaign to collect items for the County's homeless children and the Host Lions' 2011 Pasta Fest event in La Habra to raise funds for senior citizens. Also, if you are or know a veteran, I have included a list of top military friendly employers that may be of benefit in this difficult job market.

I am pleased to recognize these groups for their exemplary efforts. I would also like to honor some outstanding individuals in our community on my certificate corner and congratulate this edition's Restaurant of the Week.

Thank you for reading my newsletter. I look forward to again bringing you important district and county information following the next Board of Supervisors meeting, which will be held Tuesday, March 1, at 9:30am in Santa Ana in the County Hall of Administration, 333 W. Santa Ana Blvd.

Sincerely,
Shawn Nelson.
Supervisor Nelson Receives Legal Leaders Award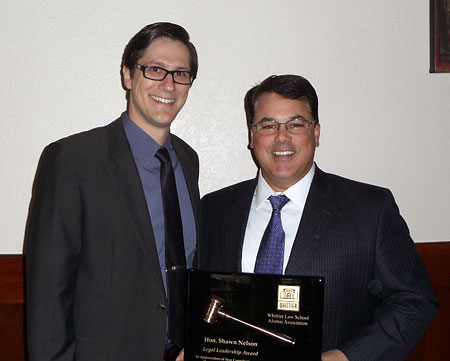 President of the OC Chapter Keith Rodenhuis (left) presents
Supervisor Nelson with the Leagal Leaders Award
Orange County Supervisor Shawn Nelson was the first in this year's series of rising government attorneys to be awarded the Whittier Law School Alumni Association's Legal Leaders Award in appreciation of their contributions to the Orange County legal community.

The award was presented during an event held Wednesday, February 23 from 12 – 1:30 p.m. at the South Coast Winery, 3608 Bristol, Santa Ana. The Whittier Law School Alumni Association's spring Legal Leaders Series features selected government attorneys presenting information on topics of their choice. Supervisor Nelson's topic was "The Civic Duties of an Attorney in Elected Office."
---
Fullerton - Inet Corp Tour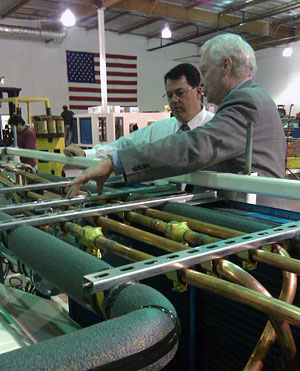 Supervisor Nelson was pleased to tour the Inet Corporation facility in Fullerton. Inet has been a model business in Orange County, and the success and growth of companies like Inet is essential to economic recovery in our communities. With over 100 employees Inet performs a wide variety of functions in an cost-effective and environmentally friendly manner. After touring the facility, Supervisor Nelson commented that he felt like he was in an episode of Modern Marvels.
---
HomeAid Orange County

After a successful 2010 Essentials for Young Lives Campaign, HomeAid Orange County is ready to kick off their 2011 campaign to collect much needed items for homeless infants and toddlers across Orange County. Their goal this year is to collect more than one-half million baby items. Click the link below for more information.

http://bos.ocgov.com/legacy4/newsletters/pdfs/Vol2Issue3/Homeaid.pdf
2011 Pasta Fest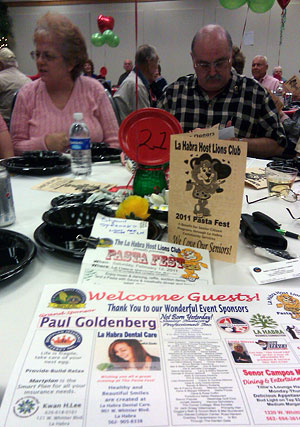 Pictured above at the Pasta Fest are Lorna and Pete Badame
who will be celebrating their 44th wedding Anniversary.
The 2011 Pasta Fest was hosted by La Habra Lions to raise money for the seniors and seniors fund this past Saturday night. Congratulations to the Lions Host committee and event chairman, Larry Milano, who raised almost $10,000 in the night's event of dancing, pasta, raffle and silent auction where Supervisor Nelson walked away with 2 baskets that he put bids on. After expenses, over $7,000 will go to support the seniors programs, food services and event-activities through their Community Services Director Josie Anderson.

Supervisor Shawn Nelson fights hard to save tax dollars. He aims to recover overpaid taxes for phones and gas bills. To find out more, please click the link below.
http://totalbuzz.ocregister.com/2011/02/07/nelson-wants-federal-taxes-back-for-phones-gas/48690/

The Fourth District is proud to announce the ground breaking for a new community center in the City of Fullerton. The Ceremony will take place on Tuesday, March 1st and is open to the public.
http://www.cityoffullerton.com/civica/press/display.asp?layout=1&Entry=2252

Pension reform is an important issue for the County; Supervisor Shawn Nelson voted to appeal the state appeals court decision to the Supreme Court. Please click the links below to read the two stories on this issue.
http://www.ocregister.com/opinion/supervisors-287355-pension-court.html
http://www.ocregister.com/opinion/pension-287698-court-benefits.html

Supervisor Shawn Nelson worked with the OCTA board to modify funding guidelines that will affect the construction of a major transportation hub in Anaheim. Please click the link below to read more about the issue.
http://www.ocregister.com/news/rail-288307-speed-high.html

Supervisor Shawn Nelson comments on the recent happenings regarding the claim filed for the TapouT estate case. Please click link below to read more.
http://taxdollars.ocregister.com/2011/02/14/claim-filed-against-o-c-public-guardian-in-tapout-estate-case/75428/

The OC Register reported on the controversy surrounding the unincorporated areas in Orange County. Supervisor Shawn Nelson was quoted in the story.
http://www.ocregister.com/news/services-288015-lafco-annexation.html

GET HIRED!

Click the link below to view the Top 100 Military Friendly Employers!

http://bos.ocgov.com/legacy4/newsletters/pdfs/Vol2Issue3/
military_friendly_employers.pdf
Are you interested in OC Parks Programs for Children?

Sign up now!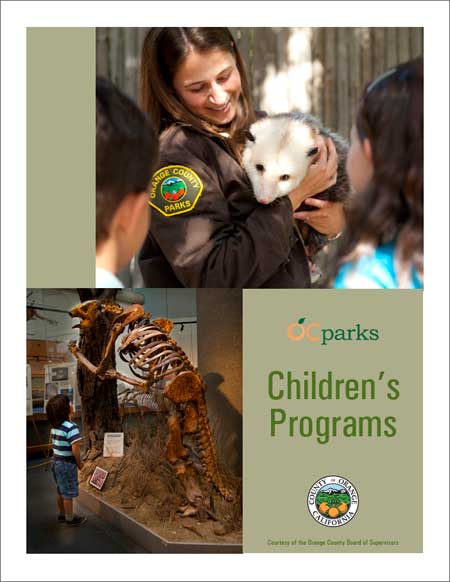 Click the image to view a larger version.
SUPERVISOR NELSON'S CERTIFICATE CORNER
Carolyn Balmages, Jennifer Piersanti, Jason Smith – 2010 National Board Certified Teachers. Highest credential possible.


Dr. Diane Scheerhorn – BP Citizen of the Year


Alexandra Lim, Jennifer Choi, Haily Nhat Nguyen, Nicole Czerner – Girl Scout Gold Award


Al Jacques – City of La Habra Employee of the Year 2010


Angie Miralaie – City of La Habra Part Time Employee of the Year 2010


Katie Elmore – 2010 City of La Habra Customer Service Award


Maria Gallegos – 2010 City of La Habra Professional Conduct Award


Carly Valdes – Miss Fullerton 2011


Alyssa Alex – Fullerton's Outstanding Teen 2011


Sonora High School JROTC – 1st Place win at Fullerton Union High School Drill Meet
Steamers Jazz Club and Cafe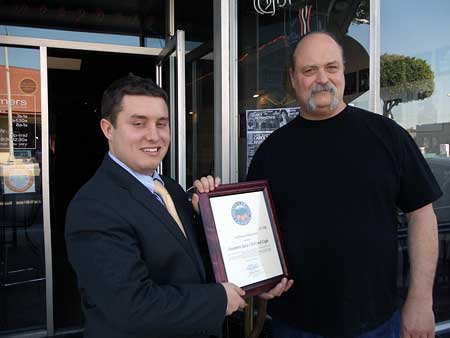 Above, District Representative Nick Constantino presents the Restaurant of the Week award to Steamer's employee Steve Ambrose. Steamer's has been an essential part of downtown Fullerton's entertainment community for 17 years. Open from 7am until 2am, they provide an impressive lineup of jazz musicians and delicious quality food to serve the entire family, regardless of time. Located at 138 W. Commonwealth in Fullerton, we are proud to support a local business that provides fun for the whole family and makes one mean Panini.
Please contact our office if you know of an individual who deserves recognition for outstanding community or public service.
Contact: Steve Spernak 714-834-3440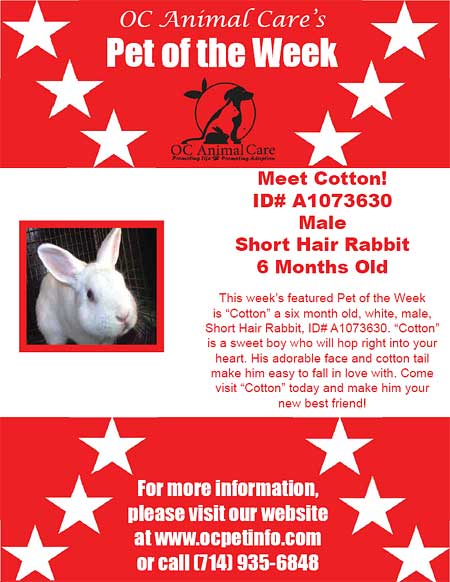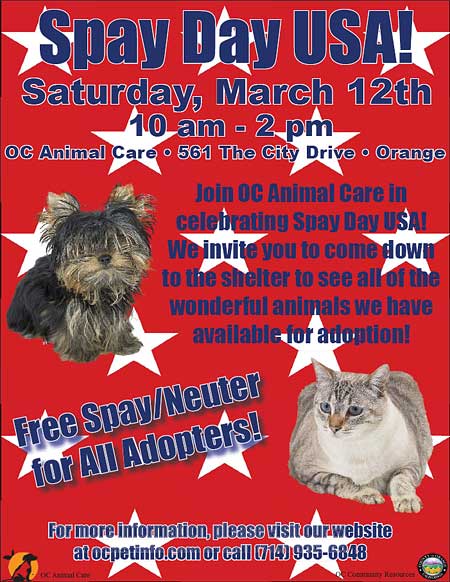 For questions or comments regarding Nelson's E-News
please contact the Supervisor's office staff:
Audra Adams Ph: 714-834-3440 Email: audra.adams@ocgov.com