Welcome to Nelson's E-News!

Dear Friends,

Hello and welcome once again to my newsletter.

With the Board dark this last Tuesday, I again took the opportunity to visit the district to continue to witness first-hand the great things our fine community has to offer and to strengthen ties with the various stakeholders and representatives here to further our mutual goal of improving life in the district and the County.

To accomplish this, I held my first District Council breakfast last month to an impressive turnout of local elected officials. The goals of this initiative include cultivating relationships among the Fourth District representatives and continuing dialogue on issues facing north Orange County. The breakfasts will rotate cities throughout the year to ensure that each council member can attend at least one meeting.

In La Habra, I toured the Gary Center to better understand how its services help the local community and in Anaheim I met with Disney representatives to discuss issues of mutual concern, including the economy. In Fullerton, I had the wonderful opportunity to attend the groundbreaking of a new community center, also attended by the district's newest centenarian constituent, Jean Gaster. Please continue reading for more information on my involvement in these events.

The Redistricting Committee held its second meeting on Thursday, March 10 to discuss the decennial redrawing of district lines. Once drawn, these boundaries will remain in effect for the next ten years so it is important that we afford this process the careful consideration that it deserves. Open to the public, I encourage your attendance and active participation at these meetings, which are detailed further below.

The next Board of Supervisors meeting will be held on Tuesday, March 15 at 9:30 am in the Hall of Administration located at 333 W. Santa Ana Blvd., Santa Ana 92701.

Sincerely,
Shawn Nelson.
10-Year County Redistricting Underway

Every ten years the County uses newly gathered US Department of Census demographic data to consider redrawing supervisorial district boundaries. The process involves interactive software that permits users to draw their own boundaries and submit those plans to a Redistricting Committee that has been established by the Board of Supervisors.

Ultimately the Redistricting Committee will recommend a proposal to the Board of Supervisors for their final approval.

Computer workstations that accommodate the necessary software will be established in selected spots around the Fourth District: the La Habra, Buena Park, Fullerton (main) and Placentia public libraries.

Technical assistance will be provided by CSUF's Center for Demographic Research.

For more information feel free to call the 4th District offices at (714) 834-3440.
County Supervisor Honors Viva Communities' Cambridge Court Century Honoree Jean Gaster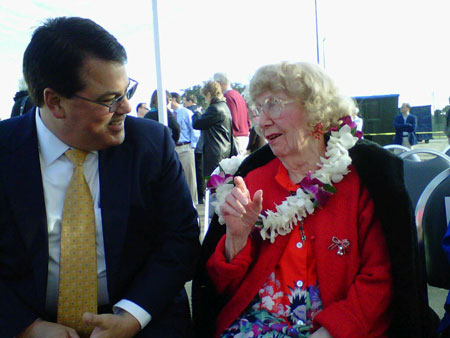 Supervisor Nelson enjoyed a moment in time with a woman who has enjoyed her share as he celebrated the 100th birthday of Fullerton resident Jean Gaster with a lei and his first Century Award to a resident living 10 decades. Gaster was born on March 4th , 1911, traveled to Hawaii 11 times and told Shawn how she has outlived friends, family and loved ones as she began her second century as a Fullerton resident. Gaster had front seats at the ribbon cutting dedication of the coming Fullerton Senior Multi-Service Center and Boys & Girls Club building.
---
4th District City Council Breakfast with Supervisor Nelson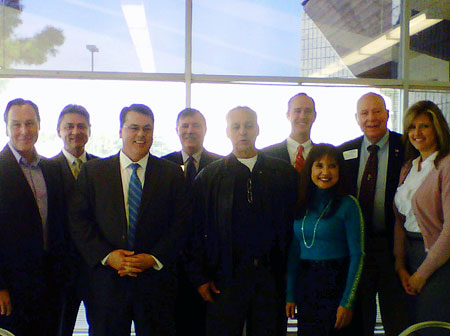 Supervisor Nelson's first of five 4th District Council breakfast was a huge success this month. Supervisor Nelson's goal is to effectively communicate and develop relationships with leaders in respective cities in order to understand issues and how to work together to accomplish goals and priorities. The next breakfast will be held in Placentia on April 22. (Pictured from Left to Right) Placentia Mayor Scott Nelson, Buena Park Councilman Steve Berry, Supervisor Shawn Nelson, Fullerton Councilman Bruce Whitaker, Buena Park Mayor Fred Smith, Anaheim Mayor Tom Tait, Anaheim Councilwoman Lorri Galloway, Fullerton Mayor Pro-Tem Don Bankhead and Lorri Galloway staffer Kim Tulleners.
---
The Gary Center Tour - La Habra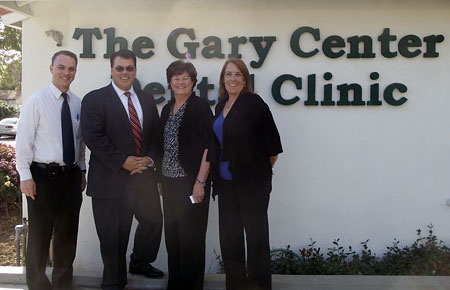 On Wednesday afternoon Supervisor Nelson toured the Gary Center in La Habra. Meeting with the center's Executive Director Martha Lester and Program Director Cindy Thomas, the Supervisor learned about the vast growth in the amount of services the center has been able to provide for the last 40 years. The Gary Center is unique in its multi-purpose capabilities and is able to offer a vast amount of services to citizens in Orange County. Because the Gary Center is in La Habra, City Councilman Tim Shaw joined Supervisor Nelson on the tour and explained how the center benefits the city in addition to its contributions to Orange County. For more information on the Gary Center visit www.garycenter.org.
---
Disney Meeting - Anaheim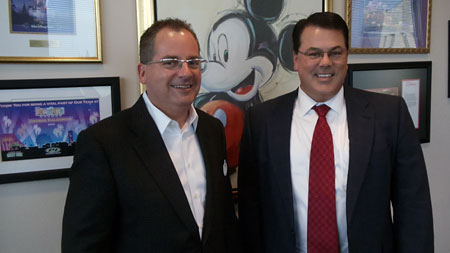 Disney President George Kalogridis (pictured left) met with Supervisor Nelson this week to review park operations and upcoming projects. Kalogridis brings international experience in management and marketing and provided unique insight on how Disneyland-Anaheim will compete in the entertainment industry and work to keep 17,000 OC residents employed. One priority discussed is the proposed elevated monorail-style track that will transport employees and visitors from an off-site parking lot to the Gardenwalk with two stops inside the park then ending at the convention-hotel center.

Pension reform is one of Supervisor Shawn Nelson's main priorities. It is time to change things around and do what is best for the people of Orange County.
http://www.ocregister.com/opinion/benefits-290329-pension-workers.html

The Board of Supervisors will soon be voting to resolve the Public Guardian Issue. Supervisor Nelson says new information needs to be taken into consideration before the vote. To read more, please click the link below.
http://totalbuzz.ocregister.com/2011/03/04/supes-public-guardian-issue-to-be-resolved-soon/49453/

It's the perfect time to go out and enjoy outdoor activities. Orange County has beautiful parks that offer many activities for every member of the family. The Irvine Regional Park was just voted as the most popular park featuring train rides, bike rentals, the Orange County Zoo and much more. To learn more about parks, check out the link from the OC Register.
http://www.ocregister.com/articles/parks-289630-wilderness-regional.html?pic=1

The 4th District has vacancies on the flollowing commissions:
Waste Management Commission
Housing and Community Development Commission
If you are interested in serving this committee, please call Audra Adams at (714) 834-3998.

SAVE THE DATE!

Veterans Mental Health Conference

March 28 & 29, 2011

Please click the image below for more information.


SUPERVISOR NELSON'S CERTIFICATE CORNER
Girl Scout Gold Awards – Lauren Mapes, Cheyenne Ashcraft, Gabby Lazaro, Allison Heller


Girl Scout Silver Awards – Alyssa Stolo, Claire Dixon, Lexi Fort, Maddie Hertel, Rhyann Lowrey, Jessica Olson


Buena Park Rotary Citizen of the Year – The Honorable Barbara Michel


Buena Park Rotary Rotarian of the Year – Beth Swift, Ed.D


Buena Park Rotary Distinguished Community Service Award – Mary Hicks


Buena Park Rotary Distinguished Vocational Service Award – Gail Dixon


Buena Park Rotary Distinguished Youth Community Service Award – Leslie May Legaspi


Conference on Business and Ethics Honoree – John J. O'Connor of Shamrock Supply


5th Anniversary of Grand Opening – Charity's Closet


Induction into the California Community College Athletics Association Hall of Fame – Colleen Riley and Bill Chambers of Fullerton College


Supervisor's 1st Century Award – Jean Gaster


Century Award for Caretakers - Anne Owens-Stone, Kathleen Ackermann and Becky Kohl of Viva Services


Anaheim Chamber Women's Division Spotlight on Youth - Jacob Bryant, Noreen Domingo, Rocio Ferreira, Alvaro Gonzalez, Torilyn Mundi, Marilyn Navarro, Erick Pineda and Jessica Torres


56th Assembly District's Woman of the Year for Education – Dawn O'Connor

Please contact our office if you know of an individual who deserves recognition for outstanding community or public service.
Contact: Steve Spernak 714-834-3440.
Are you looking to volunteer at the OC Animal Care Facility?

If so, please click on the images below.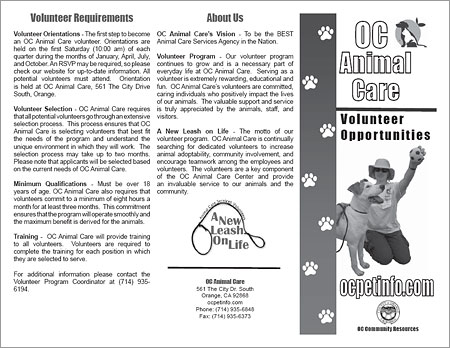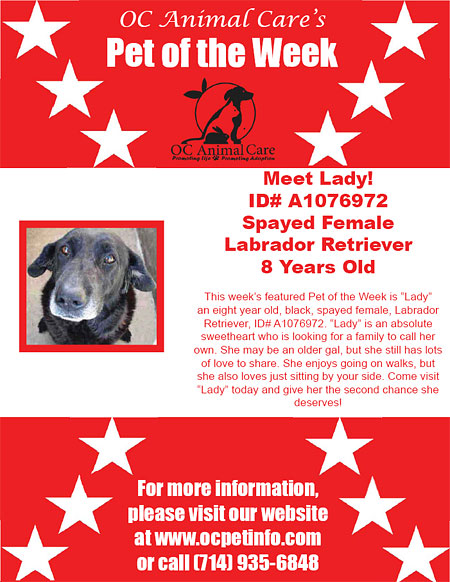 UPCOMING FOURTH DISTRICT EVENTS
March 12 – Fullerton Arbor Day Tree Planting Program
In observance of the national "Arbor Day" program, the City of Fullerton is sponsoring a tree planting at Nicolas Park, beginning at 9 am. The park is located at 1015 W. Hill St., at the intersection of Hill and Euclid Street, and is adjacent to Nicolas Junior High School.

Dennis Quinlivan, landscape maintenance superintendent for the city, said Arbor Day workers will plant 20 24-inch Fern Pine and Deodar Cedar trees, provided by the city. Volunteers are asked to bring round point shovels, work gloves and sturdy shoes and do not need to call in advance to register for the program; they should simply show up at the site on the day and time noted.

Further information about the tree-planting program may be obtained by calling Quinlivan at (714) 738-6897.

March 14 – Annual U.S. Service Academy Information Meeting
Congressman Ed Royce will hold his annual U.S. Service Academy Information Night on Monday, March 14, 2011, at Buena Park City Hall located at 6650 Beach Blvd. The meeting will begin at 7:00 pm.

The meeting will profile each of the four service academies that require a Congressional nomination: Military Academy at West Point; Naval Academy at Annapolis; Merchant Marine Academy at Kings Point; and Air Force Academy at Colorado Springs. A representative from each academy will be on hand to answer individual questions. For more information, contact Patty Shay in Royce's Orange office at (714) 744-4130.

March 15 – Fullerton Parking Structure Groundbreaking
Groundbreaking ceremonies are slated for Tuesday, March 15, for the new SOCO West parking structure in the busy Fullerton Transportation Center. The ceremony will begin at 3 p.m. at the site of the new structure, 150 W. Santa Fe Ave., and is open to the public.

The new structure will have four levels – three above-ground and one subterranean. It will add 812 spaces to the existing center's 765 surface and parking structure spaces. It will also include a pedestrian bridge over Harbor Boulevard to connect the structure to the Fullerton Transportation Center platform.

Construction is expected to take 18 months, with the structure expected to open to the public in summer 2012. Call the Fullerton Redevelopment and Economic Development Department at (714) 738-6877 for further information.

March 30 – Buena Park Chamber of Commerce breakfast
The Buena Park Chamber of Commerce's monthly networking breakfast will be held at the Holiday Inn-Buena Park at 7000 Beach Blvd. on Wednesday, March 30 at 7:00 am. Guest Speaker Jenna Voss, Environmental Resources Specialist, County of Orange will discuss the "Orange County Stormwater Program." The presentation will educate the community on how to prevent pollutants from entering our beaches while at work and home.

Member cost is $17 with reservations; $22 without reservations; and $22 for non-members. Please RSVP prior to 2 pm on Tuesday, March 29. Please call Christine Gaytan (714) 521-0261 for more information.

TOLL ROADS SPRING TOUR 2011
You are invited to join The Toll Roads for the 11th Annual Native Habitat tour series. Don't miss your chance to experience some of the more than 2,100 acres of open space protected with the construction of Orange County's public toll road system.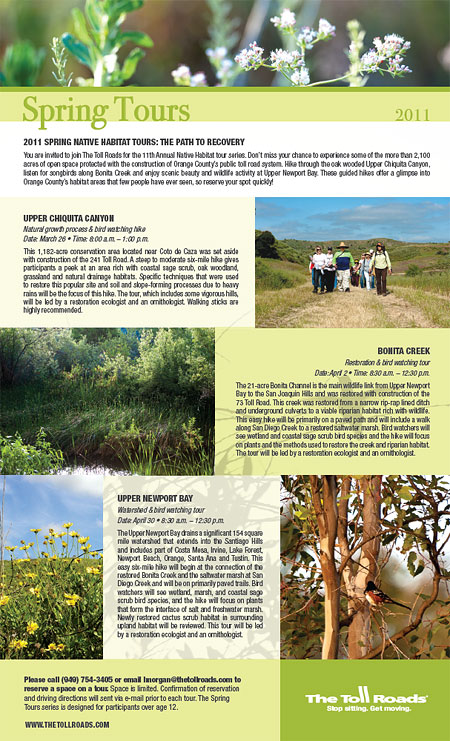 Click the image to view a larger version.

For questions or comments regarding Nelson's E-News
please contact the Supervisors' office staff:
Audra Adams Ph: 714-834-3440 Email: audra.adams@ocgov.com.