Welcome to Nelson's E-News!

Dear Friends,

As we enter spring, the Board of Supervisor is in full motion addressing the many issues facing our county. This past week's board meeting had several items of elevated significance. This edition of the Update will discuss those two items in greater detail. Also, I have recently had the privilege to continue to get out in our community and recognize the good work of many of Orange County's citizens.

Tuesday's board meeting included an ordinance I have been proud to propose with the support of District Attorney Tony Rackauckas. The ordinance is designed to increase the safety at our county parks by not allowing sex offenders to visit our county parks. The idea received considerable media coverage, below is a few excerpts from the news coverage. The board also took action on the ongoing issues related to the Orange County Public Defender/Public Administrator's office.

The past couple weeks my office has been honored to recognize many individuals and organizations for the good work they have done for our community. I was pleased to meet with a newly promoted Eagle Scout, Theodore Rasmussen IV, who visited my office to receive a certificate of recognition from the County of Orange. Also, as my continued efforts to connect my constituents with services they may be in need of, my office has compiled a list of various support organizations for senior citizens.

Thank you for reading my newsletter. I hope you find value in these update and can in of help in some way. Please feel free to contact my office with any questions or suggestions you may have at (714) 834-3440.

Sincerely,
Shawn Nelson.
New Ordinance Co-Written by Supervisor Shawn Nelson and
District Attorney Tony Rackauckas to Keep Sex Offenders
Out of Orange County Parks

At the March 22nd board meeting, after discussion about some minor improvements, the Board of Supervisors unanimously approved the ordinance that prevents registered sex offenders from entering county parks. The ordinance now moves to a second reading and formal adoption at the next board meeting on April 5, 2011.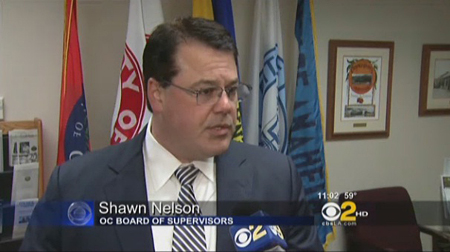 To watch the live interview please click the link below:

http://losangeles.cbslocal.com/video-news-on-demand/?autoStart=true&topVideoCatNo=default&clipId=5682065&flvUri=
&partnerclipid=

To read more detail on the new ordinance please click on both of the articles below from the OC Register and the Voice of OC.

http://articles.ocregister.com/2011-03-17/news/29143184_1_county-parks-sexual-predators-megan-s-law

http://voiceofoc.org/countywide/this_just_in/article_05b56356-543c-11e0-8b1f-001cc4c002e0.html
---
Public Administrator and Public Guardian

On March 22nd, the Board voted to repeal an earlier ordinance that had joined the positions of Public Administrator and Public Guardian. The former job deals with the administration of estates of deceased that have no known heirs; the latter with court assigned persons who are unable to take care of themselves.

These functions were joined by the Board of Supervisors in 2007, but recent revelations by the Grand Jury and the public have brought to light serious questions of mismanagement within these two departments.

The role of Public Guardian will now be filled by an appointed executive who will also oversee the operation of the Public Administrator's department. The recruitment of this person is now underway.

On March 15th the Board voted to place an item on the next available election to convert the position of Public Administrator from an elected to an appointed job.
Supervisor Nelson Honors New Eagle Scout Theodore Rasmussen IV

Supervisor Nelson presents a Certificate of Recognition to Theodore E. Rasmussen IV to congratulate him on becoming an Eagle Scout. Theodore has achieved the highest honor possible in the Boy Scouts of America. For his Eagle Scout project, Theodore personally constructed a much needed new sign for the parking lot of the First Presbyterian Church of Fullerton, and also renovated parts of the church's parking lot. He and other Eagle Scouts will be honored on May 14th, 2011 at the Church of Jesus Christ of Latter Day Saints.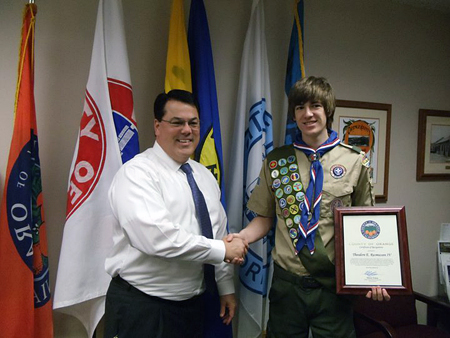 Do You Know a Senior Citizen in Need of Assistance?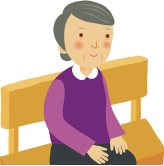 Orange County is fortunate to have several organizations and resources designed to aid our senior community. If you or a family member may be in need of services please see below a list of local organizations designed to help with various senior needs:

These organizations and charities have a wide variety of services offered to seniors on the issues that seniors often are faced with. Please refer this list to anyone you may know who may be in need of services.

For more information please contact Scott Carpenter from my office at
714-834-3440.
SUPERVISOR NELSON'S CERTIFICATE CORNER
Madison Carney – "Oh Say Can You Sing" contest winner. She will be singing the National Anthem at the Anaheim Ducks game
Fullerton's Richman Teen Center – Grand Re-Opening
Joseph Michael Koppenheffer – Camp Fire USA's WoHeLo Medallion recipient
Brent Stephen Dorff – Achieved the rank of Eagle Scout
Soroptimist International of Buena Park, Community Awards – Bruce Hird, Art Brown, Kim Garber-Bond, Sandy Garcia, Bill Wewer
Soroptimist International of Buena Park Women's Opportunity Award – Kasi Sawyers
Soroptimist International of Buena Park Ruby Award – Donnia Schmidt
Soroptimist International of Buena Park Violet Richardson Award – Michelle Morgan
American Legion District 29 Law and Order Honorees for Merit – Captain J.R. Fitzgerald, Investigator Michael Cunha, Corporal Nate Booth, Officer James Woo, Captain Ward Smith, Detective Bryce Angel
American Legion District 29 Law and Order Honorees for Community Service - Officer Alan Valdiserri, Commercial Enforcement Officer Sean Malone
MADD Deuce Awards (Top DUI Enforcement Officers) – Corporal David Becarra, Officer Donald Blume, Corporal Tony Bogart, Corporal Eric Bridges, Officer Josh Earnest, Officer Kenton Hampton, Corporal Robert Kirk, Officer Eric Leclercq, Officer Brennan Leininger, Officer Glenn Marumoto, Officer Danny Mihalik, Officer Ryan O'Neill, Corporal Tony Rios, Officer Miguel Siliceo, Officer Chad Weaver, Officer Nick Wilson, Officer Chris Wren, Officer Matthew Ellis, Officer Matt Martinez, Officer Christopher Nyhus, Officer Patrick Bates, Corporal Tom Reyes


(Pictured Below) Chief of Police – Corey Sianez and his family – Was presented a Certificate of Achievement upon his installation as Chief of the Buena Park Police Department.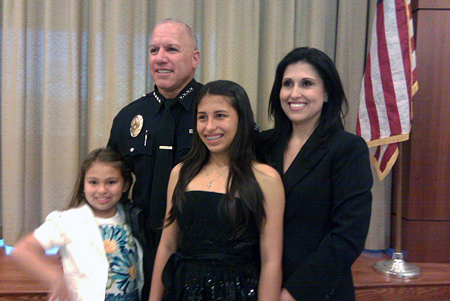 Standing proud with his family is Chief of Buena Park Police Department
Corey Sianez

Please contact our office if you know of an individual who deserves recognition for outstanding community or public service.
Contact: Steve Spernak 714-834-3440.
The 4th District has vacancies on the following commission:

Waste Management Commission


If you are interested in serving on this committee,
please call Audra Adams at (714) 834-3998.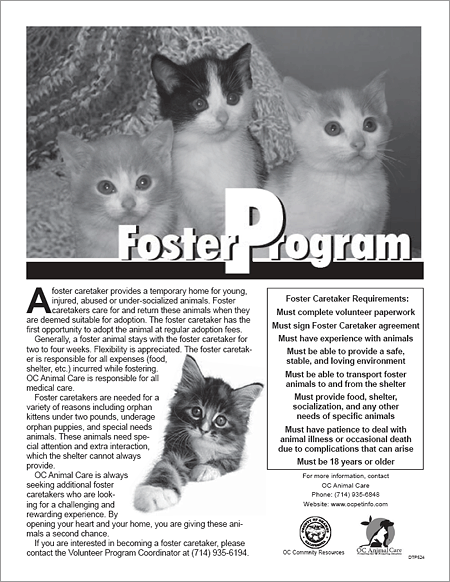 Click on the image above to view a larger version.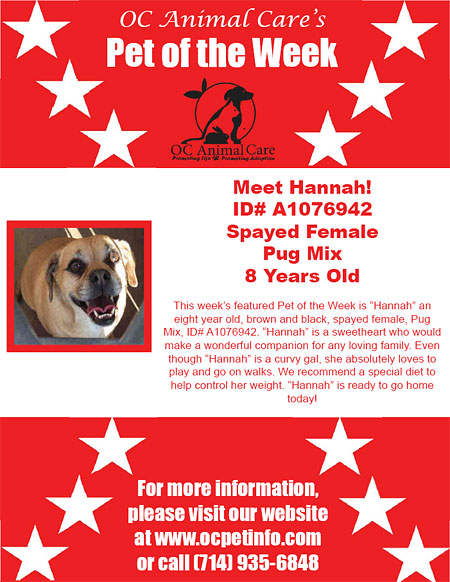 Click on the image above to view a larger version.
UPCOMING FOURTH DISTRICT EVENTS
SAVE THE DATE1



It's almost time for the La Habra Citrus Fair!!!

Mark your calendars for three days of fun, parades, festivities and food at the fabulous La Habra Citrus Fair.

http://www.citrusfair.com

Fullerton
Event: Countdown to Easter
Location: Seekers Chapel, 1521 E. Orangethorpe Ave., Ste. D
Time: April 2nd, 5 pm – 8 pm
Featuring crafts, games, puppet show and egg dying. Dinner will be served.

Event: Nature Walks
Location: Fullerton Arboretum, 1900 Associated Road, on the CSUF campus
Time: April 9th, 10 am
Further information 278-3579.

Anaheim
March 26th, 2011
TBD - United Spirit Association Dance/Drill Nationals
@ Anaheim Convention Center
714-765-8950
http://www.usacamps.com

Buena Park
Spring Eggstravanganza
Saturday, April 23 ~
Pancake Breakfast - 8 am
Program - 9 am
Boisseranc Park
7520 Dale St.

Placentia
Placentia City Council Meeting
April 5, 7:00 pm - 10:00 pm
@ 401 E. Chapman Ave.
A meeting of the Placentia City Council and the Placentia Redevelopment Agency.

La Habra
La Habra 5k/10k Walk
Saturday, March 26th 6:00 am – 11:00 am
Marketplace Shopping Center, 1801 W. Imperial Hwy
6:00 am - Registration Opens
7:20 am - 50-Yard Diaper Dash
7:25 am - 1K Kiddy Run
7:35 am - 5K/10K Run/Walk


For questions or comments regarding Nelson's E-News
please contact the Supervisors' office staff:
Audra Adams Ph: 714-834-3440 Email: audra.adams@ocgov.com.
Attention Families of Military and Caregivers

This is training and resources you need!!!

Families of military who are dealing with traumatic brain injuries, concussions, PTSD from explosions or combat, please save the date for next weeks conference on issues, challenges and resources you can use.

Supervisor Shawn Nelson will have staff member Steve Spernak there on the opening day to assist you along with Sue Rueb, Director of "BRAIN", a resource center
for TBI and brain injured care and counseling.

Please click the image below to view the flyer.