Welcome to Nelson's E-News!

Dear Friends,

Thank you once again for reading my newsletter to find out how your County government is serving you. There are a number of items to inform you about, so I will get right to it.

As a member of the Orange County Board of Supervisors, I also sit on the Orange County Transportation Authority (OCTA) Board of Directors and on its Highways Committee. Among the items on Monday's agenda, the Highways Committee heard from OCTA staff regarding updates on several Measure M2-funded projects. I have attached a brief description below.

In addition, there are important developments to report pertaining to the Harbor Patrol and the 2011 redistricting process. As you may remember, the Performance Auditor reviewed the OC Parks Department's funding of the Sheriff's Department's duty to patrol the harbor and reported its recommendations to a Board subcommittee. Some of my thoughts are included further down the newsletter. Occurring every 10 years, the redistricting process will determine what district you reside in for the next decade. As such, your input is wanted and greatly appreciated in this important decennial process. Continue reading to see how you can get involved.

It was good to see those of you who ventured out to the La Habra Spring Citrus Fair last weekend and stopped by the Fourth District County booth. For those of you who were unable to attend, I look forward to seeing you at the next event where we will again distribute valuable County information and resources.

In addition to the Citrus Fair, I had the opportunity to make an appearance through an "Inside OC" interview recently. Details and a link may be found below. A representative from my office also attended the Placentia City Council meeting to recognize Miss Placentia and Miss Teen Placentia.

There is no Board of Supervisors meeting next Tuesday, April 26. However, I will be holding a Bicycle Users Summit that day to address transportation concerns and options in North Orange County. I first mentioned this initiative during the Board's February 1, meeting and I will keep you updated on this issue and its outcomes in future newsletters.

Our next regular Board of Supervisors meeting will take place on Tuesday, May 3 at 9:30am at the County Hall of Administration.

Sincerely,
Shawn Nelson.
Redistricting Plans Due May 18th

The County's decennial redistricting process is now underway. You can participate by submitting a plan that will redraw supervisorial district boundaries based on the latest 2010 United States Census data.

The redistricting package may be downloaded at no cost from the County's website www.ocgov.com. Click on the redistricting item on the center carousel or go directly to http://egov.ocgov.com/ocgov/Government/Redistricting. Branches of the Orange County Library, including the La Habra Branch have computers with access to the redistricting software. A computer with software access is also located in the Anaheim Main Branch Library, and at Buena Park City Hall.

Those who do not have internet access may obtain copies of the redistricting Package at a nominal cost at the Center for Demographic Research, California State University Fullerton, 2600 Nutwood Avenue, Fullerton. The telephone number is (675) 278-4670.

The following prices have been established to recover the cost of materials obtained at the Center for Demographic Research. There is no cost for accessing the information from the internet.

| | |
| --- | --- |
| Redistricting Package on a CD-ROM and paper format | $20 |
| Package on a CD-ROM only | $5 |
| Package in paper format only | $15 |
| Additional copies of County base maps | $2 each |

All submissions, electronic or hard copy, must be submitted by 5:00 p.m. on May 18th, 2011 in the offices of the Center for Demographic Research. Plans submitted by May 4, 2011 will be reviewed by CDR staff for conformance with legal requirements. Acceptable proposals will then be reviewed by the Redistricting Committee in the public hearing process.

The next meeting of the Redistricting Committee will take place at the County Hall of Administration on May 12, 2011 at 2:00 p.m.
---
Harbor Patrol Continues to be Subsidized by Inland County Taxpayers

On Tuesday April 19th the Board of Supervisors reviewed a report by a Board subcommittee that considered funding of the County's Harbor Patrol, a function performed by the Sheriff's Department. The subcommittee met as the result of recommendations made by the Performance Auditor. These recommendations included reconsidering the level of budgetary support of the Harbor Patrol by the OC Parks department.

The subcommittee essentially recommended continuing the status quo. It did not address the Performance Auditor's main recommendations, which include renegotiating the County's subsidy of mooring services by the Harbor Patrol for the affluent City of Newport Beach.

Last summer Supervisor Nelson cast the lone vote against the County agreement with the Newport Beach to collect the mooring fee revenue that goes to the city. The agreement established a four-year subsidy that would only achieve total cost recovery for the Harbor Patrol in the fifth year. The first year cost to the city was only $180,000, while the County subsidy was $110,000; Newport Beach's total revenue from these fees was almost $700,000 a year. After the agreement was approved in July 2010, Newport Beach tripled its mooring fee rate.

Supervisor Nelson continues to advocate for a fair cost sharing for all Harbor Patrol activities.
---
OCTA Update

Item #9 on the April 18 Highways Committee agenda included three significant transportation issues affecting the Fourth District. The first is the widening of the Northbound SR-57 from Orangethorpe Avenue to Lambert Road. The second is an SR-91 project between I-5 and SR-57 and the third involved the seven railroad grade separation projects in Fullerton and Placentia. Please click here to view the graphic.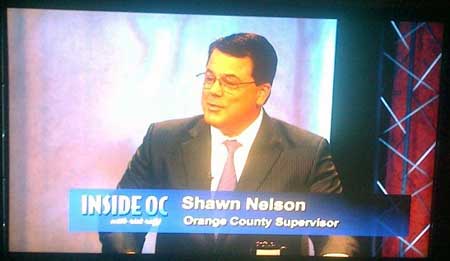 Last week, Supervisor Nelson sat down with KOCE's Rick Reiff to introduce himself and his beliefs to the community. In the interview, Supervisor Nelson discusses his private sector experience as a civil litigator, a small business owner, and his time as a former Councilman and Mayor for the city of Fullerton. He also sits down to discuss pensions in the Orange County public sector, some highlights from his tenure on the Board so far, and his vision for Orange County.

To watch the interview click below:
http://www.rickreiff.com/insideoc_shows.html
SUPERVISOR NELSON'S CERTIFICATE CORNER
Miss Teen Placentia and Miss Placentia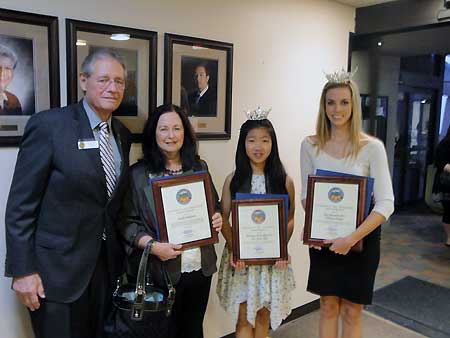 Above is the presentation at the April 5th Placentia Council Meeting to Miss Teen Placentia and Miss Placentia. From left to right is former Councilman and Nelson Representative Greg Sowards; Ms. Kathi Baldwin, Director of the pageant; Miss Teen Placentia, Jinnie Rhee, an 8th grader at Kraemer Middle School, and; Miss Placentia, Whitney Thomas, a recent graduate of California State University, Fullerton. Miss Placentia is now headed for the Miss California Pageant held in Fresno each year.
---
Miss La Habra Princesses and Queen

Congratulations to the new Miss La Habra court! Our new Queen is Krista Smith (left), who will serve with Princesses Aleen Khamo, Janell Walker, Amaris Valeriano, and Asucena Mora. Aleen Khamo also won Miss Congeniality. The new Queen and her Princesses visited my community services and resources booth at the La Habra Citrus Fair that thousands attended over the three day weekend. The fair was a terrific event that allowed local businesses and community-services groups to meet the public and showcase their commitment to make La Habra one of the premier cities in OC. Look forward to seeing you at the coming Corn Festival, parade and carnival this fall.
---
Supervisor Shawn Nelson honors the following individuals for receiving distinguished awards and medals at the Sheriff's Department Medal of Valor Luncheon.

Distinguished Deputy Award - Investigator Steve Swiderski

Medal of Merit - Deputy Adam Sandler, Video Producer Marc De Jesus, Deputy Gino Rodriguez, Reserve Deputy Scott Klappenback, Sergeant Roger Guevara, Investigator Bill Beeman, Telecommunications Engineer Jer Kahala

Medal for Lifesaving- Deputy Joe Avalos, Deputy Tim Keller, Deputy Doug Earl, Deputy Scott Steinle, Sheriff's Special Officer Darrin Mills, Investigator Dave Purser, Deputy David Lee, Deputy Mihaela Mihai

Medal of Courage - Sheriff's Special Officer Jose Villalpando, Investigator Jeffrey Puckett
---
Girl Scout Gold Award recipients - Bianca Aguirre, Nicole Hensch
Buena Park Rotary's Distinguished Teachers 2011 – Douglas Armstrong, Jessican Fernandes, Janette Martel, Jennifer Ferrara
Buena Park Rotary's Distinguished Classified Employee's 2011 – Lupe Moala, Marina Doria Manriquez, Don Pope, Debbie Vanderwest
Fullerton Chamber of Commerce Young Citizens of the Year – Melany Im, John Lien, Shelby Fajnor
Fullerton Chamber of Commerce Energizing Our Future Award – David Salazar, David Mardian
Fullerton Chamber of Commerce Educator of the Year – Hilda Sugarman
Fullerton Chamber of Commerce Lifetime Achievement Award – John Link
Earth Month "Eco-Hero" Teachers – Dana Martens, John Teutimez III
Anaheim Arts Council Spirit of Volunteerism Award – Reon Boydstun Howard
Spirit of Volunteerism Award – June Glenn
Orange County's Classified School Employees of the Year – Grace Figueroa, Debbie Vanderwest
Troy High School NJROTC – 2nd Place Victory in NJROTC competitions nationwide
Please contact our office if you know of an individual who deserves recognition for outstanding community or public service.
Contact: Steve Spernak 714-834-3440.
The 4th District has vacancies on the following commission:

Waste Management Commission


If you are interested in serving on this committee,
please call Audra Adams at (714) 834-3998.
Looking for a Job???

Please click the link below to view our One-Stop Satellite Orientation and Workshop Schedule in Buena Park!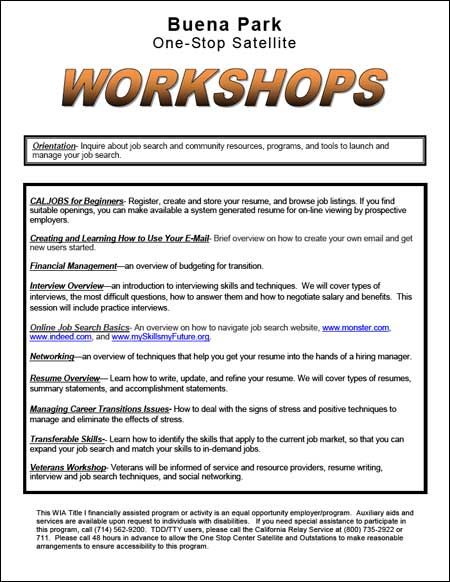 Click on the image above to view a larger version.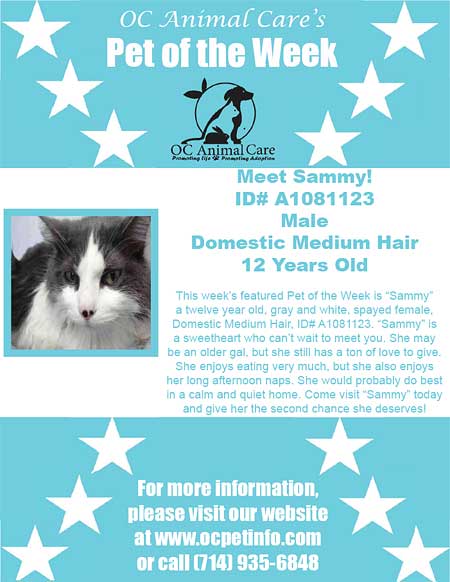 Click on the image above to view a larger version.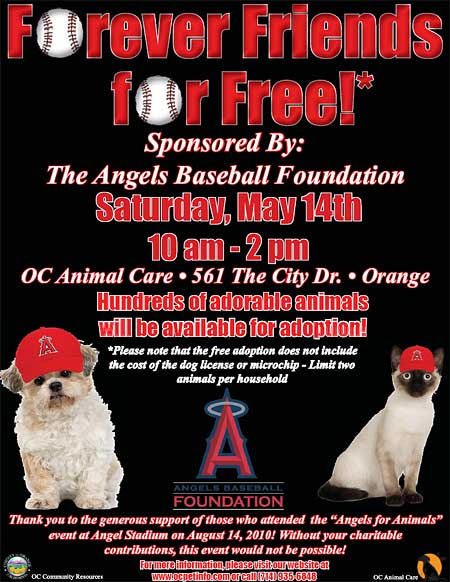 Click on the image above to view a larger version.
La Habra Citrus Festival

Supervisor Nelson takes a minute to retie balloons for a youngster at the very well attended Citrus Fair in La Habra. The Supervisor's booth ran all weekend and provided Senior Guides and County Services Directories.
UPCOMING FOURTH DISTRICT EVENTS
FULLERTON

Imagination Celebration - Family Day

Step back in time for an afternoon of family fun! We will be making rock art inspired by ancient Californians, doing mission-era colonial crafts, and treasure hunts in the gallery for prizes! Family Day is offered as part of Imagination Celebration-a county-wide celebration of the arts that takes place from April 30-May 29.

Date: 4/30/2011
Time: 12:00 PM – 4:00 PM
Place: Fullerton Museum Center
---
ANAHEIM

Anaheim Cinco De Mayo Fiesta and Carnival

Food Entertainment, and festivities for the whole family!

Date: 04/28/2011 – 04/30/2011
Time: 5:00 PM to Midnight
Place: La Palma Park
---
LA HABRA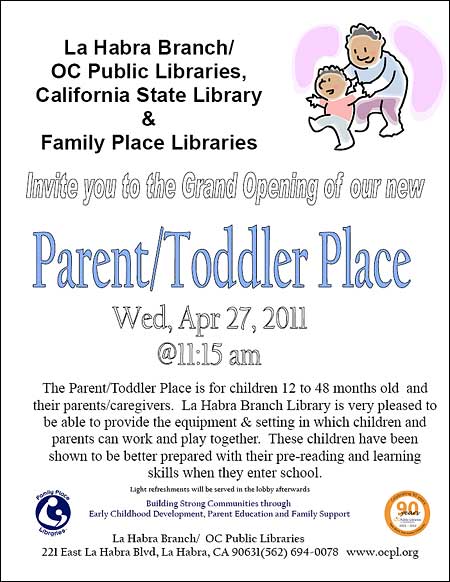 Click on the image above to view a larger version.

For questions or comments regarding Nelson's E-News
please contact the Supervisor's office staff:
Audra Adams Ph: 714-834-3440 Email: audra.adams@ocgov.com.