May 20, 2011
Volume 2, Issue 9
NELSON TEAM
Denis Bilodeau
Chief of Staff

Audra Adams
Policy Advisor /
Communications Director

Steve Spernak
Policy Advisor

David Zenger
Policy Advisor

Scott Carpenter
Policy Advisor

Mark Lopez
Executive Aide
---


Welcome to Nelson's E-News!

Dear Friends,

Thank you to everyone who joined me in attending some of our community events in what was not only a busy week for me, but also a busy weekend. I enjoyed spending some time throughout the Fourth District and north Orange County meeting many constituents.

Last Saturday, the West Anaheim Neighborhood Development Council held its annual WAND Western BBQ. I appreciate the support from those who stopped by this special community event, now in its fifteenth year, and visited my booth to receive valuable County resource information. Earlier that morning, I had the opportunity to visit the OC Animal Care facility with the Angels Baseball Foundation. Loving families gave several pets a chance to enjoy happy, healthy lives.

As part of my duty serving as both County Supervisor and on the Board of the South Coast Air Quality Management District, I also visited a business in the district to see first-hand the regulatory impacts on the local economy. More detailed descriptions of all of these events can be found below.

For those of you unable to participate in these worthwhile and beneficial events, there are other opportunities to meet the community's needs. Please read further to learn how you can help by serving on local commissions and also to discover what some difference-makers in the district have already accomplished.

I hope you find the remainder of this newsletter helpful. I look forward to continuing to serve you as your County representative and hearing feedback from you on critical issues. This will be especially important as we reach the midway point of 2011 and begin our budget discussions in June for FY 2011-12.

The Board of Supervisors meeting is scheduled for Tuesday, May 24 at 9:30am on the first floor of the County Hall of Administration. The County is closed in observance of Memorial Day on Monday, May 30. There is no Board meeting on Tuesday, May 31 due to the holiday.

Sincerely,
Shawn Nelson.
WAND Event - Anaheim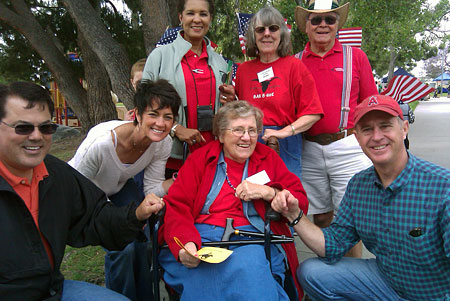 Supervisor Nelson joins WAND legend Esther Wallace, Anaheim Mayor Tom Tait and wife, Julie, along with community BBQ and resource fair members this past weekend during his day-long meet and greet booth at Twila Reid Park. Supervisor Nelson delivered part of the welcoming address, spoke with residents about issues and challenges they face locally along with answering questions about the OC budget, improving public safety concerns and making his office available to help faith-based providers and non-profits to improve the quality of life for Anaheim residents.
---
Vista Paint Tour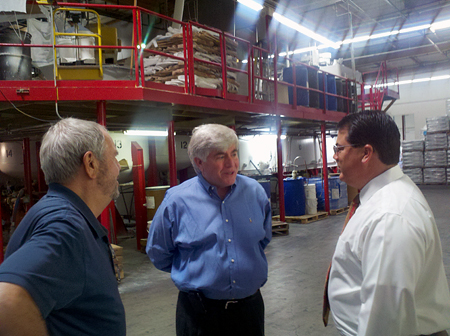 Supervisor Nelson serves as a board member to the AQMD (Air Quality Management District), where he serves on their Stationary Source and Mobile Source Committees. Recently, the Supervisor took a tour of local business Vista Paint to learn more about how the AQMD regulations are impacting small businesses in Orange County. Vista Paint is a local longtime Fullerton business that has been around for 50 years, with 100 employees, and is the headquarters where all their paints are made and distributed. Here, the Supervisor is pictured with Graham Long (plant manager) and John Long (store accounting manager).
---
Angels for Animals Event

On Saturday May 14th The Angels Baseball foundation sponsored their annual Forever Friends For Free Event at OC Animal Care. We adopted 43 cats, 92 dogs, and 12 rabbits for a grand total of 147. That makes this our most successful event ever. It also brings the total number of animals directly adopted through the Angels for Animals program, which began in 2008, to 418!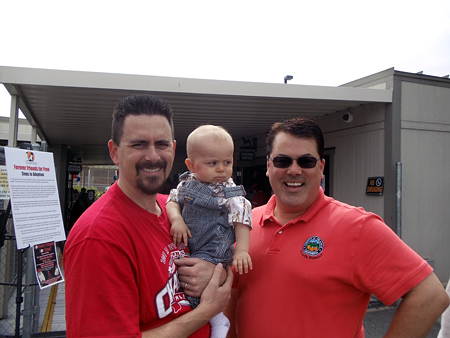 Photos: (Top) OC Animal Care Director Ryan Drabek and his baby Zachary pause for a quick picture with Supervisor Nelson before the event kicks off. (Bottom left and right) Supervisor Nelson takes a moment to visit with a couple of dogs that were up for adoption.
The Orange County Transportation Authority (OCTA) considers public participation and community leadership to be vital components of delivering successful transportation projects and services. OCTA is now recruiting Orange County community leaders for openings on the volunteer Citizens Advisory Committee (CAC). This 34-member committee, appointed by the Board of Directors, plays a significant role in representing a broad spectrum of community perspectives on transportation projects, studies and outreach activities.

If you are interested in serving or know of other motivated community leaders who could contribute their service for a two-year term on the committee, please let us know by visiting http://www.octa.net/cac. Please feel free to encourage interested candidates to go to http://www.octa.net/cac to get more information and to download an application. Or, request a printed application by contacting Alice Rogan at (714) 560-5577 or arogan@octa.net.

Submitting your application:
Applications are due no later than May 31, 2011. Applications can be mailed to: OCTA, Alice Rogan, External Affairs, P.O. Box 14184, Orange, CA 92863-1584. They can also be faxed to 714-560-5795 or scanned and emailed to arogan@octa.net.

OCTA is looking for volunteers who live in Orang eCounty with the following qualifications:


Community involvement - currently represent a group with a large, active membership
Demonstrated interest in community activities and transportation issues.
Willingness to dedicate a minimum of 20 hours per year to OCTA meetings and other activities
---
The 4th District has vacancies on the following commission:

Waste Management Commission

Public Finance Advisory Committee


If you are interested in serving on one of these committees,
please call Audra Adams at (714) 834-3998.
The Orange County Transportation Authority has decided to re-hire a former director to come back as a full time employee. Supervisor Nelson was one of the board members that voted against this contract. To read more about it please click the link below:

http://www.ocregister.com/common/printer/view.php?db=ocregister&id=300035
---
In a recent report by the Orange County Performance Auditor, it was revealed that the county's human resources department's lax on protocol regarding promotions and pay raises have ended up costing the OC Taxpayer a total of $150 million. Here, Supervisor Nelson calls for immediate action to tighten up such reclassifications, adding that now is "the perfect time to deal with it. There is no passing the buck here."

http://voiceofoc.org/countywide/county_government/article_f1773f12-8231-11e0-9c95-001cc4c002e0.html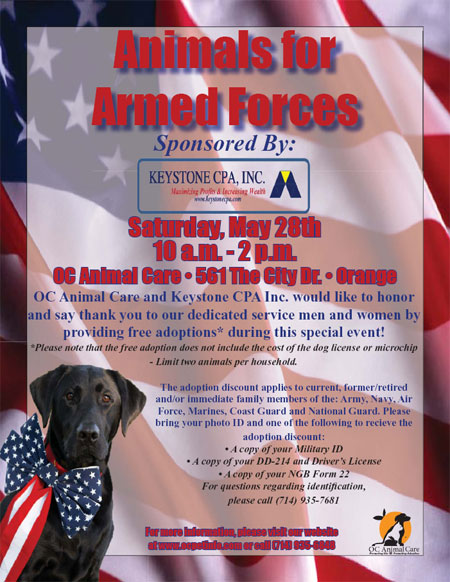 Click on the image above to view a larger version.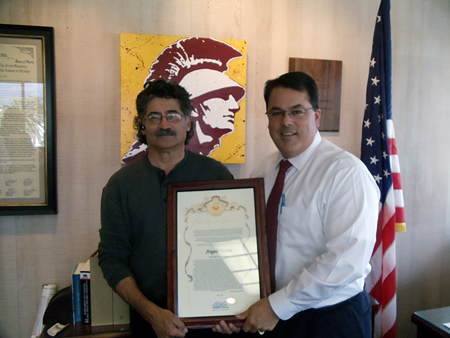 Supervisor Nelson was proud to present Fullerton resident Angelo Torres with a Certificate of Recognition for Heroism and Lifesaving this week. Torres was the heroic first-responder who went onto the I-5 freeway at Euclid on the morning of April 29th against heavy morning traffic to begin the rescue and CPR efforts on the despondent victim who passed from injuries. Supervisor Nelson made the presentation to Torres to honor his selfless humanitarian efforts performed at great personal peril as well as delivering an identical Certificate to OC Register Photographer Bruce Chambers who stopped to help Torres during the rescue before CHP arrived.
---
4th District Certificates

Council On Aging Honorees – Dr. Gwyn Parry (Community Medicine Director, Hoag Memorial Hospital Presbyterian), Jane Glenn Haas (Columnist, Orange County Register), Terry Horne (President, Orange County Register)
Buena Park Police Appreciation, Top Cops of 2010 – Corporal Michael Galos (January), Officer Pedro Montez (February), Corporal Judith Williams (April), Detective Gonzalo Cetina, Detective Alex Hong, Detective Steven Yakubovsky (May), Corporal Patrick Carney, Officer Pedro Montez (July), Officer Kevin Franklin (August), Officer Joey Hoover (October), Officer Connor Brooks, Officer Connor Lee (November), Officer Jeffrey Vu (December)
Buena Park Police Appreciation, July 27th Commendation – Sergeant John Swisher, Corporal Kris Bisbing, Officer Pedro Montez, Officer Roger Plumlee
Buena Park Police Appreciation, Distinguished Service Award – Chaplain Duane Tellinghuisen
Buena Park Police Appreciation, Employees of the Year – Captain Willy Lopez (Explorer), Maury Thews (Volunteer), Lingfei Teng (Civilian), Officer Ralph Bretta (Reserve Officer), Sergeant Tamra Banks (Supervisor), Corporal Thomas Reyes (Police Officer)
Anaheim Police Department Community Service Awards – Officer David Heinzel (VFW), Investigator Michael Cunha (American Legion), Scott Maddy (California Public-Safety Radio)
Anaheim Police Department Division Employees of the Year – Sergeant Frank, Ruben Perez (Chief's Division), Steven McLean, Arleen Harris (Operations Division), James Griswold, Mary Reid (Investigations Division), Phillip Grisotti, Paul Munoz (Operations Support Division), Michael Cunha, Susan McClees (Special Operations Division)
Anaheim Police Department Awards – Tania Cordoso (Explorer of the Year), Officer Jared Dewald (Distinguished Service), Officer Amador Nunez, Officer Dan Hurtado, Officer Curt Ledesma (Lifesaving Award), Detective John Duran (Career Achievement), Officer Chris Ned (Meritorious Service), Detention Bureau (Unit of the Year)
Anaheim Police Department Community Member Recognition – Chris Sayers, Michael Richardson Sr., William Cowhey Jr., Jeanne Lee, Stan Zemielis, Mike Helmick, Mark Van Meter, Kahle Switzer, Debbie Fike, Jim Farley, Greg Palmer, June Lovejoy, Ed Cook, Chuck O'Connor
National Merit Scholars 2011 – Benson Ku, Natasha K. Nguyen, Yunsu Park, Albert T. Young, Alaric Qin, Ritika Dutta, Rahika R. Deshpande, Madeline J. Suchard

Please contact our office if you know of an individual who deserves recognition for outstanding community or public service.
Contact: Steve Spernak 714-834-3440.
Need a new lawn mower?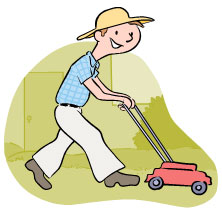 AQMD is encouraging residents to turn in their old gas lawn mowers and purchase a brand new cordless, rechargeable, electric lawn mower at a greatly reduced price! Choose from five different models of lawn mowers. The event in Anaheim will take place on July 23rd. To participate you must:


Turn in an operable gas mower


Show proof of residency in Sounth Coast AQMD jurisdiction


Pay $100, $160 or $230 (depending on model selected)


Cash, check or major credit card accepted
For more information visit www.aqmd.gov or call 1-888-425-6247.
---
John Wayne Airport Update

John Wayne Airport announced that they will be renumbering passenger gates and baggage carousels in the Thomas F. Riley Terminal, effective May 17th

Here are the specifics:


Gates 1A, 1B and 1C will be located in the North Commuter Terminal. The first commercial passenger gate will be Gate 2 (previously Gate 14). Gates will be numbered sequentially, from north to south, with Gates 16A and 16B operating from the South Commuter Terminal.


Baggage carousels will also be renumbered from north to south. Carousels 1 and 2 (previously 3 and 4) will be located in Terminal A and Carousels 3 and 4 (previously 1 and 2) will be in Terminal B.
The airlines will be adjusting their electronic ticketing system and boarding passes will be printed with updated gate numbers. All airlines will continue to operate from the same physical ticket counters and gates they do today.
The Olde Ship British Pub and Restaurant

The Olde Ship is a beautiful family restaurant and friendly pub owned and operated by Simon Collier, a proud Briton who's called Fullerton his home since The Olde Ship opened in the early 1990's. The service is also uniquely British, and immediately makes all patrons members of their family. Like their website says, "you'll be a stranger here but once." They provide authentic and quality British food, including several local favorite dishes, the Mary Rose Chicken Sandwich, and the Captain's Burger. For two decades they have provided a fun and fruitful pillar for the community of Fullerton and the entire County of Orange, and remain a fun place to eat, whether it's to eat with the family or watch a game with friends.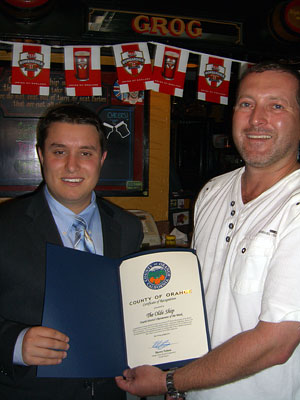 (Left to Right) Nelson staffer Nick Constantino and
restaurant owner Simon Collier
Gathering of the Crosses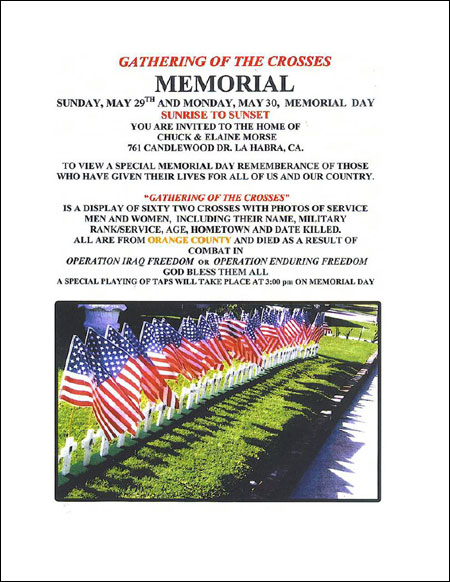 Click on the image above to view a larger version.

For questions or comments regarding Nelson's E-News
please contact the Supervisor's office staff:
Audra Adams Ph: 714-834-3440 Email: audra.adams@ocgov.com.