October 19, 2012
Volume 3, Issue 18
NELSON TEAM
Denis Bilodeau
Chief of Staff

Audra Fishel
Policy Advisor /
Communications Director

Steve Spernak
Policy Advisor

David Zenger
Policy Advisor

Scott Carpenter
Policy Advisor

Mark Lopez
Policy Advisor

Neha Sata
Executive Aide
---


Welcome to Nelson's E-News!

A few highlights as you read:

This weekend marks the 56th annual Silverado Days in Buena Park. This traditional community event runs all weekend, beginning this evening at 5:00 pm at William Peak Park. See the flyer below for more information. Hope to see you there!

William Peak Park
7225 El Dorado Drive Buena Park, CA 90620
(714) 562-3873

Our very own Registrar of Voters won the national Digital Government Achievement Award for its user-friendly and innovative website over thousands of other entries. Please read the press release below or visit the Registrar of Voters website at www.ocvote.com to learn more. As a reminder, the last opportunity to register to vote for the November 6th election is Monday, October 22nd.

The Fourth District is looking to appoint individuals to various County committees and commissions. These groups provide much-needed information and recommendations to the Board of Supervisors. Please see below for a list of current openings, qualifications and contact information.

Sincerely,
Shawn Nelson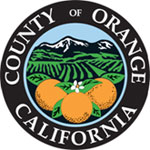 County IT Contract

On Tuesday, the Board heard recommendations for the new IT contract services. There are two separate scopes of work: one includes Data Center Operations, Service Desk, Desktop Support and Applications Services while the other is for Countywide Voice and Data Network, combining voice and data network infrastructure with Voice over Internet Protocol (VoIP) capabilities.

The County is seeking a new IT sourcing service delivery model, which is critical in light of considerations such as necessary infrastructure upgrades, economic pressures and taking advantage of IT improvements over the last decade. The original ten year term of the County's contract expired in June 2011 and has been extended through February 19, 2013, with an additional optional extension through June 19, 2013.

The item has been continued to Tuesday, November 13 at a time certain of 1:30 pm. Below, please view the presentation delivered to the Board as well as the timeline for awarding the contract.

Please click here and here for more information.
---
OC Registrar of Voters Wins Award

The Orange County Registrar of Voters has been awarded the national Digital Government Achievement Award for its website. The website, ocvote.com, was chosen out of thousands of entries for its accessibility, uniqueness of features, as well as information and design.

The Registrar of Voters' new website was launched in April and has received heavy traffic with the approaching Presidential Election. Voters can access all of their election information in a unique "voter portal," which includes voter registration information, ballot tracking, polling place information, and more.

The Digital Government Achievement Awards (DGAA) recognize outstanding agency and department Web sites and projects at the application and infrastructure level. United States and international government agencies - at all levels and all countries - enter their actively functioning, fully operational applications and projects.

"Digital technology has fundamentally changed the way people interact with their government and we are seeing it demonstrated through everything from full service portals to special purpose mobile apps," said Todd Sander, executive director of the Center for Digital Government. "We're excited about the opportunities governments are creating to make new things possible and to do the old things faster and more efficiently."

For more information, please visit www.ocvote.com.
---
Board Adopts 2013 Calendar

At the October 2 board meeting, the Board adopted its 2013 meeting schedule. A regular meeting was added on Monday, January 7 while the meeting on Tuesday, November 26 was deleted ahead of the Thanksgiving holiday. For the full year, see the calendar here.
---
New CalOptima Board Appointees

The Board appointed two new members to the CalOptima Board of Directors. Tricia Nguyen will serve as the community clinic representative and Peter Agarwal will serve as the for-profit business representative. Their applications may be viewed below. Both are for four-year terms ending September 30, 2016.

To view the full Board of Directors, learn how they are selected and see their upcoming meetings, please visit the CalOptima website.

For more information, please check out Caloptima appointee B and Caloptima appointee C.
---
CSAC Appointments

As a formality, Supervisors appointed Chairman Moorlach as the regular representative to the California State Association of Counties and Vice Chair Nelson as the alternate. CSAC's Constitution requires that members of the Board of Directors are elected by each Board of Supervisors for terms commencing on the first day of the annual conference, which this year begins on November 27 in Long Beach.

The new Chair Appointments for the members of the Board, including any revision for CSAC, will take effect in January. For more information on the conference, please visit CSAC online.

For more information, please click here.


OCTA Public Member Recruitment

The Orange County Transportation Authority is accepting applications to fill a public member seat available on the Board of Directors.

The 18-member Board is responsible for overseeing the transportation agency, including the countywide bus service, Metrolink rail service, the 91 Express Lanes, Measure M implementation, freeway, street and road improvement projects and motorist services.

Candidates must be residents of Orange County and not currently serving, or have served within the last four years, as an elected official of a city, county, agency or special district.

Public members are appointed for four-year terms and the selected candidate will be one of two public members to serve on the Board.

Applicants can submit a resume and letter of interest by noon on Friday, October 26 to boardrecruitment@octa.net or by mail to OCTA Clerk of the Board, 550 South Main Street, P.O. Box 14184, Orange, CA 92683.

The OCTA Board of Directors may consider applications at its Friday, November 9 meeting. The selected public member's term will commence in January 2013. For more information, please visit www.octa.net/publicmember.


New Fullerton Community Center

Supervisor Nelson extended his congratulations this past Saturday to city staff, contractor Roger Torriero and planners who designed the new Fullerton Community Center across from City Hall. The ribbon cutting and dedication program was attended by hundreds of residents. The center will offer recreation and exercise, swimming pool and hydro-therapy, meeting rooms and a huge open-air patio for BBQ's and dances. The Boys and Girls club will operate there and inspire mentoring along with after-school and weekend sports, delivered, in part, by the FAST swim club who will run the aquatics programs.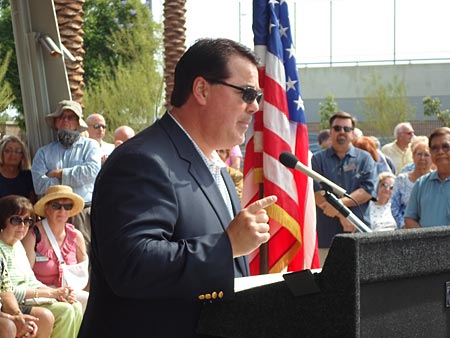 Supervisor Nelson addressing the crowd at the new Fullerton Community Center
---
50th Anniversary – Anaheim Memorial Manor

Supervisor Nelson joined residents at the Anaheim Memorial Manor in Anaheim to celebrate the 50th anniversary of the Retirement Housing Foundation (RHF) and their services to house low-income and fixed-income seniors. RHF has 166 communities in 26 states and provides terrific residency care and meals for over 18,000 older Americans. The Fourth District celebrated their care and compassion in helping Orange County seniors with a Certificate of Recognition to Dr. Laverne Joseph, President and CEO of RHF.




Supervisor Nelson (right) presents a certificate of recognition to Dr. Laverne Joseph, President and CEO of RHF
---
Heritage Days Parade

Supervisor Nelson shared a perfect day this past Saturday with thousands of Placentia residents who came out to support the City, Chamber of Commerce and countless community-service groups at their annual Heritage Days gala. Sup. Nelson rode in the parade up Kraemer Blvd then spent some time in his district information and resource-services booth with Policy Advisor Steve Spernak. Revenues raised go to support community programs, events, travel and equipment for volunteers, PTSA, service organizations and civic supporters.




Above – Supervisor Nelson enjoying his Saturday at the Placentia Heritage Day Festival
COUNTY COMMISSIONS AND COMMITTEES

The 4th District has vacant appointments on the following commissions or committees:


Human Relations Commission
Housing and Community Development Commission
Development Processing Review Committee
Assessment Appeals Board No. 1
If you are interested in serving on one of these committees, please call Audra Fishel at (714) 834.3440

NRPA Tour

This week, the National Recreation and Parks Association held its annual Congress and Exposition at the Anaheim Convention Center.

As part of this show for parks professionals from throughout the nation, OC Parks hosted a tour Monday that focused on the partnerships that help them run high-quality and well-maintained facilities. About 120 people attended the tour, which included stops at the Santa Ana River Trail, Irvine Regional Park, the Irvine Ranch Open Space, Salt Creek Beach and Upper Newport Bay Nature Preserve.
(Left) NRPA members enjoy a ride on the train at Irvine Regional Park. (Right) Supervisor Nelson staffer Audra Fishel joins OC Parks staffer Steve Bonhall, So Coastal Operations manager at Salt Creek Beach on the 4th stop of the tour.
---
OC Parks Sports Day

On Sunday, October 14, OC Parks was pleased to host the third annual OC Parks Sports Day at Craig Regional Park in Fullerton. The event welcomed renowned athletes and teams from seven different types of sports for an action packed day of activities.

Children and teens were taught athletic skills from the pros in soccer, baseball, football, racquetball, and softball at Sports Day. Los Angeles Angels® of Anaheim alumni second baseman Bobby Grich was on-site coaching kids in the techniques of the sport. Hope International University Soccer and Softball teams along with players from the World Outdoor Racquetball are just a few of the athletic groups that were instructing the children that day.

Orange County 4th District Supervisor Shawn Nelson joined the event to coach the football portion of the event and present the awards at the end of the day.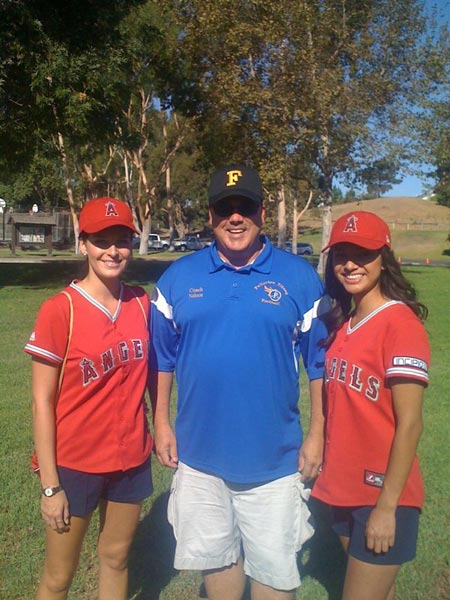 Angel Strike force girls take a moment during the event to pose with Supervisor Nelson
---
County Artist's Work on Display

The retrospective includes artwork seen on many interpretive panels throughout OC Parks.

OC Parks and the Old County Courthouse are pleased to announce the opening of the new exhibit, "Orange County Illustrated - With Sandra Heaton."

Sandra Heaton has been illustrating Orange County's parks, buildings, plants and animals as a County employee for more than 20 years.

She has captured our area's natural and architectural resources for the benefit of the local community. Her work showcases many of the beautiful and unique places within OC Parks, including illustrations of native flora and fauna, architectural drawings, and landscape paintings. Come visit the exhibit to enjoy her drawings and paintings and learn a little more about the artist herself. The exhibit is currently open to the public and will run through January 2012.

The gallery is open Monday through Friday, 9 a.m. to 4:30 p.m.
Above - Sandy Heaton proudly shows off her paintings (notice on the right her painting of Supervisor Nelson!)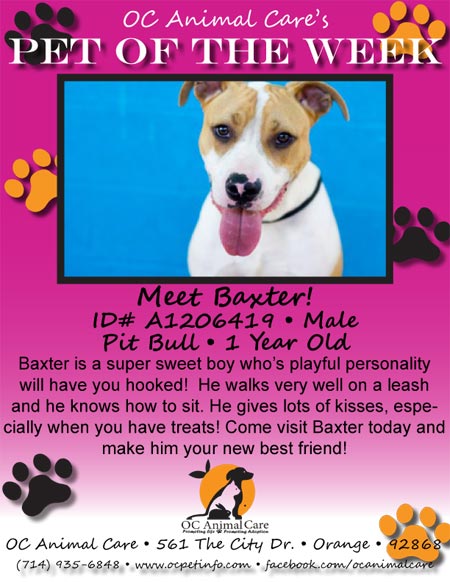 Click on the image above to view a larger version.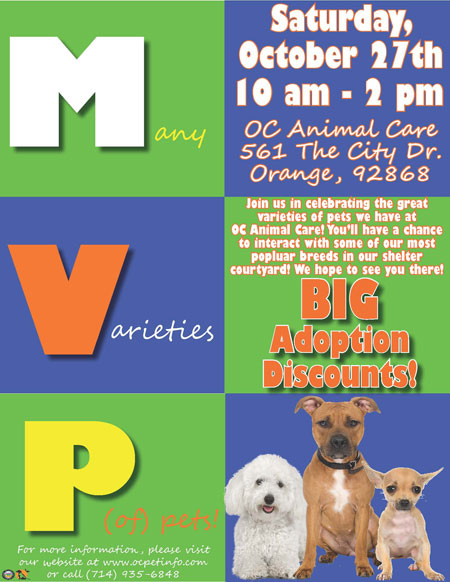 Click on the image above to view a larger version.
Anaheim

What: Halloween Time at Disneyland Resort
Where: Disneyland Resort
When: September 14 – October 31, 2012
Time: TBD

What: 2012 OC Baby Boomer and Senior Expo
Where: Angel Stadium of Anaheim, Exhibition Center at Gate 6, 2000 E. Gene Autry Way, Anaheim CA 92806
When: Saturday, November 17, 2012
Time: 10:00 am – 3:00 pm

What: Historical Anaheim Antique Flea Market
Where: Center Street Promande, Anaheim, CA
When: October 28 and November 25, 2012
Time: 8:00 am – 3:00 pm

Brea

What: Senior Health Fair/Flu Clinic
Where: Brea Senior Center, 500 S. Sievers St
When: Friday, October 21, 2012
Time: 9:00 am - 1:00 pm

What: Nutcracker Craft Boutique
Where: Brea Community Center, 695 E. Madison Way
When: Friday, November 16, 2012; and Saturday, November 17, 2012
Time: Friday 9:00 am - 6:00 pm; Saturday 9:00 am - 4:00 pm

What: Side Street Strutters' Winter Wonderland
Where: Curtis Theatre, Plaza Level, 1 Civic Center Circle
When: Saturday, November 24, 2012; and Sunday, November 25, 2012
Time: Saturday 8:00 pm; Sunday 2:00 pm

Buena Park

What: Silverado Days
Where: William Peak Park
7225 El Dorado Dr., Buena Park 90620
When: Friday, October 19, 2012 - Sunday, October 21, 2012
Time: Friday 5:00 pm - Midnight; Saturday 10:00 am - Midnight; Sunday 8:00 am -10:00 pm

What: Mayor's Prayer Breakfast
Where: Knott's Berry Farm Resort Hotel
When: Thursday, November 15
Time: 7:00 am

What: Baby Classic
Where: Peak Park, 7225 El Dorado Drive, Buena Park, CA 90621
When: October 20, 2012
Time: 1:00 pm

What: Walk to End Alzheimer
Where: 8039 Beach Blvd, Buena Park, CA 90621
When: October 27, 2012
Time: 7:30 am - 12:00 pm

Fullerton

What: Stroller Brigade
Where: Fullerton Museum Center
When: Wednesdays, October 17 – November 28, 2012
Time: 10:00 am – 12:00 pm

What: Haunted Fullerton Walking Tours
Where: Fullerton Museum Center and Downtown Fullerton
When: Wednesdays and Thursdays, October 17 – November 1, 2012
Time: 6:00 pm – 8:30 pm

What: Fullerton Rotary Breakfast Meeting
Where: Meridan Sports Club, 1535 Deerpark Drive
When: Thursdays, October 18 – November 29, 2012
Time: 7:15 am – 8:30 am

What: Craft Fair and Pancake Breakfast
Where: Sunset Lane School, 2030 Sunset Lane
When: October 20, 2012
Time: 8:00 am – 12:00 pm

What: MOMS Club of Fullerton East Garage Sale
Where: 2313 Nutwood Avenue
When: Saturday, October 27, 2012
Time: 7:00 am – 12:00 pm

What: Oktober Monsterfest
Where: Fullerton College Sculpture Garden, corner of Lemon and Chapman
When: Saturday, October 27, 2012
Time: 12:00 pm – 5:00 pm

What: Leon Owens Foundation Scholarship Awards Banquet and Fundraiser
Where: Embassy Suites, Garden Grove
When: Sunday, October 28, 2012
Time: 2:30 pm

What: The G&L Electric Bass – A Hands ON Workshop
Where: Fullerton Museum Center
When: Friday, November 2, 2012
Time: 7:00 pm

What: Reward Yourself for Voting (Free Museum Admission with I Voted sticker)
Where: Fullerton Museum Center
When: November 6, 2012
Time: 12:00 pm – 4:00 pm

What: Home of the Holidays Benefit
Where: Muckenthaler Cultural Center, 1201 W. Malvern
When: November 8, 2012
Time: 7:00 pm – 9:00 pm

La Habra

What: ConnectUp at Corner Bakery Café
Where: Corner Bakery Café, 1040 W. Imperial Highway, La Habra, CA 90631
When: Every Thursday
Time: 8:00 am

What: Chamber Bowling Night
Where: La Habra 300 Bowl, 370 W. Whittier Blvd, La Habra
When: November 7, 2012
Time: 6:30 pm – 8:30 pm

What: Free Concerts at La Habra 300
Where: 13th Frame Lounge, La Habra 300 Bowl
When: Every Saturday
Time: 9 pm – Midnight

What: Savor the Flavor, Taste and Expo
Where: La Habra Community Center, 101 W. La Habra Blvd, La Habra, CA 90631
When: November 15, 2012
Time: 5:00 pm – 8:00 pm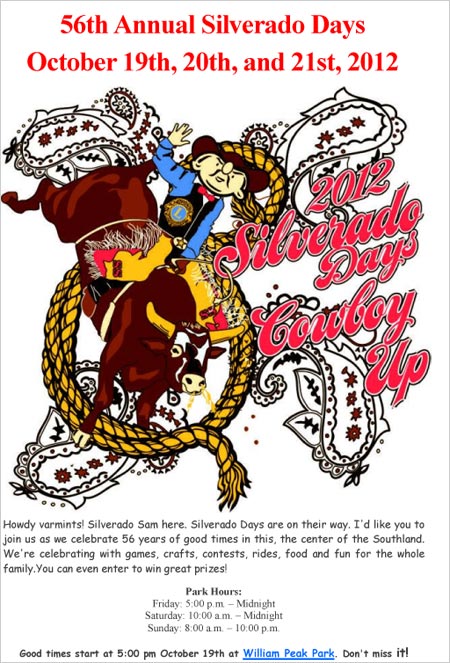 Click on the image above to view a larger version.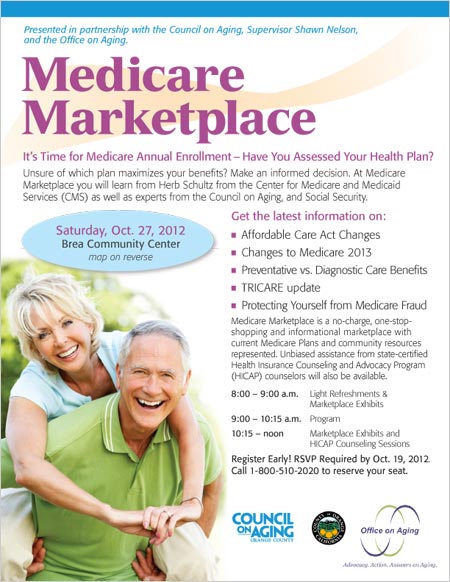 Click on the image above to view a larger version.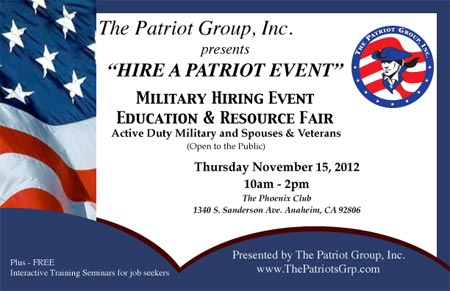 Click on the image above to view a larger version.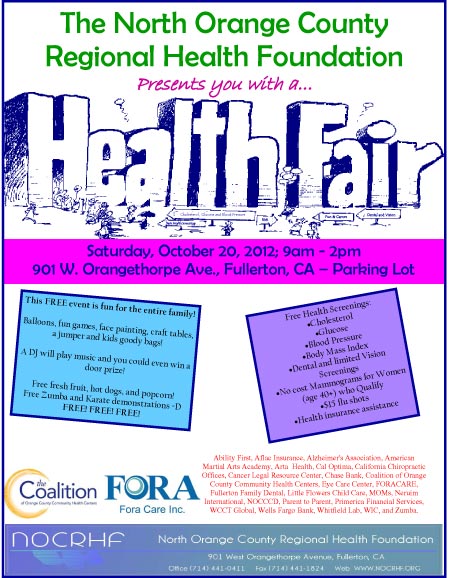 Click on the image above to view a larger version.
For questions or comments regarding Nelson's E-News
please contact the Supervisor's office staff:
Audra Fishel Ph: 714-834-3440 Email: Audra.Fishel@ocgov.com.