Welcome to Nelson's E-News!

Due to several recent personnel matters at the County of Orange, the Board of Supervisors and Human Resources staff have approved a centralized approach to achieve more accountability and a positive work environment for all employees. Please continue reading for more details on this coming change.

There are also many events occurring this month in which I hope you can participate. Next Saturday, November 10 at 10:00am, please join my office, Mayor Tom Tait and the City of Anaheim to recognize our nation's veterans in a ceremony at the downtown promenade. Please see the attached flyer below for more information. Hope to see you there!

Tomorrow, there is another exciting event hosted by OC Parks. All equestrian sports enthusiasts are welcome to join or attend the Equifest Competitive Trail Challenge at Irvine Regional Park in the City of Orange. Please read below for details.

The Board of Supervisors is dark Tuesday, November 6. In addition, the County will be closed on Monday, November 12 in observance of Veterans Day.

Sincerely,
Shawn Nelson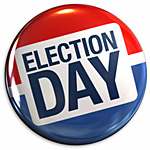 General Election on Tuesday

The 2012 General Election will be held Tuesday, November 6. Polls will be open from 7:00 am to 8:00 pm. In addition to the presidential contest, and several local, state and federal races, there are eleven statewide ballot measures to be decided next week. For more information, including sample ballots, voter guides and locating your polling place, please visit the Registrar of Voters.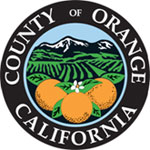 Daylight Saving Time Ends

Remember to "fall back" one hour this weekend. Daylight Saving Time officially ends Sunday, November 4 at 2:00am. To ensure you wake up on time, be sure to set your clocks before going to bed Saturday night. It's also a good time to check your smoke detectors and replace old batteries.
---
Sheriff Receives DUI Money

The Board accepted one of the State grants being given to local law enforcement agencies through the Sobriety Checkpoint Grant Program for 2012-2013. The goal of the grant program is to reduce the number of people killed and injured in alcohol-related crashes. There are two national mobilization periods covered during this timeframe: the Winter Holiday Mobilization Period (December 14, 2012 to January 1, 2013) and the Labor Day Mobilization Period (August 16, 2013 to September 2, 2013).

The Orange County Sheriff's Department has been awarded nearly $40,000 through the program to use for overtime and supplies to conduct five sobriety checkpoints by September 30, 2013.
---
Board Changes Up County HR

On Tuesday, the Board also approved a plan to improve the County's Human Resources (HR) department, reducing costs by approximately $1.5 million in the process. Over the next year and a half, HR employees will transfer to a new, centralized Human Resource Services (HRS.) The plan results from months of analysis, including interviews with County staff, comparisons with county HR departments statewide and reviewing workloads.

Previously, HR was administered by each agency using small, internal teams. Under the new plan for centralization, most HR staffers will be reclassified as employees under the HRS. The reorganization into a central agency is designed to help the County achieve more efficiency and professional responsibility. The new plan allows for consistency in applying HR regulations, efficient allocation of HR services based on department needs, continual education and training for HR employees and the quicker distribution of important HR information.

While these benefits are realized in the creation of the new HR authority, the change maintains some balance with the old system. Select branches of the County will still have convenient, accessible HR support by using satellite teams within their agencies. Satellite teams will exist in departments such the offices of the District Attorney, the Treasurer-Tax Collector and the Sheriff-Coroner. The countywide change begins on December 3, 2012.

Please click here for an overview of the satellite teams, transition timeline and proposed organizational chart or view the full reorganization proposal.
---
Elected Office Vacancies

The Board approved a process for filling vacancies created when elected officials leave their positions before their term of office expires. This involves the Chief Executive Officer working with Human Resource Services to devise a draft selection timeline, update job descriptions for the positions and develop a draft interview process.

Currently, there are two vacant countywide elected offices: the Auditor-Controller and the Public Administrator. There has been an appointed interim Auditor-Controller since February 1 and interim Pubic Administrator since January. In addition, there is also a possibility that the elected Clerk-Recorder position will be vacated this year.

For more information, please view a memorandum regarding the item.
2012 Olympic Athletes visit the Board of Supervisors

The Board of Supervisor welcomed over a dozen Olympic athletes and coaches at the Board Meeting on Tuesday, October 30th. Prior to the Board Meeting the County of Orange was honored to recognize the accomplishments of the 79 athletes with ties to Orange County who competed in the 2012 London Olympics on behalf of the United States.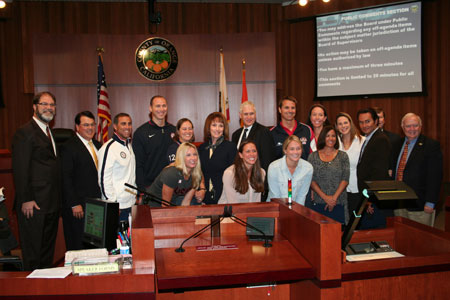 Above are the Olympians in attendance at Tuesday's festivities with Supervisors Moorlach, Nelson, Bates and Campbell
---
AltaMed Health Services – Certificate of Recognition

Council on Aging CEO Lisa Wright-Jenkins joins Supervisor Nelson to present AltaMed Health Services Representative Sylvia Castillo with a well-deserved Certificate of Recognition. Supervisor Nelson extended his appreciation to Altamed as presenting sponsor and their work in ten sites in Orange County where they deliver an array of primary care including general medicine, dentistry, geriatrics, health planning and pediatrics, health screenings, preventive care and health education.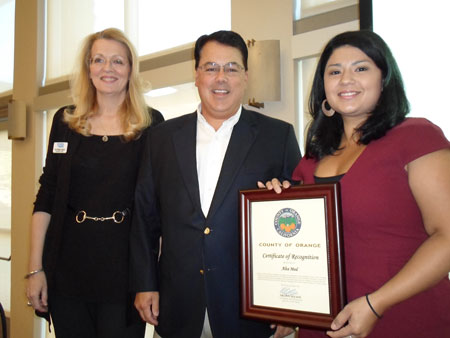 (Left to Right) Lisa Wright-Jenkins, Supervisor Nelson, Sylvia Castillo
---
The Fourth District congratulates Popular Community Bank in Fullerton

On Friday, October 26, 2012, the Fourth District joined in the celebrated re-branding and new management of Popular Community Bank in Fullerton. Popular Community Bank held a ribbon cutting at their spacious, hillside Fullerton branch, which was festively decorated for the occasion. Refreshments, appetizers, and souvenir bags were distributed to those in attendance, which included ambassadors from the Fullerton Chamber of Commerce, representatives from elected offices, and members of the local community. Popular Community Bank's Fullerton branch is located at 1701 N. Euclid Street, Fullerton, CA 92835.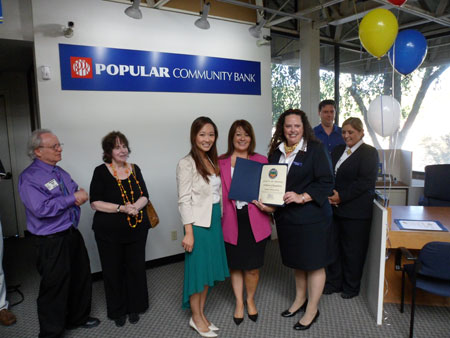 Fourth District Intern Amy Nguyen presents a certificate of recognition to the staff of Popular Community Bank.
---
Supervisor Honors Hero with Profiles in Courage Award

Supervisor Shawn Nelson attended the formal ceremony hosted by the City of Buena Park last week to pay tribute to the heroism of Chuck Rees who saved an 80 year old woman trapped inside a structure fire. Rees was on his way home from his job at Costco when he observed a huge column of black smoke spiraling skyward just blocks from his location. Thinking he could help or see if there was a chance to assist responding firemen, Rees drove toward the location at Ridglea Street and found neighbors on the front lawn asking where the elderly resident was. Told that the elderly woman was still inside the burning residence, Rees held his breath and charged into the house. Rees yelled out and heard a faint 'help me' from the 80 year old disabled resident. Rees got the woman to her feet and started his exit through the smoke and searing heat where he got her to a safe location on the front lawn with her neighbors. Astonishingly, Rees didn't wait for Fire to arrive and seeing the victim was in good hands got back in his truck and drove away. Days later friends identified Rees to the media and Nelson staffers partnered with the Mayor's Office and Division Chief Mike Boyle at the Orange County Fire Authority to do presentation of awards for heroism and lifesaving. Rees will be nominated for the State Firefighters award for lifesaving by Supervisor Nelson and OC Fire Authority.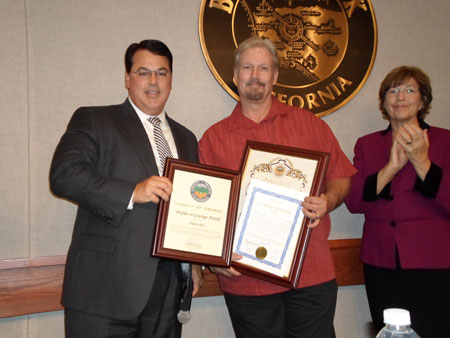 (Left to Right) Supervisor Shawn Nelson, Chuck Rees and Councilwoman Beth Swift
---
Silverado Days a Success!

Fourth District Communications Director Audra Fishel takes in the festivities last Friday night at the 75th Silverado Days hosted in Buena Park by the Noon Lions Club. The weekend of events, rides, live bands, raffles and food court is an annual outing for almost 100,000 attendees and civic groups who use the income as a fundraiser for scholarships, charities and community services. Nelson's staffers answered questions on public administration, provided resource guides and directories of County services to thousands who stopped by to say hello and thank the Supervisor for his outreach and public appearances at this year's event.




(Above) Nelson Staffer Audra Fishel keeps busy talking to constituents about County Services
---
Council on Aging partners with Supervisor Nelson at Brea Medicare Forum

Supervisor Nelson joined with the Council on Aging to host the Medicare Market Place training and legal briefing at the Brea Community Center this past weekend. Joining Supervisor Nelson in the presentations was OC Community Services Director Karen Roper and OCCR Staffer Sylvia Mann whose team helped create the hugely popular 2013 version of the County's Senior's Guide. The Senior Guide is a comprehensive directory of the service providers, elder care technicians, health insurers and consultants, nutrition and exercise therapists dedicated to the quality of life for seniors. This is Supervisor Nelson's second seniors summit this year and another element of his passion to provide for the safety and well-being of Seniors in the 4th District.



(Left) Karen Roper, Director of OC Community Services, and Supervisor Nelson take a moment to enjoy the forum
(Right) Supervisor Nelson addresses the forum
COUNTY COMMISSIONS AND COMMITTEES

The 4th District has vacant appointments on the following commissions or committees:


Human Relations Commission
Development Processing Review Committee
Assessment Appeals Board No. 1
If you are interested in serving on one of these committees, please call Audra Fishel at (714) 834.3440

Veterans Day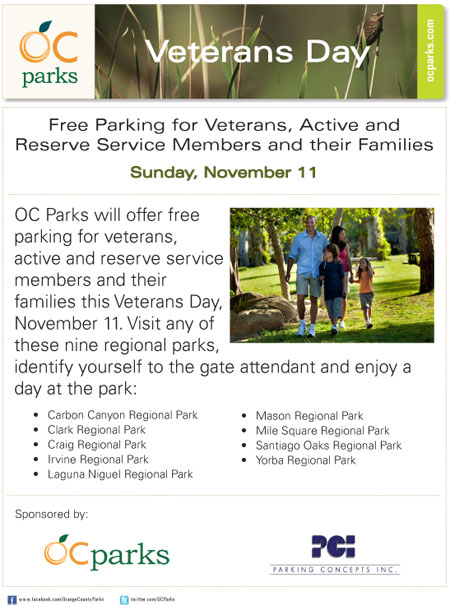 Click on the image above to view a larger version.

Equifest Competitive Trail Challenge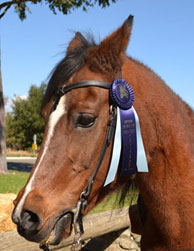 OC Parks and Irvine Ranch Conservancy invite equestrians and their mounts for a day of friendly fun beginning with an American Competitive Trail Horse Association sanctioned Competitive Trail Challenge.

The event takes place Saturday, Nov. 3 from 8 a.m. to 3 p.m at Irvine Regional Park in Orange.

The trail ride and competition is approximately 6.2 miles long with 4 miles of trails in the Irvine Ranch Open Space. Prizes awarded for first through sixth in the Open, Pleasure, Junior and Scout Divisions. There is a non-competitive Buddy Division which includes only the trail ride for participants.

There will be prizes awarded to the Best Dressed Female and Male Riders! Prizes will also be given for Best Groomed Mount.

Lunch will be provided to all participants by Johnny Rebs BBQ.

For event details and registration, please visit www.actha.us/ride/6245.

All riders must register online to participate. Registration closes on Wednesday, October 31 at 5 p.m.

Proceeds from this ride will go to the Hanaeleh horse rescue organization who help save, rehabilitate, train and find loving homes for abused, neglected and abandoned horses.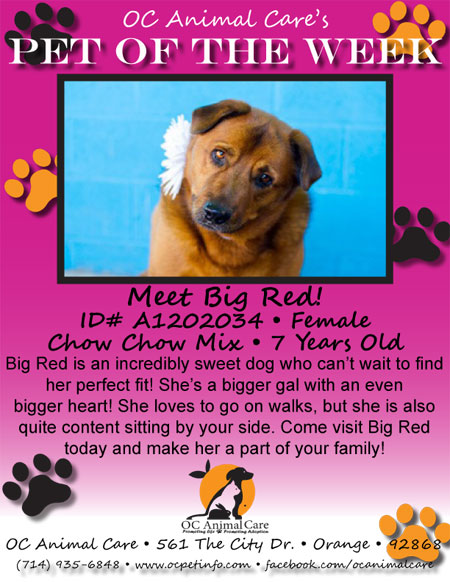 Click on the image above to view a larger version.

Donate your old books!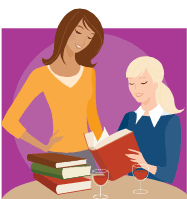 OC Public Libraries loves books! If you're in the fall cleaning mode, don't forget your local library. The library welcomes your donation of gently used books for children and adults. Simply bring your books to any of the 33 OC Public Libraries' branches. Please visit www.ocpl.org for the branch closest to you.

The library will determine if the book can be added to the collection or if it will be donated to the Friends of the Library. The Friends sell used books in their bookstores. The funds that are raised in the Friends' bookstores are used to purchase new library books and quality library programming for both children and adults.

Not only is this an excellent way to accomplish your fall cleaning while supporting your local library, you may request a tax donation form and save tax dollars next spring!
---
Have you ever been to the Brea Library? If not, check out the November calendar!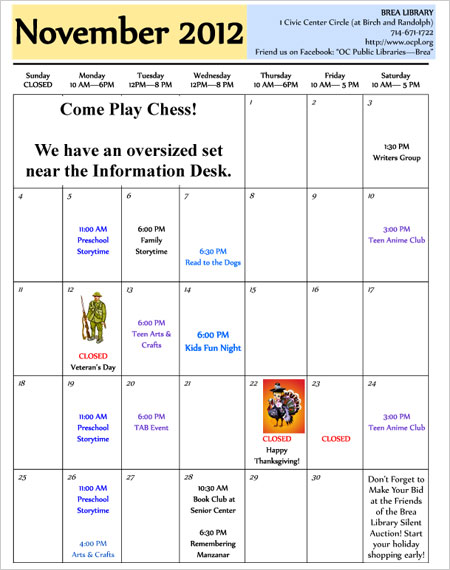 Click on the image above to view a larger version.
---
Baroque Recorder Quartet to perform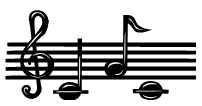 Join us for music performed by the SAMS Baroque Recorder Quartet on Sunday, December 9 at 2:30 in the La Habra Library Meeting Room. They will play an eclectic selection of music spanning periods from Renaissance to Baroque to modern times. The concert will include familiar seasonal holiday works. Singing and dancing to the music is encouraged. The program is free and open to all ears. Call the library for more information at 562-694-0078.



Placentia Community Prayer Breakfast


Thursday, November 15th
7:00 am-8:30 am
Sponsored by Placentia Rotary Club and Placentia Roundtable Women's Club
Location: Placentia Round Table Womens Club: 901 N. Bradford Ave., Placentia
Cost: $20
More Information: Karen Mangold (714) 993-2267
---
National Retired Teachers Week


NOVEMBER 4 – 10 What happens after teachers retire? The answer is that they keep busy. The California Retired Educators Association announces November 4 – 10 as Retired Teachers Week by recognizing that retired teachers give back to their communities.

Each year local divisions report members' volunteer hours. Statewide, in 2011, California Retired Teachers Association members donated more than 2.5 million hours and that was with fewer than 13 percent of the membership reporting. Perhaps they were too busy volunteering to report!

Though the economy continues to be sluggish, retired teachers give their time, effort and dollars!! Members of the Association provide volunteer hours valued at more than $62 million. In addition, members have adopted schools, planted trees, donated books, hosted events for current teachers, organized special community projects, and donated nearly $675,000 in grants, scholarships and donations to schools and current and future teachers.
Anaheim

What: Veterans Day Celebration
Where: Center Street Promenade, Downtown Anaheim
When: November 10th, 2012
Time: 10 am – 3 pm

Brea

What: Women's Leadership Conference 2012
Where: Embassy Suites Hotel, 900 E Birch St
When: November 2nd, 2012
Time: 9 am – 5 pm

Buena Park

What: Taste of North Orange County
Where: Knott's Berry Farm Hotel
When: December 5th, 2012
Time: 5 pm – 9 pm

Fullerton

What: Community Center Free Preventive Health Care
Where: St. Mary's Church, 400 W. Commonwealth Ave., Room 8B
When: November 12th, 2012
Time: 9 am – 2 pm

What: Nature Walks
Where: Fullerton Arboretum, 1900 Associated Road
When: November 17th, 2012
Time: 10 am – 11 am

La Habra

What: Chamber Bowling Night
Where: La Habra 300 Bowl, 370 W. Whittier Blvd, La Habra
When: November 7, 2012
Time: 6:30 pm – 8:30 pm

What: Savor the Flavor, Taste and Expo
Where: La Habra Community Center, 101 W. La Habra Blvd, La Habra, CA 90631
When: November 15, 2012
Time: 5:00 pm – 8:00 pm

Placentia

What: Veteran's Observance Ceremony
Where: Placentia Civic Center Plaza – 401 E Chapman Ave, Placentia
When: November 10th, 2012
Time: 10 am – 1 pm
---
Mark your Calendars!
The 18th Annual Tamale Festival and Las Posadas

Downtown Placentia
Wednesday December 5, 2012
4p.m. - 9p.m.
Food booths, crafts, display and booth games
Santa Clause!
Holiday Tree Lighting!
Live Entertainment Featuring Grammy Award Winning Mariachi Divas!
Attendance of about 15,000 persons!
Contact Rosalina Davis: ocrosalina@yahoo.com for sponsorship opportunities and more Craft booths and Game booths - $125.00 Display/Exhibit booths- $100.00
---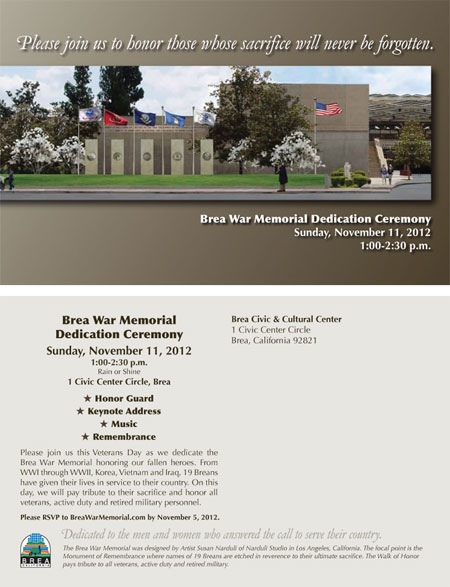 Click on the image above to view a larger version.
For questions or comments regarding Nelson's E-News
please contact the Supervisor's office staff:
Audra Fishel Ph: 714-834-3440 Email: Audra.Fishel@ocgov.com.