December 21, 2012
Volume 3, Issue 22
NELSON TEAM
Denis Bilodeau
Chief of Staff

Audra Fishel
Policy Advisor /
Communications Director

Steve Spernak
Policy Advisor

David Zenger
Policy Advisor

Scott Carpenter
Policy Advisor

Mark Lopez
Policy Advisor

Neha Sata
Executive Aide
---


Welcome to Nelson's E-News!

Several important decisions were made during the Board of Supervisors' last meeting of 2012. The Board voted on an overdue contract with the Orange County Managers Association. Also on the agenda, the Board of Supervisors added a fifth County Park to the Fourth District. Please continue reading for more information on these important issues. Finally, I would like to wish all the newsletter readers and Orange County residents very Merry Christmas!

There are no meetings scheduled for the next two weeks, on December 25 and January 1. The County of Orange will be closed on both Tuesdays in observance of Christmas Day and New Year's Day. Please note there will be a regular meeting on Monday, January 7 at 9:30 am for the Supervisors swearing-in and a time change for the regular Board meeting on Tuesday, January 8 to 8:30 am.

Sincerely,
Shawn Nelson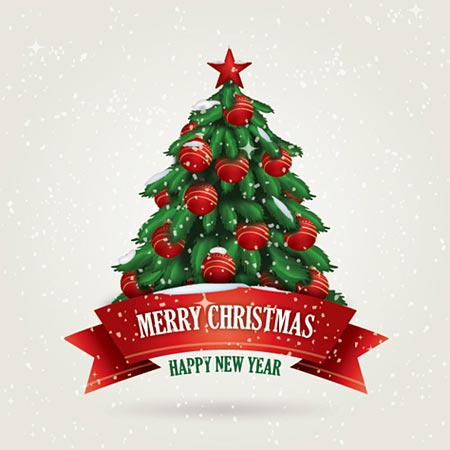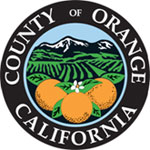 OC Managers' Contract

Supervisors approved an agreement with the Orange County Managers Association through January 9, 2014. In it, most OCMA members will begin contributing half of the employee portion of their retirements, fully implemented by July 2013. Those probation department OCMA members will begin paying 5% for the employee contribution to retirement system.

The OCMA membership adopted the agreement on December 3, 2012.
---

2012 Strategic Financial Plan

The Board of Supervisors approved financial forecasts for the next five fiscal years, beginning in July 2013.

In general, trends in key economic indicators reflect continued modest economic growth now and into the near future. However, tax increases and spending cuts at the federal level, referred to as the "fiscal cliff," could have negative short-term impacts on the economy should Congress take no action before the end of the calendar year.

At the state-level, the General Fund Sources projections include Vehicle License Fee Adjustment Amount (VLFAA) revenues of $73 million to $86 million annually over the next five years. The State is currently suing the County for the VLFAA revenues and, if victorious, could leave the County with a $385 million loss over the next five years.

View Tuesday's full presentation below.
Strategic presentation
---

County's Short-term Priorities

In addition, the Board approved several updates to the five-year Strategic Plan, which runs until June 2013. These included listing possible opportunities for outsourcing County services, consideration of centralizing IT services and revising the "hiring freeze" policy. View the presentation below.
BOS link to powerpoint
---

Real Estate Manager and Centralization Study

The Board directed the County CEO begin a recruitment process for an executive to manage the County's real estate, who will then assist in examining the current status of the County real estate policies and practices. Among the actions to be taken are providing recommendations to the Board regarding options on staffing, organization, function and duties for the centralized Office of Corporate Real Estate.
---

Tri City Park

Tri-City Park has become the newest to join the Orange County Park System and the fifth County Park in the Fourth District, joining three other regional parks and one historical park. One of Supervisor Nelson's first initiatives, the park's inclusion has been a two-year effort. The OC Parks Department staff and the city members of the Tri-City Authority (Brea, Fullerton and Placentia) are to be congratulated for facilitating this significant and smooth transition. This project continues Supervisor Nelson's goal of expanding recreational opportunities in the Fourth District, complementing the recent district bike system collaborative. Funding and staff will be available to upgrade the park to County regional park standards and ensure that both Fourth District and all Orange County families can continue to visit and use Tri-City.

BACKGROUND INFORMATION:

In October 2011, the Tri-City Park Authority submitted a letter to the County Executive Officer requesting that the County consider incorporating Tri-City Park into the County's regional park system. The Board met in closed session on October 25, 2011 and April 17, 2012, to discuss the request and the terms and conditions for the transfer of the park.

The 40-acre Tri-City Park is located in the City of Placentia, is bordered on two sides by the City of Fullerton, and is within a quarter-mile of the City of Brea's border (see Aerial Map).

The park was developed in the 1970s around the Tuffree Reservoir by a Joint Exercise of Powers Agreement among the cities of Placentia, Fullerton, and Brea. In 1974, the Board of Supervisors, acting as the Board of the Harbors, Beaches and Parks District, found Tri-City Park to be an authorized project of the District and provided $500,000 toward the acquisition of property for the park and for park design. In 1979, an additional payment of $350,000 was made by the District for park improvements. In 2008, the Third and Fourth Districts provided $200,000 from Fund 130 for the preparation of the Tri-City Park Master Plan.

The park, with a large lake surrounded by turf and picnic areas, has many similarities to County urban regional parks. It has a circular roadway and both pedestrian and bike paths. There are five parking lots with a total of 181 parking spaces; there is no charge for parking. While the park does not meet the 100-acre minimum standard for County regional parks, its proximity to Craig Regional Park – less than a mile traveling along Rolling Hills Drive – would enable it to be efficiently managed as part of that larger park.

OC Parks Commission: The item was considered and recommended for approval by the OC Parks Commission at its October 4, 2012 meeting.

Aerial Map


---

Gilbert Street Improvement

Working to improve safety in the Fourth District, Supervisor Nelson has collaborated with representatives from the City of Anaheim to upgrade and modernize a school crosswalk located along the border of the two jurisdictions.

OC Public Works secured grants totaling $1.3 million to begin the project. Design is set to start early next year with construction commencing by summer 2014. The improvements include pavement reconstruction, signage and pavement delineation, safety lighting features and widening of the easterly sidewalk.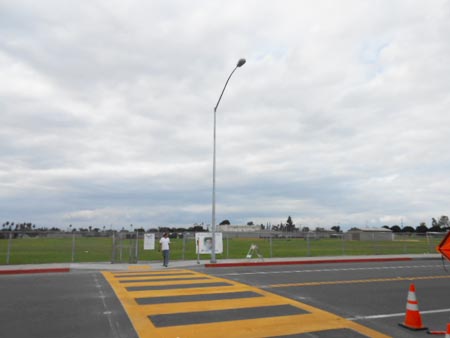 ---

Proposition 30

A reminder: The sales tax portion of Proposition 30, passed by voters last month, takes effect on January 1. This four-year ¼-cent tax increase will last until December 31, 2016 and is expected to raise a total of $24 billion during that time (accompanied by an income tax increase).

In most of Orange County, this will result in a new sales tax rate of 8.00%, from the current 7.75%. For more information on California sales tax, visit the Board of Equalization.


Leadership Honored at Buena Park Council

Supervisor Shawn Nelson was proud to personally present a Certificate of Recognition to outgoing Buena Park Mayor Jim Dow in front of hundreds of attending residents, city staff and family. Mayor Dow was recognized for his ten years of service, city management of projects and programs in Buena Park and public administration duties at county committees and councils.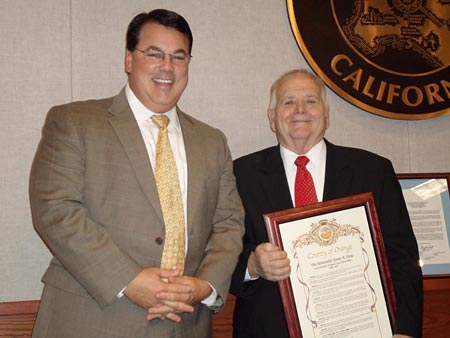 Supervisor Nelson (Left) presents Mayor Jim Dow (Right) with a certificate of recognition
---
Placentia Chamber - 2012 Christmas Reception

Sharing a fun evening with Placentia's business leaders and Chamber Members, Supervisor Nelson took a minute to share 2012 accomplishments with Executive Director Susan Wan-Ross (Left picture - left) and Pam Tancordo(Left picture - right) during the program of their Christmas dinner. Joining Supervisor Nelson was newly elected Placentia Mayor Scott Nelson (Right picture - left), the Jolly old St Nick (Right picture - center) and Supervisor Nelson.

The Placentia Chamber of Commerce is a nonprofit member organization. The purpose of the Placentia Chamber of Commerce is to promote the: commercial, civic, cultural, educational, and industrial interests of the Placentia area, so that its businesses, neighborhoods, and citizens shall prosper. The chamber is a valuable resource for doing business in Placentia. The Chamber offers a wide range of programs, including seminars, events, networking and referrals to support them in preparing for, and capitalizing on, the changes occurring at a rapid pace.

Today, the Placentia Chamber of Commerce has members ranging from local home-based or small businesses, to some of the nations' larger corporate entities and franchises, and it's growing in both membership and influence. For more information please visit www.placentiachamber.com



---
Buena Park Honors Military Heroes at Veterans Wall of Honor

Supervisor Shawn Nelson was honored to present County condolences and appreciation to the families of Marine Corporal Robert Allan Leeman and Army Specialist Christopher Fishbeck during solemn services at the Ehlers Center in Buena Park. Fourth District Policy Advisor Steve Spernak presented Supervisor Nelson's heart-felt thanks for the ultimate sacrifices each made in defense of America to their families. Leeman was killed in combat in the Republic of Vietnam in 1968 and Fishbeck in Afghanistan in 2011. Their names were inscribed on the granite memorial as an eternal legacy of their patriotic service.

For more information, please click on the OC Register article below:
http://www.ocregister.com/news/died-380092-memorial-vietnam.html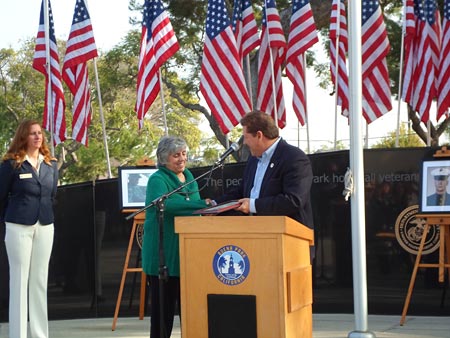 Fourth District Staffer Steve Spernak presents certificates of recognition in Buena Park
---
Senior Centers Celebrate Christmas 2012

Supervisor Nelson shared in the Christmas celebrations with appearances by staff member Steve Spernak at 5 Senior Centers last Friday during a hectic morning of community luncheons in the 4th District. Supervisor Nelson had hundreds of Council on Aging Senior Guides with his business cards delivered to the Seniors as a gesture of his continued caring and dedicated service to their unique needs and quality of life. Nelson also kept up his tradition of topping holiday desserts at each center with whipped cream he personally provided to add to the festivities and fun of the holidays.







---
Tilton Honored by Supervisor for Professional Milestone

Supervisor Shawn Nelson was honored to recognize Shalice Tilton, City Clerk of Buena Park, for her 20 years of professional performance and industry standards of excellence at the Buena Park City Council. Supervisor Nelson announced to the audience attending at the final council meeting of Mayor Dow, "Tilton is an institution of integrity, performance and accomplishment and a reflection of the pride and service city employees deliver to the residents of Buena Park."

The Fourth District is proud to recognize such outstanding service to the community, if you know someone that should be recognized, please don't hesitate to contact our office at (714) 834-3440.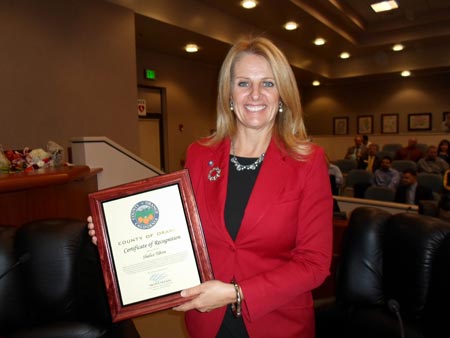 Shalice Tilton proudly holds her Certificate of Recognition at the Buena Park City Council Meeting
---
Staff Volunteers to raise money for Military Families

On Saturday December 8th the Annual OC Brew HoHo was held at the Phoenix Club in Anaheim. Fourth District Staff Members Scott Carpenter and Mark Lopez volunteered by pouring beer for the nearly 2,000 attendees of the event. Local breweries, restaurants and gourmet food trucks were invited to set up booths to share their specialties with the crowd. A portion of the proceeds from ticket sales and food purchases went to support Yellow Ribbon America's annual Christmas drive for military families. In addition to volunteering at the event Fourth District staff was instrumental in recruiting other volunteers for the event to ensure more money would go to support Yellow Ribbon America's operations to help military families.

To learn more about Yellow Ribbon America or the OC Brew HoHo visit: www.yellowribbonamerica.com and http://ocbrewhoho.com/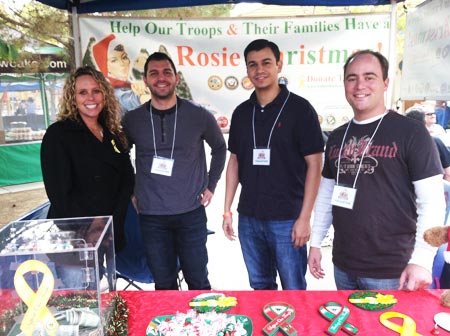 Mark Lopez (right center) and Scott Carpenter (far right), Fourth District staffers, enjoy the day volunteering at the annual Brew HoHo this past weekend in Anaheim
---
Supervisor's Staff Joins Anaheim Councilwoman at GOALS

Supervisor Nelson's commitment to addressing the crisis of homelessness in Orange County added another dimension of available resources and opportunity with a tour of the Anaheim GOALS center this week. Policy Advisor Steve Spernak (left) joined Anaheim City Manager Bob Wingenroth, GOALS Director Dave Wilk, Anaheim Mayor Pro-tem Gail Eastman and Policy Advisor Scott Carpenter with a walk-thru of the GOALS site. The briefing by Director Dave Wilk showed the hugely successful youth sports and learning center and the challenges it faces being across the street from the La Palma Park complex of homeless encampments that continues to bring a myriad of health, safety and sanitation issues to his popular programs and staff.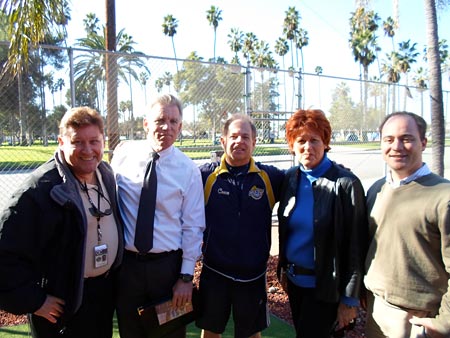 COUNTY COMMISSIONS AND COMMITTEES

The 4th District has vacant appointments on the following commissions or committees:


Human Relations Commission
Development Processing Review Committee
Assessment Appeals Board No. 1
If you are interested in serving on one of these committees, please call Audra Fishel at (714) 834.3440



Have you been to the OC Zoo?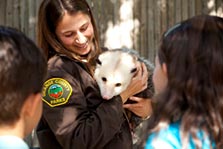 The OC Zoo is located inside beautiful Irvine Park in the city of Orange. The Zoo is nestled among the majestic 477 acre wilderness park.

The Zoo's focus is on animals and plants native to the southwestern United States. Animals on exhibit include black bears, mountain lions, bald eagle, island foxes, ocelot, red-tailed hawk, great horned owls, porcupine, coyotes, turkey vultures, coati and more. The zoo also features a barnyard with domestic goats, jacob sheep, pot-bellied pigs, doves and pheasants.

OC Zoo - Admission Fee:
$2.00 per person ages 3 years and over; Ages 2 years and under are free

Entry Fee for Irvine Regional Park:
$3.00 per vehicle weekdays & $5.00 per vehicle weekends (Major Holidays: $7.00 to $10.00 per entry as posted)

New! Take an audio tour at the OC Zoo!

Dial (714) 481-0355 on your cell phone to begin the audio tour. Refer to the guide (available below and at the zoo). Enter the animal exhibit number followed by the "#" key. Listen to fun and interesting information about the zoo's animals. Hear from our animal keepers, veterinarian, education coordinator, curator and manager and learn more about our animals. Discover what our bears get to eat everyday, what the coyotes' names are, how old our bald eagles are, what treats we give to the raccoon, why are animals are here at the zoo, where they came from, and more fun information! The cell phone tour is free and you can even put it on speaker phone for your family or friends to hear!

Orange County Zoo 1 Irvine Park Road Orange, CA 92869 (714)973-6847 oczoo@ocparks.com

Disneyland Resort Scholarship Program Applications Now Available

For the first time, the Disneyland Resort is awarding ten (10) $7,500 scholarships to high school seniors in Orange County. The Disneyland Resort Scholarship Program underscores the Resort's dedication to volunteerism and community support, while furthering opportunities for students to attend college or a professional trade school. Scholarships are awarded to students who demonstrate excellence in volunteerism, academics, and overall leadership.

Qualified applicants, who apply through Jan. 31, will receive two Disneyland Resort Park Hopper Tickets. If you know a qualified high school senior in Orange County, direct him or her to the Disneyland Resort Public Affairs website to apply.


Check out the Brea Library calendar below!

Anaheim

What: New Year's Eve at the Disneyland Resort
Where: The Disneyland Resort, 1313 S. Harbor Blvd., Anaheim, CA
When: December 31, 2012
Time: 8:00 am – 11:59 pm

What: The Psychedelic Furs NYE Bash
Where: House of Blues, Downtown Disney District, 1530 S. Disneyland Drive, Anaheim, CA
When: Monday December 31, 2012
Time: 9:00 pm

What: Good Morning Anaheim
Where: Ruby's Diner, 1128 W. Lincoln Ave, Anaheim, CA
When: January 4, 2013
Time: 7:30 am – 9:00 am

Brea

What: Joseph and the Amazing Technicolor Dream Coat
Where: Curtis Theatre, 1 Civic Center Drive, Brea, CA
When: January 17, 2013 – February 3, 2013
Time: Various Showtimes

What: Cocktails and Conversation
Where: The Wine Depot, 200 W. Imperial Highway, Brea, CA
When: Thursday, January 17, 2013
Time: 5:00 pm – 7:00 pm

Buena Park
What: Metrolink Holiday Toy Express
Where: Buena Park Metrolink Station, 8400 Lakeknoll Dr, Buena Park, CA
When: December 22, 2012
Time: 7:45 pm – 8:15 pm

What: Knott's New Year's Eve
Where: Knotts Berry Farm, 8039 Beach Blvd., Buena Park, CA
When: Monday, December 31, 2012
Time: 10:00 am – 11:59 pm

What: New Year's Eve Extravaganza at Medieval Times
Where: Medieval Times Dinner & Tournament, 7662 Beach Blvd., Buena Park, CA
When: Monday, December 31, 2012
Time: 9:30 pm

What: New Year's Eve Party & Horn Parade
Where: John's Incredible Pizza Company, 8601 On The Mall, Buena Park, CA
When: Monday, December 31, 2012
Time: 7:00 pm – 1:00 am

Fullerton

What: Muck Holiday Festival
Where: Muckenthaler Cultural Center, 1201 West Malvern Avenue, Fullerton
When: December 23, 2012
Time: 12:00 pm – 1:00 pm

What: Young Professionals Mixer
Where: Buca Di Beppo, 1609 E. Imperial Highway, Brea, CA
When: Thursday, January 17, 2013
Time: 5:00 pm – 7:00 pm

What: Business Tool Box Workshop: HR Regulations
Where: Fullerton Chamber, 444 N Harbor Blvd., Suite 200, Fullerton, CA
When: Friday, January 18, 2013
Time: 11:30 am – 1:00 pm

La Habra

What: A Christmas Carol 1940s Radio Show
Where: La Habra Depot Theatre, 311 S. Euclid, La Habra, CA 90631
When: December 20, 2012 – December 23, 2012
Time: Various Showings

What: New Year's Eve Party and Bowling Tournament
Where: 300 Bowl and 13th Frame Lounge, 370 E. Whittier Blvd., La Habra, CA
When: Monday, December 31, 2012
Time: 9:00 pm – 12:00 am

Placentia

What: Networking At Breakfast
Where: Marie Callander's Bakery & Café, 126 E. Yorba Linda Blvd, Placentia, CA 92870
When: Tuesday, January 8, 2013
Time: 7:30 am – 8:30 am


For questions or comments regarding Nelson's E-News
please contact the Supervisor's office staff:
Audra Fishel Ph: 714-834-3440 Email: Audra.Fishel@ocgov.com.
---