Board of Supervisors

Welcome to Nelson's E-News!

We are nearly at the midpoint of my chairmanship on the Orange County Board of Supervisors and the past six months has definitely dealt its share of successes and shortfalls. As my last newsletter of Fiscal Year 2012-13, there are a few updates I would like to submit.

I'm glad that we have addressed several leadership issues within the County, appointing very qualified and experienced individuals to important positions. The most recent, our new Chief Real Estate Officer, is mentioned below. I ask that everyone welcome and support him as he begins his new undertaking.

However, I am disappointed in the Superior Court's April VLF ruling, which may cost Orange County $76 million per year. And while executive managers begin paying the full employee share toward their retirement today, I supported its full implementation beginning last January.

As we are now officially in summer, there are several events coming up. The AQMD, where I am a board member, has examined targeting beach fire rings for removal. I have included some information regarding a rally to support the preservation of the fire rings on Sunday, July 7th. The Third Annual OC Sports Day will take place Saturday, July 20 at Craig Park in Fullerton. Details can be found below in a flyer below.

Finally, I am proud to return $120,000 in unused money from my office budget, nearly 12%, back to the County General Fund. Beginning July 1, mandatory 5% budget reductions will take effect for my office and all Board offices, along with all County departments, a decision that I supported from the start.

As a reminder, the County will be closed on Thursday, July 4 in observance of Independence Day. The Board of Supervisors will be dark on Tuesday, July 2 and Tuesday, July 9. The next regular meeting will be Tuesday, July 16 at 9:30am in the Hall of Administration, 333 West Santa Ana Blvd., Santa Ana 92701.

Sincerely,
Shawn Nelson

Board Updates



New Chief Real Estate Officer

Continuing Orange County's progress in filling several key leadership positions left vacant over the past year, a new Chief Real Estate Officer was appointed last week to manage of all of the County's real property assets. In December 2012, Supervisor Nelson urged the hiring of a real estate executive as paramount, prior to adopting any county real estate policies.

The Chief of Real Estate Officer recruitment was run with the working title of Director of Corporate Real Estate. The recruitment was open to the public from January 18, 2013 to February 15, 2013. Please check the press release for more information.

Board Approves Police Service Contracts

On Tuesday, June 25, the Board of Supervisors voted to approve agreements with several Orange County cities for law enforcement services. In addition to patrolling the County's unincorporated areas, the Sheriff's Department contracts with several cities to provide law enforcement services. Since many cities such as Villa Park, Stanton and San Juan Capistrano do not have their own police departments, paying the County to provide law enforcement is a more cost effective approach to ensuring public safety in their communities.

At the meeting, the Board approved all thirteen law enforcement contracts. Nine of these are one-year contracts with the remaining four being for five years. While he voted for these five-year terms, Supervisor Nelson reiterated his opposition to the renewal of any one-year agreements in his dissent.

Supervisor Nelson supports long-term contracts to ensure the unfunded liability of the retirement system is addressed. With year-to-year contracts, cities could abruptly end the Sheriff's Department contract for police services, eliminating a guaranteed funding stream for retirement costs. In the future, Supervisor Nelson hopes that all law enforcement agreements between the Sheriff's Department and contract cities will expand to multiple years.

OCTA



OC Fair Express

OCTA is bringing back the OC Fair Express to help riders across the county save time and money on their trip to the popular event.

From July 12 through Aug. 11, the OC Fair Express will provide nonstop, direct service to the OC Fair from nine park-and-ride lots in Orange County.

For $2 each way, fairgoers may enjoy stress-free bus service that will run hourly from approximately 2:30 p.m. to midnight on Friday and from 9:30 a.m. to midnight on Saturday and Sunday.

Riders also will receive a coupon for $3 admission to the fair, a savings of $8 off the regular ticket price.

"The OC Fair Express offers riders a hassle-free, convenient and inexpensive way to get to and from the fair," said OCTA Chairman Greg Winterbottom. "OCTA is pleased to provide this service for another year. Last year more than 46,000 fairgoers rode the Fair Express and this year we hope to increase our ridership and encourage more first-time riders to jump on board."

Riders may board the OC Fair Express at the following locations:

Fullerton Park and Ride, 3000 W. Orangethorpe Ave. in Fullerton
The Depot at Santa Ana, 1000 E. Santa Ana Blvd. in Santa Ana
Goldenwest Transportation Center, 7301 Center Ave. in Huntington Beach
Anaheim Canyon Metrolink Station, 1039 N. Pacificenter Drive in Anaheim
The Village at Orange, 1500 E. Village Way in Orange
Newport Transportation Center, 1550 Avocado Ave. in Newport Beach
Laguna Hills Transportation Center, 24282 Calle de los Caballeros in Laguna Hills
Irvine Metrolink Station, 15215 Barranca Parkway in Irvine
Junipero Serra Park and Ride, Corner of 1-5 Freeway and Junipero Serra Road in San Juan Capistrano
The OC Fair Express is made possible in part by a $342,000 grant provided by the Mobile Source Air Pollution Reduction Review Committee (MSRC). MSRC provides subsidies for cleaner transportation alternatives.

For more information about the OC Fair Express, please visit www.octa.net/ocfairexpress.

Announcements

Community Bonfire Rally In Support Of Fire Rings!

When: Sunday, July 7th @ 4 pm
Where: 21579 Pacific Coast Hwy, Huntington Beach, CA (Fire pits next to Zack's Too)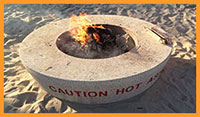 As Orange County's representative on the South Coast Air Quality Management District (AQMD) board, Supervisor Nelson would like to draw your attention to an issue that is pressing to Orange County residents and visitors.

The ability to enjoy our beach lifestyle and the time-honored tradition of a beach Bonfire, an activity that California residents and visitors have valued for decades, is being scrutinized by the AQMD.

We are joining as a community to show support for the protection of California's beaches, Beach access, and the important traditions that are integral to our culture and Beach lifestyle, such as fire rings. We will have s'mores and hot dogs available!

Please RSVP to audra.fishel@ocgov.com

In the Community

Senior Housing Briefing Draws Hundreds to Buena Park

Congratulations to the Orange County Aging Services Collaborative, which partnered with Assemblywoman Sharon Quirk-Silva to deliver a terrific technical briefing on senior housing issues in Orange County. Hosted at the Heritage Hall of the Buena Park Senior Center, the event was attended by several hundred seniors and care-givers needing information regarding housing and financing their retirement options. Kevin Fincher, housing development administrator with the OC Community Services Team, did a fantastic job detailing what the County has accomplished to help low-income individuals and families and the elderly with housing in the aftermath of the lost re-development funding. His team handles 86 living units that now shelter some 6800 residents. Fincher's briefing covered the new "village concept," where seniors can subscribe to a collective of service providers. Fincher closed with briefing the skilled nursing residency, which costs about $82,500 a year, and how it was a priority to undertake financing with the help of an estate attorney and insurance specialist well in advance of that huge economic obligation. For more information on housing for seniors go to the Office on Aging at 800-510-2020 or Elder Care Locator at 800-677-1116.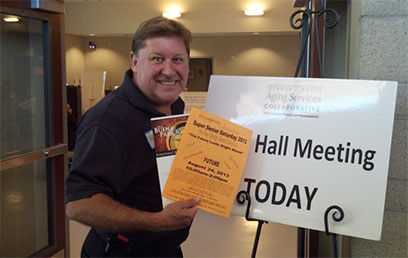 At the Senior Housing Townhall, Policy Advisor Steve Spernak holds the invite to the Super Senior Saturday planned for August 24th at the Ehlers Center.

Former Fourth District Team Member Graduates from UCI

Supervisor Nelson and staff would like to extend warm congratulations and best wishes to former District Representative Nicholas Constantino who graduated from UC Irvine on Saturday, June 15th. While he was enrolled at UCI, Nicholas worked several days a week at Supervisor Nelson's office in his free time and often represented the office at community events. Mr. Constantino left the Fourth District Office in 2011 in order to focus on his studies and pursue an accelerated academic program that allowed him to graduate a year early. It is with great pride that Supervisor Nelson congratulates Nicholas and looks forward to his future career with excitement.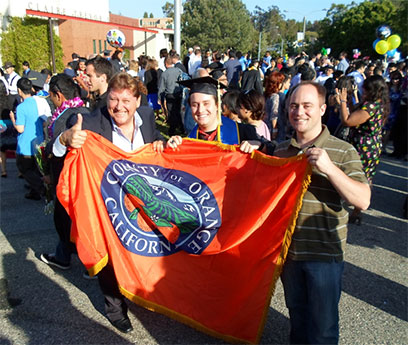 (Left to Right) Steve Spernak, Nicholas Constantino & Scott Carpenter

Anaheim Job Fair

The Job Fair was hosted by Anaheim Councilmember Kris Murray, the entire city council, and the Anaheim Chamber of Commerce, the latter of which partnered with over 200 companies, local chambers of commerce, and city and state agencies that were actively looking for employees.

The Job Fair is an indicator that jobs and employment are making a come-back in Orange County, and Supervisor Nelson was pleased to have his team at the event for the third straight year. Jobs, careers and employment venues are one of the primary missions to which Supervisor Nelson has dedicated staff, communications, and resources.

Steve Spernak, Policy for the Supervisor, took questions about County jobs while giving out leads and ideas on where to subscribe to jobs posted by the County on their weekly email briefings. The County's Human Resources department also attended with a staff of 5 to take resumes and answer questions about careers in education, finance, management, law enforcement, public works and transportation. Overall, leisure and hospitality firms added some 3,300 positions last month, accounting for nearly half of the County's job growth, as employers' ramp up for the tourist season.

Orange County's unemployment rate fell to 5.5 % in May, down from 7.5 % in May of 2012.

To subscribe to the Orange County email directory of jobs, including the new jobs soon becoming available at OC Public Works, visit ocgov.com/jobs.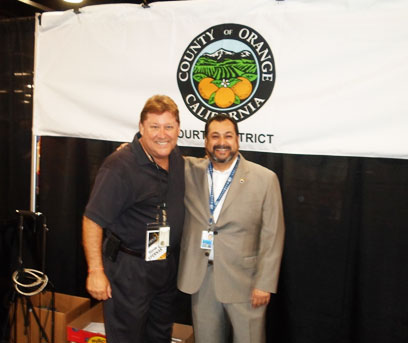 Fourth District Policy Advisor Steve Spernak is joined at the Job Fair by Business Representative Ernesto Medrano at the Supervisor's day-long Public Information booth.

Host Families Needed: July 26-August 10

The Anaheim Sister City Commission is seeking host families to house students from Mito, Japan, who will visit Anaheim for two weeks this summer as part of the Commission's cultural student exchange program. The students will be in Anaheim from July 26 to August 10 and rely on local families to provide housing during their stay.

Host families are expected to provide a comforting, safe and private environment, while also welcoming the student into the family's daily routine. While the students have scheduled activities throughout the week, host families are encouraged to share some of the many fun activities in Anaheim and throughout Orange County with their exchange students.

If you are an Anaheim resident, or know a family who might be interested, please share this opportunity with them! Additional information about the student exchange, as well as the Anaheim Sister City Commission, can be found at www.anaheim.net/sistercity, or simply email sistercity@anaheim.net.

La Habra Police Honors Top Narcotics Task Force Agent

Congratulations were extended to Assistant Special Agent in Charge Thomas O'Donnell by Supervisor Nelson and the La Habra City Council for the incredible success and his personal contributions and sacrifices to the narcotics and gang task force he supervised for four years. Homeland Security Agent Tom O'Donnell culminated his 20 years of active duty in Southern California with his assignment to help the La Habra Police with a multi-agency task force directed at street gangs and any narcotics sales or production originated or arriving in La Habra or affiliated with any border operation. O'Donnell's accomplishments read as some of the most incredible narcotics investigations in Orange County law enforcement and were well-deserving of the Supervisor's proclamation and those presented by Mayor Espinosa and the entire city council after introductions by acting Chief Jerry Price. During O'Donnell's four year mission his investigations team was responsible for seizing 424 pounds of lab-made amphetamine, 13,370 pounds of marijuana, 6,000 marijuana plants, 3,246 pounds of synthetic drugs, 20,000 doses of psycho-synthetics, 10,000 doses of steroids, 39 handguns, 8 stolen vehicles and $5,000,000 in cash that lead to 157 arrests. Supervisor Nelson's Policy Advisor Steve Spernak delivered the proclamation and told the audience that the efforts of Agent O'Donnell were the most prolific he knew of in OC history and that each dose and arrest made both La Habra and all the residents of Orange County safer. O'Donnell, who was joined by his wife, Mar , and son Josh, will transfer to Corpus Christi to supervisor narcotics enforcement along the Mexican border.

Policy Advisor Steve Spernak congratulates Homeland Security Asst Special Agent Tom O'Donnell at La Habra Council Honors.

OC Parks


Orange County Zoo

1 Irvine Park Road
Orange, CA 92869
(714) 973-6847
oczoo@ocparks.com

Open Daily: weekdays 10 a.m. to 3:30 p.m.; weekends 10 a.m. to 4:30 p.m. Closed Dec. 25 and Jan. 1 The OC Zoo is located inside beautiful Irvine Regional Park in the city of Orange. The Zoo is nestled among the majestic 477 acre park.

The Zoo's focus is on animals and plants native to the southwestern United States. Animals on exhibit include black bears, mountain lions, bald eagle, island foxes, ocelot, red-tailed hawk, great horned owls, porcupine, coyotes, turkey vultures, coati and more. The zoo also features a barnyard with domestic goats, jacob sheep, pot-bellied pigs, doves and pheasants.

OC Zoo - Admission Fee: $2 per person ages 3 years and over; Ages 2 years and under are free. Entry Fee for Irvine Regional Park: $3 per vehicle weekdays and $5 per vehicle weekends (Major Holidays: $7 to $10 per entry as posted)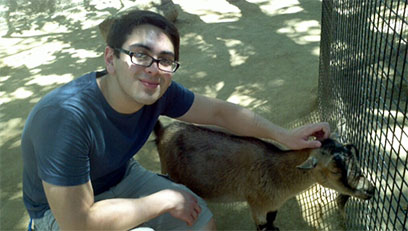 Fourth District Staffer Brandon Wong takes a moment to cuddle with a cute goat at the OC Zoo

County Commissions and Committees

The 4th District has vacant appointments on the following commissions or committees:


Community Action Partnership of Orange County
Oversight Board of the Successor to the City Redevelopment Agency (Buena Park and Anaheim)
If you are interested in serving on one of these Committees, please call Audra Fishel at (714) 834.3440.

OC Animal Care

Pet of the Week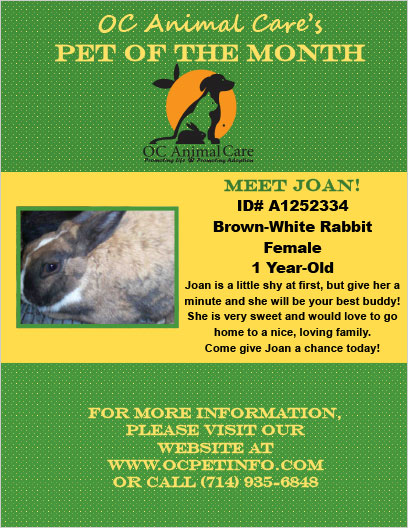 Click on the image above to view a larger version.

Pet Tag Awareness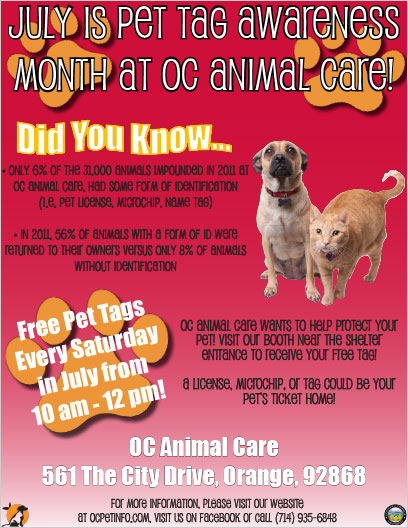 Click on the image above to view a larger version.

Library Corner

Brea Library Calendar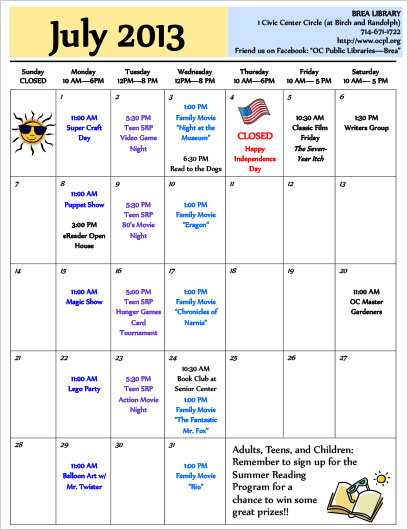 Click on the image above to view a larger version.

Bill Engle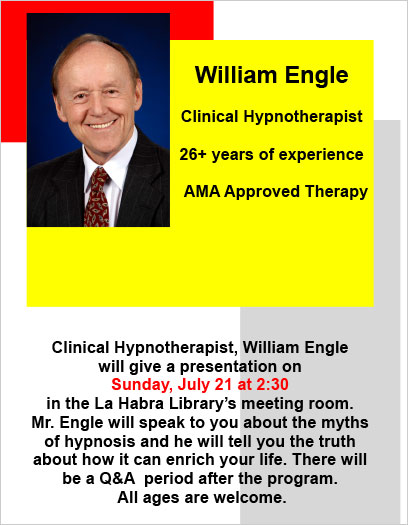 Click on the image above to view a larger version.

Events
Sports Day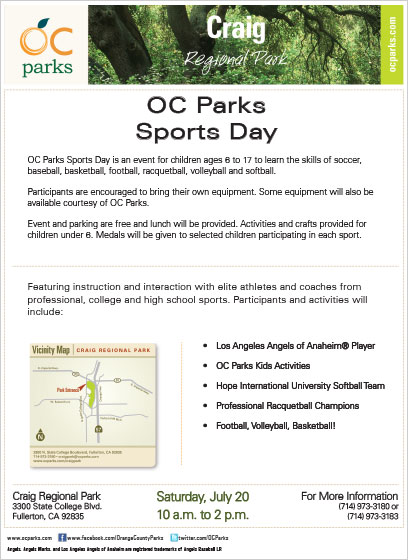 Click on the image above to view a larger version.

Anaheim Health Fair


Click on the image above to view a larger version.

Anaheim

What: 2013 Fourth of July Celebration
Where: Peralta Park, 199 N. Pinney, Anaheim, 92863
When: Thursday, July 4th
Time: 8 am – 9:30 pm

Brea

What: Family Film: The Little Rascals
Where: Arovista Park
When: Friday, June 28th
Time: 8 pm

What: 34th Annual Country Fair
Where: City Hall Park, 401 S. Brea Blvd.
When: Thursday, July 4th
Time: 7 am – 4 pm

Buena Park

What: Coyote Car Show
Where: Buena Park High School, 8833 Academy Drive, Buena Park, 90621
When: Saturday, June 29th
Time: 9 am - 3 pm

Fullerton

What: 4th of July Festival and Fireworks Show
Where: Fullerton High School Stadium, 201 E. Chapman Avenue, Fullerton, CA 92832
When: Thursday, July 4th
Time: 5 – 9:30 pm

What: Summer Concert Series Featuring Los Fabulocos
Where: Fullerton Sports Complex, 560 E. Silver Pine
When: Wednesday, July 10th
Time: 6:30 – 8:30 pm

La Habra

What: Portola Park Playground Build Day
Where: Portola Park, 301 S. Euclid Street
When: Saturday, June 29th
Time: 8 am – 5 pm
For more information or to volunteer, please call Katie Elmore at 562-905-9708

What: 2013 Fourth of July Fireworks Celebration
Where: La Habra High School Football Stadium, 801 W Highlander Ave., La Habra, CA 90631
When: Thursday, July 4th
Time: 5 pm

Placentia

What: Concerts in the Park – The Kid & Nic Show
Where: Tri City Park, 2301 N. Kraemer Blvd., Placentia, CA 92870
When: Thursday, July 4th
Time: 4:30 pm

What: Positive Activities and Learning for Kids (PARK)
Where: Koch Park, 2210 Valencia Avenue
When: Tuesday, July 2nd
Time: 3 – 5:30 pm


For questions or comments regarding Nelson's E-News
please contact the Supervisor's office staff:
Audra Fishel Ph: 714-834-3440 Email: Audra.Fishel@ocgov.com.


Denis Bilodeau
Chief of Staff

Audra Fishel
Policy Advisor /
Communications Director

Steve Spernak
Policy Advisor

Scott Carpenter
Policy Advisor

Mark Lopez
Policy Advisor

Neha Sata
Executive Aide


Stay Connected!