Board of Supervisors

Welcome to Nelson's E-News!

There are a few items that I would like to highlight for you this week to show some of the services the County government provides to the community:

Last week, my staff participated in the biennial "Point in Time" count of the homeless. Every two years the Department of Housing and Urban Development mandates counties around the country to conduct a survey of their homeless population using a federally approved methodology. Continue reading to learn how you may participate in the future.

The Fourth District's own Carbon Canyon Regional Park, located in the City of Brea, is hosting its weekend 5 senses of nature walk. OC Parks staff will help you use your 5 senses to engage with nature as you stroll to the Redwoods and hear the story of the majestic trees and how they came to Carbon Canyon Regional Park.

Did you know that the La Habra Library offers a yoga class on Wednesday nights? For more information on these fun family programs, please keep reading.

The Board of Supervisors will be dark on February 12th and February 19th in honor of Abraham Lincoln and George Washington's Birthdays. The next regular meeting will be Tuesday, February 26 at 9:30 am on the first floor of the County Hall of Administration, 333 West Santa Ana Blvd., Santa Ana 92701.

Sincerely,
Shawn Nelson

OCTA



Orange Freeway Improvements Are More Than Halfway Complete

Construction crews are ramping up on the northbound Orange Freeway (SR-57) improvement project.

Crews are building sound walls in Brea and widening bridges in Anaheim and Fullerton while scheduling work to ensure that most closures take place during nonpeak travel times or on weekends.

OCTA also is working with venues such as the Honda Center and Angel Stadium to make sure no closures take place three hours before, during or after scheduled events, including the sold-out Ducks hockey season opener on Friday, Jan. 25.

OCTA outreach staff members send out an interactive map every Friday afternoon with updates that highlight closures and detours for the following week. People may subscribe to the emails at octa.net/sr57 or also view the map directly by visiting octa.net/57detourmap. Project updates also are posted on Twitter and Facebook.

OCTA's Ryan Romeos also is available to address constituents' questions and comments about the project. He may be reached at rromeos@octa.net or 714.560.5787.

When complete, the SR-57 Northbound Freeway Improvement Project will add a new 8-mile northbound lane to this key commuter and commercial corridor. The project also will improve operations by standardizing lane and shoulder widths, realigning ramps and installing new signage, safety barriers and striping.

The nearly $150-million freeway improvement project is funded by the state and Measure M funds, Orange County's half-cent sales tax for transportation improvements. Crews anticipate construction will be completed in late 2014.

New Bus Fares and Service Changes

Effective Sunday, February 10, increased bus fares are coming to OCTA.

The Board of Directors approved the fare adjustments last year after two months of extensive community outreach efforts and discussion about how to address rising operation costs and sustaining service. The outreach included several community meetings and a public hearing. Throughout the campaign, OCTA received valuable feedback from customers, community members and transit advocates. This input was used to develop additional new fare media and discounts for customers to help mitigate the fare increase.

OCTA is aware that the fare increase will be difficult for some riders and based on customer recommendations during the community forums, OCTA devised several ways for customers to save on riding costs:
5 Ride Pass: OCTA will begin offering a 5 ride pass for $9, which is only $1.80 per ride. This pass will be a pre-paid pass available at all OCTA pass sales locations. The pass will be similar to current OCTA pre-paid passes, BUT instead of swiping the pass upon boarding, customers will dip the pass in the fare box each time they board the bus. After the pass has been dipped in the farebox 5 times, the pass will be expired and no longer usable. The benefits of this pass are a 10% discount per boarding and that the rides do not have to be consecutive rides or days. The pass is valid until the 5th bus ride is taken.


10% Discount on Pre-Paid Day Passes: Beginning with the February Service Change, customers will be able to purchase the pre-paid one day passes at a 10% discount. Previously, the one-day pre-paid passes were only available in books of 10 for the discount, but now customers will be able to purchase individual pre-paid one day passes for the 10% discount, making them only $4.50. Pre-paid one day passes are available at all OCTA pass sales locations.


Non-Profit Discount: OCTA also approved providing the maximum vendor discount (5%) to non-profit agencies and waiving the minimum purchase requirement in order to help provide bus rides for those in need.
The last fare increase occurred four years ago. Since then, operating costs have risen dramatically and farebox revenues have decreased. The fare box revenue—the money customers pay to ride the bus—covers less than 20% of the operating costs. OCTA subsidizes the remaining 80% through state and federal transit assistance programs.

One of those assistance programs is available as part of the Transportation Development Act (TDA). In order for OCTA to qualify for sales tax funding, the TDA requires that passengers pay at least 20% of the operating cost of a bus system (i.e., fare box recovery). If an agency does not meet the 20% fare box recovery, the agency could lose funding under the TDA.

In the Community

Fourth District Staff Assists with Homeless Population Count and Survey

On January 26th the County of Orange conducted its biennial "Point in Time" count of the homeless. Every two years the Department of Housing and Urban Development mandates counties around the country to conduct a survey of their homeless population using a federally approved methodology. The County of Orange relied upon the leadership of OC Community Services Homeless Prevention Division and its partners, OC Partnership, Focus Strategies and OC Health Care Agency, to conduct the fifth biennial homeless population count and survey to gather critical information to assist with stable housing.

There were five deployment centers throughout the county where nearly 700 volunteers gathered to count Orange County's homeless from
4:00 am-7:00 am. Each Supervisorial district hosted one of the deployment locations in order to gather a comprehensive collection of data. The Fourth District's deployment center was located at the Fullerton Community Center on Commonwealth Avenue. Staff members Scott Carpenter and Steve Spernak were on hand to greet volunteers and joined one of the deployment teams to count the homeless population at the Hunt Branch Library. The exercise proved valuable for surveying the needs of the homeless population and as an indicator of how effective homeless prevention efforts have been. The results of the countywide search are currently being compiled and analyzed. Once complete, the report will allow the county to better utilize its resources to address the issue of homelessness.

For more information on the Point in Time Count please visit: http://www.pointintimeoc.org/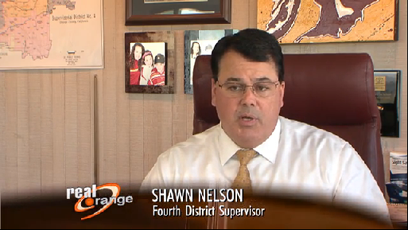 Please check out Supervisor Nelson's PBS So Cal interview on the homeless shelter by clicking the link below

http://video.pbssocal.org/video/2328710529/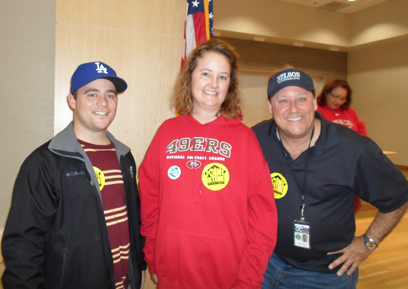 (Left to Right) Fourth District Staffer Scott Carpenter, Community Director of OC Partnership Karen Mckeag and Fourth District Staffer Steve Spernak on the morning of the Countywide homeless count.

Anaheim State of the City

Hosted by the Anaheim Chamber of Commerce, Mayor Tait delivered his third State of the City address that drew more than 800 business and civic leaders, as well as residents, at the Grove of Anaheim. During his address, the mayor highlighted the city's numerous accomplishments in 2013, including praising the new expansion of Disneyland Resort's California Adventure and the Convention Center's new outdoor venue, the Grand Plaza.

Tait also addressed the civil unrest that occurred in Anaheim this past summer, saying: "Some people told me that they don't believe that the city is divided at all; others believe it is harshly divided. The people who feel that the city is divided also feel that they don't have a voice. From my perspective as mayor, as long as anyone feels that they aren't included in their government, their community, their city, then we have an issue."

For more information on the Anaheim Chamber, please visit www.anaheimchamber.org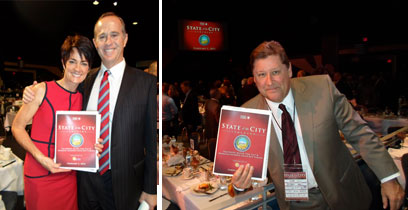 (Left to Right) Julie Tait, Mayor Tom Tait, and Fourth District Staffer Steve Spernak enjoy a festive event

Black History Parade

Celebrating his second OC Black History and Culture Faire, Supervisor Nelson enjoyed the walk down Anaheim Blvd. accompanied by family. On Saturday, hundreds congregated in Downtown Anaheim to celebrate their culture, history and heritage. February is celebrated in the United States as Black History Month. The parade this year drew 71 participants and the fair featured 48 vendors, including soul food booths, a health village, children's activities and African American arts.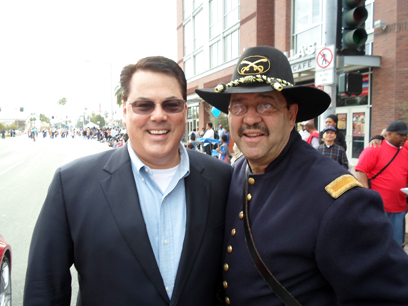 (Top) Supervisor Nelson and Black Chamber President Bobby McDonald

(Left) Anaheim Mayor Tom Tait and Supervisor Shawn Nelson

(Right) Supervisor Nelson is joined by his family at the parade

Buena Park State of the City

Supervisor Nelson enjoyed the afternoon ceremonies presented by Buena Park Mayor Beth Swift, City Manager Jim Vanderpool and city staff who presented by PowerPoint an incredible story that explained the rural beginnings of the city to its newly planned 21st century metropolis. Established as a city on January 27th, 1953, the city gained international fame with the coming of Knott's Berry Farm and the legacy of families who built the farms, civic center and tourism trades still enjoyed by tourists from around the world.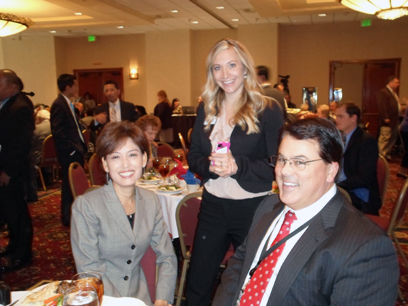 (Left to Right) Young Kim (District Rep. to US Congressman Ed Royce), Emily Osterberg (Director of Public Affairs - Apartment Association) and Supervisor Shawn Nelson

Brea Chamber of Commerce Awards

Supervisor Nelson enjoyed the hospitality of incoming city of Brea Chamber President Michael Becher. To celebrate the theme of 100 years of business meeting opportunity, Becher dressed in turn of the century finest. Supervisor Nelson was honored to present former Brea Mayor Don Schweitzer with the Citizen of the Year honors for his civic contributions, city-first planning and instituting 'red carpets not red-tape' to entice companies and corporations to develop in Brea.

For more information, please click on the link below to read the post event press release.

Press Release


(Left) Former Mayor Don Schweitzer and Supervisor Nelson (Right) Chamber President Michael Becher and Supervisor Nelson

OCFA Best & Bravest

Supervisor Nelson was proud to honor the 2013 recipients of the Orange County Fire Authority "Best and Bravest" at ceremonies hosted at the Irvine Marriott. A packed room of families, friends and fellow Firefighters spent the night watching professional accolades presented by Michele Gile from K-Cal news. For more information on the awards ceremony, please refer to the link below to the Orange County Register:

http://www.ocregister.com/articles/firefighters-338570-helped-fire.html

Please click below for the list of Firefighters who received honors from Supervisor Nelson and the Board of Supervisors

OCFA Awards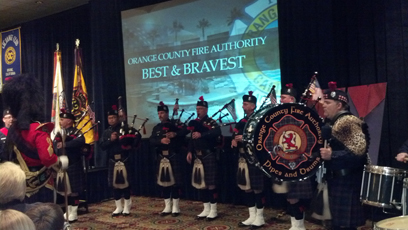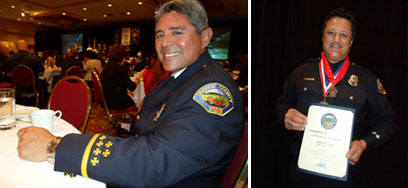 (Left) Battalion Chief Jose Valbuena (Right) Firefighter Robert Davidson who earned the Medal of Valor

Announcements
Anaheim Citizens Advisory Committee

Established by the Anaheim City Council, the Citizens Advisory Committee on Elections and Community Involvement met for the fifth time on Thursday, January 31, to discuss alternative electoral systems. These included Instant Runoff Voting and Cumulative Voting. To view agendas, documents and video of past meetings, click here.

The Committee will meet next on Thursday, February 21 at 6:30 pm at the Ponderosa Family Resource Center – 2100 Haster Street, Anaheim 92802. The discussion will address increasing voter registration and participation. Contact cacelections@anaheim.net for more information.

For the full committee meeting calendar and list of topics, click here. Presentations made during the meeting are below.

County Commissions and Committees

The 4th District has vacant appointments on the following commissions or committees:


Development Processing Review Committee
If you are interested in serving on this committee, please call Audra Fishel at (714) 834.3440

OC Parks


5 Sense of Nature

Date: Saturday, February 9, 2013

Location: Carbon Canyon Regional Park

Join Josh, one of our trained staff, on a walk to the Redwoods on Saturday and Sunday mornings. Josh will help you use your 5 senses to engage with nature as you stroll to the Redwoods and hear the story of these majestic trees and how they came to Carbon Canyon Regional Park. The walks will be every Saturday and Sunday mornings and in the afternoons. You will also get a chance to visit the Nature Center.

Fee: Free

Parking $5 per vehicle

Contact: (714) 973-3160

Wild at Heart

Date: Friday, 15, 2013

Location: OC Zoo

To celebrate Valentine's Day, the OC Zoo will give couples (or pairs) two-for-one admission all day! The two of you can enjoy a day at the zoo to visit and learn more about the zoo's animal couples at keeper talks scheduled throughout the day.

Regular entry fee: $2; two-for-one for this promotion.

Parking: $3 weekdays, $5 weekends.

Contact: (714) 973-6847

Attention Seniors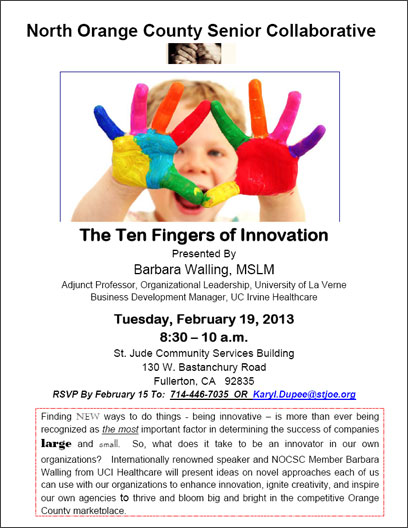 Click on the image above to view a larger version.

Veterans Corner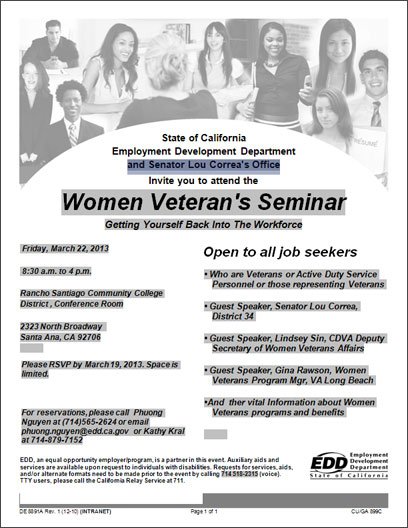 Click on the image above to view a larger version.

OC Animal Care

The Fourth District recognizes La Habra Police K-9

Supervisor Nelson was honored to recognize a legend of law enforcement with a retirement certificate of recognition to La Habra Police Corporal Kyle and his K-9 partner, Astor. Astor was born in Holland and is an 8-year old Belgian Malinois. He joined the La Habra Police Department in October of 2007 and was partnered with Corporal Kyle Davis. Astor is a cross trained canine, able to locate people and articles, as well as narcotics. He has worked the streets for approximately five years, earning a reputation for being a great dog and an asset to the department. During his career, Astor went on 258 deployments and apprehended 59 suspects as well as seizing 72 pounds of narcotics.

After a productive career as a member of the La Habra police family, Astor will be retired to spend his remaining days with the Davis family.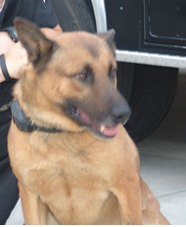 Astor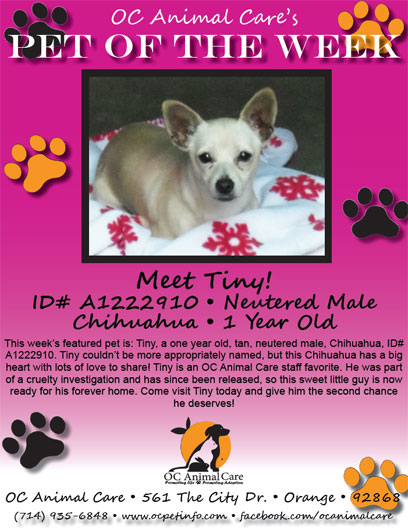 Click on the image above to view a larger version.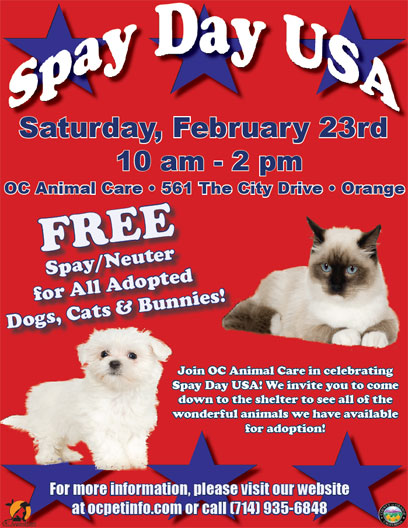 Click on the image above to view a larger version.

Library Corner

Free Yoga Classes at the La Habra Library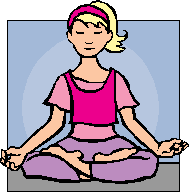 Starting on March 6th, local yoga instructors will be conducting a free one hour yoga class on Wednesday nights from 6 to 7 p.m. The class is open to teens and adults. Please bring your own mat and towel. For more information please call the library at 562-694-0078.

Events
Anaheim
What: We Love Our Families Craft and Resource Fair
Where: South Jr. High School, 2320 E. South Street, Anaheim
When: February 9th, 2013
Time: 9 am – 12 pm

What: Trauma Intervention Program Training – Information Night
Where: Orange County Fire Authority Main Headquarters
When: February 21st, 2013
Time: 6:30 pm – 10 pm

Brea

What: 14th Annual Spring Craft Boutique
Where: Community Center – 695 E. Madison Way, Brea
When: February 16th, 2013
Time: 9 am – 4 pm

What: STEAM Fair and Education Expo
Where: Brea Olinda High School – Auxiliary Gym – 789 Wildcat Way, Brea
When: February 21st, 2013
Time: 5 pm – 8 pm

Buena Park

What: "Heirlooms of Our Ancestors" Exhibit
Where: California Welcome Center, 6601 Beach Blvd, Buena Park, CA 90621
When: Ongoing till March 1st, 2013
Time: 9:00 am – 5:00 pm

Fullerton

What: Health Care and Business Look to the Future
Where: Fullerton Marriott, 2701 E. Nutwood Ave,
When: February 21st, 2013
Time: 11:30 am – 12:30 pm

La Habra

What: Special Valentine "The 5 Love Languages" Seminar
Where: La Habra Chamber – 321 E. La Habra Blvd, La Habra
When: February 14th, 2013
Time: 4 pm – 5:30 pm

Placentia

What: Miss Placentia/Miss Placentia Outstanding Teen Pageant
Where: Valencia High School Auditorium, 500 No. Bradford Avenue, Placentia, CA 92870
When: Saturday, February 9, 2013
Time: 2:00 pm – 9:00 pm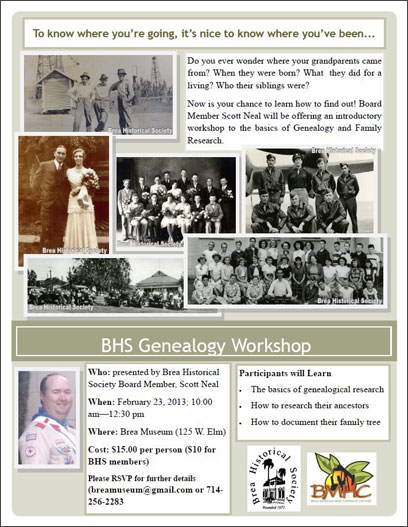 Click on the image above to view a larger version.

For questions or comments regarding Nelson's E-News
please contact the Supervisor's office staff:
Audra Fishel Ph: 714-834-3440 Email: Audra.Fishel@ocgov.com.