Board of Supervisors

Welcome to Nelson's E-News!

Thank you for reading this edition of my newsletter. I hope you find the information below very helpful. As always, I appreciate and look forward to your feedback.

The Board of Supervisors held a meeting this week. Please see below for highlights. The next meeting will be Tuesday, January 13, 2015 at 9:30am in the Hall of Administration – 333 W. Santa Ana Blvd., Santa Ana 92701.

Please see photos and descriptions below of some of the events our office was able to attend in the community this week. If you were unable to attend, there are other events listed at the end of this newsletter.

Sincerely,
Shawn Nelson


Board Update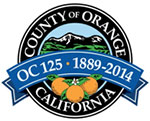 The County of Orange Bids Farewell to Supervisor Moorlach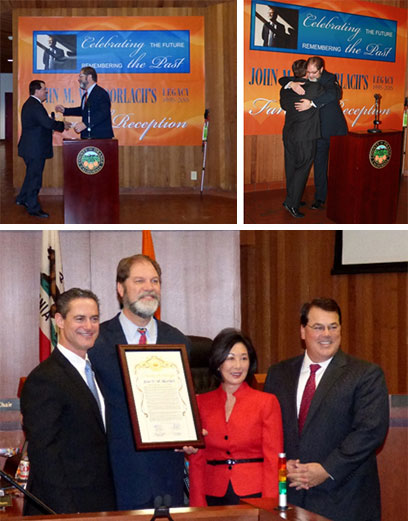 Tuesday December 16th marked the last full board meeting of Supervisor John Moorlach's term on the Board of Supervisors. Supervisor Moorlach began his service to the county in 1994 when he was appointed Treasurer/Tax Collector shortly after the county filed bankruptcy. Moorlach gained national fame as the leading voice sounding an alarm about the county's risky financial moves prior to the bankruptcy. From 1994 to 2006 then Treasurer Moorlach managed the county's finances and guided us back to financial sustainability. Thanks to many of the reforms Moorlach implemented as treasurer the bankruptcy debt is scheduled to be paid off in 2015.

Supervisor Moorlach was first elected to the Board of Supervisors in 2006 and was re-elected to a second and final term in 2010. Much like his tenure in the Treasurer/Tax Collector's office, John focused his efforts on substantial reforms aimed at good government and long term sustainability. As Second District Supervisor, Moorlach spearheaded several projects important to the constituents he represents, notably the John Wayne Airport Settlement Agreement and the annexation of Sunset Beach by Huntington Beach. On a countywide level, Supervisor Moorlach led the way on a voter approved initiative that stipulated voters must approve increases in pension benefits, the Civic Openness in Negotiations (COIN) ordinance and the creation of the Office of Independent Review and the Performance Audit he also championed having Orange County be the first large county in California to fully implement "Laura's Law" among countless other contributions.

Prior to Tuesday's board meeting a reception was held in the lobby of the Hall of Administration to recognize Supervisor Moorlach's service and contributions. The ceremony featured speeches and gifts presented by many elected officials and county department heads. Supervisor Nelson was honored to emcee the event and offered well wishes. Immediately before the board meeting the Board of Supervisors presented Supervisor Moorlach with a Resolution from the county and expressed their thanks and gratitude for their departing colleague.

Board Revises 2015 Meeting Calendar

On Tuesday, the Board cancelled the first meeting of the year, on Monday, January 5, 2015. The Board's first meeting of 2015 will be Tuesday, January 13 at 9:30am when the election of the new Chair and Vice Chair will take place. The updated calendar is available here.

Board Approves Resolutions List

Every year, the Board of Supervisors approves a list of recurring resolutions for the following year, reducing the time needed to individually vote on each throughout that year. The Board unanimously approved the list with the following additions:

Alzheimer's Awareness Month (September)
Arson Awareness Week (April)
Drowning Prevention Month (May)
Muscular Dystrophy Day (August)
Toastmaster Month (August)
The complete list is may be viewed here.

2015 Point in Time Count of the Homeless

A worthwhile event is being planned for late January 2015 that will significantly impact the future of many homeless families and individuals residing in Orange County. Every two years, the County of Orange and its non-profit partners conduct a single day count of the County's sheltered and unsheltered homeless population. The January 2013 count process determined that approximately 12,700 people become homeless in Orange County over the course of a year.

This project is undertaken to preserve over $16 million in annual federal funding for homeless programs and services. The project also serves as a means for leveraging additional funding from other government and private sources for needed homeless services and provides data to inform decision making on better service planning and delivery including Orange County's Ten Year Plan to End Homelessness.

1,500 volunteers are needed to count the homeless throughout Orange County. As Supervisor for the 4th District, I am inviting you to support the 2015 Point-In-Time Count of the Homeless effort. 4th District residents can support the 2015 Point-In-Time Count by contributing a small amount of volunteer time to assist in this effort.

Each of the five County districts will have a deployment center where volunteers will gather on the morning of Saturday, January 24, 2015 to count the homeless from approximately 4:30 am – 9:00 a.m. on the streets throughout the entire county. A short training session is required prior to the day of the count. The location of each volunteer deployment center is as follows:

1st District - Santa Ana
2-1-1 Orange County Office
1505 E.17th Street
Conference Center, Ste. 100
Santa Ana, CA 92705


2nd District - Huntington Beach
Colette's Children's Home
7372 Prince Dr., Ste 106
Huntington Beach, CA 92647


3rd District - Irvine
Families Forward
8 Thomas
Irvine, CA 92618


4th District - Anaheim
Victory Baptist
227 N. Magnolia
Anaheim, CA 92801


5th District - San Clemente
Family Assistance Ministries
1030 Calle Negocio
San Clemente, CA 92673
For more information on the count of the homeless, you may visit the following website: www.pointintimeoc.org. In addition, if you are aware of someone that is homeless or at-risk of being homeless, feel free to refer them to 211 Orange County. To contact 211 Orange County, dial 211 or 888 600-4357. 211 is a toll free number that provides health and human service referrals 24 hours a day, 7 days per week. The County of Orange is proud to fund the count of the homeless and 211 Orange County as these services and regional efforts support Orange County's Ten Year Plan to End Homelessness.

In the Community

Mayor Steve Berry Honored by the 4th District

Policy Advisor Steve Spernak was honored to deliver Supervisor Nelson's Certificate of Recognition to outgoing Mayor Steve Berry at the Buena Park City Council meeting last week.

During the presentation, Spernak told the audience that Mayor Berry kept a steady hand on managing the city and steering it through internal challenges and public-administration hardships with class and decorum.

Berry was complemented for keeping the coming mall project at Beach and Orangethorpe on schedule and making priorities in public safety, community services and events as well as working closely with seniors and Veterans at the Ehlers Center.

Police Chief Corey Sianez was also recognized for his 35 years of distinguished service and Spernak closed by welcoming the new City Council member in Virginia Vaughn who was sworn-in that evening.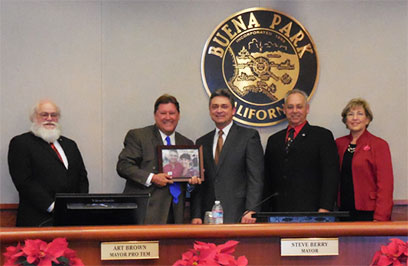 Fourth District Policy Advisor Steve Spernak presented commendations to Buena Park Mayor Steve Berry from Supervisor Nelson and a photo of the Mayor and his wife, Rinda

City of Placentia Las Posadas 2014

Fifteen thousand residents and music fanatics flocked Old Town Placentia last week as the 20th annual Las Posadas and Tamale Festival rocked the beginning of Christmas season.

The night kicked off with a live concert by a Santana lookalike who put on a fantastic act of Santana classics from the seventies such as Evil Woman, Jingo, Ain't Got Nobody, and Black Magic Woman. Also, The world famous Mariachi Divas closed the night with their incredible vocals, violins and stagecraft that had the entire audience singing and dancing till the end of the night.

Supervisor Nelson's office was pleased to help with the publicity and a public affairs/outreach booth, manned by Policy Advisor Steve Spernak, handed out Senior Guides, OC Veterans Resource Guides and District contact information.

Congratulations to the entire city team at Placentia, Police Chief Ward Smith and his department, Steve Pischel from community services and Rosalina Davis, event coordinator, for another fantastic Las Posadas adventure.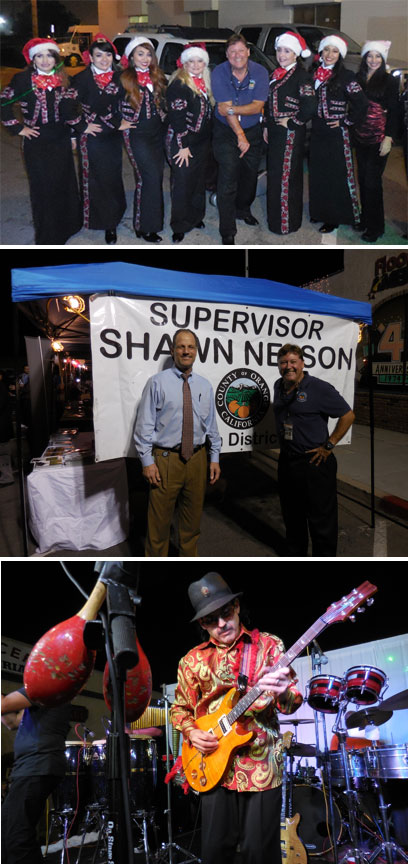 (top) The Mariachi Divas, world famous musical artists and Grammy winners, celebrated their Christmas concert that closed the Las Posadas festival with Policy Advisor Steve Spernak backstage in Old Town Placentia

(middle) City of Placentia Administrative Director Steve Pischel stops to chat with Policy Advisor Steve Spernak who manned the Supervisor's public information and outreach booth at Las Posadas.

(bottom) Carlos Santana look-alike mesmerized thousands with musical renditions of classic songs by Santana with the tribute group

13th MEU Christmas Toy Drive

Supervisor Nelson was honored to be part of the 2014 toy drive for the Anaheim 13th MEU support committee and extended his personal appreciation to Carolyn and Wendell Walters, president and director, for all their time and work to pull off this year's magic.

A year of the planning came together the first week of December when volunteers and former military who donate time to manage the operations and logistics for the 13th Marine Expeditionary Unit put out the call to sponsors for toys, gift cards and electronics.

The donated toys are sorted with an age-appropriate inventory by Bryan Vaughn who is the commander of family services with the 13th MEU. Gifts included the Teddy Bears donated each year by Supervisor Nelson's office, bicycles, gift cards and electronics that are given to older kids who enjoy meeting Santa and feasting over a catered dinner.

Residents who would like to be part of the 13th MEU support team can make donations year-round to help Marine wives who have husbands deployed overseas in combat or humanitarian projects after hurricanes or earthquakes by contacting Steve Spernak at Steve.Spernak@ocgov.com


(left)Policy Advisor Steve Spernak donated 24 Teddy Bears
(right) Policy Advisor Steve Spernak and Anaheim 13th MEU Director Wendell Walters

80th Anniversary of Anaheim VFW Post

Supervisor Shawn Nelson's office was proud to recognize the 80th anniversary of an American legend during a tribute to remember the thousands of Veterans who were members of the Anaheim VFW 3173.

Established in 1934, the VFW remains a center for local Veterans to gather and support one another and provide the military community with constructive services and projects that benefited their commitment and oath to protect America in the armed forces.

The 2014 anniversary celebration milestone for Post 3173 gave patrons, families and supporters a chance to thank the Veterans for their donated time and talents that were rendered to the City of Anaheim, the Veterans Working Group, the Red Shirt Fridays campaign and Anaheim Veterans Monument that was dedicated several years ago in their downtown city plaza.

Congratulations to the members of the Orange County Veterans Advisory Council who helped host the celebration and dinner that recognized the patriotic spirit and sense of local pride the Post offers former military who bravely served this nation since 1934.

Best wishes and blessings to the members of VFW Post 3173.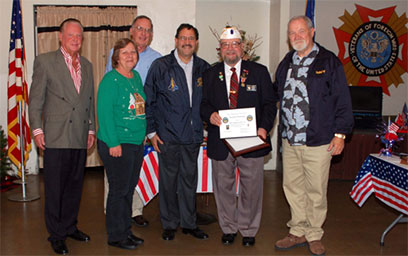 Fourth District Veterans Advisory Council representative Marilyn Harris celebrates the 80th anniversary of the Anaheim VFW Post 3173 with Don Dillon, Chase Wickersham, Bobby McDonald, Gary Mason (VFW 3173 Post Commander) and Lee Dorman.

OCTA



Free Bus Rides


To encourage people to travel safely, OCTA will continue its tradition of free bus rides on New Year's Eve throughout Orange County. From 6:00 p.m. Wednesday, Dec. 31, 2014 until 2:30 a.m., Thursday, January 1, 2015, rides on all fixed-route buses will be free.

Over the past 12 years, nearly 100,000 people have taken advantage of this special free bus service. OCTA provides 600 buses travelling on 77 designated routes with stops at more than 6,500 bus stops in Orange County, making the bus one the safest and most convenient ways to get around on New Year's Eve.

This year, OCTA will also offer special extended bus service to First Night in Fullerton so travelers can attend this annual New Year's event without worrying about traffic and parking.

A special web page provides details about this free bus service, explains how to ride the bus, and offers suggestions about New Year's Eve events that are easily accessible by bus. See more here.

Construction Closures on Hold During Holidays

People traveling to celebrate the holidays over the next two weeks will get a break from construction with no freeway closures planned during the Christmas and New Year's Eve holidays.

The following work schedules are planned during the holiday weeks:

I-5 South County: No closures Dec. 24 through Dec. 27 and Dec. 31 through Jan. 3.
Ortega Highway: No closures Dec. 24 through Dec. 27 and Dec. 31 through Jan. 3.
SR-91: No nighttime closures between Dec. 22 and Jan. 4
SR-57: No nighttime closures between Dec. 22 and Jan. 4
West County Connectors: No nighttime closures Dec. 24 through Dec. 28 and Dec. 24 through Jan. 5
Work may be occurring during the day on some projects but no closures are planned.

The OC Bridges projects also will have no closures between Dec. 22 and Jan 4.

There are some extending closures planned for the grade separation projects starting in January. Beginning Jan. 5, Chapman Avenue at Orangethorpe Avenue is scheduled to be closed for up to one year. Starting Jan. 9, State College Boulevard at Valencia drive is scheduled to be closed until summer 2017.

Overall, the construction projects represent more than $1 billion in improvements and when completed, they will enhance traffic flow and safety for hundreds of thousands of drivers that travel along Orange County's freeways daily.

For more information or to sign up to receive construction alerts, visit the following websites:


Announcements

John Wayne Airport Launches First #JWACONNECTS Photo Contest

John Wayne Airport (JWA) launched its first ever photo contest to encourage Airport travelers and visitors to share how JWA connects them to what's important. Using #JWAconnects, participants 18 years or older and non-County of Orange employees can enter by uploading their original photos at www.ocair.com/photocontest from December 17, 2014 through February 17, 2015.

The public can vote for their favorite photos at www.ocair.com/photocontest. A first, second and third place photo will be selected and featured on JWA's homepage, ocair.com, from February through May. Winners will receive prizes ranging from a Southwest Airlines gift card, Javi's dining certificate or an XpresSpa voucher at locations in John Wayne Airport, or tickets to the Lyon Air Museum.

To enter a photo, vote for favorites or for more information about the contest, visit www.ocair.com/photocontest.


Do you know any hometown heroes?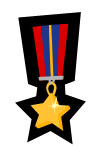 The Fourth District is accepting submissions to recognize unsung heroes in our community.

This may include public safety, first responders, or friends and neighbors who have gone above and beyond the call of duty in everyday life to enrich our community.

To share your story, please call or email Audra Fishel at Audra.Fishel@ocgov.com or (714) 834-3440.

County Commissions and Committees

The Fourth District has vacant appointments on the following commissions or committees:


Oversight Board of the Successor to the City of Redevelopment Agency (Buena Park and Anaheim)
Treasury Oversight Committee
Assessment Appeals Board
If you are interested in serving on one of these committees, please call Audra Fishel at (714) 834-3440.

OC Animal Care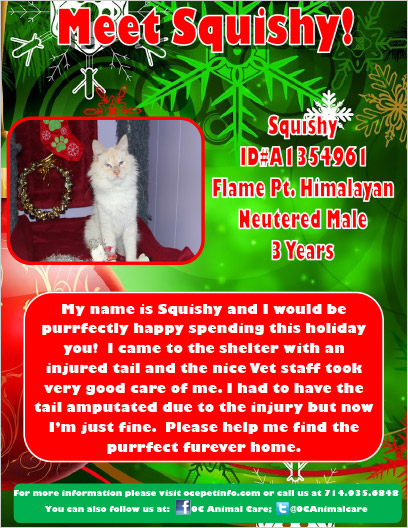 Click on the image above to view a larger version.

Events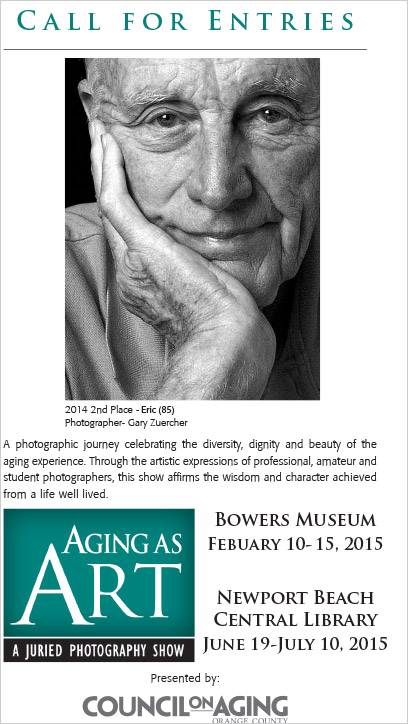 Click on the image above to view a larger version.

Anaheim

What: Farmers Park Market
When: December 21, 2014
Where: 440 South Anaheim Boulevard, Anaheim, CA, United States
Time: 10:00 AM – 3:00 PM

What: K & A Holiday Brunch
When: December 24, 2014
Where: Center Street Promenade and Lemon Street
Time: 9:00 AM – 12:00 PM

Brea

What: Spiritual Emphasis
When: December 19, 2014
Where: Brea Senior Center 500 Sievers Avenue Brea, CA 92821
Time: 10:00 AM - 11:00 AM

What: Parks, Recreation & Human Services Commission
When: December 23, 2014
Where: Civic & Cultural Center, Conference & Training Center - Level 2, 1 Civic Center Circle, Brea
Time: 6:00 PM - 7:00 PM

Buena Park

What: American Red Cross Blood Drive
When: December 24, 2014
Where: Buena Park Downtown inside the mall in between WalMart & Ross (down escalator
) Time: 12:00 PM - 4:15 PM

What: American Red Cross Blood Drive
When: December 26, 2014
Where: Buena Park Downtown inside the mall in between WalMart & Ross (down escalator)
Time: 12:00 PM - 6:00 PM

Fullerton

What: Fullerton Arboretum Heritage House Tours
When: December 20, 2014
Where: Fullerton Arboretum, 1900 Associated Rd., Fullerton
Time: 2:00 PM - 3:00 PM

What: Holiday Festival
When: December 21, 2014
Where: The Muckenthaler Cultural Center
Time: 12:00 PM - 4:00 PM

La Habra

What: Shop La Habra and Win! $1000
When: December 19, 2014
Where: La Habra Chamber of Commerce 321 E. La Habra Blvd
Time: Before 12 Noon

What: "Scrooge & Marley: Together Again
When: December 19, 2014
Where: La Habra Depot Theater, 311 S. Euclid Street, La Habra
Time: 8:00 PM - 10:00 PM

Placentia

What: Alzheimer's Support Group
When: December 22, 2014
Where: Meeting Room #1 Placentia-Linda Hospital (Enter main lobby) 1301 N. Rose Dr. Placentia 92870
Time: 7:00 PM - 9:00 PM

What: Placentia Farmers Market
When: December 23, 2014
Where: Placentia Town Center on the corner of Yorba Linda Blvd. and Kraemer
Time: 4:00 PM - 8:00 PM



For questions or comments regarding Nelson's E-News
please contact the Supervisor's office staff:
Audra Fishel – Phone: (714) 834-3440, Email: Audra.Fishel@ocgov.com.