Board of Supervisors

Welcome to Nelson's E-News!

It is with great sadness that I announce a former, long-time Fourth District resident, and Medal of Honor recipient during World War II, Walter Ehlers has passed away. Please read further for a biography, photos and a previous video interview he had given.

As a reminder, my FOX Sports interview will air on Sunday, March 2 after the Ducks game. More information is below. I also attended a community meeting in West Anaheim to discuss several issues in the neighborhoods there. This was a fruitful dialogue that covered a myriad issues, including crime and housing.

The next Board of Supervisors meeting will be Tuesday, March 4 at 9:30am at the County Hall of Administration, 333 W. Santa Ana Blvd., Santa Ana 92701. Please click here for a copy of the agenda.

Sincerely,
Shawn Nelson

Board Updates



2014 Chairman's Appointments

In addition to duties at the County of Orange, each Supervisor is appointed to a number of external boards, committees and commissions. Although this list is approved annually, there are no changes this year due to a continuity of Board leadership. For the 2014 assignments, Chairman Nelson remains as the County's representative at:

Commission to End Homelessness
Emergency Management Council
OC Operational Area Executive Board
One Water, One Watershed
Orange County Council of Governments (OCCOG)
Orange County Sanitation District, Alternate
Orange County Transportation Authority (OCTA)
Santa Ana River Flood Protection Agency
Southern California Air Quality Management District Board
Southern California Association of Governments (SCAG)
Southern California Home Financing Authority (SCHFA)
Southern California Water Committee
Transportation Corridor Agencies – Foothill/Eastern Board
For the full list of the Board's appointments, please click here.

CalOptima Board to be Restructured

Responding to a Board of Supervisors directive from February 4th, County staff presented options for consideration on how to structure the CalOptima Board of Directors. Following a lengthy discussion, the board eventually voted for a modified version of the third option. In short, the board modified the ordinance to include an additional member of the Board of Supervisors as a voting member with a third Supervisor serving as an alternate to allow for more oversight and involvement from the County. To maintain an eleven member board, the Social Services Agency director will transition to a non-voting, ex-officio member. The new ordinance reflecting those changes was formally drafted by county staff and will be considered at a second reading next Tuesday. The ordinance will take effect 30 days from approval. To read the finalized ordinance on the agenda, see item 23 on next week's agenda here: here.

OCTA



OCTA Applauds Implementation of Positive Train Control

Metrolink will be the first commuter rail service in the nation to utilize the collision-avoidance system
Orange County Transportation Authority CEO Darrell Johnson praised the announcement by Metrolink that Positive Train Control has started to be implemented on the commuter rail line serving Southern California.

"Positive Train Control is a critically important safety enhancement and OCTA is very pleased to see the collision avoidance system now being rolled out on Metrolink trains," said Johnson. "As public transit agencies, there is no greater responsibility than ensuring the well-being of the millions of people each year who depend upon us for either their daily commutes or for weekend recreational trips."

As one of five member agencies of the Southern California Regional Rail Authority, which operates Metrolink, OCTA was the first to fund its portion of the Positive Train Control system.

Positive Train Control is state-of-the-art technology that can track the position and speed of a train and will automatically slow or stop the train to prevent a collision or derailment. Federal law mandates that PTC be installed on all passenger trains by 2015.

Three weekday Metrolink lines serve Orange County with 54 daily trains: the Orange County Line provides service between Oceanside and Los Angeles Union Station; the Inland Empire-Orange County (IEOC) Line, with service from San Bernardino and Riverside to Oceanside; and the 91 Line, with service from Riverside to Los Angeles via Fullerton and Buena Park.

Metrolink carried 4.2 million riders last year in Orange County, with average weekday boarding of 16,000 passengers.

For more information on Metrolink in Orange County, go to www.octa.net/metrolink

Progress Continues on O.C. Bridges in Anaheim, Fullerton and Placentia

Designed to separate car traffic from trains, the O.C. Bridges program includes seven grade separation projects at rail crossings in Anaheim, Fullerton and Placentia. OCTA is working to improve traffic flow and safety by building a series of bridges – both underpasses and overpasses – to eliminate the need for commuters and commercial vehicles to stop, wait and waste time at railroad crossings as freight trains pass by.

Close to 70 Burlington Northern Santa Fe trains use the Orangethorpe Corridor in Anaheim, Fullerton and Placentia every day, causing delays and safety hazards, restricting emergency response and business access, and creating pollution and noise. More trains – and longer trains -- are coming as well -- an estimated 130 trains daily by 2030.

Four projects are under construction including Placentia Avenue, Kraemer Boulevard, Orangethorpe Avenue and Tustin Avenue / Rose Drive. Three additional projects will start in the next several months.

In January, the Placentia Avenue bypass road was closed and the detour put in place for 60 days. When the detour ends in March, drivers will be able to use the undercrossing to avoid train delays. Other project elements will be completed later this year.

The Kraemer Boulevard project requires the lowering of the entire intersection of Crowther Boulevard and Kraemer Avenue and is on schedule to open this summer.

Both the Orangethorpe Avenue and Tustin Avenue / Rose Drive overcrossing projects began construction in 2013.

The remaining projects, undercrossings at Raymond Avenue and at State College Boulevard and an overcrossing at Lakeview Avenue, have awarded construction contracts; however, there are still utility relocations and demolition work that must be completed before the project contractors can begin their work.

As always, drivers are encouraged to reduce their speeds near the project areas.

Funding sources for this $614 million infrastructure investment include Measure M, Orange County's half-cent sales tax for transportation improvements, and California Proposition 1B Trade Corridor Improvement Funds.


(left) Placentia Avenue Project (right) Kraemer Boulevard Project

In the News

Don't forget to tune in to FOX Sports Prime Ticket on Sunday, March 2, 2014, following the hockey game between the Anaheim Ducks and Carolina Hurricanes. Ducks Weekly, a show that highlights Ducks' activities in the local community, will feature an interview with Board of Supervisors Chairman, Shawn Nelson. The show airs between 8:00 p.m. and 8:30 p.m.

In the Community

Nelson Welcomes Access California Services Supporters to Annual Gala

Supervisor Nelson had the honor of welcoming hundreds of guests and supporters of Access California Services to their annual gala held at the Hilton Hotel in Anaheim last weekend. The gala was a fundraiser and celebration of the continued success Access California has experienced that has benefitted thousands of individuals throughout Orange County. As one of county's exclusive refugee services contractors, Access California has filled an important gap in assisting individuals in need where many times the federal, state and local governments cannot. Top corporate sponsors, federal, state and local elected leaders and service partners enjoyed the evening of networking, dinner and entertainment making the gala a huge success. Supervisor Nelson provided a welcome message to the crowd and thanked Access California for their leadership in providing services on the county's behalf. To learn more about Access California Services, please visit: http://www.accesscal.org/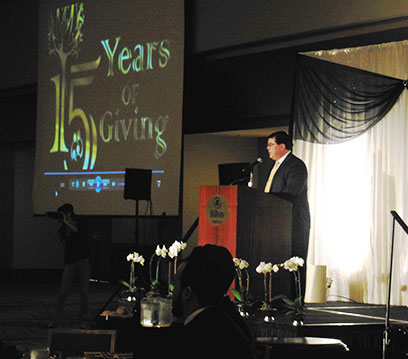 Supervisor Nelson speaks to Access California

Anaheim Semper 5k Fundraiser

The Anaheim Marine Adoption Committee in partnership with the City of Anaheim delivered its first annual Anaheim Semper 5K road race to benefit the Marines of the 13th Marine Expeditionary Unit (MEU) and their families at Camp Pendleton. The 5K run/walk on Saturday, February 15th, with the start and finish at Sycamore Park in Anaheim Hills (near Santa Ana Canyon and Weir Canyon), brought out hundreds of runners and supporters.

This family-friendly event promised something for everyone and met that with many enjoying a chance to meet and take photos with active duty Marines who came up from Pendleton to lead the run. In addition to the road race, the event featured a kid's fun run and obstacle course, finish-line expo, and the Taste of Anaheim Hills Food Fest.

Every participant in either the 5K or the kids run received a custom-designed dog tag finisher medal, an event t-shirt, and free entry into the food fest. Hospitality at the race conclusion was provided by Disney VoluntEARS and DEVOTE city representatives.

All event proceeds will go to provide support to the Marines and Sailors of the "Fighting 13th" and their families. "The Anaheim Marine Adoption Committee is thrilled to be putting on this event. Next year we'll be even bigger," said Richard Farace, adoption committee treasurer and Anaheim Semper 5K race director.

For more information on the race or to learn about sponsorship opportunities, visit www.semper5K.org or contact Richard Farace directly at info@semper5k.org, 714.350.2886.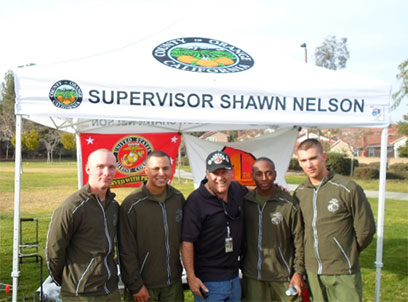 Policy Advisor Steve Spernak joins Marines from Camp Pendleton after their 5k run in Anaheim Hills in support of the 13th MEU

Signing Day – Fullerton High School

The Fourth District was honored to recognize four superstar athletes at Fullerton High School who declared their college selections on February 5th as part of the national college signing-day. The college commitments and letters of scholarship were signed at the ceremony hosted in the main quad at FUHS in front of hundreds of admiring underclassmen and family members.

Policy Advisor Steve Spernak presented certificates of accomplishment to the four honorees and gave the college-bound seniors a one-minute inspirational speech on success, dedication and staying true to their dreams of being scholar-athletes.

Congratulations to:

Tyler Place - will attend CSU San Marcos (Baseball)
James Hubbard - will attend Cornell (Football)
Matt Hall - will attend the University Of San Diego (Football)
Yazi Hernandez- will attend Westmont College (Soccer)
Best wishes and continued success to these outstanding student-athletes who did it right as role models of success, team-work and academics.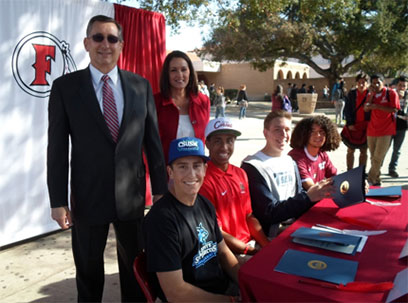 Dr. George Giokaris, Fullerton Superintendent of Schools, is joined by Fullerton High School Principal Rani Goyal and college signing-day superstars Tyler Place, James Hubbard, Matt Hall and Yazi Hernandez at Fullerton HS.

Supervisor Briefs Renew Anaheim Citizen Committee

Special thanks to Kandis Richardson, chairman of the Renew West Anaheim committee and meeting coordinator Phyllis Greenberg for hosting Supervisor Nelson at this week's community meeting. The meeting brought approximately 40 residents to the Anaheim Youth Center to hear explanations from Supervisor Nelson on how commercial areas are developed, parks, land use, MHSA living centers and addressing human trafficking and prostitution on Beach Blvd.

Supervisor Nelson walked the residents through explanations on how the County has a limited role in city land use and development. In closing, Supervisor Nelson provided explanations on how the Police and District Attorney have effectively negated prostitution and human trafficking with arrests and convictions. Same for his new collaboration of bike trails access and an update on the proposed Homeless Resource Center and Temporary Shelter project that will partner County, City, non-profits, churches, schools and volunteers to remedy transients and on Beach Blvd. and homeless camping in La Palma Park.

Residents are welcome to contact Renew chairman Kandis Richardson at KRichardson@pkrealtors.com or Steve Spernak with Supervisor Nelson's office at Steve.Spernak@ocgov.com for questions or explanations on issues facing West Anaheim or unincorporated islands.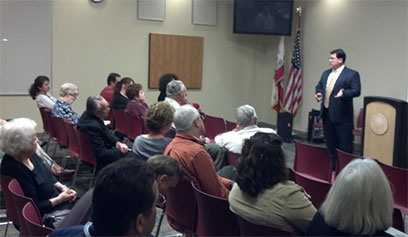 Supervisor Nelson speaking to Renew Anaheim

Fullerton Hearing Center – Ribbon Cutting

On February 13, the Fourth District Staffer Natalie Wieckert was proud to congratulate the Fullerton Hearing Center on their brand new office located at 1843 North Euclid Street. Fullerton Hearing Center aims to provide a welcoming environment along with the best possible hearing care, based upon your individual needs. They provide a comprehensive array of services related to evaluation, rehabilitation and prevention of hearing impairment. Fullerton Hearing Center can be contacted at (714) 871-0632.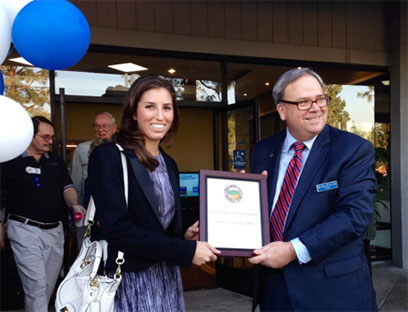 (Left to Right) Nelson staffer Natalie Wieckert presents a certificate to William Schenk-BC-HIS, ACA, owner of Fullerton Hearing Center

Urgent Care – Ribbon Cutting

Congratulations were extended to Placentia-Linda Hospital CEO Kent Clayton for opening the newest Urgent Care medical offices in Anaheim Hills this week. The newest Urgent Care in the Placentia-Linda system is located at 751 S. Weir Canyon Rd, Suite 167. The center is open from 8 am to 7pm daily and Saturday from 9am to 5pm for immediate walk-in patients who enjoy the convenience of seeing a doctor within minutes to avoid the drive and waiting lines at a large hospital.

To contact the new Urgent Care at Weir Canyon, call 714 453-0120 or checkout their business website at PLHUrgentcare.com. Supervisor Nelson was happy to extend best wishes to the CEO and staff for bringing this quality medical convenience to the East Anaheim and Placentia residents he serves.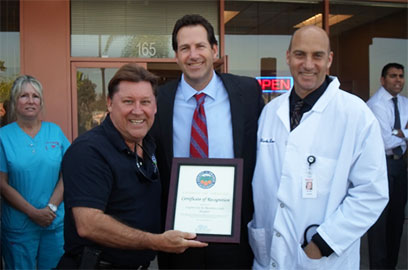 (Left to right) Policy Advisor Steve Spernak presents a Certificate of Recognition welcoming Placentia-Linda Hospital to the Fourth District

A Tribute

WALTER D. EHLERS REMEMBERED AS A TRUE AMERICAN HERO

(Courtesy of Buena Park)

On Thursday, February 20, 2014, decorated World War II veteran Lt. Walter D. Ehlers passed away. He was 92 years old. Walter D. Ehlers, of Buena Park, California, served in with the U.S. Army 7th, 3rd, and 1st Infantry Divisions. Originally from Ft. Riley, Kansas, Walter enlisted in the Army in 1940 with his brother, Roland. His exemplary military career included invasions in North Africa, Sicily, and Normandy. He was a member of the Honor Guard at the Casablanca Conference in 1943. After this, he led his 12-man reconnaissance patrol across Omaha Beach on D-Day, June 6, 1944, with no casualties. Walter was awarded the Congressional Medal of Honor for the extraordinary heroism he displayed on June 9 and 10, 1944, near Goville, France. After learning that his brother gave his life on the beaches at Normandy, Walter went on to complete campaigns throughout Belgium and Germany and received a battlefield commission. By the end of the war, Walter had served eight campaigns and was awarded the Silver Star, three Purple Hearts, two Bronze Stars, England's King George Military Medal, Belgium's King Leopold Medal, the Presidential Unit Citation with Two Clusters, the Combat Infantry Badge, and France's Croix de Guerre. He was also knighted by Belgium King Albert II. Walter was honorably discharged by the Army in 1945.

After the war, Walter moved to Buena Park, California. In 1955, he met his wife, Dorothy, and had three children: Catherine, Tracy, and Walter, Jr. Following in his father's footsteps, Walter, Jr. would go on to join the Army and served in the 1st Infantry for four years. Walter worked for the Veterans Administration as a counselor and later as a Service Officer. After 34 years of government service, Walter retired. He served on Buena Park's Park and Recreation Commission for seven years. In 1964, he was part of President Johnson's delegation, and in June 1994, he spoke in Normandy at a D-Day 50th anniversary ceremony in front of international leaders, including the Queen of England and President Clinton.

On November 14, 1998, the City of Buena Park honored Walter by naming the Buena Park Recreation Center the Walter D. Ehlers Community Recreation Center. In 2002, Walter was awarded the National Order of the Legion of Honor award, the highest honor France bestows on its citizens and foreign nationals, for his heroism and valor in France during the war. In 2013, the U.S. Postal Service honored all 464 Medal of Honor recipients from World War II. The agency included photographic images of the 12 surviving recipients, including Walter D. Ehlers.

"The Buena Park community is forever blessed with the legacy of Walt Ehlers," said Buena Park Mayor Miller Oh. "We will always remember our hometown hero and his dedicated service to our country." On February 25, 2014, the Buena Park City Council plans to adopt a resolution declaring the day of his birth, May 7th as Walter D. Ehlers Day in Buena Park. The City Council meeting will also be adjourned in his honor.

Walter D. Ehlers was a patriot, war hero, decorated veteran, community activist, devout family man and a true American hero. Walter is survived by his wife of 58 years, Dorothy, his three children: Lt. Col. Walt (David) Ehlers Jr., Catherine, and Tracy as well as several grandchildren.

Please click below to view an interview with Walt Ehlers: http://www.youtube.com/watch?v=QBJ6BOEb-aI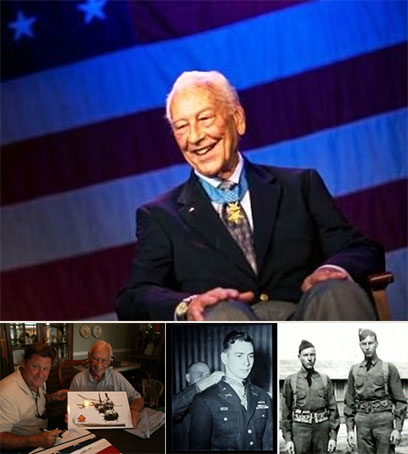 (Above) A collage of photos of Walt Ehlers (Bottom Left) Fourth District staffer Steve Spernak visiting with Walt last year.

Announcements
The Fourth District declares Barry Ross a hometown hero!

Barry Ross is dedicated to the health of our communities. He is creative and always thinks big! He has been a leader on the Board of Directors at the Fullerton Collaborative for almost 15 years. He has held various Board Positions: President, Vice President and Treasurer. During that time he has been instrumental in leading Obesity Prevention efforts across the county. He also worked to help other communities start their own collaborative efforts modeled after the good work being done in Fullerton Both La Habra and Buena Park now have successful collaborative groups thanks to his leadership efforts.

Here are a few of the programs Barry has led over the past few years:

The Lunchtime Exercise Action Program trains parents to coordinate a moderate to vigorous physical activity program they offer to students during their lunch break.
The Rival Health Program provides online nutrition and physical activity support for teachers and their students.
Participation in School District Wellness Councils provides an opportunity to enhance school-based policies and programs.
Providing leadership and support to city collaborations who wish to develop obesity prevention plans.
Working with cities to incorporate health language as they update their General Plans and assist them in implementing Healthy Eating Active Living Resolutions.
Supporting campaigns such as Move More Eat Healthy Orange County and Move More Eat Healthy La Habra.
Working with pre-school nurses on strategies to work with parents on healthy lifestyle issues.
Advocating for an active transportation vision in Orange County.
Barry is Vice President, Healthy Communities at St. Jude Medical Center in Fullerton California. He is currently serving as Chair, Alliance for a Healthy Orange County, Chair, St. Jude Neighborhood Health Centers Board of Directors, Board Member Fullerton Collaborative and serves on the Advisory Boards of Pathways of Hope, the Gary Center, and UCI Program in Public Health and CSUF Program in Public Health. He is a recipient of the St. Joseph Health System Values in Action Award for Justice; the Dayle McIntosh Center Apple of the Eye Award; and received a Special Commendation from the City of Fullerton for Community Service.

Special Thanks to Pam Keller for submitting this nomination. Find out below on how to nominate candidates for our hometown hero section of the Nelson E-Newsletter.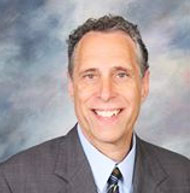 Barry Ross


Do you know any hometown heroes?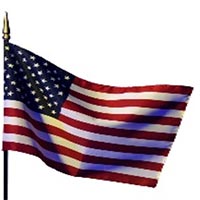 The Fourth District is accepting submissions to recognize unsung heroes in our community.

This may include public safety, first responders, or friends and neighbors who have gone above and beyond the call of duty in everyday life to enrich our community.

To share your story, please call or email Audra Fishel: Audra.Fishel@ocgov.com 714-834-3440

OC Parks


Mountain Lion Sightings reported at Whiting Ranch Wilderness Park

(Courtesy of OC Parks)

Recent mountain lion sightings at Whiting Ranch Wilderness Park have prompted OC Parks to step up trail monitoring and post notification signs alerting park patrons to the activity.

Wardens from the California Department of Fish and Wildlife were called in to assist in an investigation after the sightings were reported and are monitoring the park with OC Parks personnel. Whiting Ranch Wilderness Park remains open to public use.

A photo of a mountain lion in a tree taken at the park has circulated on social media. Warning signs have been posted nearby and additional trail cameras installed in the area.

Whiting Ranch Wilderness Park is characterized by natural terrain and certain inherent dangerous conditions, including mountain lions, rattlesnakes and poison oak. Minors should be accompanied by adults at all times. Mountain lions are known to roam the area and are unpredictable. Patrons are asked to stay alert, stay on park trails and follow all park rules.

Additional mountain lion sightings should be reported in detail to park staff as soon as possible. Sightings at Whiting Ranch Wilderness Park can be reported at (949) 923-2245

About OC Parks
OC Parks manages nearly 60,000 acres of parks, historical and coastal facilities and open space for the County of Orange as part of OC Community Resources.
http://www.ocparks.com

County Commissions and Committees

The Fourth District has vacant appointments on the following commissions or committees:


Oversight Board of the Successor to the City of Redevelopment Agency (Buena Park and Anaheim)
Community Action Partnership of OC
Treasury Oversight Committee Member
If you are interested in serving on one of these Committees, please call Audra Fishel at (714) 834.3440

OC Animal Care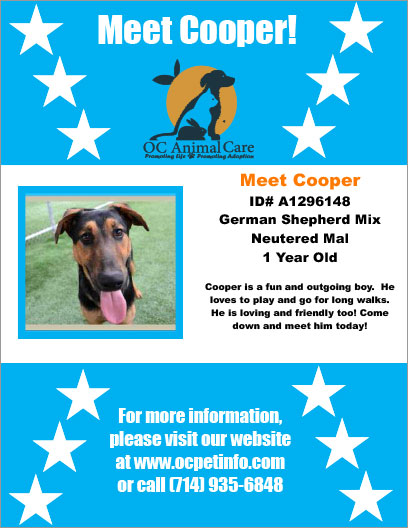 Click on the image above to view a larger version.

Library Corner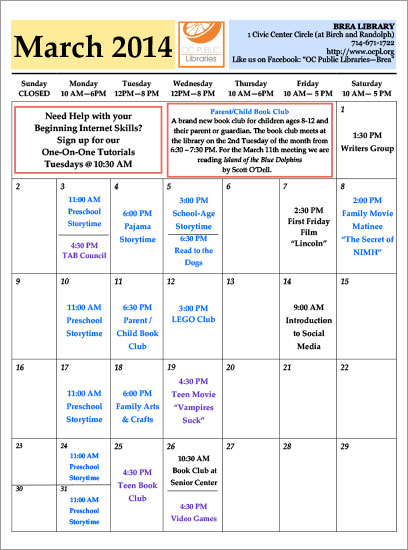 Click on the image above to view a larger version.

Events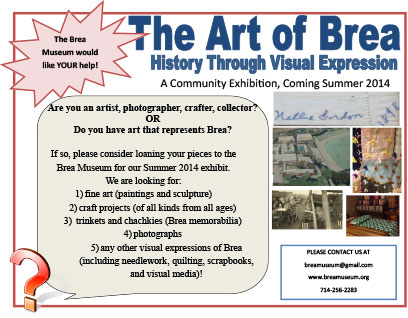 Click on the image above to view a larger version.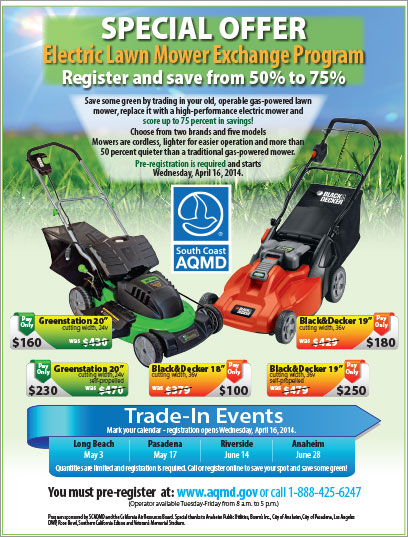 Click on the image above to view a larger version.

Anaheim

What: Mobile Recreation Program
Where: Paul Revere Elementary School-140 W Guinida Ln, Anaheim 92805
When: Friday, February 28
Time: 2:45pm-4:45pm

What: Fundraising Car Wash & Yard Sale
Where: 720 S. Magnolia Blvd.
When: Saturday, March 1
Time: 8:00am-1:00pm

What: CIF Southern Section Ford Championships
Where: The Honda Center-2695 East Katella Ave., Anaheim 92806
When: Saturday, March 8
Time: 10:00am

Brea

What: Millennium Flow Master Class
Where: Brea Fitness Center-695 East Madison Way
When: Friday, February 28
Time: 6:30pm-7:30pm

What: MFA Biennial: Sophomore Year Exhibition
Where: Brea Art Gallery-1 Civic Center Circle
When: Sunday, March 2nd
Time: 12:00pm-5:00pm

What: Line Dance Extravaganza
Where: 695 East Madison Way
When: Friday, March 14th
Time: 6:30pm-7:30pm

Buena Park

What: City Hall Closed
Where: 6650 Beach Blvd.
When: Friday, February 28
Time: ALL DAY

What: City Council Meeting
Where: 6650 Beach Blvd.
When: Tuesday, March 11
Time: 5:00pm

What: Fine Arts Commission Meeting
Where: 6650 Beach Blvd.
When: Wednesday, March 19
Time: 6:30pm

Fullerton

What: Technology Working Group
Where: City Hall, Redevelopment Conference Room-303 W. Commonwealth Avenue
When: Thursday, March 6
Time: 9:00am-10:30am

What: A day of Authors
Where: Cal State University of Fullerton, Titan Student Center
When: Saturday, March 8
Time: 8:30am-3:00pm

What: Speaker Series at the Fullerton Museum Center "Coming Home"
Where: Fullerton Museum
When: Saturday, March 8
Time: 2:00pm

La Habra

What: Free Art Fridays
Where: Family Art Center-201 E. La Habra Blvd.
When: Friday, February 28
Time: 11:00am-3:00pm

What: Healthy Me Workshop
Where: 201 E. La Habra Blvd.
When: Tuesday, March 4
Time: 10:30am-11:30am

What: FAC: Little Picassos
Where: Family Art Center-201 E. La Habra Blvd.
When: Wednesday, March 12
Time: 12:00pm

Placentia

What: Placentia City Council Meeting
Where: City Hall-401 E. Chapman Avenue
When: Tuesday, March 4
Time: 7:00pm-9:00pm


For questions or comments regarding Nelson's E-News
please contact the Supervisor's office staff:
Audra Fishel Ph: 714-834-3440 Email: Audra.Fishel@ocgov.com.


Denis Bilodeau
Chief of Staff

Mark Lopez
Deputy Chief of Staff

Audra Fishel
Policy Advisor /
Communications Director

Steve Spernak
Policy Advisor

Scott Carpenter
Policy Advisor

Natalie Wieckert
Staff Aide



Stay Connected!