Board of Supervisors

Welcome to Nelson's E-News!

Thank you for reading this edition of my newsletter. I hope you find the information below very helpful. As always, I appreciate and look forward to your feedback.

The next board meeting will be Tuesday, December 18, 2018 9:30am in the Hall of Administration – 333 W. Santa Ana Blvd., Santa Ana 92701. The agenda may be accessed here.

Please see photos and descriptions below of some of the events our office attended in the community this week. If you were unable to attend, there are other events listed at the end of this newsletter.

Sincerely,
Shawn Nelson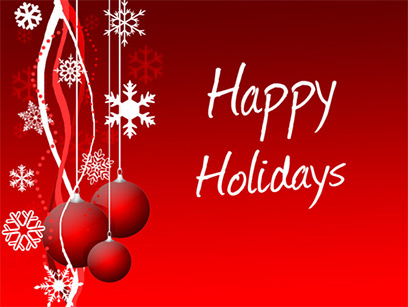 Board Updates

Board Approves 2,500-acre parcel for creation of
veteran –civilian cemetery

A veteran's cemetery is one step closer to reality after the Orange County Board of Supervisors unanimously approved transferring a parcel of open land to the Orange County Cemetery District. Orange County is home to over 120,000 veterans.

The deed would stipulate that the 2,500-acre parcel in Anaheim Hills would be utilized for a cemetery with a requirement that future details about configuration and operation will be decided by the Board of Supervisors at that time. The site is located near the intersection of the 91 freeway and the 241 toll road in District 3, represented by Supervisor Todd Spitzer.

The cemetery deed specifies that the property needs to be developed within 10 years and include at least 50 percent of the burial space reserved for veterans. A goal is to have the property designated as a national veteran's cemetery, which requires state and federal approval.

The Orange County Cemetery District voted today to accept the parcel. The district will have the funding to create the cemetery in stages as it is currently debt-free and has 8 million in reserves.

OCTA



Public Invited to Help Stuff-a-Bus on Friday at Honda Center
OCTA-sponsored event with KABC7 collects thousands of holiday toys for children in need

Santa is looking for some generous elves to help fill OCTA buses with toys for local children in need on Friday, Dec. 14 from 4:30 a.m. to 6:30 p.m. at Honda Center in Anaheim. The public is encouraged to bring new, unwrapped toys or sporting equipment to the Honda Center parking lot at 2695 E. Katella Ave. in Anaheim for the 26th annual Stuff-A-Bus event. Toys will be distributed to children throughout the community.

The event supports the Spark of Love Toy Drive and is sponsored by the Orange County Transportation Authority, ABC7, Honda Center and the Anaheim Ducks.

ABC7 TV personalities will be on hand to help collect the toys, along with firefighters from across Orange County and beyond.

All donations benefit the Spark of Love Toy Drive, a program that has collected more than 10 million toys for kids in Southern California over the past two decades.

Firefighters from Orange, Los Angeles, Riverside, San Bernardino and Ventura counties have supported the Spark of Love Toy Drive for more than 20 years.

Information: https://abc7.com/sparkoflove.

OCTA Welcomes Three New Board Members, Bids Farewell to Five Longtime Members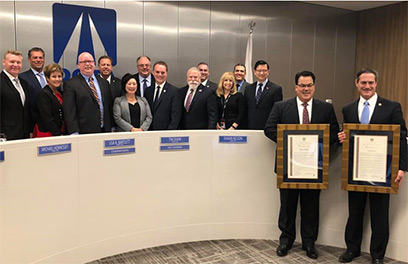 Yorba Linda Councilman Gene Hernandez, Anaheim Mayor Pro Tem Jose F. Moreno, Dana Point Councilman Joe Muller officially sworn in as successors to Al Murray, Tom Tait and Lori Donchak
The Orange County Transportation Authority Board of Directors welcomed three new members to begin serving on the 18-member body that oversees transportation planning, funding and implementation in the county of 3.1 million residents.

The new board members are:

* Gene Hernandez, Councilmember, City of Yorba Linda: Director Hernandez has served on the Yorba Linda City Council since November 2012 and served as that city's mayor from 2017 to 2018. Hernandez is passionate about serving the community through hands-on community volunteerism and world humanitarian travel. Born and raised in Burbank, Hernandez is a third generation Californian and a 32-year resident of Yorba Linda.

Prior to his retirement, Director Hernandez worked in law enforcement for 34 years, retiring as the Chief of Police for the City of Chino, a position in which he served from 1998 to 2006. Before he served in the Orange Police Department, where he attained the rank of captain.

Director Hernandez received a Master of Science degree in Management from California State Polytechnic School, Pomona and a Bachelor of Arts Degree in Administration of Criminal Justice from San Jose State University. He has been married for 49 years to his wife, Louise, and has three children and five grandchildren.

* Jose F. Moreno, Mayor Pro Tem, City of Anaheim: Director Moreno was re-elected to the City Council in November 2018 representing District 3 in north-central Anaheim. He was first elected for a two-year term on the Anaheim City Council in November 2016. Before joining the Council, Moreno served two terms on the Anaheim City School District Board of Education from 2006 to 2014. In 2017, Moreno led efforts to adopt a "sunshine ordinance" that has resulted in stronger, more responsive and accountable local government.

Moreno is an associate professor in the Department of Chicano & Latino Studies at California State University, Long Beach, where he focuses on Latino education and policy studies. He received his undergraduate degree in social ecology with an emphasis on criminology and human behavior from the University of California, Irvine, and earned his master's and doctoral degrees in administration, planning and social policy from Harvard University, where he co-chaired the editorial board of the Harvard Educational Review.

The youngest son of an immigrant family, Moreno grew up in Oxnard, California. He and wife Lorena, a school principal, have lived in Anaheim for more than a decade. They have four daughters.

* Joe Muller Councilmember, City of Dana Point: Director Muller was elected to the Dana Point City Council in November 2014 and currently serves as Mayor. He also represents South Orange County on the boards of the Orange County Fire Authority and Transportation Corridor Agencies, and he is a member of the Orange County Parks Commission.

Muller is a graduate of the University of Wisconsin. He worked as an Environmental Chemist before moving onto a career in sales. After spending years helping to develop supply chain and logistics products to better serve his customers, he moved into the field of educational software sales. He retired when his children were born. After spending years raising his children, he started a property management company to manage his family's investment properties, which is his current profession.

The appointment of the three new members also meant that the OCTA board said goodbye to three longtime members whose service helped improve transportation in Orange County on freeways, roads, rail and active transportation such as walking and cycling.

The departing board members are:

* Al Murray, Tustin mayor, who served on the OCTA board for six years. During his tenure, Murray supported Orange County's regional interests through his work as vice chairman of the SR-91 Advisory Committee and of the Los Angeles – San Diego – San Luis Obispo Rail Corridor board.

Under his leadership as chairman of the OCTA Transit Committee, Murray helped reshape Orange County's bus system through his contributions to OC Bus 360°.

* Lori Donchak, who also serves on the San Clemente City Council, served on the OCTA board for five years, including as chair and as vice chair, helping lead the OC Bus 360° efforts. Her contributions include working with San Clemente businesses and residents to prepare for and work through construction of the now completed I-5 South project.

As chair of the Environmental Oversight Committee, Director Donchak helped identify, secure and forever protect more than 1,300 acres of Orange County's environmental assets.

* Tom Tait, Anaheim Mayor, who served on the OCTA board for five years. Director Tait played a valuable role in advancing Measure M, the county's half-cent sales tax for transportation improvements, and in distributing Measure M funds to cities and the county.

He supported Orange County's interests regionally through his work on the OC Bridges program and the improvements to the SR-57 and SR-91 freeways. Tait has also contributed to the reorganization of Orange County's bus system through the OC Bus 360° initiative.

Monday's meeting was also the final meeting for longtime OCTA Directors Todd Spitzer and Shawn Nelson. Their successors will be appointed at meetings in early 2019.

Nelson served on the OCTA board for more than eight years and served as its chairman in 2014, helping guide planning of the I-405 Improvement Project, the OC Streetcar project, and the OC Loop.

Spitzer served two separate terms totaling 12 years on the OCTA board dating back to the early 2000s. During his time on the board, Spitzer led the Finance and Administration committee and is credited with helping with investment decisions and enhancing OCTA's financial footing.

The OCTA board is comprised of 18 members including the five county supervisors, two members from city councils in each of the five supervisorial districts, two public members and the Caltrans District Director serves in a non-voting ex-officio capacity.

Cigars for Heroes

Cigars for Heroes a success!

Congratulations and sincere thanks to the volunteers and donors who brought cigars and snacks to the last Cigars for Heroes rally over the weekend.

Hosted at Vintage Cigars in Santa Ana, Supervisor Nelson provided boxes of cigars that could be purchased on-site and hosted a fantastic Persian lunch as part of the four hour rally to raise gifts that were sent to Marines overseas.

The central character that inspired the Supervisor was a friend of his son, Shane, who joined the Marines right out of high school.

Lance Corporal Ethan Foglesong, on his first deployment into combat overseas, will receive 46 pounds of cigars, cookies, beef jerky and candy that he can share with his fellow Marines when the boxes arrive on Christmas.

Special thanks to former Marine Pat Lavin, business manager of the IBEW, and his representative Mitch Smith, who drove from Huntington Beach to the event to deliver boxes of donated cigars!

Merry Christmas and blessings to all our Marines and military who defend America around the world!!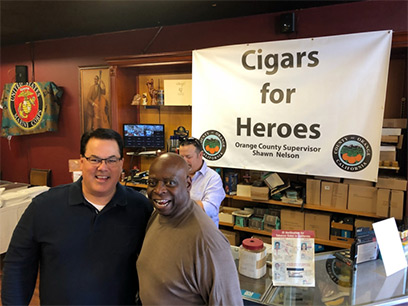 Supervisor Nelson joins Tustin Mayor Al Murray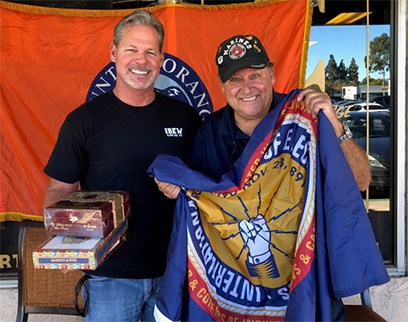 Mitch Smith from IBEW and Pat Lavin donated cigars that will be sent overseas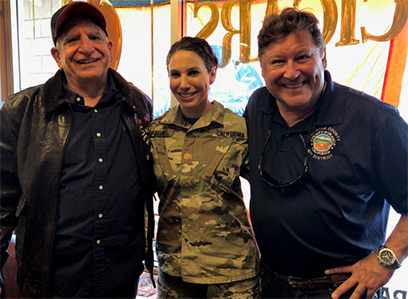 xFormer OCEA general manager Nick Berardino joins Antoinette Balta and Steve Spernak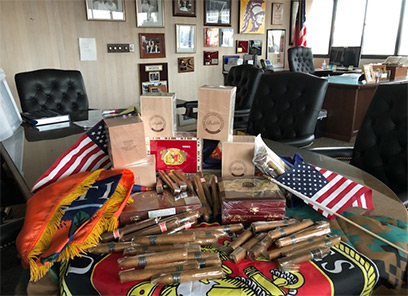 Cigars and snacks being packed in Supervisor Nelson's office

In the Community

Supervisor Honors Placentia Mayors

Supervisor Nelson was honored to recognize two very special leaders and personal friends at the City of Placentia change-of-office city council meeting last week.

Mayor Chad Wanke, who navigated the city and council to put together the new Veterans Village transitional center, got the Old Town Master Plan built and helped bring in $500 million in investments, was recognized first.

Policy Advisor Steve Spernak delivered the County commendation that included photos of the Mayor with his children at the very rainy and cold Heritage Days 2018. Spernak raised laughs with the 100 attending when he told the Mayor he was a brave man risking his kid's health and marriage bringing his kids to Tri-City Park in a hurricane!

Incoming Mayor Rhonda Shader received a welcome from the Supervisor and Spernak presented her with photos of her and the Supervisor taken at a very cold Tamale Festival.

Congratulations and blessings to the Mayor, Council and City staff who had a fantastic year of accomplishments and community magic!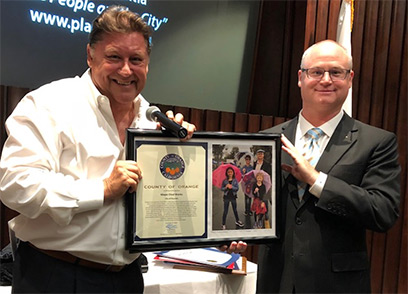 Policy Advisor delivered commendations to Mayor Chad Wanke.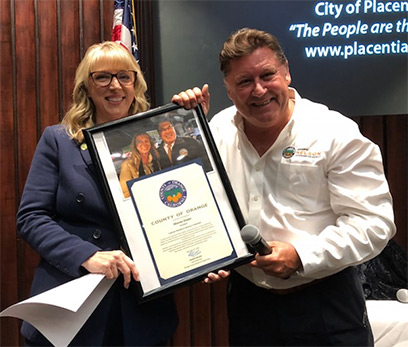 Incoming Mayor-elect Rhonda Schader enjoyed the cert and photo from Supervisor Nelson

Anaheim 13th MEU Team Delivers Christmas to Marines

Congratulations to the volunteers and patriots who put together the annual 13th MEU Christmas Party magic that was delivered this Sunday.

Hosted at Camp Pendleton, the annual toy-drive was another mission of love in support of the families and children of the 13th Marine Expeditionary Unit.

With most of their dads overseas on combat or support missions, the Christmas party is a very special afternoon of great fun, laughs, photos, food and some quality time with Mr. and Mrs. Santa Claus. The program began some ten years ago when Carolyn and Wendell Walters put together a team of volunteers, former Marines and Anaheim city employees to help the Marines at Camp Pendleton.

The year-round programs they support and fundraising for all goes to the Marines and their families in the way of emergency travel vouchers, auto repairs, baby showers, Easter and Christmas parties, gift cards for the PX and fun-cards for the single Marines to enjoy off-duty.

Supervisor Nelson and Policy Advisor Steve Spernak are ex-officio members of the committee and this year completed their 8 years of support with the end of the Supervisor's term in January.

To help continue this fantastic mission to help Marines, please contact Wendell or Carolyn Walters at Wendall Walters wwendallw@att.net or Carolyn Walters of caretw@att.net

Sincere best wishes and blessing and our prayers always to the 13th MEU support Team and Marines of the 13th MEU defending America from Camp Pendleton.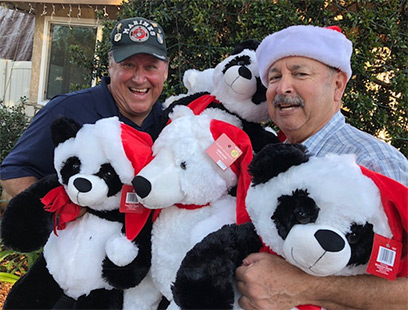 Steve Spernak delivered traditional Teddy Bear fun from Supervisor Nelson to Wendell Walters.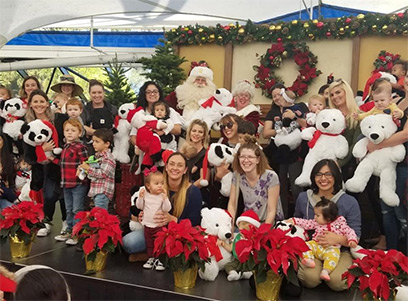 Marine Moms and kids sent thanks to Supervisor Nelson for Teddy Bear Christmas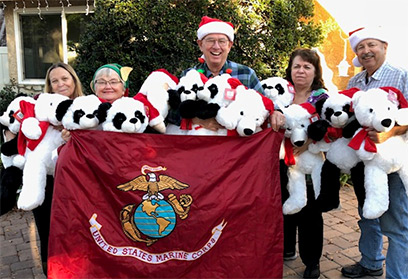 Policy Advisor Steve Spernak poses with Christmas party volunteers.

Buena Park Honors Mayor Vaughn and Steve Berry

Tears and congratulations filled the council chambers at the City of Buena Park this week as two long-serving and respected members of council finished their last meeting to adjourn back to private life.

Honoring 20 years of service, Steve Berry spoke of how he was raised in the city, met his wife in high school, got his first job at 17 and went on to serve twice as Mayor in the city he loved.

Berry explained to a packed audience how much the demands for public service put a non-stop strain on patience and the never-ending role of demands, meetings, appointments and conflicts that try the souls of all leaders.

Mayor Virginia Vaughn took up the invite to run for council by Beth Swift and accepted the new role as Councilmember, finishing the 2017-2018 role as Mayor of the city she loves.

Mayor Vaughn explained she remains amazed at the quality of police and fire, city staff and her relationships with county, federal and state electeds who share her passion for service and professional performance to keep the quality of life the best in OC.

In comments by Policy Advisor Steve Spernak, he delivered commendations and the printed text of "America' by Abraham Lincoln as a reminder that their service was not only to the city but to all Americans.

Best wishes and blessing to both of these outstanding leaders and dear friends !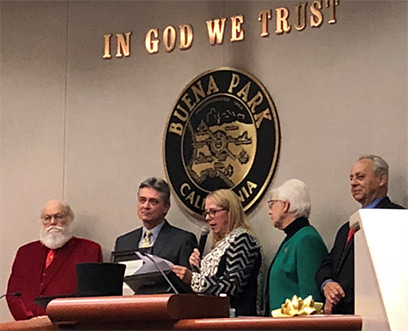 Councilman Steve Berry and Mayor Virginia Vaughn at final council meeting

Pet of the Week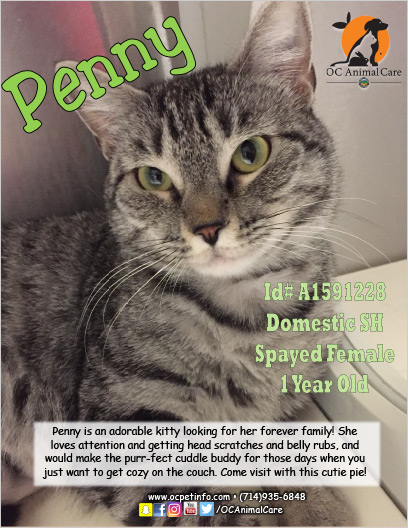 Click on the image above to view a larger version.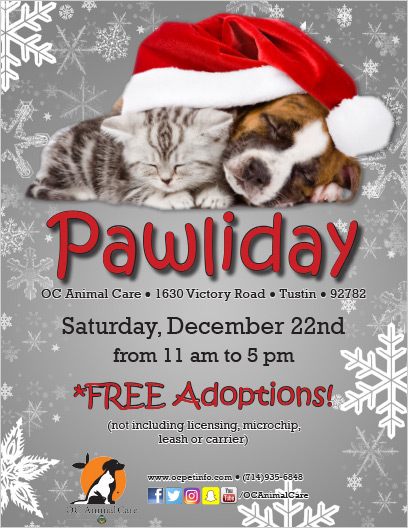 Click on the image above to view a larger version.

Events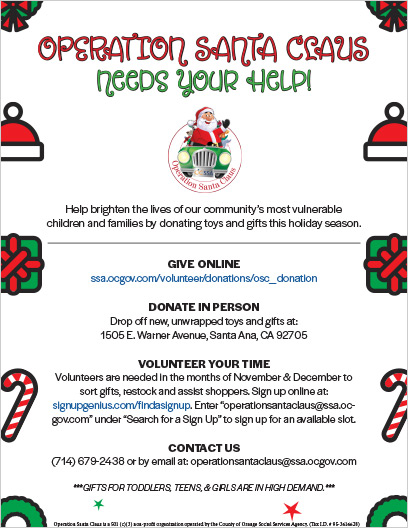 Click on the image above to view a larger version.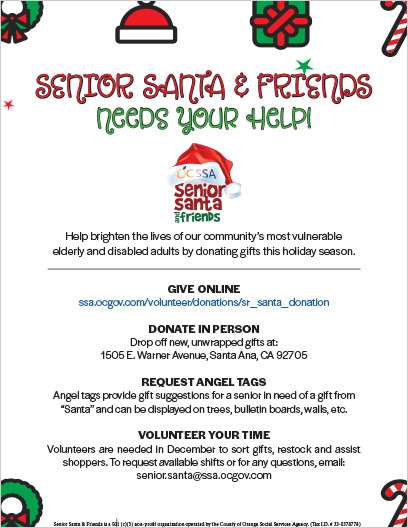 Click on the image above to view a larger version.

City of Anaheim Events

What: Government Affairs Committee Meeting
When: December 21
Where: Anaheim Chamber of Commerce, 2099 S State College Suite 650, Anaheim
Time: 12:00pm-1:30pm

What: Anaheim Chamber Leads Lunch
When: January 9
Where: Dave & Buster's, 20 City W, Orange
Time: 11:30am-1:00pm

City of Brea Events

What: City Council Meeting
When: December 18
Where: Council Chambers, 1 Civic Center Plaza Level, Brea
Time: 7:00pm-9:00pm

What: Kiwanis Club of Brea
When: December 20
Where: Embassy Suites, 900 E Birch St, Brea
Time: 7:15am-8:30am

City of Buena Park Events

What: Cultural & Fine Arts Commission Meeting
When: December 19
Where: Buena Park City Hall, 6650 Beach Blvd, Buena Park
Time: 7:00pm

What: Park & Recreation Commission Meeting
When: December 20
Where: Buena Park City Hall, 6650 Beach Blvd, Buena Park Time: 7:00pm

City of Fullerton Events

What: Muckenthaler Cultural Center-Holiday Festival
When: December 16
Where: The Muckenthaler Cultural Center, 1201 W Malvern Ave, Fullerton
Time: 12:00pm-4:00pm

What: Muckenthaler Cultural Center-'Twas a Darden Sisters' Christmas
When: December 21
Where: The Muckenthaler Cultural Center, 1201 W Malvern Ave, Fullerton
Time: 7:30pm-9:00pm

City of La Habra Events

What: LHHS Band Gift Wrapping Service & Blood Drive
When: December 17
Where: La Habra Walmart Parking Lot in the Westridge Shopping Center
Time: 2:00pm-8:00pm

What: Connectup at La Habra Chamber of Commerce
When: December 20
Where: La Habra Area Chamber of Commerce, 321 E La Habra Blvd, La Habra
Time: 8:00am-9:00am

City of Placentia Events

What: Grand Opening & Ribbon Cutting San Sushi Japanese Restaurant
When: December 17
Where: 161 W Santa Fe Ave, Placentia
Time: 4:30pm-6:30pm

What: Certified Farmers Market
When: December 18
Where: SW Corner of Yorba Linda & Kraemer Blvds, Placentia
Time: 4:00pm-8:00pm



For questions or comments regarding Nelson's E-News
please contact the Supervisor's office staff:
Audra Fishel – Phone: (714) 834-3440, Email: Audra.Fishel@ocgov.com.


Denis Bilodeau
Chief of Staff

George Cardenas
Policy Advisor

Audra Fishel
Policy Advisor /
Communications Director

Steve Spernak
Policy Advisor


Stay Connected!