January 31, 2020
If you're looking a job, come to the 2020 Census Applicant Appreciation Events today until 5:00 pm and tomorrow anytime from 11:00 am to 5:00 pm to learn about 2020 Census job opportunities in Orange County! Supervisory and Non-Supervisory positions are being offered from $21.00 - $23.00 per hour.
In advance of the 2020 Census, the U.S. Census Bureau is recruiting hundreds of thousands of people for temporary jobs across the United States and Puerto Rico.
The 2020 Census is your chance to play a part in history! Temporary census positions offer the perfect opportunity to earn extra money while helping your community. Most 2020 Census positions will last several weeks. They feature:
Competitive wages
Weekly paychecks
Flexible hours
Paid training
See the flyer below for event locations and details.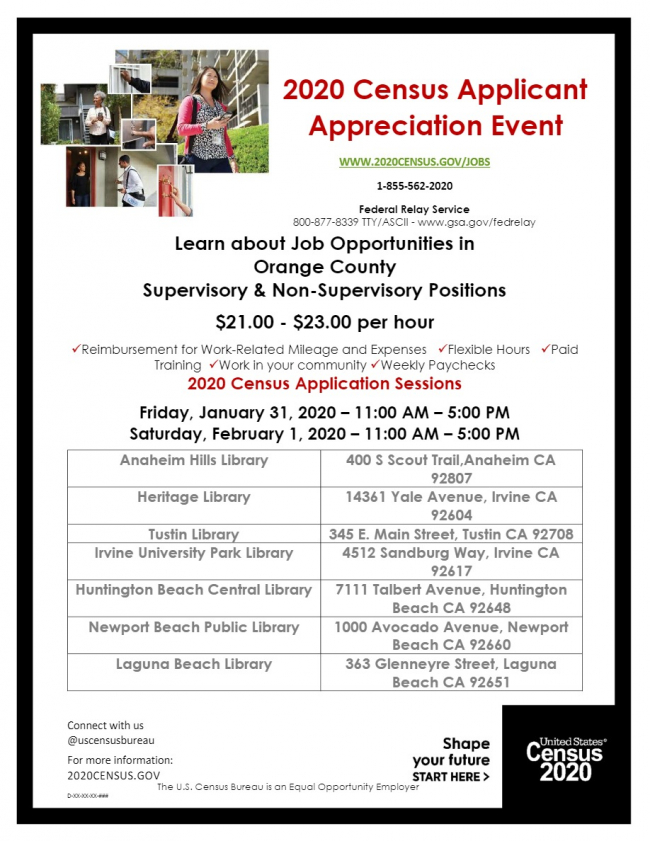 Sincerely,
Doug Chaffee
Supervisor, Orange County Board of Supervisors