May 28, 2020
Join the Orange County Health Care Agency and the Orange County Business Council as they host three informational webinars later this week to discuss the Health Officer Order and the State's Re-Opening Guidance for businesses.
The webinar series will cover various industries on each day:
Retail Industry

Thursday, May 28th from 3:30 PM to 4:15 PM

Restaurant Industry

Friday May, 29th from 3:30 PM to 4:15 PM

All other Business Sectors

Saturday, May 30th from 3:30 PM to 4:15 PM
Please see the flyer below and RSVP for the webinars by emailing ETeam@ochca.com, and you will receive the meeting information.
In addition, in partnership with 3D Event Designer, the County of Orange is launching the Back2Business Initiative program to help local small businesses impacted by COVID-19 safely reopen by meeting local, State and Federal social distancing guidelines.
The Back2Business Initiative will provide up to 1,000 Orange County small businesses with access to free floor plan software to quickly create, configure, or update their space(s). This software allows businesses, such as restaurants and retail shops, to view their current layout and adjust their floor plan to meet the latest social distancing requirements, giving them the confidence to bring their employees back to work safely and responsibly.
3D Event Designer will be hosting free live webinars over the next two weeks to teach businesses how to use the floor plan software.
Eligible businesses interested in participating can now register for their preferred date HERE.
To be eligible, businesses must be in Orange County and have 500 employees or less.
Businesses must also meet the following technology requirements to successfully use the software:
Have a reliable Internet connection
Have access to any Mac, PC, tablet, or phone device (creating a floor plan is easiest on a Mac or PC)
Have access to Google Chrome or any browser other than Internet Explorer.
For more information on the Back2Business Initiative, visit https://bit.ly/ocback2business or call the Economic and Business Recovery Call Center at (714) 480-6500.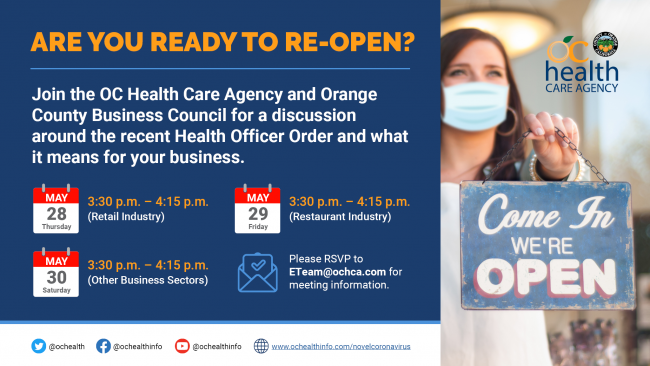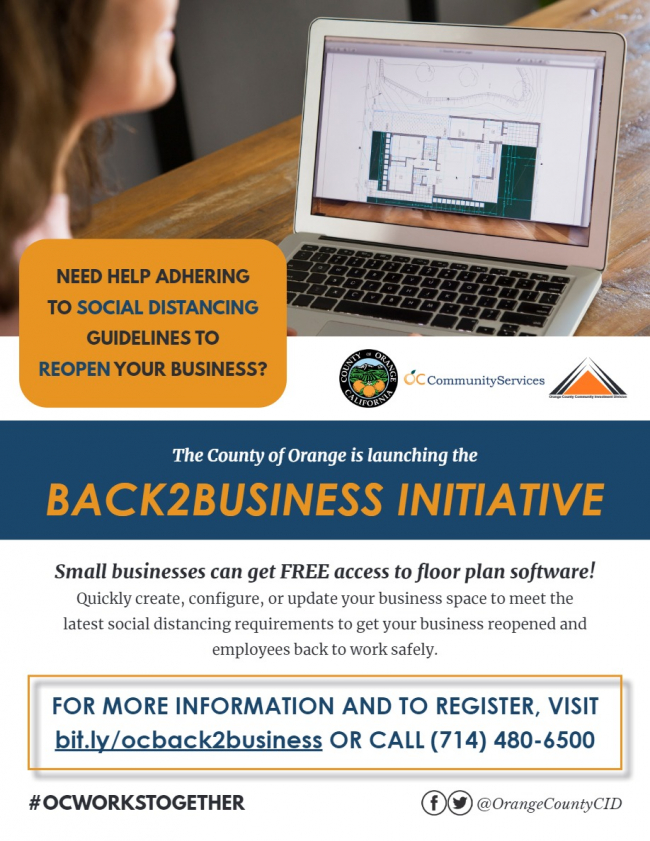 Sincerely,
Doug Chaffee
Supervisor, Orange County Board of Supervisors