August 17, 2023
Join us for our fall Fourth District Kids Fishing Derby on Saturday September 16, 2023 from 8 a.m. to 11 a.m. at Ralph B. Clark Regional Park located at 8800 Rosecrans Ave., Buena Park, CA 90621.
Residents of the Fourth District, including the cities of Stanton, Buena Park, Fullerton, La Habra, Brea, Placentia, and portions of Anaheim, may RSVP for the Kids Fishing Derby until the event capacity is reached.
To RSVP for the event, please click here.
Kids ages 15 and younger may participate in the Fishing Derby. Fishing roads will be available at no-cost while supplies last. Bait will also be provided.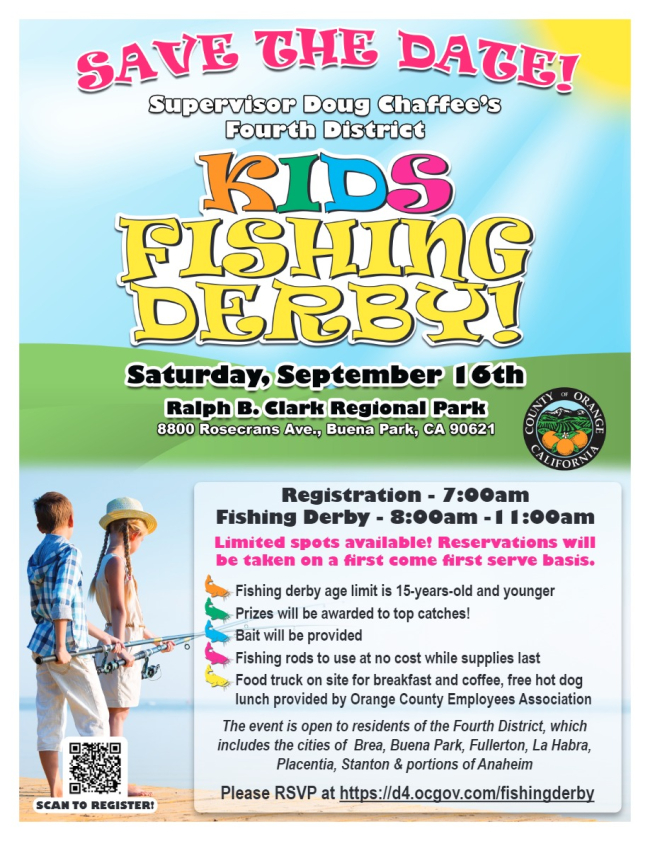 Español | 한국어 | Tiếng Việt | 中文



Sincerely,
Doug Chaffee
Supervisor, Orange County Board of Supervisors