September 14, 2023
The Orange County Housing Authority (OCHA) will be opening the Housing Choice Voucher Program (Section 8) waiting list and accepting applications from September 18, 2023 at 8:00 a.m. until September 29, 2023 at 11:59 p.m.
For thousands of people and families who have been waiting to apply for rental assistance, this comes as a welcome relief. With a housing voucher, individuals and families can choose their own housing that meet their needs, including single-family homes, townhomes and apartments.
Applications for the waiting list will be accepted:
If you would like assistance in filling out an application, please join us at this event:
Date: Thursday, September 21, 2023
Time: 1:00 p.m. to 3:00 p.m.
Location: OC Workforce Solutions
Address: 675 Placentia Ave. Suite 330 Brea, CA 92821
Paper applications and in-person assistance are also available at designated locations across Orange County, including:
the County Services Center (CAS) located at 601 N Ross St, Santa Ana, CA 92701
participating City Halls
select community nonprofit partners/community organizations.
After the application period closes, OCHA will give preference to:
applicants who live or work within OCHA's jurisdiction, which include all cities and unincorporated areas of Orange County except for the cities of Anaheim, Garden Grove and Santa Ana.
by the order listed: applicants who are U.S. Veterans; Elderly, Disabled or Working Families; and Non-Working Families
OCHA will group the applications by preference, apply the
random placement within the preference group, and select the first 12,000 applicants by preference to be placed on the waiting list. The waiting list will be limited to 12,000 applicants.
* Submitted applications are not considered on a first come, first served basis, and timing of the application submittal has no bearing on waiting list position or how soon an applicant may receive assistance.
For more information on how to apply, please visit www.ochousing.org or call OCHA at 714-480-2798.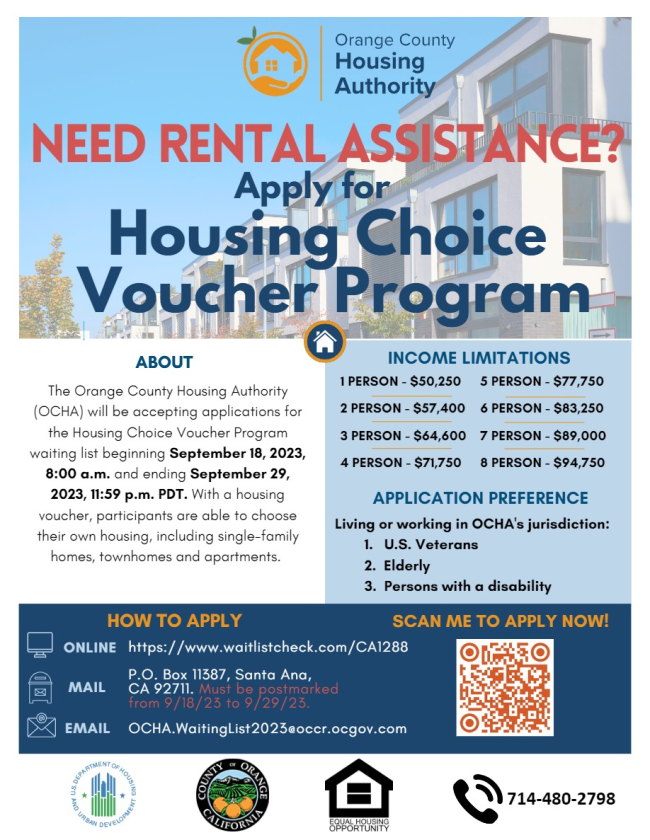 Español | 한국어 | | Tiếng Việt | 中文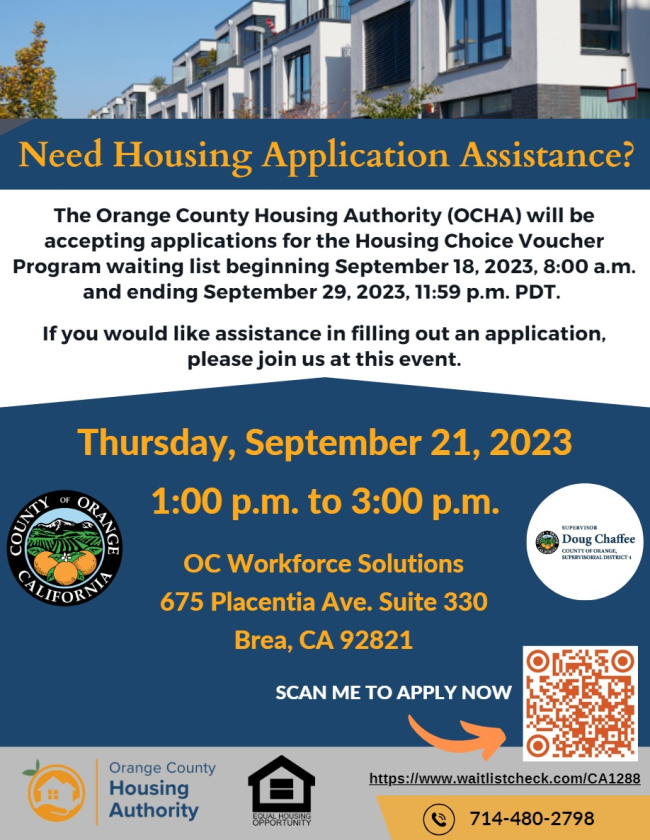 Sincerely,
Doug Chaffee
Supervisor, Orange County Board of Supervisors