August 24, 2023
Looking for quality employment?
Orange County 4th District Supervisor, Doug Chaffee, in partnership with 2nd District Supervisor Vicente Sarmiento, the Anaheim Workforce Development, and the Orange County Workforce Development Board are excited to host a Job Fair on Wednesday, September 19, 2023, from 10:00 a.m. to 1:00 p.m. at Anaheim Downtown Community Center. Address: 250 E. Center St. Anaheim, CA 92805.
Please join us at this years Job Fair!
Connect with top businesses
Submit resumes directly
Streamline the job hunt
The event includes free registration, admission and parking.
To register please click here or scan the QR code.
Don't miss the opportunity! For more information, contact: 714-765-4349 or email SATORRES@Anaheim.net.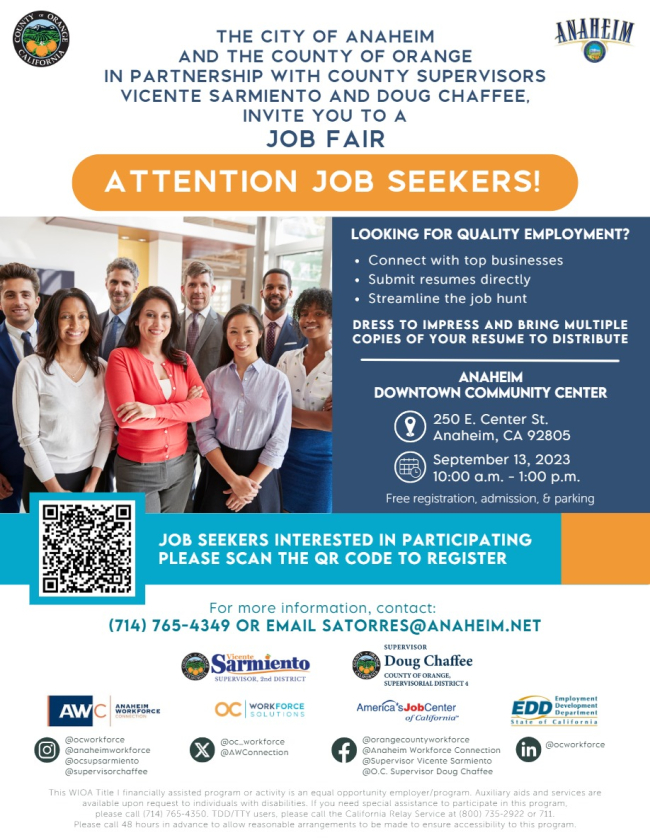 Español | 한국어 | | Tiếng Việt | 中文
Sincerely,
Doug Chaffee
Supervisor, Orange County Board of Supervisors



Sincerely,
Doug Chaffee
Supervisor, Orange County Board of Supervisors