July 2, 2020
Yesterday Governor Newsom announced the immediate closure of the following sectors in all counties that are currently on the State's Monitoring List, which includes Orange County:
Indoor Dine-in restaurants
Indoor Wineries and Tasting Rooms
Indoor Family Entertainment Centers
Indoor Movie Theaters
Indoor Zoos and Museums
Indoor Cardrooms
Indoor and Outdoor Bars
These sectors may modify operations to provide services outside or by pick-up with the exception of all brewpubs, breweries, bars, and pubs in Orange County, which must close immediately, both indoor and outdoor.
The closures apply for a minimum of three weeks and are subject to an extension by the State based on epidemiologic indicators.
If you have additional questions, please call the COVID-19 hotline number, Monday through Friday from 8:00 a.m. to 5:00 p.m. at (714) 834-2000 or email your question to Eteam@ochca.com and see the link to complete Guidance from the California Department of Public Health here: https://www.cdph.ca.gov/Programs/CID/DCDC/Pages/COVID-19/Guidance-on-Closure-of-Sectors-in-Response-to-COVID-19.aspx.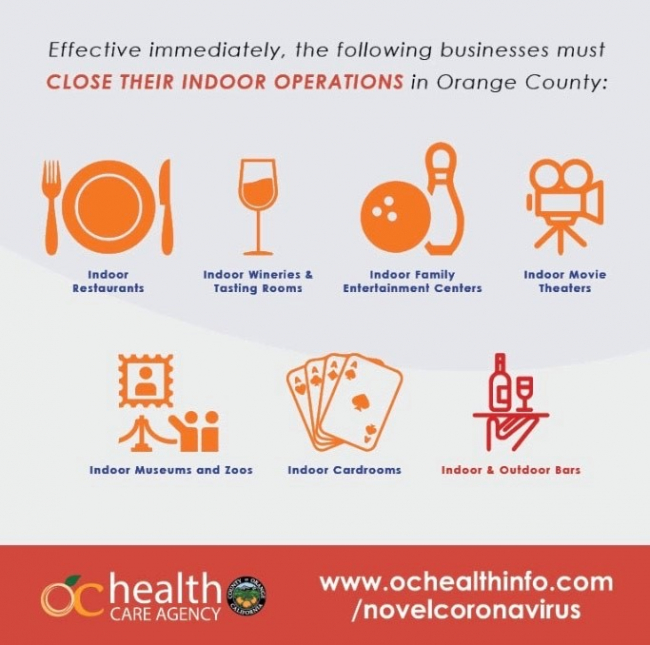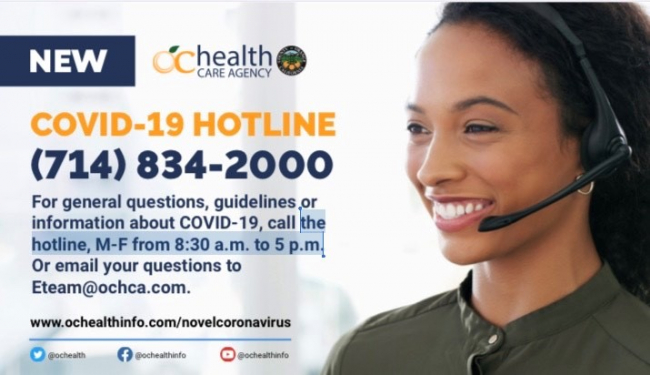 Sincerely,
Doug Chaffee
Supervisor, Orange County Board of Supervisors