September 27, 2023
Reminder: Join us for our 1st Annual Prostate Cancer Awareness Community Bike Event!
Date: Saturday, September 30, 2023
Registration Begins: 8:00 a.m.
Event Begins: 9:00 a.m.
Location: Tri-City Regional Park, 2301 N Kraemer Blvd, Placentia, CA 92870
September is Prostate Cancer Awareness Month. We are raising awareness and supporting those affected by this disease by hosting a fun, family friendly community bike ride through Tri-City Park and the City of Placentia and a resource fair with government organizations and nonprofits.
How to participate:
* Register in advance of the event here and sign the online waiver form sent to your email.
If you have any questions about the event, please call (714) 834-3440 or email D4.BikeEvent@ocgov.com.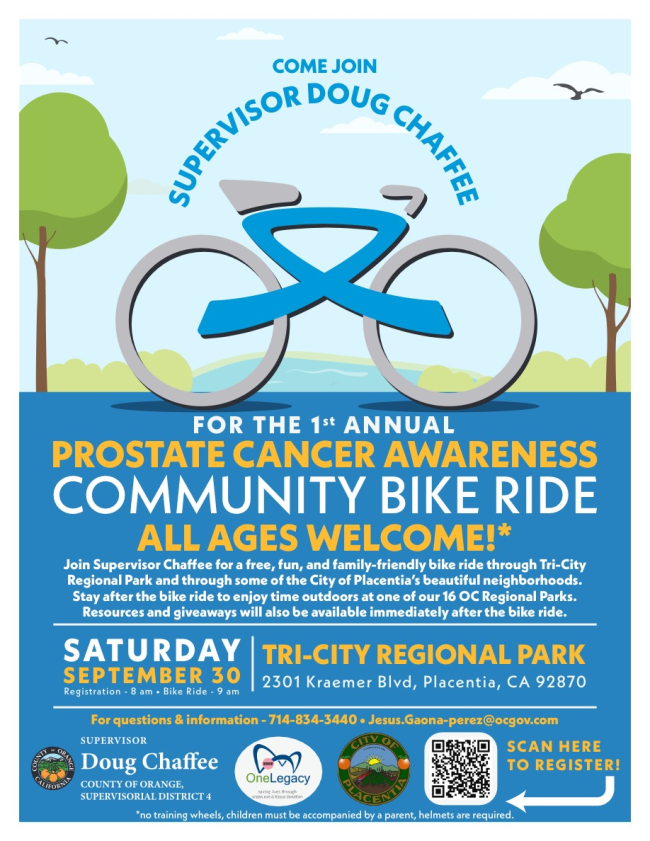 Español | 한국어 | | Tiếng Việt | 中文



Sincerely,
Doug Chaffee
Supervisor, Orange County Board of Supervisors