February 2, 2021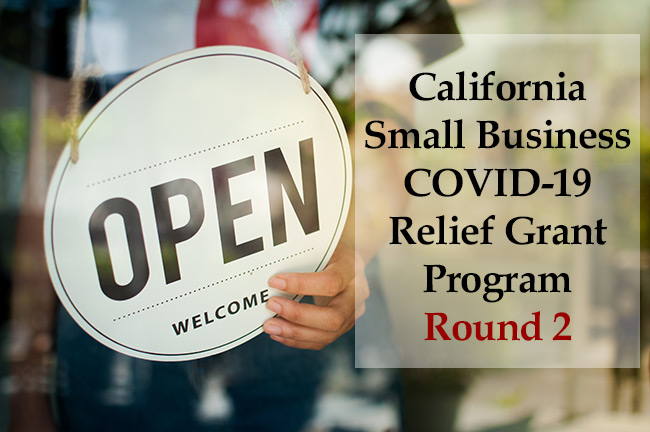 Beginning February 2, eligible small businesses and non-profits may apply for Round 2 of the State's California Small Business COVID-19 Relief Grant Program at https://careliefgrant.com. The amount of grant funding ranges from $5,000 to $25,000. Businesses are eligible based on their annual revenue as documented in their most recent tax return.
ROUND 2
Application Opens: February 2, 2021
Application Closes: February 8, 2021
Selection Notifications: February 11 – 18, 2021
The State has designated Lendistry as the intermediary of the program. If you have any questions about the program or application, call Lendistry at 888-612-4370.
Call Center Hours
Feb. 3 from 7:00 AM - 11:00 AM
Feb. 4 from 7:00 AM - 11:00 AM
Feb. 5 from 7:00 AM - 11:00 AM
Feb. 6 from 7:00 AM - 12:00 PM
To notify Lendistry of any application mistakes, please email them at careliefgrant@lendistry.com.

Applicants who did not complete their application in Round 1, but are eligible, will rolled over into Round 2. However, unfinished applications must be completed, and documents must be uploaded to be considered. Do not reapply by submitting a new application.

If applicants did not receive a selection, they will be automatically moved to Round 2. If you have not received a username and password from Round 1, please reapply.

Notifications about selection will be sent out on a rolling basis from February 11 to February 18, 2021.

Go to https://careliefgrant.com for more information.

Sincerely,
Doug Chaffee
Supervisor, Orange County Board of Supervisors