November 8, 2021
We regret that our last news bulletin contained a flyer with the incorrect date of our Third Annual Fourth District Thanksgiving Turkey Giveaway and Resource Fair.
The event is in partnership with Assemblymember Sharon Quirk-Silva, United Across Borders Foundation, and the City of Buena Park and will take place on Saturday, November 20 from 11:00 AM - 1:00 PM at the Ehlers Event Center located at 8150 Knott Ave., Buena Park, CA 90620.
We'll be giving away turkeys and a box groceries to help families make a turkey dinner for the Thanksgiving holiday. Turkeys and groceries will be given away on a first-come, first-served basis. Community-based organizations will also be providing resources to residents.
Please see the corrected flyer below for more information.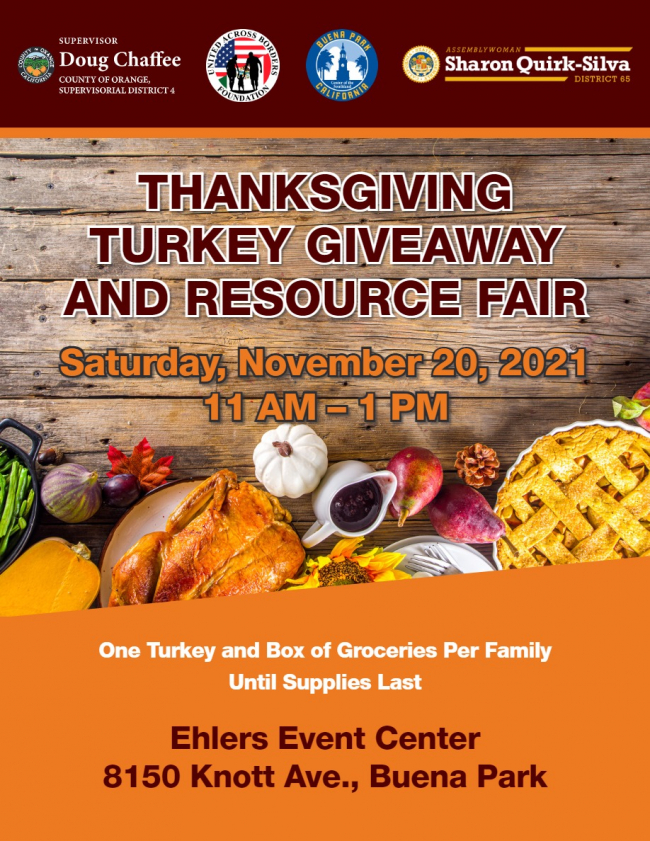 Sincerely,
Doug Chaffee
Supervisor, Orange County Board of Supervisors