November 16, 2020
Join me and First 5 Orange County for a Zoom webinar on the State of Child Care in Orange County on Thursday, Nov. 19, 2020 from 1:30 – 3:00 p.m.
According to a report by First 5 Orange County Commission, there are only enough licensed slots to care for 5 percent of the County's children between the ages of 0 and 2.
Orange County was facing a child care crisis before the pandemic began, but the ongoing health and economic impacts of the coronavirus have worsened the crisis. This situation is especially dire for infant and toddler child care, which is costly to provide and expensive for families.
RSVP for the webinar at https://us02web.zoom.us/webinar/register/WN__cuOFvH4TaipKuO7dT5VGg.
Please see the flyer below for more information.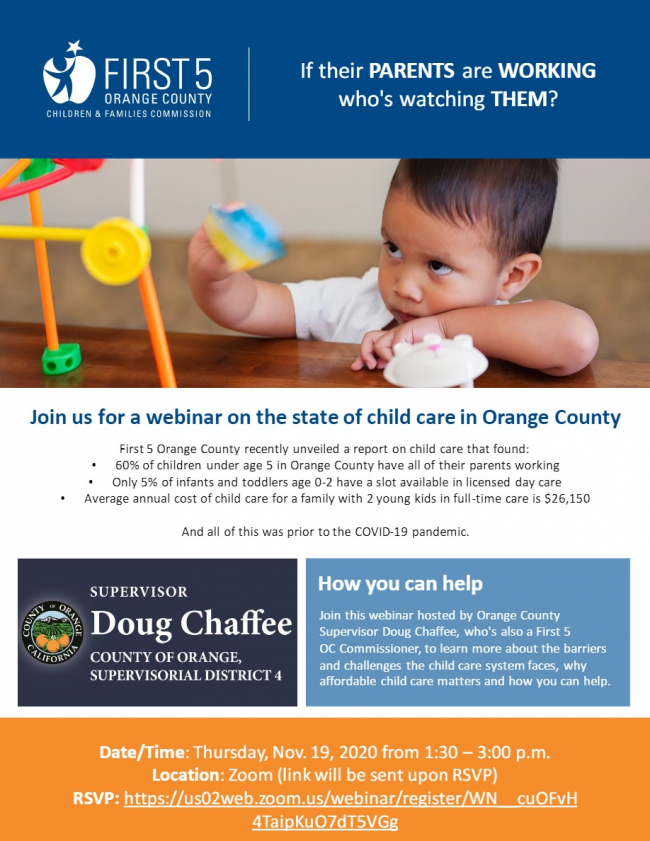 Sincerely,
Doug Chaffee
Supervisor, Orange County Board of Supervisors