June 13, 2019
I am pleased to inform you that the County of Orange is transitioning from a polling place model to a Vote Center model for the March 2020 primary. The California Voter's Choice Act authorizes specified counties, including Orange County, to conduct "Vote Center" elections.

The voting experience at a Vote Center is somewhat similar to voting at a polling place. However, in this model, vote-by-mail ballots are sent to all registered voters and polling places are replaced by Vote Centers and vote-by-mail drop-off boxes.

Vote Centers are open for multiple days, including the weekend, leading up to the election. Any voter can go to any Vote Center in the County to cast his or her ballot. There will be 188 Vote Centers and over 100 vote-by-mail drop-off boxes located throughout the County.

The OC Registrar of Voters is planning extensive efforts to educate and outreach to the public on the changes to voting and elections, including community workshops. Iíve included a list of Vote Center workshops below and highlighted the workshops that are in the Fourth District. I encourage you to attend these workshops to provide community feedback into the Vote Center planning process.

Please also visit the OC Registar of Voters Vote Centers webpage if you have any questions about the shift to the Vote Center model. You can also use the link to provide your input regarding Vote Center and drop-off box locations online.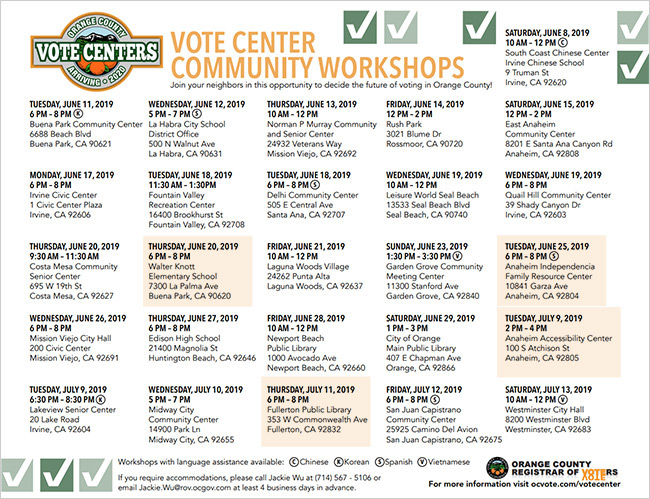 Sincerely,
Doug Chaffee
Supervisor, Orange County Board of Supervisors