August 19, 2019
I am excited to announce that my office is now accepting applications for the Orange County Board of Supervisors, District 4 Future Leaders Program. The Young Leaders Program is designed for high school juniors and seniors who reside in the 4th Supervisorial District, which includes the cities of Brea, Fullerton, La Habra, Placentia, and portions of Anaheim and Buena Park. Future Leaders attend a mandatory monthly meeting where they are exposed to experiences that nurture their leadership potential and prepare them for their future in college and/or the work force. The program provides students with firsthand experience and better understanding of how County government works. More information and the application for the Young Leaders Program can be found below.

How-To Apply:
Print and complete the form below and email to: Fourth.District@ocgov.com.
Fill out the PDF application online,save application as a PDF, and email to: Fourth.District@ocgov.com
In Subject line, please put "Future Leaders Application-First & Last Name"

Application Deadline:
Sept. 23, 2019 at 5pm

Location:
Session 1: Orange County Civic Center
Session 2-8: Fullerton College

Session Times:
10am-12pm

Session Dates:

First Session: Orientation & County Departments: Oct 5, 2019
Students will meet Supervisor Doug Chaffee and his staff. The policy and procedures of the program will be outlined as well as an overview of the curriculum. In addition, students will hear from County Department Executives.


Second Session: Professional Development & Financial Literacy: Nov. 2, 2019
Students will learn resume building and strategies to answer the toughest interview questions. In addition, students will learn about personal finance and budgeting.


Third Session: College Readiness & Career Tech Education: Jan. 18, 2020
Students will learn how to prepare for college applications and gain insight on how to achieve college success. Presenters will provide students with insight to postsecondary education and careers opportunities.


Fourth Session: Elected Official Day: Feb. 22, 2020
Various elected officials from Orange County's 4th District will speak to the students about their role in varying levels of government.


Fifth Session: Advocacy/Leadership Training: Mar. 21, 2020
Students participate in workshops where they learn how to organize, advocate for their interests, and become active citizens.


Sixth Session: Visit a Council Meeting or School Board or County event: Apr. 25, 2020
Students are given the choice of attending either a City Council, School Board Meeting or County event. Students take notes at their meeting of choice, put into practice the advocacy skills they gain then reflect upon the information they receive.


Seventh Session: Teen Health (Mental Health Awareness): May 9, 2020
Students learn the importance of mental health, self-care, and building healthy relationships.
Eight Session: Program Conclusion/Graduation: May 30, 2020
Students will graduate from the Program as future leaders and receive certificates of completion.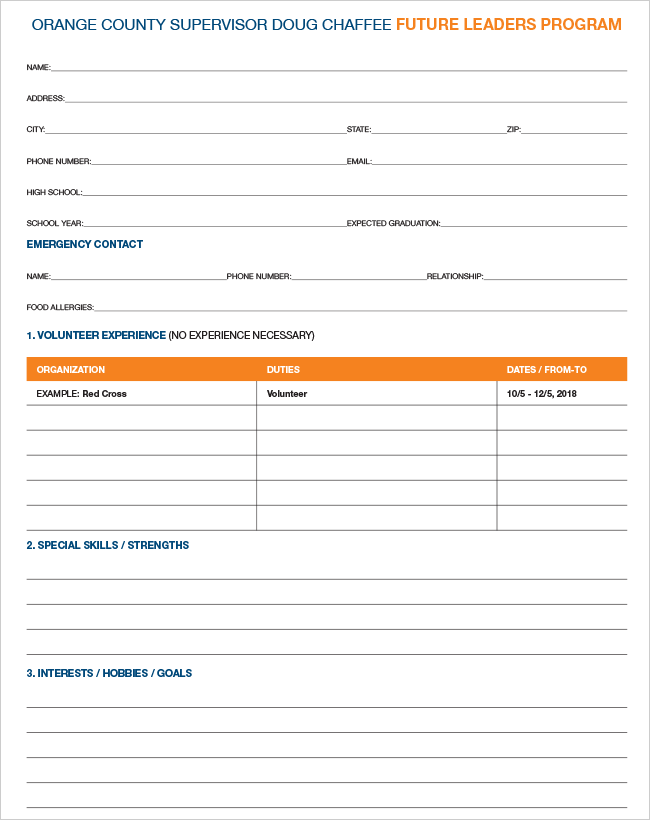 Sincerely,
Doug Chaffee
Supervisor, Orange County Board of Supervisors