August 11, 2020
For Immediate Release
Contact: Jannelle Welker
Communications Director
Supervisor Doug Chaffee, 4th District
714-834-3440
Jannelle.Welker@ocgov.com

Contact: Guadalupe Carrasco
Communications Coordinator
Vice Chairman Andre Do, 1st District
714-834-3110
Guadalupe.Carrasco@ocgov.com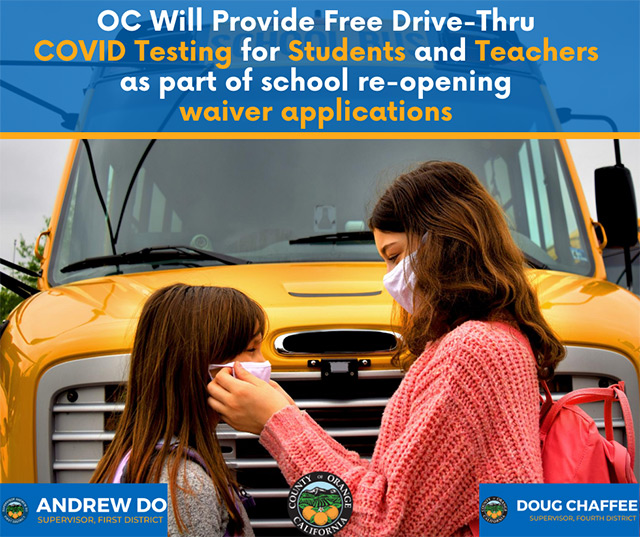 Santa Ana, CA – Today the Orange County Board of Supervisors approved a plan, authored by Supervisor Doug Chaffee and Vice Chairman Andrew Do, that will allow public and private schools to utilize county-run COVID-19 testing drive thru sites as part of the school re-opening waiver application
"School closures were necessary to keep communities safe back in March and slow the spread of COVID-19," said Supervisor Andrew Do, who has been a strong proponent of mask-wearing since late March. "In many cases, those closures may still be necessary. But for schools in Orange County that are submitting waivers for in-person learning, expanding testing capacity is a critical component of their re-opening plan."
On June 29, the California Department of Public Health (CDPH) placed Orange County on its COVID-19 monitoring list, due to an increase in COVID-19 activity. Three weeks later, Governor Newsom announced in a press conference that public and private schools in counties on the monitoring list, within the prior 14 days, must open the new academic year with online learning only, until the county has been off the monitoring list for at least 14 days.
According to CDPH guidance, district superintendents, private school principals, or executive directors of a charter school, are allowed to apply for a waiver from the local county health officer to open an elementary school for in-person instruction. This waiver is currently applicable only for grades TK-6, even if the grade configuration at the school includes additional grades
As explained in the Framework for K-12 Schools in California, school reopening plans must address 12 topics related to health and safety, in a manner consistent with guidance from CDPH and the local health department. One of those topics is testing.
"Once the State begins to review school waiver applications, we want to allow the school applying to utilize the County's drive thru testing sites as part of their plan," said Supervisor Do, referring to the recently launched Anaheim Testing Super Site and the soon to come OC Fair Ground Testing Site.
"Orange County schools and school districts looking to reopen for the fall need the additional support of increased COVID-19 testing to reopen safely," said Supervisor Doug Chaffee. "I'm proud that we at the County of Orange are partnering with our schools and school districts to prioritize testing for students, faculty, and staff who meet the testing criteria at the OC COVID-19 Testing Super Site at the Anaheim Convention Center."
Waiver Application
Orange County schools may submit a completed waiver application to TK-6Waiver@ochca.com. Applications will be reviewed by the County Health Officer in consultation with CDPH.
When applying for the waiver, the school district superintendent, private principal, or executive director of a charter school, must submit the following to the Orange County Health Officer:
Consultation with labor and parent organizations, and
Publication of the elementary school reopening plans on their website.
For more information about the waiver process, please visit the CDPH's website at https://www.cdph.ca.gov/Programs/CID/DCDC/Pages/Guidance.aspx or the Orange County Health Care Agency's website at https://occovid19.ochealthinfo.com/.

Orange County Supervisor Doug Chaffee represents the Fourth District, which includes the cities of Fullerton, La Habra, Brea, Placentia, and portions of Anaheim and Buena Park. In his first term, Supervisor Chaffee has combatted homelessness by supporting the creation of and allocating funding to the Buena Park and Placentia Navigation Centers and has spurred economic development by reinvesting $14.5 million to small business in the Fourth District.

Orange County Vice Chairman Andrew Do represents the First District communities of Santa Ana, Garden Grove, Westminster, Fountain Valley, and Midway City. In his second term, Vice Chairman Do has advocated for health and safety-based COVID-19 response planning, reformed Orange County's mental health services, expanded access to health care, and led efforts to combat homelessness. Supervisor Andrew Do was one of the first officials in the state to propose a face covering mandate.

###



Sincerely,
Doug Chaffee
Supervisor, Orange County Board of Supervisors