October 30, 2020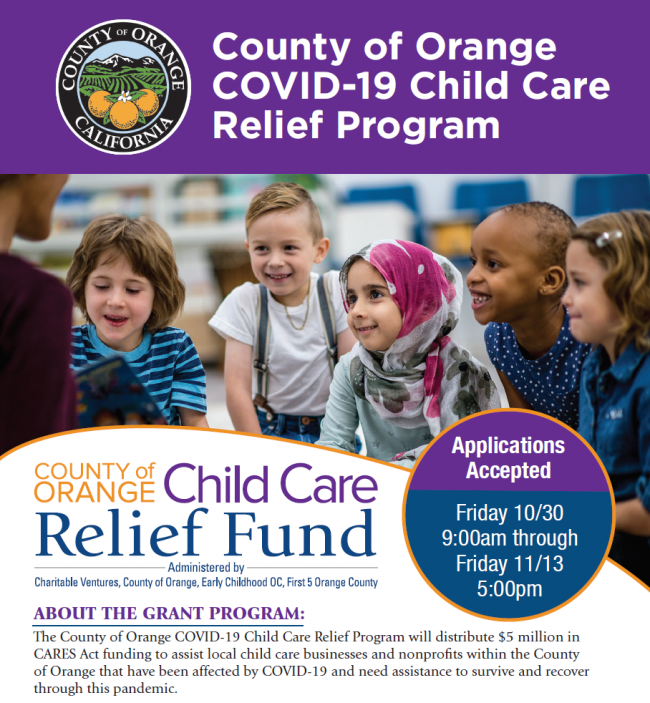 For Immediate Release
Contact: Jannelle Welker
Communications Director
Supervisor Doug Chaffee, 4th District
714-834-3440
Jannelle.Welker@ocgov.com

Contact: Guadalupe Carrasco
Communications Coordinator
Vice Chairman Andrew Do, 1st District
714-834-3110
Guadalupe.Carrasco@ocgov.com
PRESS RELEASE:
$5 Million in Relief for OC Child Care Providers: Now Accepting Applications
Orange County's COVID-19 Child Care Relief Program will begin accepting applications starting today, October 30, at 9:00 a.m.
The $5 million grant program, approved by the Board of Supervisors last week, is intended to assist child care businesses and nonprofits that have been affected by COVID-19.
"We at the County want to help Orange County families get back to work," said Supervisor Doug Chaffee, Fourth District. "An important part of that is supporting families by providing access to child care that has been adapted to meet the health and safety requirements of the COVID-19 pandemic."
Child care providers in Orange County, who meet the qualifications and can provide the requested documentation within the open enrollment period, will be considered to receive a grant.
"Child care providers have struggled to balance the cost of providing safe and quality care with very limited revenues," said Vice Chairman Andrew Do, First District Supervisor. "This new Child Care Relief Grant program will help maintain safe and reliable spaces for children, as we continue to rebuild our economy."
According to a report by First 5 Orange County Commission, there are only enough licensed slots to care for 5 percent of the County's children between the ages of 0 and 2. While subsidized programs that are based on income eligibility provide an opportunity for working families who would not otherwise afford it, the reimbursement rates do not cover costs and are a disincentive for providers, even if they want to serve young children, according to the report.
"This program is the work of everyone putting their minds together and finding ways to help the community through these difficult times," said Supervisor Do.
Orange County is home to 1,242 licensed child care facilities, 944 of which are still open for business, and 298 of which have closed due to the pandemic. And while child care providers continue to be open for business, they too have struggled to meet the safety guidelines to continue to operate in a safe manner.
"Our workforce depends on quality child care and I'm pleased to have Charitable Ventures administer the program to ensure providers get the funds they need to stay open," said Supervisor Chaffee.
For more information on the eligibility requirements and approved use of funding, please visit the County of Orange COVID-19 Child Care Relief Program.
And for questions related to the application, please email the Child Care Relief Program Team at resiliencefund@charitableventuresoc.org.
__________________________________________________________________________
FUNDING DISTRIBUTION:
The $5 million is to be allocated to three different groups of child care providers, as noted below. Child care providers may only qualify under one of the three categories. Decisions are based on fund availability and on a first come, first served basis.
Licensed Family Child Care Homes
A total of $2 million will be allocated to licensed family child care homes.
Small Family Child Care Homes (maximum 8 children): $2500
Large Family Child Care Homes (maximum 14 children): $3500
Child Care Centers
A total of $2 million will be allocated to non-government contracted, licensed center-based programs and partially funded government contracted, licensed centers in an amount of $175 per child, not to exceed licensed capacity.
If a non-government contracted licensed center-based program has multiple licenses, the program will provide one application and upload each license.
Partially funded government contracted (CSPP, CCTR, Head Start), licensed centers: $175 per non-subsidized child, not to exceed license capacity
Group Care Providers
A total of $1 million will be allocated to non-government contracted, license-exempt group care providers serving school-age children up to 12 years of age in an amount of $100 per child capacity.
###
Orange County Supervisor Doug Chaffee represents the Fourth District, which includes the cities of Fullerton, La Habra, Brea, Placentia, and portions of Anaheim and Buena Park. In his first term, Supervisor Chaffee has combatted homelessness by supporting the creation of and allocating funding to the Buena Park and Placentia Navigation Centers and has spurred economic development by reinvesting $14.5 million to small businesses in the Fourth District.
Orange County Vice Chairman Andrew Do represents the First District communities of Santa Ana, Garden Grove, Westminster, Fountain Valley, and Midway City. One of the first officials in the state to propose a face-covering mandate, Vice Chairman Andrew Do is advocating for science-based COVID-19 policies. In addition to health and safety-based COVID-19 response planning, Vice Chairman Do has reformed Orange County's mental health services, expanded access to health care, and led efforts to combat homelessness.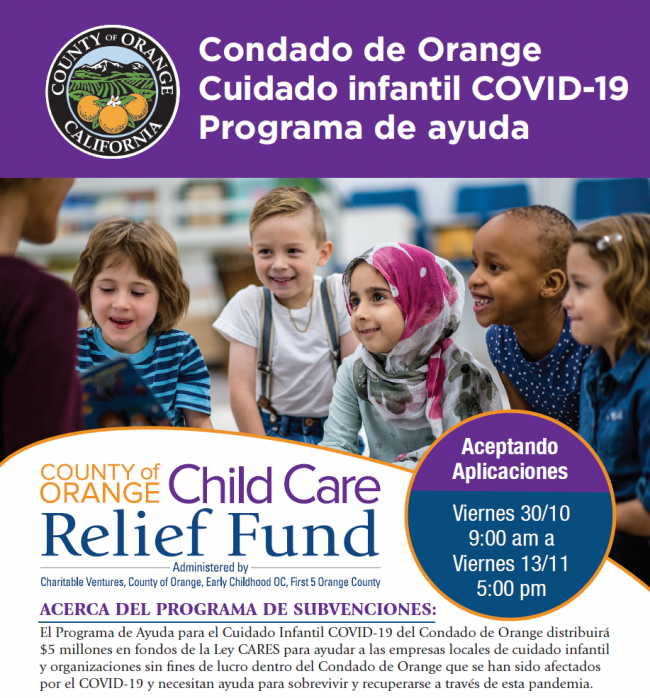 For Immediate Release
Contact: Jannelle Welker
Communications Director
Supervisor Doug Chaffee, 4th District
714-834-3440
Jannelle.Welker@ocgov.com

Contact: Guadalupe Carrasco
Communications Coordinator
Vice Chairman Andrew Do, 1st District
714-834-3110
Guadalupe.Carrasco@ocgov.com
Presione Soltar:
$5 Millones en Ayuda para los Proveedores de Cuidado Infantil del Condado de Orange: Aceptando Aplicaciones
El Programa de Ayuda para el Cuidado Infantil COVID-19 del Condado de Orange comenzará a aceptar solicitudes a partir de hoy, 30 de octubre, a las 9:00 a.m.
El programa de subvenciones de $5 millones, aprobado por la Junta de Supervisores la semana pasada, está destinado a ayudar a las empresas de cuidado infantil y organizaciones sin fines de lucro de cuidado infantil que se han sido afectadas por COVID-19.
"Nosotros en el Condado queremos ayudar a las familias del Condado de Orange a volver a sus trabajo," dijo el Supervisor Doug Chaffee, Cuarto Distrito. "Una parte importante de eso es apoyar a las familias brindándoles acceso a cuidado infantil que se ha adaptado para cumplir con los requisitos de salud y seguridad de la pandemia COVID-19."
Los proveedores de cuidado infantil en el Condado de Orange que cumplan con los requisitos y puedan proporcionar la documentación solicitada dentro del período de inscripción abierta recibirán una subvención.
"Los proveedores de cuidado infantil han luchado por equilibrar el costo de brindar atención segura y de calidad con ingresos muy limitados," dijo el Vicepresidente Andrew Do, Supervisor del Primer Distrito. "Este nuevo programa de subvenciones de ayuda para el cuidado infantil ayudará a mantener espacios seguros y confiables para los niños, mientras continuamos reconstruyendo nuestra economía."
Según un informe de First 5 Orange County Commission, solo hay suficientes proveedores con licencia para cuidar al 5 por ciento de los niños del Condado entre las edades de 0 y 2 años. Mientras que los programas subsidiados que se basan en la elegibilidad de ingresos brindan una oportunidad para las familias trabajadoras que de otra manera no lo pagaría, las tasas de reembolso no cubren los costos y son un desincentivo para los proveedores, aunque quieran atender a niños pequeños, según el informe.
"Este programa es el resultado de muchas personas que se pusieron sus mentes juntas para encontrar formas de ayudar a la comunidad en estos tiempos difíciles," dijo el Supervisor Do.
El Condado de Orange alberga 1,242 centros de cuidado infantil con licencia, 944 de los cuales aún están abiertos y 298 de los cuales han cerrado debido a la pandemia. Y aunque los proveedores de cuidado infantil continúan abiertos al público, ellos también han luchado para cumplir con las pautas de seguridad para continuar operando de manera segura.
"Nuestra fuerza laboral depende del cuidado infantil de calidad y me complace que Charitable Ventures administre el programa para garantizar que los proveedores obtengan los fondos que necesitan para permanecer abiertos," dijo el Supervisor Chaffee.
Para obtener más información sobre los requisitos de elegibilidad y el uso aprobado de los fondos, visite el Programa de Ayuda Para el Cuidado Infantil COVID-19 del Condado de Orange.
Y si tiene preguntas relacionadas con la solicitud, envíe un correo electrónico al Equipo del Programa al resiliencefund@charitableventuresoc.org.
______________________________________________________________________
DISTRIBUCIÓN DE FINANCIACIÓN:
Los $5 millones se asignarán a tres grupos diferentes de proveedores de cuidado infantil, como se indica a continuación. Los proveedores de cuidado infantil solo pueden calificar bajo una de las tres categorías. Las decisiones se basan en la disponibilidad de fondos y en el orden de llegada.
Hogares de Cuidado Infantil Familiar con Licencia
Se asignará un total de $2 millones a hogares de cuidado infantil familiar con licencia.
Hogares familiares pequeños de cuidado infantil (máximo 8 niños): $2500
Hogares de cuidado infantil para familias grandes (máximo 14 niños): $3500
Centros de Cuidado Infantil
Se asignará un total de $2 millones a programas basados ​​en centros autorizados y contratados por el gobierno y a centros autorizados y contratados por el gobierno parcialmente financiados por una cantidad de $175 por niño, sin exceder la capacidad autorizada.
Si un programa basado en un centro con licencia contratado por una entidad no gubernamental tiene varias licencias, el programa proporcionará una aplicación y cargará cada licencia.
Centros autorizados parcialmente financiados por contrato con el gobierno (CSPP, CCTR, Head Start): $175 por niño no subsidiado, sin exceder la capacidad de la licencia
Proveedores de Atención Grupal
Se asignará un total de $1 millón a proveedores de cuidado grupal exentos de licencia y contratados por el gobierno que atienden a niños en edad escolar hasta los 12 años de edad en una cantidad de $100 por capacidad infantil.

###

El Supervisor del Condado de Orange, Doug Chaffee, representa al Cuarto Distrito, que incluye las ciudades de Fullerton, La Habra, Brea, Placentia y partes de Anaheim y Buena Park. En su primer mandato, el supervisor Chaffee ha combatido la falta de vivienda apoyando la creación y asignación de fondos a los centros de navegación de Buena Park y Placentia y ha estimulado el desarrollo económico al reinvertir $14.5 millones en pequeñas empresas en el Cuarto Distrito.

El Vicepresidente del Condado de Orange, Andrew Do, representa a las comunidades del primer distrito de Santa Ana, Garden Grove, Westminster, Fountain Valley y Midway City. Uno de los primeros funcionarios del estado en proponer un mandato de cubrebocas, el Vicepresidente Andrew Do está abogando por políticas de COVID-19 basadas en la ciencia. Además de la planificación de respuesta al COVID-19 basada en la salud y la seguridad, el Vicepresidente Do ha reformado los servicios de salud mental del Condado de Orange, ha ampliado el acceso a la atención médica y ha dirigido esfuerzos para combatir la falta de vivienda

Sincerely,
Doug Chaffee
Supervisor, Orange County Board of Supervisors