October 20, 2020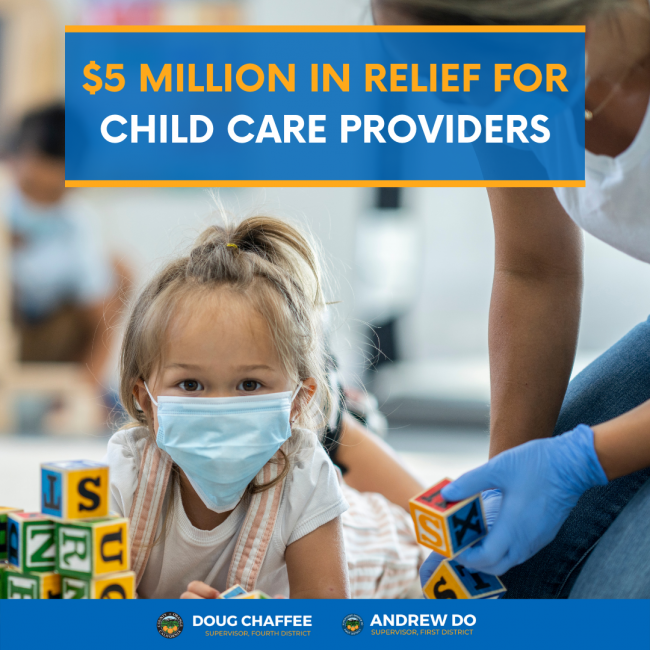 For Immediate Release
Contact: Jannelle Welker
Communications Director
Supervisor Doug Chaffee, 4th District
714-834-3440
Jannelle.Welker@ocgov.com

Contact: Guadalupe Carrasco
Communications Coordinator
Vice Chairman Andrew Do, 1st District
714-834-3110
Guadalupe.Carrasco@ocgov.com
PRESS RELEASE
Supporting Working Families: Supervisor Doug Chaffee and Supervisor Andrew Do Announce the Approval of $5 Million for Child Care Funding in Orange County
Santa Ana, CA – Orange County is supporting working families by helping keep childcare providers open during the COVID-19 pandemic.
Today, the Orange County Board of Supervisors unanimously approved a plan by Supervisor Doug Chaffee and Vice Chairman Andrew Do to allocate $5 million in financial assistance to child care providers for pandemic-related expenses.
"We want to help Orange County families get back to work," said Supervisor Doug Chaffee, who represents the Fourth District. "An essential part of that is providing childcare that has been adapted to meet the health and safety requirements of the COVID-19 pandemic. We urge all child care providers to apply for this grant opportunity and ensure the health and safety of the children in their care."
The $5 million, allocated from the $554 million of CARES Act funding, will help providers restructure their programs to meet social distancing requirements, prevent closures, and ensure Orange County families have access to safe, high-quality child care. The county has contracted with Charitable Ventures, to administer a child care funding program.
"This new grant program will allow for a safe and reliable space for your children to stay, as we continue to rebuild our economy," explained Supervisor Andrew Do, who represents the First District.
Due to the high cost of living in Orange County, sixty percent of families with young children rely on both parents to work, according to a newly-released report from First 5 Orange County. Many working families are stymied by the high price of care, which averages $15,650 yearly for one child and more than $26,000 for two children in full-time licensed care. The report also determined that even if only one-third of infants and toddlers in Orange County required child care, there would still only be enough licensed capacity for one in seven children.
"Parents have long struggled to find accessible and affordable childcare," said Vice Chairman Andrew Do. "The pandemic has only exacerbated challenges for working families who depend on childcare services."
The COVID-19 pandemic has only deepened the shortage in child care options. Nearly half of Orange County's child care providers closed their programs from mid-March to early June, and then began reopening with new requirements and reduced capacities to maintain social distancing guidelines.
"Many families have been forced to make sacrifices during the pandemic," said Supervisor Doug Chaffee. "Providing access to safe and reliable child care will immediately support our frontline workers and working families as we continue to reopen our economy."
Orange County Child Care Funding Program
Qualified Providers
Child care providers eligible for the grant program include:
Licensed Family Child Care Homes
Licensed Child Care Centers
School Age Group Care Providers
Funding Uses
All grant award expenditures must be necessary and incurred due to the COVID-19 public health emergency. The funds must be expended by December 31, 2020, or returned to the County. Eligible uses for the funding include:
Payroll expenses for staff;
Purchase of supplies;
Payment of mortgage and rent costs;
Business resilience; and
Environmental improvements for learning spaces related to the COVID-19 public health emergency.
Grant Application

The grant program will be administered by Charitable Ventures on behalf of the County of Orange. Providers may apply for the grant program online in English, Spanish, or Vietnamese. The application portal will open by the end of the month and applications will be accepted on a rolling basis.

For more information, follow the County of Orange on Facebook @ocgov.

Orange County Supervisor Doug Chaffee represents the Fourth District, which includes the cities of Fullerton, La Habra, Brea, Placentia, and portions of Anaheim and Buena Park. In his first term, Supervisor Chaffee has combatted homelessness by supporting the creation of and allocating funding to the Buena Park and Placentia Navigation Centers and has spurred economic development by reinvesting $14.5 million to small business in the Fourth District.

Orange County Vice Chairman Andrew Do represents the First District communities of Santa Ana, Garden Grove, Westminster, Fountain Valley, and Midway City. In his second term, Vice Chairman Do has advocated for health and safety-based COVID-19 response planning, reformed Orange County's mental health services, expanded access to health care, and led efforts to combat homelessness. Supervisor Andrew Do was one of the first officials in the state to propose a face covering mandate.

###



Sincerely,
Doug Chaffee
Supervisor, Orange County Board of Supervisors