March 9, 2021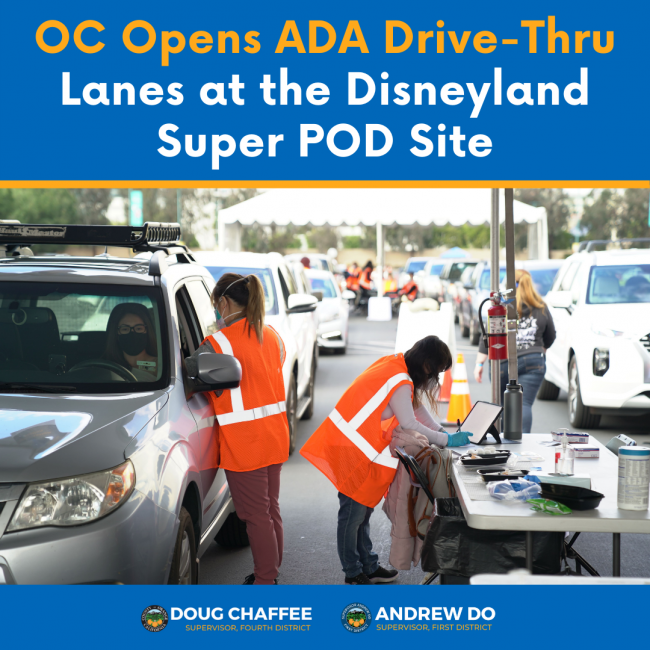 For Immediate Release
Contact: Jannelle Welker
Communications Director
Vice Chairman Doug Chaffee, 4th District
714-834-3440
Jannelle.Welker@ocgov.com

Contact: Guadalupe Carrasco
Communications Director
Chairman Andrew Do, 1st District
714-834-3110
Guadalupe.Carrasco@ocgov.com
PRESS RELEASE:
Expanding Equity in COVID-19 Vaccine Distribution:
Orange County Opens ADA Drive-Thru Lanes at the Disneyland Super POD Site
Anaheim, Calif. (March 8, 2021) – Yesterday, March 8th, the Disneyland Vaccine Super Point-of-Dispensing (POD) site reopened as a drive-thru site with American with Disabilities Act (ADA) lanes to allow for individuals to receive in-car vaccinations.
"We're grateful that our local disabilities rights advocates have engaged in conversations with us to help us improve our POD sites," said Vice Chairman Doug Chaffee. "My office has met with the Dayle McIntosh Center and discussed many of the areas in which we could improve ADA-access, and I'm pleased that the County has swiftly responded to their requests."
The Disneyland POD site was reconfigured from a walk-up to a drive-thru site to meet the needs of individuals with disabilities. In late January, the Orange County Board of Supervisors unanimously approved the COVID-19 Vaccine Equity Pilot Program, introduced by Chairman Andrew Do and Vice Chairman Doug Chaffee to improve direct access to vaccinations for CalOptima members who live in the hardest-hit communities by the pandemic. In alignment with the program, the Orange County Health Care Agency continues to expand the equity approach and target communities with disabilities.
"The County is constantly looking for ways to improve our vaccine distribution efforts," said Chairman Andrew Do. "Adding drive-thru capabilities to our Disneyland POD site ensures increased accessibility for those living with disabilities. From the start, equity has been the guiding principle of our approach to getting Orange County vaccinated, this modification to our process was done with equity top of mind."
Improving ADA-access at POD Sites:
The Orange County Health Care Agency has met with local disabilities rights agencies, such as the Dayle McIntosh Center, the Regional Center, and the State Council on Developmental Disability, to strategize and ensure responsiveness in our vaccine strategies, including improving access at the POD sites by:
Providing a method for individuals to indicate they have a disability and what accommodations they will need when registering for vaccine appointments.
Making sure that all facilities where PODs are conducted are accessible.
Identifying staff/volunteers and provide basic disability etiquette training for individuals who can provide disability support at all or specific sites in the County.
"We are happy to be working with the County to make sure accessibility and support are being provided for the aging community and people with disabilities", said Larry Wanger, Executive Director of the Dayle McIntosh Center.
The Disneyland site will have less capacity than other county vaccination sites, dispensing 2,000 vaccinations per day of the Moderna vaccine. The site is intended to serve individuals who require an ADA-accessible option, with Othena appointments, and who are displaying a Disabled Person vehicle placard or license plates.
Individuals who do not have an ADA license plate or a placard will not be turned away from the Disneyland site; however, people who are able to access a walk-up site are strongly encouraged to do so.
Othena will soon be updated to allow people to see which County POD sites offer a drive-thru option for people requesting accessibility access. To schedule an appointment at an ADA accessible POD-site, an individual can check a box to indicate that ADA access is required, which serves as "self-attestation."
In addition to the Disneyland site, the County of Orange operates two other Super PODs, one at the Anaheim Convention Center and another at Soka University. The Super PODs are operating from 8:00 a.m. to 5:00 p.m., 7 days a week. The Santa Ana College POD site reopened on March 3 to vaccinate those hardest-hit and underserved communities in targeted zip codes within Santa Ana, Garden Grove, and Anaheim and will operate Wednesday through Sunday.
New POD sites and opportunities will open dependent on the supply of COVID-19 vaccines provided to the County. Additional POD sites, including Super POD sites, will open in a phased approach, ensuring access to residents in every area of the County.
For More Information
Vaccinations dispensed at County Super PODs are currently available to Orange County residents and those who work in Orange County who are eligible under Phase 1A, all tiers, and Phase 1B, including educators, food service workers, grocery, and agriculture workers, child care providers, and Emergency services.
Eligible individuals with an appointment must present identification and proof of eligibility at the Super POD site to receive a vaccine.
To view a list of those who are eligible to receive a vaccine, visit the Orange County Health Care Agency website https://occovid19.ochealthinfo.com/phased-approach-vaccine-distribution.
For questions related to COVID-19, visit http://www.ochealthinfo.com/novelcoronavirus, or follow the HCA on Facebook (@ochealthinfo) and Twitter (@ochealth).
*No Walk-Ups will be accepted at POD vaccination sites. People are encouraged to register through Othena and are required to have an appointment.
Orange County Chairman Andrew Do represents the First District communities of Santa Ana, Garden Grove, Westminster, Fountain Valley, and Midway City. One of the first officials in the state to propose a face covering mandate, Chairman Andrew Do is advocating for science-based COVID-19 policies. In addition to health and safety-based COVID-19 response planning, he has reformed Orange County's mental health services, expanded access to health care, and led efforts to combat homelessness.
Orange County Vice Chairman Doug Chaffee represents the Fourth District, which includes the cities of Fullerton, La Habra, Brea, Placentia, and portions of Anaheim and Buena Park. In his first term, Vice Chairman Chaffee has combatted homelessness by supporting the creation of and allocating funding to the Buena Park and Placentia Navigation Centers and during the COVID-19 pandemic, he provided more than $15 million to small businesses in the Fourth District and school Districts in the Fourth District with technology grants to assist students with distance learning during the pandemic.
###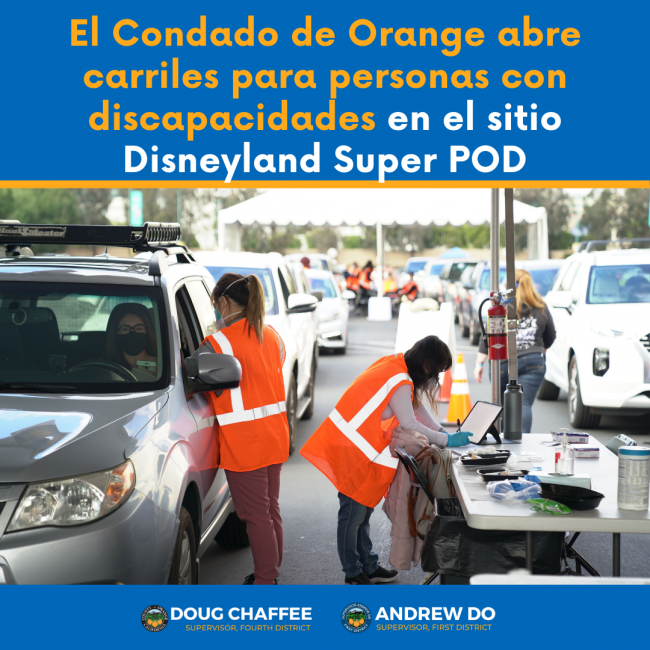 Para publicaión inmediata
Contacto: Jannelle Welker
Directora de comunicaciones
El Vicepresidente Doug Chaffee, Cuarto Distrito
714-834-3440
Jannelle.Welker@ocgov.com

Contacto: Guadalupe Carrasco
Directora de comunicaciones
El Presidente Andrew Do, Primer Distrito
714-834-3110
Guadalupe.Carrasco@ocgov.com
Presione Soltar:
Ampliación de la Equidad en la Distribución de la Vacuna COVID-19:
El Condado de Orange Abre Carriles Para Personas con Discapacidades en el Sitio de Disneyland Super POD
Anaheim, Calif. (8 de marzo de 2021) - Ayer, 8 de marzo, el Super Sitio de vacunas en Disneyland Point-of-Dispensing Site (o POD por sus siglas en inglés) reabrió como un sitio de drive-thru con carriles para personas con discapacidades (American with Disabilities Act o ADA por sus siglas en ingles) para permitir que las personas reciban sus vacunas estando dentro de su choche
"Estamos agradecidos de que nuestros defensores locales de los derechos de las personas con discapacidad hayan tenido conversaciones con nosotros para ayudarnos a mejorar nuestros sitios de POD", dijo el Vicepresidente Doug Chaffee. "Mi oficina se reunió con el Centro Dayle McIntosh y platicamos sobre muchas de las áreas en las que podríamos mejorar el acceso para personas con discapacidades de acuerdo a la ley ADA, y me complace que el Condado haya respondido rápidamente a sus solicitudes".
El sitio de Disneyland se reconfiguró de un sitio de acceso directo a un sitio drive-thru para satisfacer las necesidades de las personas con discapacidades. A fines de enero, la Junta de Supervisores del Condado de Orange aprobó por unanimidad el Programa Piloto de Equidad de Vacunas COVID-19, presentado por el Presidente Andrew Do y el Vicepresidente Doug Chaffee para mejorar el acceso directo a las vacunas a los miembros de CalOptima que viven en las comunidades más afectadas por la pandemia. En consonancia con el programa, la Agencia de Atención Médica del Condado de Orange continúa expandiendo el enfoque de equidad y dirigiéndose a las comunidades con discapacidades.
"El Condado busca constantemente formas de mejorar nuestros esfuerzos de distribución de vacunas", dijo el Presidente Andrew Do. "Agregar capacidades de drive-thru a nuestro sitio de vacunas en Disneyland asegura una mayor accesibilidad para quienes viven con discapacidades. Desde el principio, la equidad ha sido el principio rector de nuestro enfoque para vacunar al Condado de Orange, esta modificación a nuestro proceso se hizo teniendo en cuenta la equidad".
Mejorando Acceso en los Sitios de Vacunas de Acuerdo a la Ley ADA:
La Agencia de Atención Médica del Condado de Orange se ha reunido con agencias locales de derechos de las personas con discapacidades, como el Centro Dayle McIntosh, el Centro Regional., y el Consejo Estatal sobre Discapacidades del Desarrollo para platicar sobre estrategias y garantizar la capacidad de respuesta en nuestras estrategias de vacunas, incluyendo mejorando el acceso en los sitios de vacunas como:
Proporcionando un método para que las personas indiquen que tienen una discapacidad y qué necesitarán adaptaciones cuando se registren para las citas de vacunas.
Asegurándose de que todas las instalaciones donde se llevan a cabo los sitios de vacunas sean accesibles.
Identificando al personal / voluntarios y proporcionar capacitación básica sobre etiqueta de discapacidad para las personas que pueden brindar apoyo para discapacitados en todos o en sitios específicos del condado.
"Estamos felices de trabajar con el Condado para asegurarnos de que se brinde accesibilidad y apoyo a la comunidad mayor y a las personas con discapacidades", dijo Larry Wanger, director ejecutivo del Centro Dayle McIntosh.

El sitio de Disneyland tendrá menos capacidad que los sitios de vacunación en otras partes del condado, dispensando 2,000 vacunas por día de la vacuna Moderna. El sitio está destinado a servir a las personas que requieren una opción accesible según la ley de ADA, con citas por Othena, y que exhiben carteles o placas de vehículos para personas con discapacidades.

Las personas que no tengan una placa o un letrero según la ley de ADA no serán rechazadas del sitio de Disneyland; sin embargo, se recomienda encarecidamente a las personas que pueden acceder a un sitio sin ascensor que lo hagan.

Othena pronto se actualizará para permitir que las personas vean qué sitios de vacunas del Condado ofrecen una opción de drive-thru para las personas que requieran accesibilidad. Para programar una cita en un sitio de POD accesible para personas con discapacidades, pueden marcar en su solitud por Othena para indicar que se requiere acceso de acuerdo a la ley de ADA, lo que sirve como "auto-atestación".

Además del sitio de Disneyland, el Condado de Orange opera otros dos Super PODs, o sitios de vacunas grandes, uno en el Centro de Convenciones de Anaheim y otro en la Universidad de Soka. Los Super PODs funcionan de 8:00 a.m. a 5:00 p.m., los 7 días de la semana. El sitio de vacunas de Santa Ana College reabrió el 3 de marzo para vacunar a las comunidades más afectadas y desatendidas en códigos postales específicos dentro de Santa Ana, Garden Grove y Anaheim y operará de miércoles a domingo.

Se abrirán nuevos sitios y oportunidades dependiendo del suministro de vacunas COVID-19 que se proporcionen al Condado. Los sitios adicionales, incluidos los sitios Super PODs, se abrirán en un enfoque gradual, lo que garantizará el acceso a los residentes en todas las áreas del condado.

Para Más Información

Las vacunas dispensadas en los sitios Super PODs del Condado están actualmente disponibles para los residentes del Condado de Orange y aquellos que trabajan en el Condado de Orange que son elegibles bajo la Fase 1A, todos los niveles y la Fase 1B, incluidos los educadores, los trabajadores de servicios de alimentos, los trabajadores de supermercados y agrícolas, los proveedores de cuidado infantil y servicios de emergencia.

Las personas elegibles con una cita deben presentar una identificación y prueba de elegibilidad en el sitio de vacunas para recibir una vacuna.

Para ver una lista de las personas que son elegibles para recibir una vacuna, visite el sitio web de la OC Health Care Agency https://occovid19.ochealthinfo.com/phased-approach-vaccine-distribution.

Para preguntas relacionadas con COVID-19, visite http://www.ochealthinfo.com/novelcoronavirus, o siga la HCA en Facebook (@ochealthinfo) y Twitter (@ochealth).

*No se aceptarán Walk-Ups en los sitios de vacunación. Se recomienda a las personas a que se registren a través de Othena. Se exije tener una cita

El Presidente de la Junta de Supervisores del Condado de Orange, Andrew Do, representa a las comunidades del Primer Distrito de Santa Ana, Garden Grove, Westminster, Fountain Valley y Midway City. Uno de los primeros funcionarios del estado en proponer un mandato de cobertura facial, el Presidente Andrew Do aboga por políticas de COVID-19 basadas en la ciencia. El Presidente Do ha sido un líder en la lucha contra la falta de vivienda, reformando los servicios de salud mental del Condado de Orange y ampliando el acceso a la atención médica.

El Vicepresidente del condado de Orange, Doug Chaffee , representa al Cuarto Distrito, que incluye las ciudades de Fullerton, La Habra, Brea, Placentia y partes de Anaheim y Buena Park. En su primer mandato, el vicepresidente Chaffee ha combatido la falta de vivienda apoyando la creación y la asignación de fondos a los centros de navegación de Buena Park y Placentia y durante la pandemia de COVID-19, proporcionó más de $ 15 millones a pequeñas empresas en el cuarto distrito y la escuela. Distritos en el cuarto distrito con subvenciones de tecnología para ayudar a los estudiantes con el aprendizaje a distancia durante la pandemia.

###



Sincerely,
Doug Chaffee
Supervisor, Orange County Board of Supervisors