November 3, 2023
Volume 2

Issue 14
County News

Clerk-Recorder Hugh Nguyen Launches Online Marriage Ceremonies

On Saturday, October 14, I had the pleasure to officiate weddings for the launch of a new service at the Orange County Clerk Recorder's North Orange County Branch Office at 222 S Harbor Blvd Unit 110, Anaheim, CA 92805.
Couples now getting married at that location will have the option to livestream their ceremony via a secure Zoom session to family and friends who cannot be present in person. This is a great opportunity to share a special moment, regardless of location.
Thank you to Orange County Clerk-Recorder Hugh Nguyen and his staff for working on delivering this new service.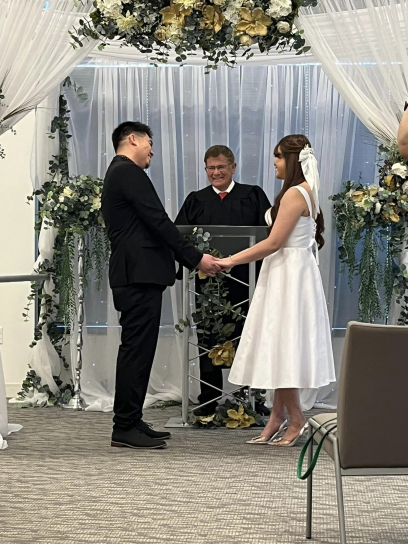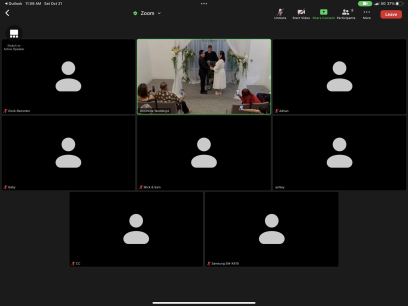 Wedding guests who were not present for the wedding ceremony above were able to view the livestream of it on Zoom. Photo courtesy of Orange County Clerk-Recorder Hugh Nguyen.


Be Well OC Irvine Ground Breaking

On October 16, the four-year anniversary of the groundbreaking of the
Be Well OC
campus in Orange, we had our groundbreaking for the Irvine campus. Be Well OC has brought together private, public, academic, non-profit, and faith based organizations to partner on creating a robust, best in class system for mental health care for all Orange County residents. The new location in Irvine will expand upon the services already available at Orange and offer more treatment options that focus on children and families.
The groundbreaking ceremony featured speeches from key stakeholders, emphasizing the importance of mental health support in the community. They discussed the innovative approach that Be Well OC Irvine would take, integrating cutting-edge treatments and a holistic wellness philosophy.
It will provide best in class clinical services for mental health, and substance use for children, adolescents, adults and families, plus wrap around wellness support to the entire community. The location hopes to open one area in early 2025.
Thank to all of our partners that have been involved in this project, and who have worked to make a first class hub of mental heath services in Orange County.
Pictured from left to right: County CEO Frank Kim, County CFO Michelle Aguirre, Supervisor Vicente Sarmiento, Supervisor Katrina Foley, Chairman Don Wagner, Supervisor Doug Chaffee, Orange County Health Care Agency (HCA) Chief, Mental Health and Recovery Services Dr. Veronica Kelley, HCA Interim Director Debra Baetz


Grand Opening of the OC Workforce Solutions Center in Brea

Congratulations to OC Workforce Solutions! It was a pleasure to attend the grand opening of their large new "one-stop shop" center in Brea, located at
675 Placentia Ave., Suite 330, Brea 92821
.
At the event, we were able to take a tour of the new facilities and learn about all the resources available to job seekers and businesses in Orange County. At the center, you can access their full range of no-cost services, including programs aimed at veterans, youth, seniors, and individuals who have been recently terminated. You can utilize their services to help kickstart your career or improve your business.
Thank you to the staff at OC Workforce Solutions for all the work you do to connect job seekers with prospective employers and provide business solutions services to businesses in Orange County.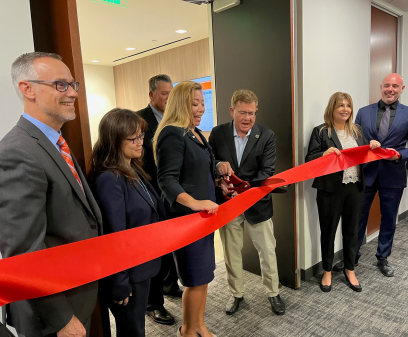 OC SSA and Orangewood Foundation's Trunk or Treat 🎃

Team Chaffee had a frightfully good time at the Orange County Social Services Agency and Orangewood Children's Foundation's Trunk or Treat event! Our team went all out with the Halloween spirit!
We decked enough pumpkins and jack-o-lanterns to make the Great Pumpkin himself jealous!
It was a graveyard smash, with our team and team members from County Departments and agencies dressed to impress in their spooktacular costumes.
Trick or treaters were dressed as mini superheroes, tiny witches, and even a few pint-sized monsters roaming around, collecting treats from our creatively themed trunks.
We want to extend a huge thank you to the Orange County Social Services Agency and the Orangewood Children's Foundation for organizing such a spooktacular event!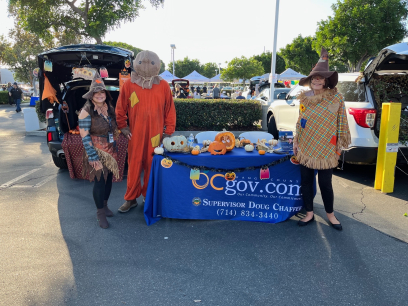 In the Fourth District Community

Brea Quarterly Meeting

Every few months, I meet with directly the 7 cities in my District at our Quarterly Meetings.
A couple of weeks ago, Team Chaffee and I went to
Brea City Hall
and met with Brea Mayor Marty Simonoff, Mayor Pro-Tem Christine Marick, City Manager Bill Gallardo,
Communications & Marketing Manager Liz Pharris and Management Analyst Yerika Ambriz.
We spoke about District 4 initiatives such as the Cal State Fullerton Nursing Program and the 2023 Homeless Survey results. In return, the City of Brea updated us on projects and goals for the upcoming year, such as the modernization of Arovista Park and the Brea Cultural Arts Master Plan.
It's an honor to serve as your Fourth District Supervisor and work with leaders who are committed to improving our cities and communities.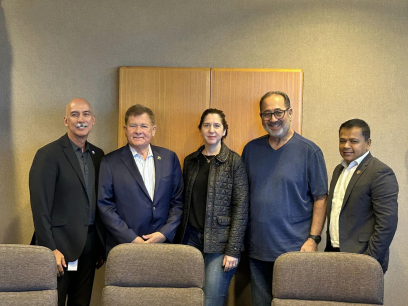 Koreatown Designation in the City of Buena Park

I was honored to join elected officials from across Orange County for the
City of Buena Park's
unveiling of their Koreatown sign on the corner of Orangethorpe Avenue and Beach Boulevard.
The Buena Park City Council approved the designation of the northern portion of the city as Koreatown on September 26, 2023.
This designation honors the over 20 years of Korean American culture and influence in Buena Park. Congratulations to the elected officials and residents who worked for years to get this sign in place to designate Koreatown in Buena Park!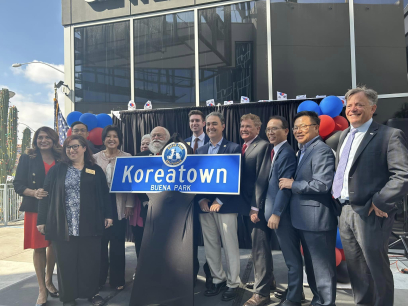 Resources

Metrolink Student Adventure Pass Program

Students, take a train ride with Metrolink's new Student Adventure Pass Program! This pilot program allows any student with valid school identification to obtain a pass at no charge and ride anywhere on the Metrolink system for free.
To take advantage of the program, students can download the Metrolink mobile app, register using their school email address, and verify their account to automatically receive the Student Adventure Pass in their mobile ticket wallet. Alternatively, students can obtain a free Student Adventure Pass at any Metrolink ticket machine.
Students must have valid student identification and be able to present it upon request during fare inspection to utilize the Student Adventure Pass.
For more information about how to obtain a free Student Adventure Pass, please visit metrolinktrains.com/students.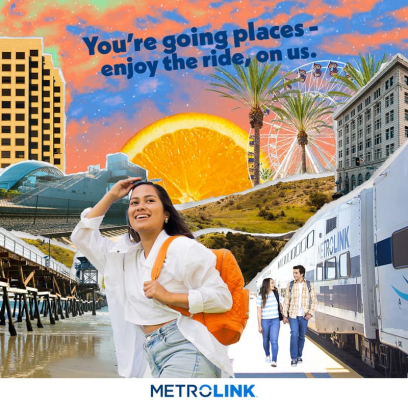 Climate Change Corner


Team Chaffee has been engaged in meetings and events regarding Sustainability and Solar Power Energy.
In these meetings, we have learned about the initiatives that our own County Departments are taking to become green, notably OC Waste and Recycling and OC Public Works.
OC Waste and Recycling has been working on their compost initiative and making sure residents abide by SB 1383 to keep organic waste from the landfills to reduce green house gas emissions.
OC Public Works has been working on creating more energy efficient buildings, with old buildings getting upgrades, and new buildings becoming more resilient for the future. From 2015 to now, OCPW sustainability improvement project total a projected reduction of the County's carbon footprint of 2,283 metric tons.
Additionally, we have learned more about what is happening through the private sector to help meet California's goal of achieving carbon neutrality by 2045. My policy advisors, Jesus, and Emma have attended several events including tours of SoCal Edison's Grid Technology Learning Center, BayWa-r.e. operations center, and more. We hope to continue this engagement, as to foster the collaboration of new ideas and allow Orange County to become a leader in sustainability.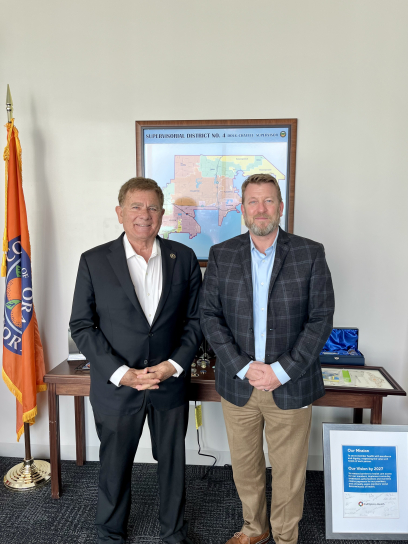 Pictured from left to right: Supervisor Doug Chaffee and OC Public Works Chief Deputy Director Tim Corbett

Pet of the Week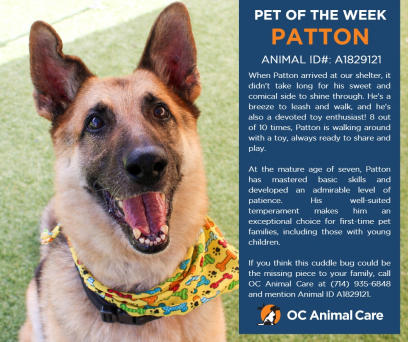 For questions or comments regarding Supervisor Chaffee's E-Newsletter please contact the Supervisor's office staff at: (714) 834-3440 or email Fourth.District@ocgov.com.


DISTRICT STAFF
Al Jabbar
Chief of Staff

Jannelle Needham
Deputy Chief of Staff

Andrea Dima-Smith
Senior Policy Advisor

Jessica Guerrero
Senior Policy Advisor

Jesus Gaona Perez
Senior Policy Advisor/Field Representative

Emma Fisher
Policy Advisor/ Communications Coordinator

Brock Chadsey
Policy Advisor/Field Representative

Elizabeth Freyre
Policy Advisor/Field Representative

Paulette Chaffee
Ambassador



STAY UPDATED!