What's Happening

The Financial Literacy Forum in Anaheim

Our first District 4 Financial Literacy Forum in partnership with
California State University, Fullerton
was a huge success!
This session was held at Sycamore Junior High School, and many participants joined us from the surrounding area. They learned about the basics of financial literacy, including savings, investing and borrowing.
We thank Sycamore Junior High School for being our host.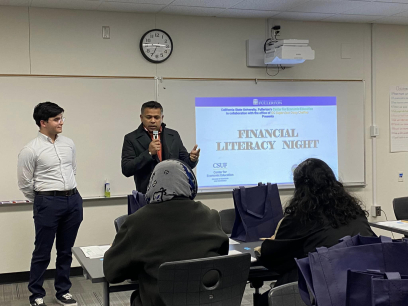 Upcoming Financial Literacy Forums

Join us for the Orange County District 4 Financial Literacy Forum sessions hosted by my office in partnership with California State University, Fullerton. The next two forums are:
Date: Friday, March 10, 2023
Time: 6:30 p.m. to 8:00 p.m.
Location: Ehlers Event Center - 8150 Knott Ave. Buena Park, CA 90620
Date: Friday, March 17, 2023
Time: 6:30 p.m. to 8:00 p.m.
Location: Multi-Purpose Room at Stanton Central Park - 10660 Western Ave, Stanton, CA 90680
Participants will discuss topics and engage in hands-on activities such as how to build your credit score, mortgage and financing, investment basics, and more!
To RSVP to the session in Buena Park, please click here.
To RSVP to the session in Stanton, please click here.
If you miss either session, please save the date for our future sessions on:
March 24, 2023 (City of Placentia)
April 7, 2023 (City of Fullerton
April 21, 2023 (City of Brea)
April 28, 2023 (City of La Habra)
If you need translation services for this event or have any questions, please email D4.FinancialLiteracy@ocgov.com.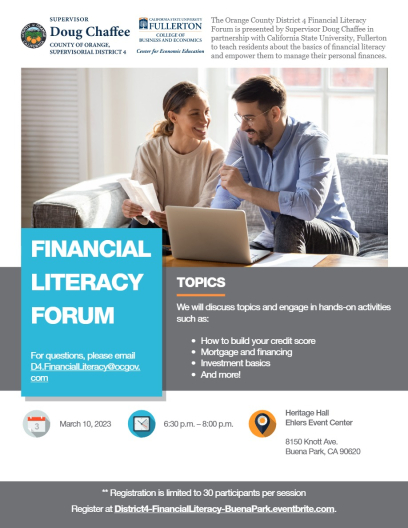 Fentanyl Town Hall Meeting in Buena Park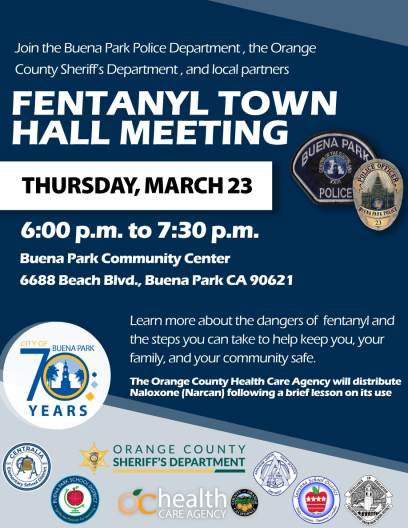 In the Community

JOYA Scholars' Farewell Celebration

Ambassador Paulette Chaffee joined JOYA Scholars at their farewell celebration for Executive Director, Christian Esteban.
JOYA Scholars is a nonprofit that prepares students for high school, college, and beyond and gives parents the tools to help their children succeed.
Christian diligently led the organization for the past 5 years. We will miss him in this role, but we are excited for him to start his new position at Store One, a new nonprofit in the City of Anaheim.
And we welcome Giselle Monterrisas as JOYA Scholar's new interim Director! She is from the Maple neighborhood and was former JOYA Scholar who can use her lived experience to proudly lead this organization.
To learn more about JOYA Scholars, please click here.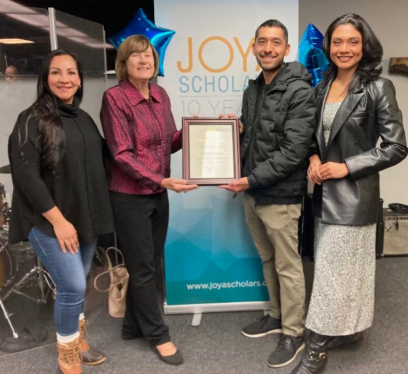 Brea Police Department Awards Banquet

We were honored to attend the Brea Police Department Awards Banquet.
The Brea Police Department recognizes their police officers for their exemplary service during this annual event, and this was the first time they could host the award ceremony in the last two years.
Congratulations to the 2021 Brea Police Department Awards Banquet honorees!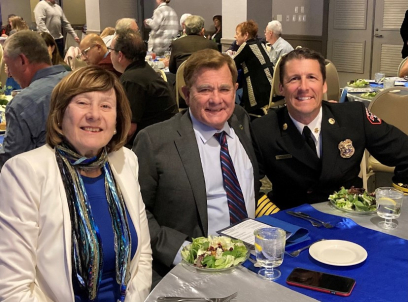 County News

Paper Shredding Event in Brea

Caltrans is offering free paper shredding services to Orange County residents on March 25.
Clear your clutter and keep your confidential information safe by having your documents shredded at no cost.
No appointment is necessary. Up to four boxes of documents per person.
This event is first-come, first-serve and we will accept items until 10 a.m. or until we reach full capacity (whichever is first). We encourage attendees to arrive early.
Items must be removed prior to shred: hanging file folders, accordion folders, x-rays, CDs, 3-ring binders and cardboard.
Maximum four boxes of documents per person.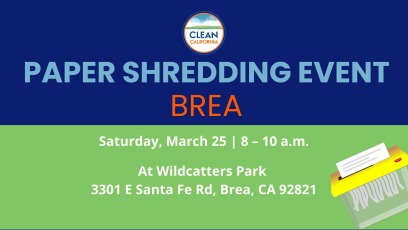 Resources

Drive-Through Food and Diaper Distribution in Stanton Park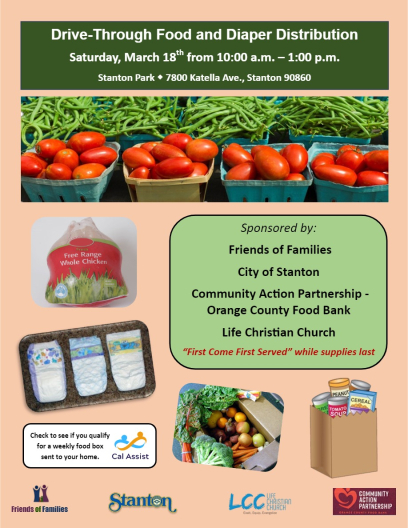 Be a Shelter's Dog Lucky Charm at OC Animal Care Adoption Promotion

Throughout March 2023, every day is a lucky day because adoption fees are waived for dogs 25 pounds and over at OC Animal Care.
The adoption promotion is available to residents of any city. With over 400 adoption visits available per week, potential adopters can pre-schedule a visit by calling (714) 935-6848 or drop by for a walk-in visit. Walk-ins are welcomed on a first-come, first-served basis as staffing allows.
The waived fees include microchipping, vaccinations, spaying or neutering, and an anti-parasite treatment. Waived adoption fees do not include licensing fees or puppies six months of age or younger.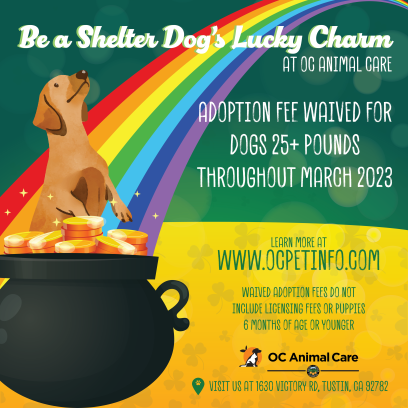 Pet of the Week


Jacob is an adorable German Shepherd mix who arrived at OC Animal Care as a stray in December 2022. Upon arrival, Jacob was very nervous but staff and volunteers made sure to go slow, giving him the space and the time he needed to adjust. Over time, we've seen him continue to grow and slowly get comfortable with the people the meets!
Jacob still values taking the proper time to trust someone calling them his best friend, so we think he'll do best in a home with adults only. When out on walks or in the play yard, he'll stay close by, appreciating the companionship more than the activity itself. Jacob will make the most loyal and loving pup to whoever is lucky enough to adopt him!
Jacob's past may be a mystery, but we know he's dreaming of a future with a family who will spoil him rotten! to adopt Jacob, call (714) 935-6848 and mention Animal ID# A1795668.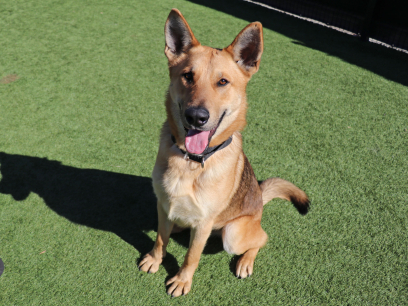 For questions or comments regarding Supervisor Chaffee's E-Newsletter please contact the Supervisor's office staff at: (714) 834-3440 or email Fourth.District@ocgov.com.