April 5, 2023
Volume 2

Issue 5
What's Happening

Future Leaders Program

We are accepting applications for the Orange County Board of Supervisors, District 4 Future Leaders Program.
The Future Leaders Program is designed for high school sophomores and juniors who reside in the 4th Supervisorial District, which includes the cities of Brea, Buena Park, Fullerton, La Habra, Placentia, Stanton and portions of Anaheim.
Students who participate will be able to develop their leadership skills, explore different career opportunities, and learn how local government works.
Session run from 10:00 a.m. - 12:00 p.m. on:
Saturday, June 3
Saturday, June 10
Saturday, June 17
Saturday, June 24
Saturday, July 1
Saturday, July 8
Click here to apply for the program.
Application Deadline: Friday, May 5, 2023 at 5:00 p.m.
For questions, please contact Jessica Guerrero at (714) 834-3440 or email D4.FutureLeaders@ocgov.com.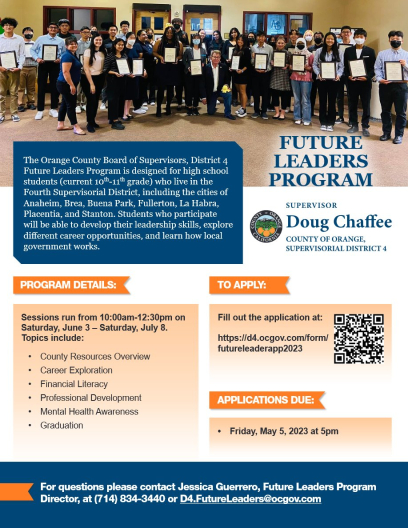 RSVP for the 5th Annual Kids Fishing Derby!

Join us for our Fifth Annual Fourth District Kids Fishing Derby on Saturday April 29,2023 from 8 a.m. to 11 a.m. at Carbon Canyon Regional Park located at 4442 Carbon Canyon Road, Brea, CA 92823.
Residents of the Fourth District, including the cities of Stanton, Buena Park, Fullerton, La Habra, Brea, Placentia, and portions of Anaheim, may RSVP for the Kids Fishing Derby until the event capacity is reached.
To RSVP for the event, please click here.
Kids ages 15 and younger may participate in the Fishing Derby. Fishing roads will be available at no-cost while supplies last. Bait will also be provided.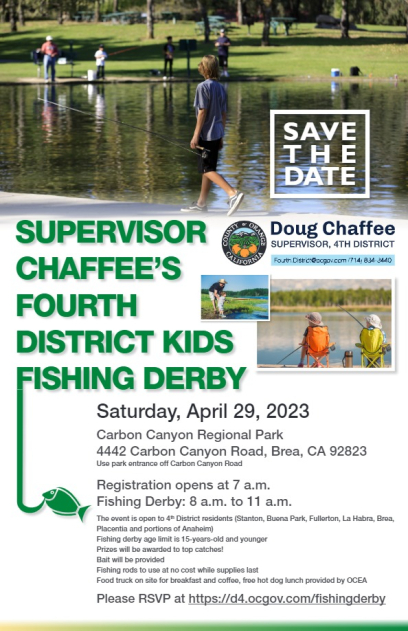 Español | 한국어 | Tiếng Việt | 中文


The Financial Literacy Program is coming to the City of Brea!

Join us for the Orange County District 4 Financial Literacy Forum hosted by Orange County Fourth District Supervisor Doug Chaffee in partnership with California State University, Fullerton on Friday, April 21, 2023 from 6:30 p.m. to 8:00 p.m. at the Brea Civic & Cultural Center located at 1 Civic Center Circle, Brea, CA 92821.
Participants will discuss topics and engage in hands-on activities such as how to build your credit score, mortgage and financing, investment basics, and more!
To RSVP, please click here.
The Forum is hosted in identical sessions throughout various cities in the Fourth District. If you miss this session, please save the date for our future session.
If you are in need of translation services for the event or if you have any questions, please email D4.FinancialLiteracy@ocgov.com.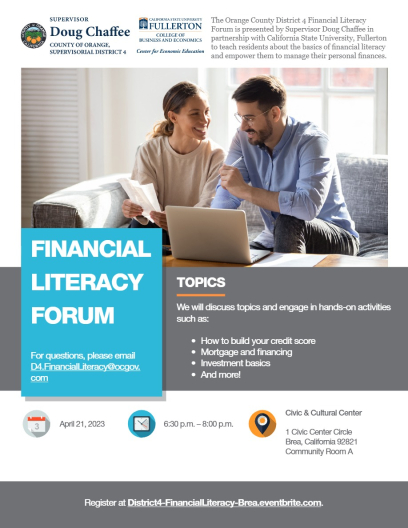 Español | 한국어 | Tiếng Việt | 中文

Supervisor's Corner

Compost Giveaway at Olinda Alpha Landfill

Earth Day was April 1, and to kick off the season, we joined OC Waste & Recycling (OCWR) to give away free compost the public.
Approximately 355 cars visited the Valencia Greenery at Olinda Alpha Landfill to claim their free compost.
Residents were excited to revitalize their planters and add extra nutrients to their gardens.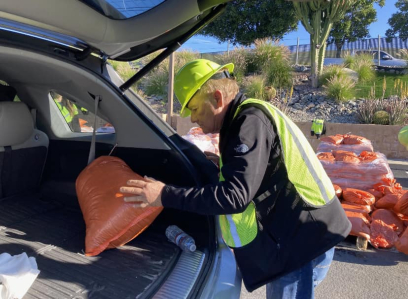 In the Community

Nicolas Community Center Grand Opening

Congratulations to Nicolas Junior High School on the grand opening of the Nicolas Community Center!
Students, parents, teachers, school officials, and elected representatives across all levels of government, including California State Superintendent of Public Instruction Tony Thurmond, celebrated the momentous occasion.
The Community Center will support the "whole child" at six schools within the Fullerton School District by providing:
Integrated support services
Family and community engagement
Collaborative leadership and practices for educators and administrators
Extended learning time and opportunities.
We thank the Fullerton School District and their employees for going one step further to enrich the lives of students in Fullerton and the OC Fourth District.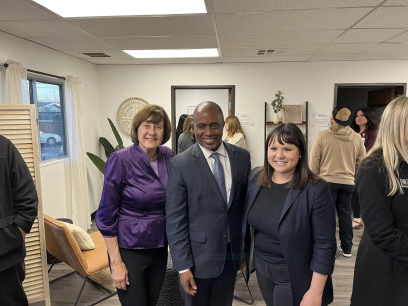 Pictured from left to right: Ambassador Paulette Chaffee, State Superintendent of Public Instruction Tony Thurmond, and Deputy Chief of Staff Jannelle Needham

Resources

Stanton Drive-Through Food and Diaper Distribution Event

Join our friends in Stanton for a Drive-through Food and Diaper Distribution event next Saturday, April 15th from 10:00 am to 1:00 pm. at Stanton Park on 7800 Katella Avenue, Stanton 90860.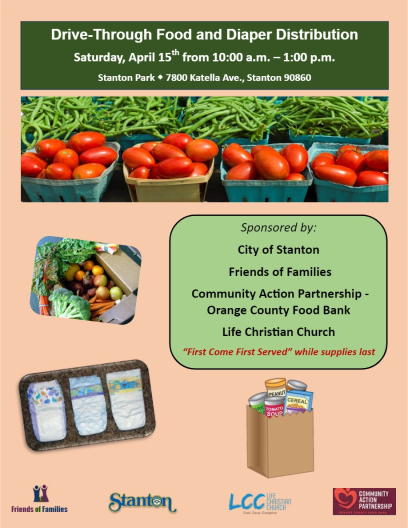 Family Furst Drive-Thru Pet Pantry

We have sponsored OC Animal Care's Family Furst Drive-Thru Pet Food Pantry for the month of April.
If you are in need of pet food, please visit OC Animal Care on Saturday, April 8, 2023 from 8:00 AM to 10:00 AM located at 1630 Victory Rd., Tustin, CA 92872.
* Dog, cat, rabbit, and bird food will be available on a first-come, first-served basis while supplies last.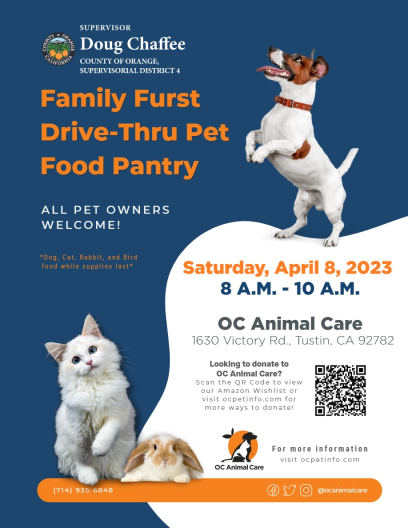 Pet of the Week


Hunter is an energetic 3-year-old boy who can always be seen with a huge grin on his face! This social butterfly hasn't met a human or dog that he doesn't like. While in our care, Hunter has participated in playgroups and does great around other pups that can match his energetic style of play! Husky fun fact: Siberian huskies love exercise! Due to their high level of energy, huskies make great playmates and running buddies, and Hunter is no exception! After a long day of play, Hunter is the best conversationalist and will have so much sweet things to say to you!
Come meet this handsome husky boy and let his cheerful and happy personality put a smile on your face! To adopt Hunter, call (714) 935-6848 and mention Animal ID# A1796654.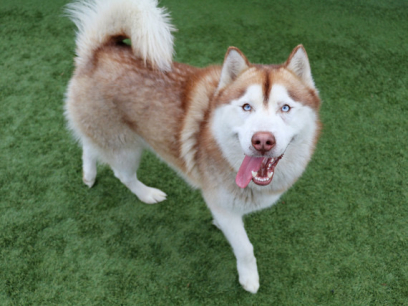 For questions or comments regarding Supervisor Chaffee's E-Newsletter please contact the Supervisor's office staff at: (714) 834-3440 or email Fourth.District@ocgov.com.


DISTRICT STAFF
Al Jabbar
Chief of Staff

Jannelle Needham
Deputy Chief of Staff

Andrea Dima-Smith
Policy Advisor

Jessica Guerrero
Policy Advisor/Field Representative

Jesus Gaona Perez
Policy Advisor/Field Representative

Itzel Parra
Deputy Communications Director

Vasila Ahmad
Policy Advisor

Brock Chadsey
Policy Advisor/Field Representative

Elizabeth Freyre
Policy Advisor/Field Representative

Paulette Chaffee
Ambassador



STAY UPDATED!