May 1, 2023
Volume 2

Issue 6
What's Happening

Office of Immigrant and Refugee Affairs

Last week the Board of Supervisors unanimously approved the establishment of the Office of Immigrant and Refugee Affairs (OIRA). The Office will further the County's vision and initiatives of building healthier and stronger communities by creating a 'one-stop' office for our immigrant and refugee population.
During the Press Conference held by my office and Supervisor Andrew Do's office we discussed the role and vision of the OIRA in Orange County. The OIRA will serve as a hub for immigrants and Refugees by centralizing services and resources under one roof.
Thank you to our speakers, including Supervisor Vicente Sarmiento; Owaiz M. Dadabhoy, President of Uplift Charity; Masih Fouladi, Deputy Executive Director of CAIR - LA; Apolonio (Polo) Morales, Director of CHIRLA; Iryna Sobianina; and An Nguyen, for sharing their stories and what this office means for Orange County.
And I want to thank my Board colleagues for their support and all the Community-Based Organizations, including Asian Americans Advancing Justice Southern California, the Public Law Center, CAIR-LA, and CHIRLA for assisting us in creating the OIRA.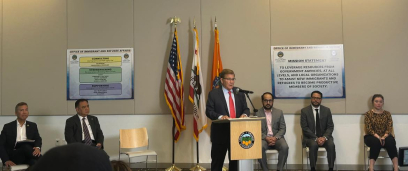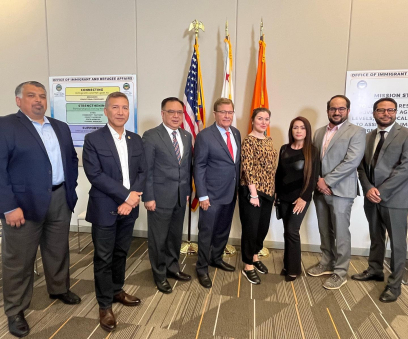 Health Fair and Children's Day Event

Join the Fourth District and the Orange County Social Services Agency as we host a Family Health Fair & Children's Day event on Saturday, May 6 from 10:00 a.m. to 1:00 p.m. at Maxwell Park, 2655 W. Orange Ave., Anaheim, CA 92804.
Residents can receive free food and school supplies, health screenings and apply for public benefits. No registration required.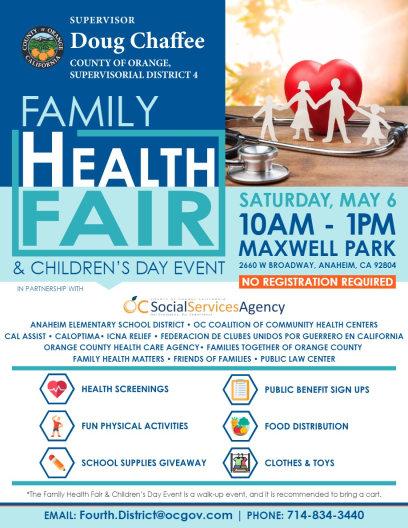 Future Leaders Program - Deadline to Apply is May 5!

We are still accepting applications for the Orange County Board of Supervisors, District 4 Future Leaders Program.
The Future Leaders Program is designed for high school sophomores and juniors who reside in the 4th Supervisorial District, which includes the cities of Brea, Buena Park, Fullerton, La Habra, Placentia, Stanton and portions of Anaheim.
Students who participate will be able to develop their leadership skills, explore different career opportunities, and learn how local government works.
Session run from 10:00 a.m. - 12:00 p.m. on:
Saturday, June 3
Saturday, June 10
Saturday, June 17
Saturday, June 24
Saturday, July 1
Saturday, July 8
Click here to apply for the program.
Application Deadline: Friday, May 5, 2023 at 5:00 p.m.
For questions, please contact Jessica Guerrero at (714) 834-3440 or email D4.FutureLeaders@ocgov.com.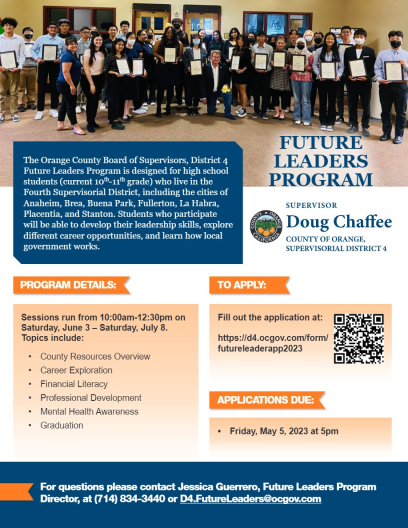 2023 Conditions of Children Report Community Forum

Please join us for a Community Forum on the Conditions of Children in Orange County on May 12, 2023, at 8:30 a.m. in City of La Habra, City Hall, 110 East La Habra Boulevard, La Habra, CA 90631.
To register, please click on this link.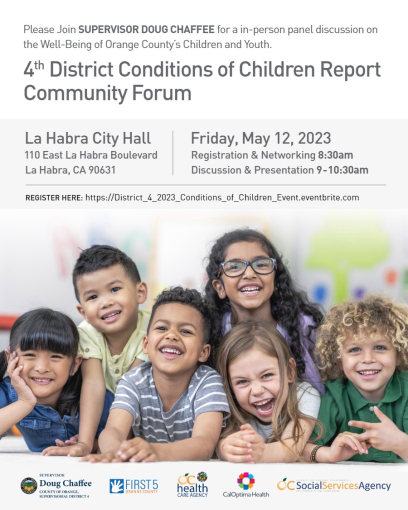 In the Fourth District Community

Fullerton School District Renovation Grant

We were overjoyed to provide a $300,000 grant to the Fullerton School District to renovate their Scout Hut and transform it into the Orangethorpe Community Center.
As part of the California Community Schools Partnership Program (CCSPP), the New Center will bring together the Fullerton School District and local partners to provide community resources to families in need.
The future resource center will have an on-call nurse, counselors, a community liaison, and social services assistants to provide families with immediate attention to their needs that include after-school hour services.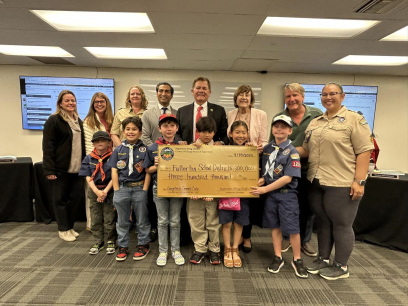 Buena Park - Teachers and Classified Employee of Year Awards

On Thursday, April 27, 2023, Buena Park held it's Teachers and Classified Employees of the Year Awards. The Buena Park Rotary Club honors and provides awards to outstanding Buena Park teachers and classified employees. This year, the awardees, included:
Centralia School District
Teacher of the Year - Dawn Spangenberg
Classified Employee of the Year - Yohana Sharon
Buena Park School District
Teacher of the Year - Kirstin Kim
Classified Emloyee of the Year - Lisa Ramos-Sandoval
Buena Park High School
Teacher of the Year — Kimiko Mann
Classified Employee of the Year - Michael Chesmore
Congratulations to all the teachers and classified employees of the year for their outstanding work with students and the Buena Park community.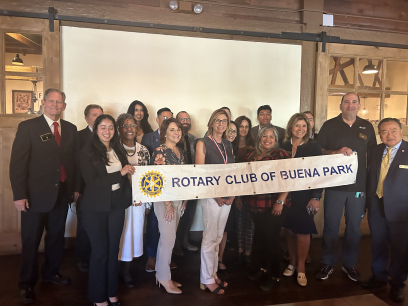 Resources

OC Parks Summer Concert Series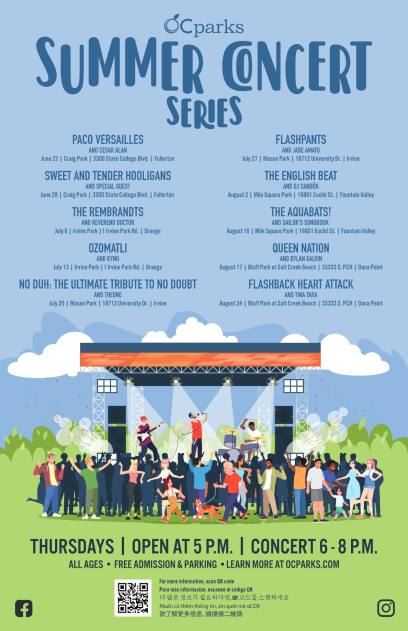 OC Parks Sunset Cinema Series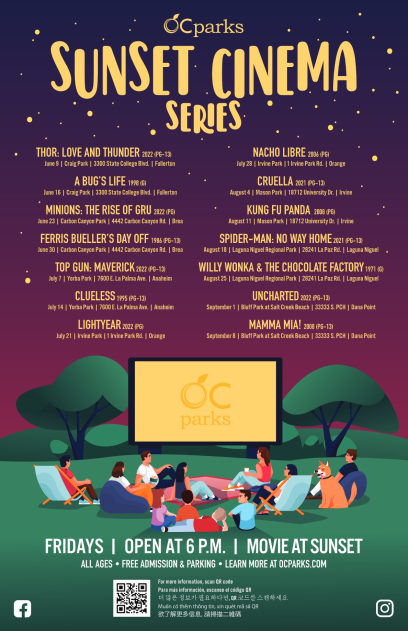 Pet of the Week


Pumba is a Siberian Husky who came to OC Animal Care with open paws and a warm heart! This young pup has a lot of energy, enthusiasm, and love to give. At the shelter, he enjoys doggie-dates, pack walks with his buddies, and belly rubs and scratches by hoomans. On the weekends, you can find Pumba at Pooches on the Patio! This social butterfly loves all the attention that he can get and will do best in a home with plenty of space for playing, roaming, and exercising.
Looking for a pup that will melt your heart? Pumba is your boy! To adopt Pumba, call (714) 935-6848 and mention Animal ID#A1800831.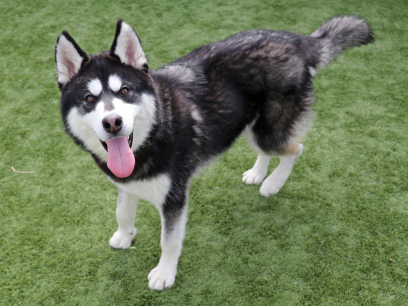 For questions or comments regarding Supervisor Chaffee's E-Newsletter please contact the Supervisor's office staff at: (714) 834-3440 or email Fourth.District@ocgov.com.


DISTRICT STAFF
Al Jabbar
Chief of Staff

Jannelle Needham
Deputy Chief of Staff

Andrea Dima-Smith
Policy Advisor

Jessica Guerrero
Policy Advisor/Field Representative

Jesus Gaona Perez
Policy Advisor/Field Representative

Itzel Parra
Deputy Communications Director

Vasila Ahmad
Policy Advisor

Brock Chadsey
Policy Advisor/Field Representative

Elizabeth Freyre
Policy Advisor/Field Representative

Paulette Chaffee
Ambassador



STAY UPDATED!