May 22, 2023
Volume 2

Issue 7
What's Happening

CalOptima Health Master of Social Worker Stipend Program

Last week, Supervisor
Vicente Sarmiento
,
CalOptima
Health,
California State University, Fullerton
and I held a joint press conference to announce the CalOptima Health Master of Social Worker (MSW) Stipend Program.
The CalOptima Health Board of Directors approved a $5 million investment over five years to support Master of Social Work (MSW) students at California State University Fullerton (CSUF) beginning in the fall of 2023. As part of the CalOptima Health Stipend Program, students will receive a $20,000 stipend for each year of the two-year program.
To qualify for the stipend, the students must commit to working full-time in a public healthcare setting or a CalOptima Health contracted agency for two years.
This program will help mitigate the shortage of social workers and build a culturally and linguistically diverse social worker workforce in Orange County. By providing these grants, we can empower aspiring social workers to complete their education and training without the stress from financial instability.
We are fortunate to have this partnership between Cal State Fullerton's outstanding Department of Social Work, and CalOptima Health, a leading county-organized health system that is dedicated to serving our most vulnerable residents.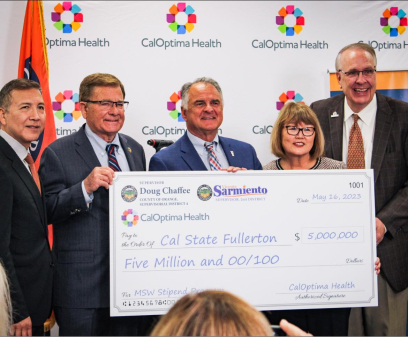 Pictured from left to right: Supervisor Vicente Sarmiento, Supervisor Doug Chaffee, Cal State Fullerton President Fram Virjee, Cal State Fullerton Department of Social Work Department Chair Dr. Mikyong Kim-Goh, CalOptima Health CEO Michael Hunn


2nd Annual Fourth District Health Fair and Children's Day

We held our 2nd Annual Fourth District Health Fair and Children's Day event at Maxwell Park in Anaheim. It was filled with various resources, such as dental and vision screenings, food and clothing distributions, school supplies, SSA's Mobile Response Vehicle and amazing folklórico entertainment. Thank you to the community members who joined us, along with our partners; County of Orange Social Services Agency, CalOptima Health, Families Together of Orange County, Islamic Circle of North America (ICNA) and many others for making the event possible by providing families accessibility to important services and resources.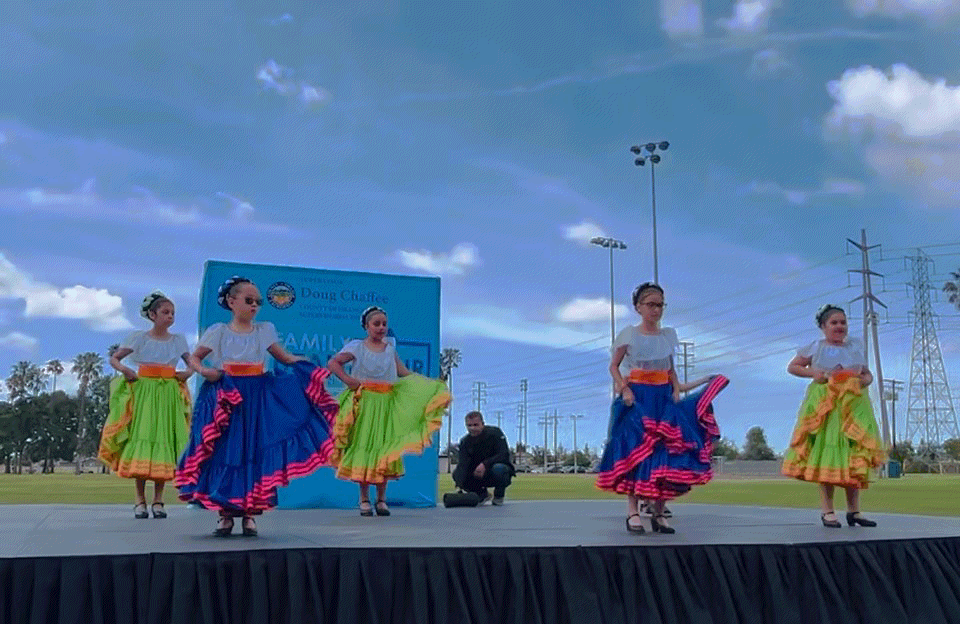 Resources

CalFresh Awareness Event

Join us and the County of Orange Social Services Agency (SSA) for a CalFresh Awareness Event on Wednesday May 24 from 4:30 to 7 pm at Northgate Market, 1305 W. Whittier Blvd., La Habra, CA.
SSA's Mobile Response Vehicle and eligibility staff will be onsite to help event attendees apply for CalFresh, Medi-Cal and other public assistance benefits.
Chef Pablo will start the festivities by making a dish CalFresh recipients can easily replicate at home. OC Health Care Agency's CalFresh Healthy Living team will give docent-style store tours, where attendees can sample available food while learning how to live a healthy, active and nourished lifestyle while stretching their grocery budgets.
First 5 will provide educational activities for children. OC Waste & Recycling will offer tips on reducing food waste.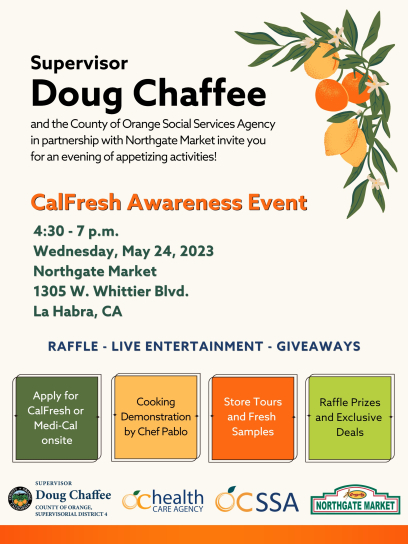 Affordable Connectivity Program

Eligible residents may qualify to get fast, reliable home internet through the Affordable Connectivity Program (ACP).
To check your eligibility, join us for the ACP Enrollment Event on Wednesday, May 24th from 1:00 PM - 5:00 PM at the County Services Center (CSC), 601 N. Ross St., Santa Ana, CA 92701.
To be able to sign-up for the discounted internet, you must bring one form of identification, one eligibility document, and an email address (a representative will assist in setting up an email account if you do not have one).
Acceptable identification documents include:
US Driver's License
Government ID
Passport
Individual Taxpayer ID Number
Matricula or Visa Consular Card
Birth Certificate for a minor who is a Benefit Qualifying Person
Eligible documents include:
a monthly statement from WIC
proof of participation in National School Lunch Program at a CEP designated school (student ID, birth certificate, or passport)
a Pell Grant Award Letter.
* Individuals who are enrolled in Medi-Cal, CalFresh, Lifeline, Veterans Pension, Pell Grant, WIC, and/or Survivor Benefits may auto-qualify for the ACP.
If you have questions about the ACP, please visit internetforallnow.org/events or call (866) 745-2805.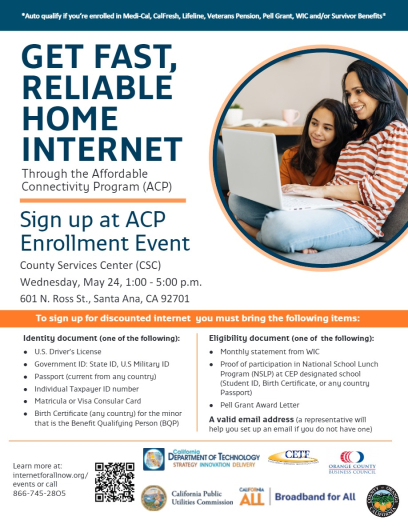 Español l 한국어 l 中文 l Tiếng Việt


OC Parks Summer Concert Series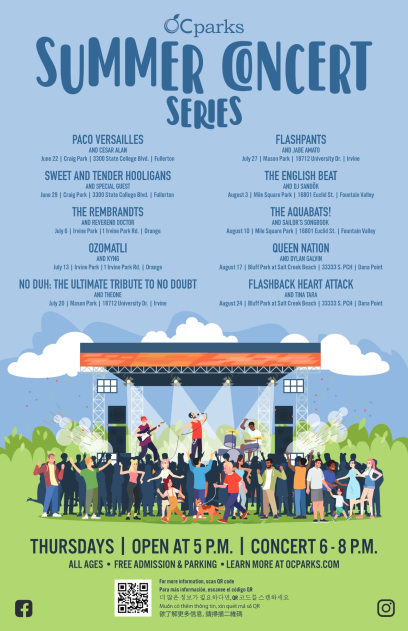 OC Parks Sunset Cinema Series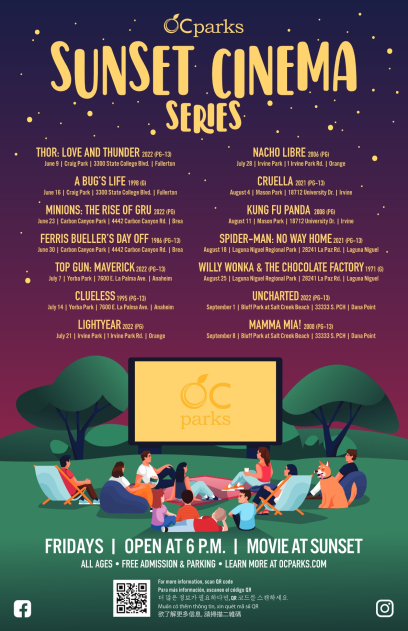 In the Fourth District Community


I joined
Orange County Parks
at the official reopening of the Clark Regional Park's Interpretive Center!
The Interpretive Center houses an array of fossils recovered right in the boundaries of Clark Regional Park. It also features a display of the archaeology of Orange County's earliest residents who have occupied the region for more than 10,000 years and a fishbowl lab where visitors can see how fossils and artifacts are prepared for research and display.
Thank you to our young archaeologists, who joined me for story time of "Mammoths on the Move".
Come check out the Interpretive Center Wednesdays from 12pm-4pm and Thursday through Saturday from 10am-2pm!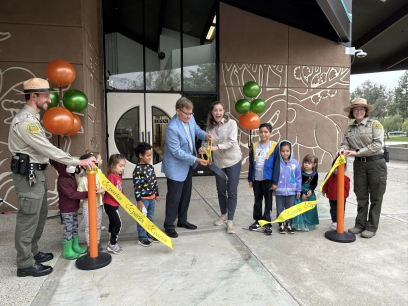 Pet of the Week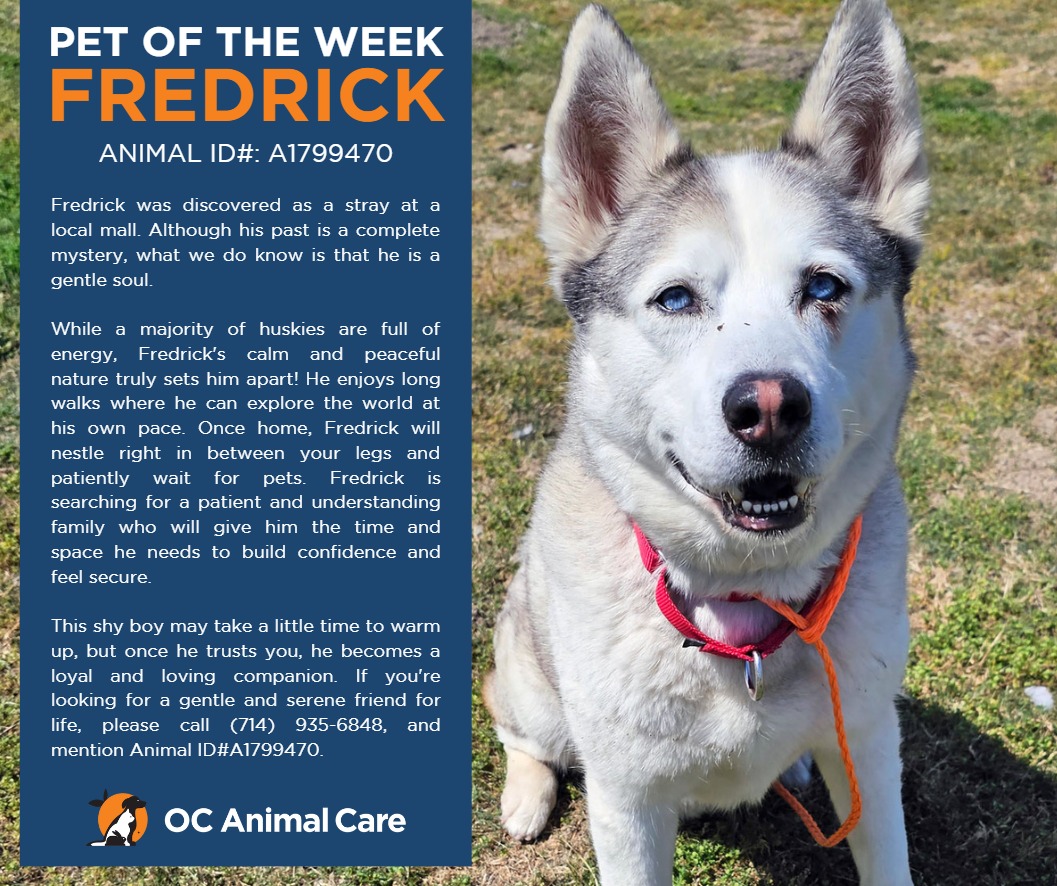 For questions or comments regarding Supervisor Chaffee's E-Newsletter please contact the Supervisor's office staff at: (714) 834-3440 or email Fourth.District@ocgov.com.


DISTRICT STAFF
Al Jabbar
Chief of Staff

Jannelle Needham
Deputy Chief of Staff

Andrea Dima-Smith
Senior Policy Advisor

Jessica Guerrero
Senior Policy Advisor

Jesus Gaona Perez
Senior Policy Advisor/Field Representative

Itzel Parra
Deputy Communications Director

Brock Chadsey
Policy Advisor/Field Representative

Elizabeth Freyre
Policy Advisor/Field Representative

Paulette Chaffee
Ambassador



STAY UPDATED!