What's Happening

2023 Future Leaders Program

Over last weekend, we held the first session of our Future Leaders Program! Students were welcomed by Supervisor Doug Chaffee and Fourth District Staff.
Students learned about Orange County Community Services and Economic Development and the various career opportunities in those departments. In addition, students experienced other hands-on career options through a rotation of activities including the Career Zone Assessment, Game of Life, and the Virtual Reality Career Exploration.
The Fourth District's Future Leaders Program is designed for high school students who live in the Fourth District to develop their leadership skills, explore career opportunities and learn how local government works.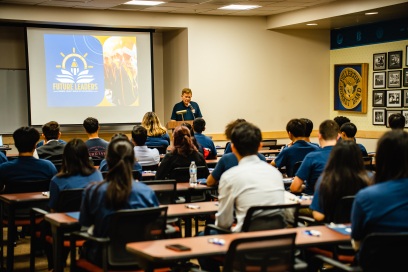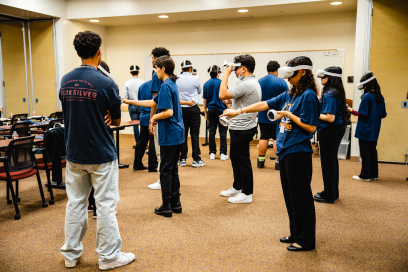 Kid Builders - First 5 Orange County

On June 7, 2023, we celebrated the launch of Kid Builders at the
First 5 Orange County
Children and Families Commission meeting. I look foward to seeing the positive impact First 5 will have on our 0-5 aged children.
We also welcomed our new Commissioners Soledad Rivera and Angie Rowe; and welcomed back Commissioner Jackie Filbeck.
Thank you to First 5 for launching this event geared towards helping our young children and families learn about available resources.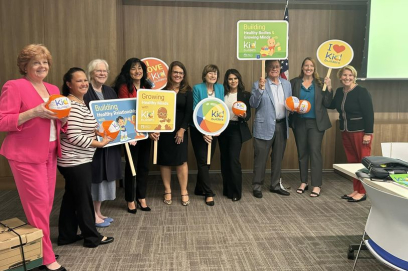 Prado Dam Bicentennial Mural

Last week Ambassador Paulette Chaffee joined Riverside County
Supervisor Karen Spiegel
and other key partners as they unveiled the restored Prado Dam Bicentennial Mural.
On June 17, 1976, 30 students from Corona High School celebrated the nation's bicentennial by painting the original patriotic mural on the Prado Dam spillway, along the 91 freeway in Corona.
The mural includes the phrases "200 Years of Freedom", "1776-1976", and a blue liberty bell in between. It spans 76,800 square feet and is about six times the size of Mount Rushmore.
Over time, the mural was in need of great repair, and local leaders, agencies and volunteers came together for the restoration project. We thank them for preserving our region's history through this beautiful iconic landmark.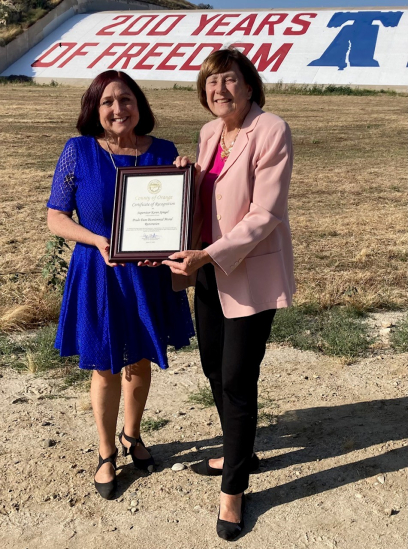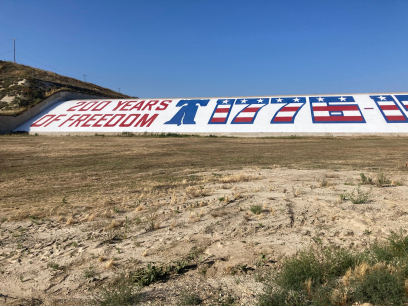 Grand Opening of Valencia Greenery

Last week Ambassador Paulette Chaffee and Supervisor Doug Chaffee attended the grand opening of Valencia Greenery, a composting site located at the Olinda Alpha Landfill in Brea.
Organic waste makes up half of the materials found in landfills, which generates polluting methane emissions. Methane is a climate super pollutant and is 25 times more potent than carbon dioxide.
The state-of-the-art Valencia Greenery composting site is critical in protecting our local environment.
OC Waste & Recycling
has done an excellent job in developing this site and diverting and composting organic waste.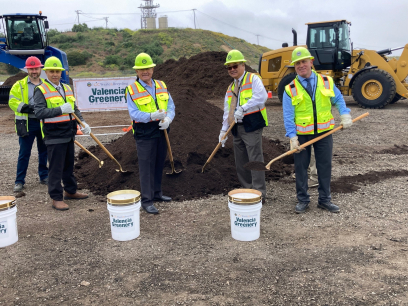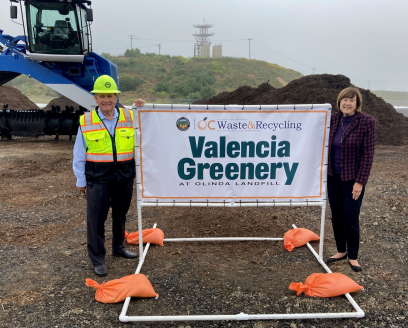 85th Memorial Day Event

Last week we had a wonderful time honoring heroes at the 85th Annual Memorial Day Ceremony at Loma Vista Memorial Park in Fullerton.
This is the oldest Memorial Day event in Orange County.
Since 1939, volunteers have placed a flag at the graves of 4,500 veterans at Loma Vista Memorial Park.
Thank you to the veterans who joined us and to the speaker, Lt. Gen. George Smith, from Camp Pendleton. We also send a special thank you to Ed Paul, the American Veterans Memorial Association Coordinator, and the City of Fullerton for organizing the event.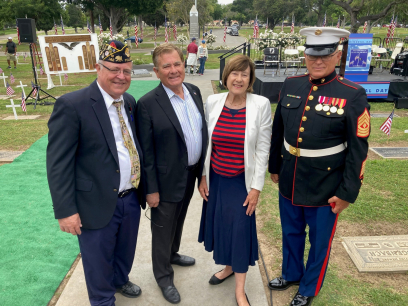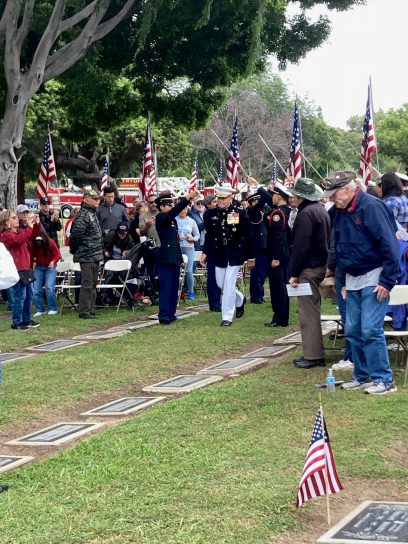 In the Fourth District Community

Ascent Apartments Grand Opening

On May 24, 2023, Supervisor Doug Chaffee presented a certificate to Jamboree Housing Corporation at the grand opening of Ascent Apartments, a 57 unit supportive apartment community, in Buena Park for formerly homeless individuals.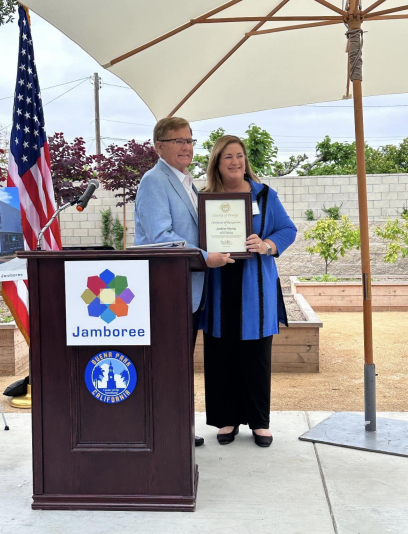 Mabel L. Pendleton Elementary - Ribbon Cutting

Congratulations to Buena Park School District, Mabel L. Pendleton Elementary School for their ribbon-cutting on June 1, 2023. The ceremony was followed by a wonderful tour of the school grounds and a certificate was presented to Principal Loriann Leota by Fourth District Ambassador Paulette Chaffee.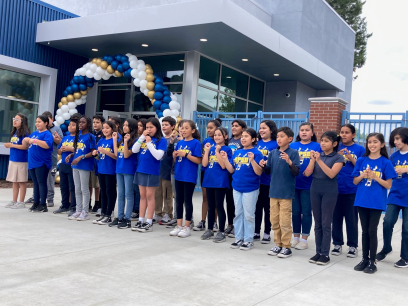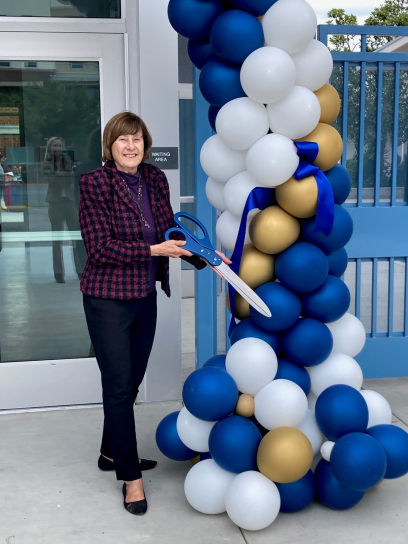 Leon Owens Foundation Scholarship Awards

The Annual Leon Owens Foundation Scholarship Awards took place on June 5th, 2023, at The Alta Vista Country Club in Placentia, California. Supervisor Doug Chaffee presented certificates to scholarship awardees.
The Leon Owens Foundation is comprised of family, friends, and community partners committed to enhancing the lives of the next generation. The foundation believes in reaching out to others with others for others!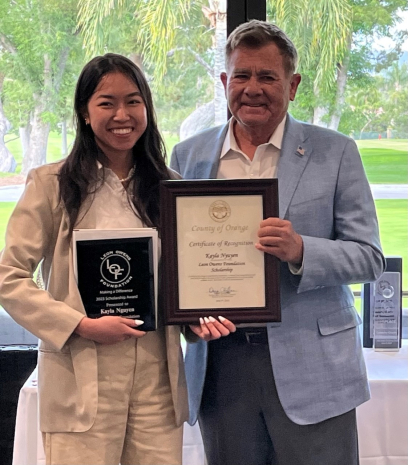 La Habra - CalFresh Awareness Event

Our CalFresh Awarness event with the County of Orange Social Services Agency at Northgate Market in La Habra was a success!
In honor of CalFresh Awareness month, SSA is bringing outreach events like these to the community. CalFresh supports healthy, active and nourished lifestyles by teaching Californians about good nutrition and how families can stretch their food dollars.
The Social Services Mobile Response Vehicle and eligibility staff were on-site, so residents could sign up for eligible benefits.
The OC Health Care Agency's CalFresh Healthy Living Team also gave store tours, so residents could learn how to shop for healthy groceries on an affordable budget.
To learn how to apply for CalFresh, please click here to visit Social Services Agency website.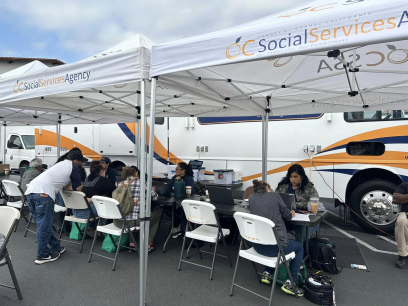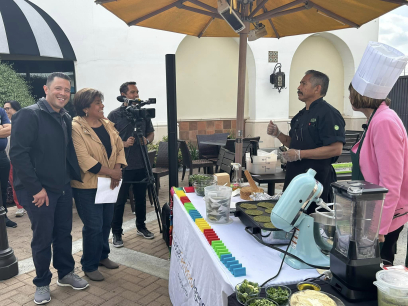 Pet of the Week

Meet Scarlett!

Meet Scarlett, a sweet and affectionate German Shepard mix, who is looking for a family to call her own!
This two-year-old pup can be a bit nervous around new people and situations, but with time and patience she warms up and becomes a loving and loyal companion. With the right training and guidance Scarlett will become a confident dog who is a joy to be around. Scarlett will thrive in a home where there are adults only who can teach her new tricks!
If you think Scarlett will be the perfect fit for your family, please call (714) 935-6848, and mention Animal ID# A1814804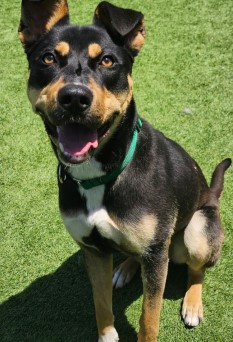 Resources

$15 Metrolink Summer Pass

As the Vice-Chair of Metrolink, I'm excited to announce that Metrolink is bringing back the $15 Summer Day Pass offered weekdays now through Friday, September 1.
The Summer Day Pass provides unlimited rides on one weekday of travel throughout the 547 miles and 67 stations Metrolink system.
The Summer Day pass is available for purchase online through the Metrolink Mobile App and at station ticket machines.
Details of the new pass:
Valid for unlimited travel on one weekday (Monday through Friday) during promotion period.
Valid for travel system-wide on all seven lines.
One pass per customer – pass is non-transferable.
No advance purchase - must be used on date of purchase.
Valid for all fare types at $15 per customer.
Valid for hundreds of free transit transfers including to LA Metro buses, shuttles, rail, and subway lines as well as codeshare trains
Earn 50 SoCal Explorer points when submitted for redemption.
Not valid on the following holiday Mondays: Memorial Day, July 4th, and Labor Day. Riders may purchase the $10 Holiday Pass available on those days.
To learn more about the Summer Day Pass, please click here.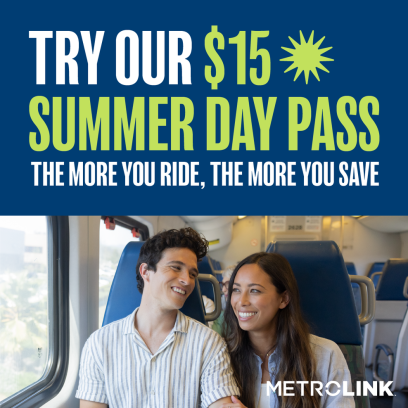 Metrolink Low-income Fare Discount

We are happy to share that the Metrolink is offering a low-income fare discount program which provides a 50% discount on ANY Metrolink ticket or pass for riders with a valid California Electronic Benefit Transfer (EBT) card.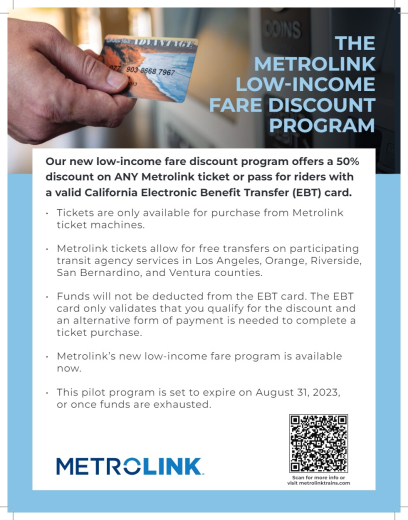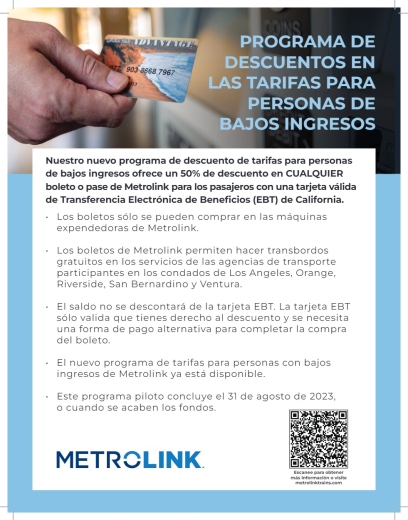 OC Parks Summer Concert Series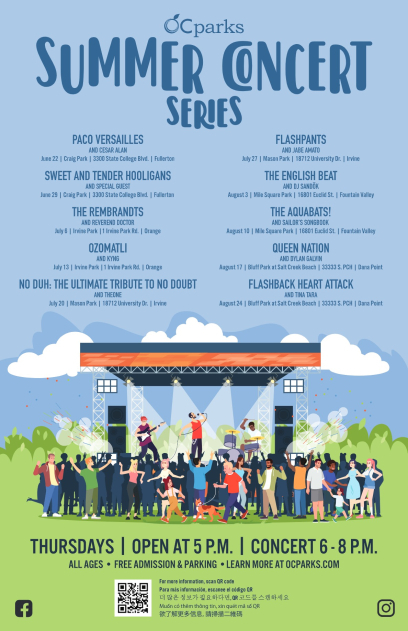 OC Parks Sunset Cinema Series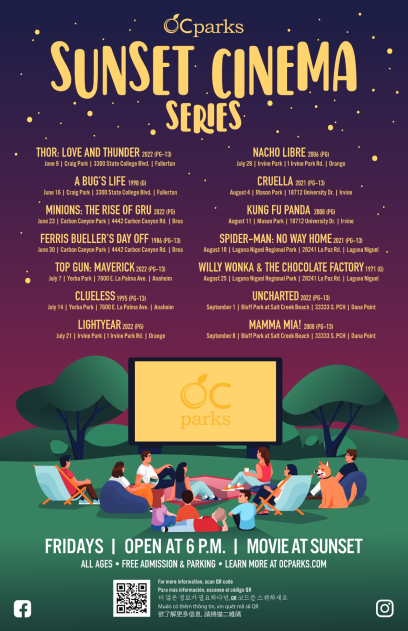 For questions or comments regarding Supervisor Chaffee's E-Newsletter please contact the Supervisor's office staff at: (714) 834-3440 or email Fourth.District@ocgov.com.