December 19, 2008


Welcome to this edition of the Fifth District Report, an electronic newsletter keeping you updated about the events taking place in Orange County and in the Fifth District. It is my hope that you find this distribution informative and I would encourage you to contact me regarding any thoughts, comments, or concerns you may have.
---
IN THIS ISSUE...
1. HOLIDAY GREETINGS FROM YOUR FIFTH DISTRICT FAMILY!

2. PAT'S PERSPECTIVE

3. BOARD BULLETIN BOARD

4. TRANSPORTATION INFORMATION

5. FIFTH DISTRICT SPOTLIGHT

6. NOTES FROM THE FIELD

7. SOUTH COUNTY CALENDAR

8. FIFTH DISTRICT WRAP-UP

---
OUR STAFF..
Justin McCusker:
Chief of Staff
Sergio Prince:
Executive Director of Public Affairs
Kristen Thornton:
Executive Policy Advisor
Ray Grangoff:
Executive Policy Advisor
Chip Monaco:
Executive Policy Advisor
Ruth Strachan:
Office Manager
Patricia Wenkart:
Policy Assistant
Click here to subscribe.

Click here to unsubscribe

---
HOLIDAY GREETINGS FROM YOUR FIFTH DISTRICT FAMILY!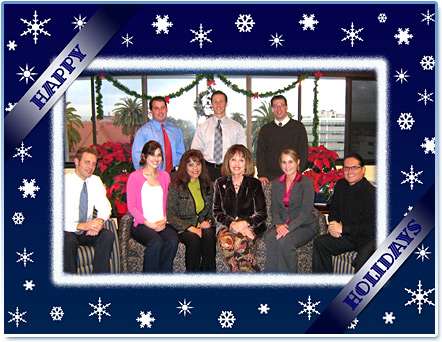 This holiday season, it is my sincerest wish that residents throughout Orange County are blessed with the company of loved ones and get to experience the joy and thanksgiving that is characteristic of this most reverent time of year. On behalf of the Fifth District, I extend my heartfelt wishes for a very Happy Holiday! The Fifth District Report will return again in the new year.

Warmest Regards,

Pat Bates


PAT'S PERSPECTIVE
241 Toll Road Decision
While I'm disappointed by the Secretary of Commerce's decision to uphold the California Coastal Commission's rejection of coastal consistency certification, I remain committed to the completion of the 241 Toll Road.

Unfortunately, the decision demonstrates the lack of understanding of the vital need for another North/South connector between Orange and San Diego counties including the implications it has on national security, goods movement, and alleviating traffic gridlock.

The Secretary's decision was based on an unacceptable alternative route that has already been carefully studied and dismissed for many significant reasons. For example, the suggested La Pata alternative has no direct connection to the 1-5 Freeway, thus it would provide very little traffic relief to the I-5 corridor that connects the second and third most populous counties in the state. It would also have negative effects on communities like Talega, which would be bisected by the road, and the greater City of San Clemente, which would experience substantial traffic increases to its arterial roads.

Improvements to La Pata Road have already been identified as necessary - but they are to be completed in conjunction with the Toll Road completion, not in place of it.

I strongly believe that completing the 241 toll road is critical to our region's quality of life. It is the best solution to alleviating traffic congestion in the entire region, a problem that itself has severe environmental impacts. While it is unfortunate that this process has been further delayed, the decision has been made and we must now move forward by bringing all parties back to the table to review our options. We will continue to push ahead on this project because it is so crucial to the future Southern California.


BOARD BULLETIN BOARD
Improved Public Notification of Restaurant Inspection Results
In response to a recent Orange County Grand Jury report, on Tuesday the Health Care Agency (HCA) presented the Board with options for consideration of various public notification systems for food facility inspection results.

Of the public notification options presented, HCA recommended a color-coded placard system (green, yellow, red). I supported the motion to implement this option; however, it did not garner enough votes to pass. Some Board members felt the proposed yellow placard, displaying "Re-inspection Due", might be misinterpreted as a warning to the public that "caution" should be exercised before dining at a particular establishment, even when it may pose no health risk to the public.

As always, protecting public health remains a top priority for me. The facts from the Grand Jury Report affirm that Orange County's methodology for inspecting food service establishments and its record of protecting public health is at minimum comparable to, if not superior to, neighboring counties presently employing a letter grading system. However, Orange County's public notification system has lacked the convenient "At-A-Glance" component found in other counties. In other words, our restaurant inspection system may be superior but our public notification system could be enhanced.

Following more discussion on how to improve our current notification system in a manner that would provide the public with easy to discern "At-A-Glance" information, the Board supported my motion to clarify in large letters the requirement for Re-Inspection to ensure any and all violations have been corrected.

The Board also extended the implementation date to October 1, 2009 to allow restaurants and the public sufficient time to become familiar with the changes. I will be providing updates on the implementation of the new and improved system when they become available. For information on HCA's Food Protection Program, please visit www.OCFoodInfo.com.
County Efforts Lead to Improved Regional Recycling
On Tuesday, the Board of Supervisors received a report that highlighted the County's efforts to increase recycling and waste diversion throughout Orange County. I am pleased to report that self-hauled waste has been reduced by 68% since the County stepped up its efforts in 2006. Additionally, the diversion rate for the County's unincorporated areas experienced an 8.94% increase from previous years. Efforts such as the creation of the Regional Recycling & Waste Diversion Grant program, the implementation of a South County Material Recovery Facility and enhanced public outreach and education seem to be responsible for performance-based indicators demonstrating our success. For more information on recycling, please visit the County's OC Waste & Recycling Department's web site at www.oclandfills.com.
Continuing to Assist Struggling Workforce
As reported in my newsletter last week, the sub-prime housing and financial crisis has had a negative affect on mortgage, financial services, and other supporting industries in Orange County. Many mortgage and financial companies in the County have since downsized or dissolved, with many more struggling to maintain their workforce or remain in business. The trend continues in the mortgage and financial industry and has spread to other industries, such as construction and retail.

The County's Rapid Response program allows individuals to be informed of unemployment benefits, resources available at county One-Stop Centers, as well as other information to help during the difficult transition after losing a job. One-Stop Centers, which are operated by Coast Community College District, work to connect people to jobs and businesses to people.

This week, the Board approved additional funding for Coast Community College District. The additional $150,000 of Rapid Response funding will be divided between existing Agreements, of which $82,000 will serve the south region, including many communities within the Fifth District.
County Commuter Assistance Program
As part of the County's Annual Plan approved by the Air Quality Management District (AQMD), the County is required to maintain a Commuter Assistance Program or "Rideshare Program". Since its implementation in 2005, the number of county rideshare participants has consistently gone up, satisfying the AQMD requirements. In fact, from 2007 to 2008 the number of rideshare participants increased by 15%. Additionally, the rideshare office has seen a 90 percent increase in activity in the second half of this year due to the high gas prices.

On Tuesday, the Board approved a price agreement for a fourth straight year with Transvironmental Solutions Inc. to manage this very successful program.
2009 Investment Policy Statement & Implementation Plan
The 2009 Investment Policy Statement (IPS) and Implementation Plan proposed by County Treasurer-Tax Collector Chriss Street was approved at Tuesday's Board meeting. Among the changes made to the IPS, the Treasurer-Tax Collector is now authorized to invest in municipal debt in states other than California. Additionally, the IPS establishes new ratings for diversification criteria for the Extended Fund, allowing up to 50% of assets to be rated as AA as opposed to previously allowing only those rated AAA. The changes are meant to allow the Treasurer-Tax Collector to compile a more diversified portfolio to reflect conservative investment principles. Click here to view the County's Investment Policy Statement. Click here to view the Treasurer-Tax Collector's Implementation Plan.
Ortega Highway Widening
A contract was awarded Tuesday for the Ortega Highway Widening Project, a project within the county's jurisdictional responsibility. The improvements are intended to enhance public safety, reduce traffic congestion and improve air quality. The plans call for widening Ortega Highway from two to four lanes from the City of San Juan Capistrano boundary to approximately 1,900 feet east of the Antonio/La Pata intersection, and constructing a new westbound segment of the bridge over San Juan Creek. Other improvements include traffic signals, creek revetment, drainage structures, relocation of utilities, and grading. This project is a cooperative effort between the County, Caltrans, and the Rancho Mission Viejo Company.


TRANSPORTATION INFORMATION
Orange County is Ready to Work!
The Orange County Transportation Authority (OCTA) is advocating for ready-to-go transportation projects in Orange County that are consistent with the criteria of the federal government's sweeping economic recovery package. Federal partners have promised to deliver investments in America's public infrastructure to create jobs to help turn around the economy and OCTA is ready to offer critical transportation solutions in Orange County including freeway widening, bridge construction, street repair, bus improvements, rail enhancements and other public works projects throughout our county.

These transportation projects will result in nearly 56,000 jobs in Orange County, but that's only possible if we are part of the economic recovery package. We are ready to work to build a better future for California and America.

Click here to learn how these transportation projects will create nearly 56,000 jobs.

Find out which freeway, street, and transit projects are ready to go by clicking here.
Tips for Traveling Over the Holidays
During the month of December, passenger volumes at John Wayne Airport tend to be higher than normal with the busiest days being the Friday before Christmas through the Sunday following Christmas (December 19 - 28). However, passengers should be aware of an expanded travel window through Sunday, January 4, 2009. To ensure a smooth visit to the Airport, passengers are encouraged to plan ahead and arrive to the Airport early. John Wayne Airport offers the following holiday traveling tips:

Plan Smart: The Airport has begun construction on its Improvement Program. Use caution when traveling the Airport roadways and plan to arrive 2 hours prior to your flight departure time to find parking, go through security screening and get to your gate on time.
Pack Smart: Know what items are accepted or prohibited through security and on the aircraft, this includes food and beverage items. As a reminder, gifts should not be wrapped as they are subject to search, even if placed in checked baggage. Many airlines have also implemented new requirements for checked bags. Check with your airline if you are unsure of their requirements.
Park Smart: The Airport offers a variety of parking options during construction including parking structures A1, A2, and B2, Lot C. Off-site and valet parking is also available. For information about parking options and construction updates visit www.ocair.com.
FIFTH DISTRICT SPOTLIGHT
Tesoro Titans
Congratulations are in order for the Tesoro High School football team who made it through the entire season undefeated and went on to compete in the CIF Pac-5 Championship game. The game against Long Beach Polytechnic High School took place at Angel Stadium on Saturday, December 13th. Although the Titans did not take the title, they made us all very proud. Go Titans!
Aliso Niguel High School Marching Band & Color Guard Champions
Congratulations to the Aliso Viejo High School Marching Band and Color Guard for winning first place in the Western Band Association (WBA) 2008 State Grand Championships. This truly impressive victory is a testament to the dedication and perseverance demonstrated by these students.


NOTES FROM THE FIELD
Wild Tales - "Why do Animals Sleep Through Winter?"
Visit with OC Parks Preserve staff for story telling fun on December 30 from 10:30 AM to 11:15 AM! After the story, learn more about the natural history of the bay through crafts, hands-on activities and outdoor nature walks. Come prepared for an exciting outdoor experience! The cost is $5.00 and children ages 2-7 are invited to participate. Space is limited and pre-registration is required. For more information, please call (949) 923-2275, or e-mail unbic@ocparks.com to register.
Tideland Tots - New Year's Babies
Children ages 2-5 and their parents can join OC Parks Preserve staff for a fun-filled parent and child experience that includes arts and crafts, story telling, hands-on activities or outdoor nature walks on December 31 from 10:30 AM -11:15 AM. Space is limited and pre-registration is required. The cost is $5.00 per participant. For more information, please call (949) 923-2275, or e-mail unbic@ocparks.com to register.


SOUTH COUNTY CALENDAR
Laguna Niguel Holiday Lights Decorating Contest
The City of Laguna Niguel invites you view the winners of this year's Holiday Lights Decorating Contest until January 1, 2009. Awards include Best Homemade Holiday Display, Most Traditional, Most Holiday Cheer and many more. Click here to view a list of addresses of all the winners.

Click here to view a list of addresses of other creative entries.
Rose Parade Float Decorating
The City of Mission Viejo is looking for volunteers interested in helping decorate the City's Rose Parade Float. Decorating will take place from December 26 through December 30 from 8:00 AM -11:00 PM. Pre-requisites apply. For more information, please call (949) 470-3061.
Running Camp
Saddleback Running Club is hosting a free running camp for boys and girls grades 3-8 which will take place December 29, 30, and 31 from 10:00 - 12:00 at the Trabuco Hills High School track in Mission Viejo. Nationally recognized, award-winning Coach Liam Clemons and Coach Dennis Kelly will oversee the camp. For more information, please click here and to register click here.
Rancho Santa Margarita New Year's Eve Celebration
The City of Rancho Santa Margarita invites you to a New Year's Eve Celebration at Central Park on December 31 from 4:30 PM – 9:30 PM. This Celebrating Family & Friends event is a community festival featuring entertainers, visual arts, musical entertainment, and creative art booths. For more information, please contact the Community Services office at 949-635-1800 Ext. 6401.
San Clemente Village Art Fair
Join your friends and family for a stroll down Ave Del Mar on Sunday, January 1, 2009 starting at 9:00 AM where more than 60 vendors will have arts, crafts and other fabulous items for sale. For more information, please call (949)218-5378 or visit www.villagesanclemente.com.


FIFTH DISTRICT WRAP-UP
In addition to my many meetings, briefings, and other supervisorial activities, I also:

Participated on a float in the Laguna Niguel Annual Holiday Parade
Hosted an Open House for constituents at my office in the Hall of Administration
Attended a reception to introduce SparkOC.com, a new online resource for arts and cultural events, and presented a proclamation commemorating December 18, 2008 as SparkOC.com day in Orange County
My staff also:

Presented certificates at the Laguna Niguel Chamber of Commerce Membership Meeting and Awards breakfast for the outstanding volunteers and ambassadors of the year
Participated in the South Orange County Regional Chamber of Commerce Governmental Affairs Committee meeting
Attended a meeting of the Orange County Criminal Justice Coordinating Council
Presented a certificate to E Mobile Solutions in Mission Viejo in honor of its Ribbon Cutting Ceremony
My staff and I look forward to continually providing you updated information in our Fifth District Newsletter and website.

Please feel free to contact my office with your concerns, comments or questions at (714) 834-3550.

It is an honor and a privilege to serve as your Supervisor for Orange County's Fabulous Fifth District, and I wish you and your loved ones a very safe and joyous Holiday Season!