December 4, 2009


Welcome to this edition of the Fifth District Report, an electronic newsletter keeping you updated about the events taking place in Orange County and in the Fifth District. It is my hope that you find this distribution informative and I would encourage you to contact me regarding any thoughts, comments, or concerns you may have.
---
IN THIS ISSUE...
1. FIFTH DISTRICT HOLIDAY OPEN HOUSE

2. BOARD BULLETIN BOARD

3. TRANSPORTATION INFORMATION

4. COUNTY CONNECTIONS

5. SOUTH COUNTY NEWS

6. FIFTH DISTRICT SPOTLIGHT

7. HEALTH HERALD

8. ENVIRONMENTAL MEMOS

9. CRITTER CHRONICLES

10. NOTES FROM THE FIELD

11. SOUTH COUNTY CALENDAR

12. FIFTH DISTRICT WRAP-UP

---
OUR STAFF...
Chip Monaco:
Chief of Staff
Don Hughes:
Policy Advisor
Sergio Prince:
Policy Advisor
Kristen Thornton:
Policy Advisor
Ray Grangoff:
Policy Advisor
Sabrina Ross:
Policy Assistant
Katie Angotti:
Policy Assistant
Ruth Strachan:
Office Manager
Click here to subscribe.

Click here to unsubscribe

---
FIFTH DISTRICT HOLIDAY OPEN HOUSE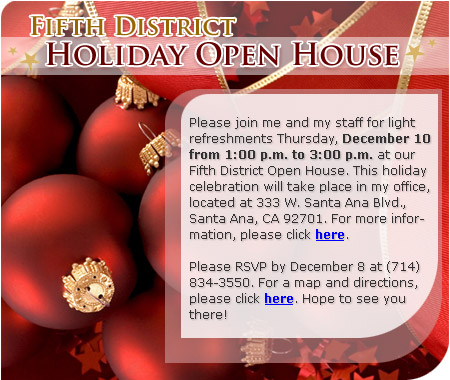 BOARD BULLETIN BOARD
No Board Meeting this week

There was no regularly scheduled meeting of the Board of Supervisors this week.

Our next Board meeting will be held Tuesday, December 8. For Agenda & Meeting Information, please click here.

Live Internet broadcasts of Board of Supervisors meetings are available and archived as video-on-demand. To view live and/or past Board meetings, please click here.


TRANSPORTATION INFORMATION
Text 4 Next

Text 4 Next, the Orange County Transportation Authority's (OCTA) new text messaging program, is now available for transit riders in Orange County. Riders can use their cell phones to get the next three scheduled times the bus will arrive at their stop by simply sending a text message.

To receive instant, personalized information at your fingertips, simply follow these three easy steps:


Send a text message to: OCTAgo (628246)
Type: "Bus", then the bus stop number, then the bus route number
Example: Bus 3563 71

Receive a text message back: The next three scheduled arrival times for that bus stop will be sent directly to your cell phone.
Example:
426p route 071
501p route 071
536p route 071
This program is one more way OCTA is moving forward with online communication to help cut costs and provide more direct information to riders. OCTA is among the first transit agencies to offer this cost-effective service.

For more information and help using the system, please visit www.octa.net/OCTAgo or call (714) 560-5900. Standard text messaging and data rates apply.


COUNTY CONNECTIONS
OC Fire Watch Volunteer Training Scheduled

Volunteers who want to help protect OC Parks from wildfire danger can now sign up for OC Fire Watch training.

The first OC Fire Watch training session, which will be provided by trained OC Fire Authority personnel, will take place in conjunction with Adopt-a-Park volunteer training this Saturday, December 5 from 10:00 a.m. to 4:00 p.m. at the Upper Newport Bay Nature Preserve. Additional training sessions will be scheduled for 2010.

To RSVP for the training, please contact OC Parks Volunteer Services Coordinator Angeline Santiago at (714) 480-2827 or angeline.santiago@HCS.ocgov.com. For more information, please click here.

Property Taxes Due

As a friendly reminder, property taxes are due December 10, 2009. To view your Property Tax Bill and to pay online now, click here.


SOUTH COUNTY NEWS
Laguna Woods Library Closed

Laguna Woods City Hall will be closed for the holidays from Thursday, December 24, 2009 to Monday, January 4, 2010. Because the Laguna Woods Library is located within the City Hall facility, the library will also be closed during that time. For more information, please contact the Orange County Public Library administrative offices at (714) 566-3000.

Rancho Santa Margarita Library Renovations

The Rancho Santa Margarita Library will be closed for routine refurbishment from January 11, 2010 to February 22, 2010. Residents are encouraged to use nearby libraries including the El Toro Library or the Ladera Ranch Library during that time. For more information, please contact the Orange County Public Library administrative offices at (714) 566-3000.


FIFTH DISTRICT SPOTLIGHT
San Clemente High School's Operation Smile Club

During the holidays, I like to bring you heartwarming stories of South County residents working to make a difference.

The Operation Smile Club at San Clemente High School is made up of a group of students dedicated to raising money and awareness for children with facial deformities around the world that are in need of corrective surgery.

The Club was founded by two sisters, Samantha and Francesca, both San Clemente High School students. After learning about the Operation Smile Organization from a television commercial, the pair decided they were going to do their part to help. They recruited friends and classmates and formed the campus club that now holds frequent fundraisers and helps spread the word.

Last month, Samantha had the opportunity to travel to Hanoi, Vietnam to witness firsthand as 300 children underwent surgeries to repair cleft lips, cleft palates and other facial deformities. Samantha said her experience gave her the motivation to continue her work with the charity.

For more information about Samantha's story, click here.


HEALTH HERALD
H1N1 Vaccinations Available

Orange County Health Care Agency is offering free H1N1 vaccinations to eligible residents who are unable to obtain the vaccination through their private health care providers. Individuals between the ages of 6 months and 24 years, as well as those who are 25 to 64 with underlying health conditions, pregnant women, caregivers of children fewer than 6 months of age, and healthcare or emergency medical personnel are eligible to receive the free vaccination.

Vaccinations are available Monday through Friday from 8:00 a.m. to 5:00 p.m. at the Health Care Agency located at 1725 W. Seventeenth St., Santa Ana, CA 92706. Appointments can be made by calling 1(800)564-8448.

The Health Care Agency would like to remind those who have fevers or are exhibiting other flu like symptoms to stay and home and rest until the symptoms have subsided. For more information about the available H1N1 vaccinations, please click here.


ENVIRONMENTAL MEMOS
A Day Without A Bag

Join thousands of shoppers across the state on December 17 by giving up disposable bags in favor of reusable ones for 24 hours during the third annual "A Day Without A Bag" event. The event is being coordinated by the Heal The Bay organization.

Businesses and residents throughout Orange County are encouraged to participate in this annual event. The goal is to spread consumer awareness about how personal choices can positively impact the environment by asking holiday shoppers and retailers, especially during this busy shopping season, to use reusable bags in place of single-use plastic bags. For more information, please visit www.healthebay.org/nobagday.


CRITTER CHRONICLES
Holiday Pet Tips

There's no place like (a safe) home for the holidays. Here are some helpful and useful tips to make sure your pets stay safe and healthy this holiday season.


Holiday lights also mean extra cords and plugs. Take an extra minute or two during decorating to tape down or cover cords. This will help prevent shocks, burns or more serious injuries to your pets.
Secure Christmas trees to keep them from crashing to the ground when a good game of doggie wrestling gets going. Keep tinsel decorations high on the tree.
During holiday parties, provide pets with a quiet place to retreat.
Chocolate contains the heart stimulant theobromine and in even small quantities, it can be toxic to dogs and cats.
Mistletoe, holly berries and poinsettia plants can be poisonous to pets.
As always, be sure to keep current identification on your pets at all times.
Pet Adoption During the Holiday Season

OC Animal Care hosted a press conference this week at the shelter to promote Shelter Pet Adoption during the holidays. In an unprecedented collaborative effort, OC Animal Care was able to partner with the Irvine Animal Care Center, the Mission Viejo Animal Care Center, the Friends of Lake Forest Animals, the South County Animal Shelter Coalition, and over 20 other non-profit animal rescue organizations and advocacy groups to present the many benefits of Shelter/Rescue adoption during the holiday season.

Attendees were given demonstrations on how to utilize pet adoption websites, such as www.petfinder.com, www.petharbor.com, and www.ocpetinfo.com, and there were several new pet owners on hand to share their personal holiday adoption success stories.

For more information about adopting a pet from the OC Animal Shelter, please click here.


NOTES FROM THE FIELD
OC Parks Wins Discovery Science Center Gingerbread Competition

OC Parks newest park – one made of gingerbread – won the Best Creation by a Corporation award in Discovery Science Center's Science of Gingerbread contest December 2.

A group of OC Parks staff toiled more than 100 hours at home, after work and on their lunch breaks building their confection creation from donated materials. The gingerbread park included Park Rangers, children, a Park Ranger station, duck pond and a beach. It even included a gingerbread dog – on a candy leash, of course.

Building materials included brown sugar, pinto beans, gummy and hard candies and plenty of frosting. This was the first year OC Parks participated in the event. The gingerbread creations will be on view at the Discovery Science Center through January 3.

To view photos of the gingerbread park, click here.


SOUTH COUNTY CALENDAR
Holiday in the Harbor!

Come out to the Dana Point Harbor on Friday, December 3 for exciting holiday events! There will be entertainment for people of all ages including characters from Curtoon Time, crafts for kids, shopping, carolers and even a visit from Santa Claus. The activities will go from 4:00 p.m. to 8:00 p.m. For more information and specific times for each event, please click here.

Holly Jolly Hoopla!

This year, it's DOUBLE the HOOPLA! On Saturday, December 5 from 3:00 p.m. to 7:00 p.m., the San Clemente Community Center will be converted into the North Pole with penguins, sledding, and a snow play area for the little ones. Mrs. Claus' bakery will be open for cookie decorating and the Candy Cane Factory will be making fresh candy canes. There will be tons of other fun activities for all to enjoy. Make sure to be there at 6:00 p.m. when the City's Christmas Tree will be lit! For more information, please click here.

San Juan Capistrano Tree Lighting and Christmas at the Mission

Join the City of San Juan Capistrano for the annual Tree Lighting Ceremony at Historic Town Center Park, 31852 El Camino Real Street on Saturday, December 5 beginning at 4:15 p.m. San Juan Hills and Capistrano Valley High School Orchestras as well as Ballet Folklorico will perform on stage. The event will also feature a visit from Santa Claus, a live nativity presentation, music and FUN! The official lighting of the tree will take place at 5:45 p.m. after which a candle light procession will lead guests out of the park and over to the San Juan Capistrano Mission for the annual Christmas at the Mission Festival. The event will last until 9:00 p.m. and costs $2 per person. For more information please click here and here.

Laguna Niguel Christmas Tree Lighting and Holiday Parage

The City of Laguna Niguel is holding its annual Christmas Tree Lighting Ceremony on Sunday, December 6. The anticipated event will begin at 5:30 p.m. and will feature visits from Santa and Mrs. Claus, entertainment by the Dana Hills Dickens Carolers and refreshments! The ceremony will take place at the entrance of Crown Valley Community Park. Make sure to dress warm as there is a chance of snow! For more information, please click here.

Also, don't forget to come out next Saturday, December 12, for the famous Laguna Niguel Holiday Parade. I'll be there! For more information about the Annual Holiday Parade, please click here.


FIFTH DISTRICT WRAP-UP
In addition to my many meetings, briefings, and other supervisorial activities, I also:

Attended the City of Laguna Niguel's 20th Anniversary Reception
Attended the Manufactured Housing Education Trust 26th Annual Holiday Reception
Presented an update on the Renewed Measure M Freeway Program at the OCTA 5th District Leadership Forum
Provided a keynote speech at the CH2M Hill Southern California Women's Network event
Met with San Juan Capistrano City Council Member Laura Freese and Friends of the Library members to discuss the SJC Library
Met with Orange County leaders of the Church of Jesus Christ of Latter-Day Saints to learn about the church's charitable works in Orange County
Met with the CEO and President/Co-Founder of Monarch HealthCare to discuss ongoing healthcare needs in Orange County
Attended the Laguna Niguel Chamber of Commerce Holiday Mixer
Presented a proclamation to Bob Lenard, retiring Community Development Director for the City of Laguna Niguel
My office also:

Attended the opening of the Cold Weather Armory Emergency Shelter in Santa Ana
Attended the San Juan Capistrano Chamber of Commerce Government Affairs Committee meeting
Attended the Laguna Beach Chamber of Commerce Government Affairs Committee meeting
Attended a briefing on Orange County Sheriff Department Field Operations and Investigative Services Command
Attended the Twelfth Annual Membership Meeting and Holiday Breakfast of the South Coast Apartment Association
Presented a Certificate of Recognition at the Ribbon Cutting ceremony for Caliente Coastal Cantina in Dana Point
Toured the Health Care Agency Public Health Laboratory
Participated in a 2010 South County Senior Summit planning meeting with South County Senior Services and the Orange County Office on Aging
Participated in an RSM Sphere of Influence working group meeting
Met with officials from Caltrans and The Toll Roads to discuss their participation in our recently launched OC Fire Watch program. For more information about OC Fire Watch, please click here.
My staff and I look forward to continually providing you updated information in our Fifth District Newsletter and website.

Please feel free to contact my office with your concerns, comments or questions at (714) 834-3550.

It is an honor and a privilege to serve as your Supervisor for Orange County's Fabulous Fifth District.

For an ADA version of our newsletter, click here.

Follow me on Facebook!