December 11, 2009


Welcome to this edition of the Fifth District Report, an electronic newsletter keeping you updated about the events taking place in Orange County and in the Fifth District. It is my hope that you find this distribution informative and I would encourage you to contact me regarding any thoughts, comments, or concerns you may have.
---
IN THIS ISSUE...
1. HOLIDAY GREETINGS

2. BOARD BULLETIN BOARD

3. TRANSPORTATION INFORMATION

4. COUNTY CONNECTIONS

5. SOUTH COUNTY NEWS

6. FIFTH DISTRICT SPOTLIGHT

7. ENVIRONMENTAL MEMOS

8. CRITTER CHRONICLES

9. NOTES FROM THE FIELD

10. SOUTH COUNTY CALENDAR

12. FIFTH DISTRICT WRAP-UP

---
OUR STAFF...
Chip Monaco:
Chief of Staff
Don Hughes:
Policy Advisor
Sergio Prince:
Policy Advisor
Kristen Thornton:
Policy Advisor
Ray Grangoff:
Policy Advisor
Sabrina Ross:
Policy Assistant
Katie Angotti:
Policy Assistant
Ruth Strachan:
Office Manager
Click here to subscribe.

Click here to unsubscribe

---
HOLIDAY GREETINGS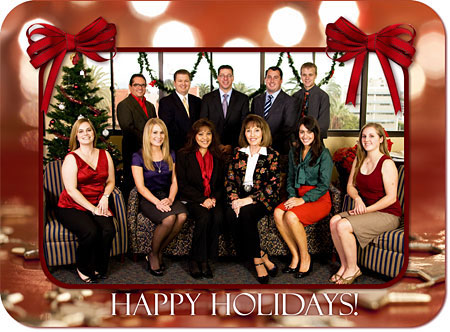 From our Fifth District family to yours, we're wishing you a most joyous holiday season and many blessings in the coming year!

Happy Holidays,
Pat Bates
BOARD BULLETIN BOARD
Public Protection Working Group

In light of the significant financial challenges the County will face in balancing our 2010-11 Budget, I have called for the formation of a working group consisting of the Sheriff, the District Attorney, the CEO, Supervisor Campbell and myself. This group will be charged with the task of developing a fair and comprehensive approach toward solving the significant budget shortfalls that will be faced next year within our public safety departments. By bringing these decision makers together to one table, it is my hope that we will be able to develop a fiscally responsible strategy to preserve fundamental public safety services for the people of Orange County.

Court Transfers

On Tuesday, the Board of Supervisors approved transferring the County's remaining court properties over to the State. In 1997, the State of California began the process of taking over managing trial court operations throughout the state but management of the facilities remained the responsibility of local jurisdictions. To improve operational consistency, the Trial Court Facilities Act of 2002 allowed for management of the local court facilities to be transferred over to the State.

Since 2003, the County of Orange has been working with the Administrative Office of the Courts (AOC) to facilitate this process. As of December 8, 2009, all trial court facilities within Orange County have finally been transferred. The completion of these transfers represents an annual savings to the County in maintenance costs. For a power point presentation on the transfers, please click here.

Antonio Parkway Widening Project

The Board approved a Cooperative Agreement with the Orange County Transportation Authority to define the roles and responsibilities relating to the Antonio Parkway Widening Project. This project includes widening Antonio Parkway from four to six lanes south of Ladera Ranch as well as widening the Antonio Parkway Bridge by one lane in each direction.

The project, which is identified on the Orange County Master Plan of Arterial Highways, will complement ongoing improvements to the adjacent Ortega Highway and planned improvements to La Pata Avenue. Together, these projects will result in significant traffic relief for residents of the surrounding neighborhoods of Ladera Ranch and City of San Juan Capistrano as well as improve overall regional mobility for South County motorists.

State Library Grant

The Board accepted a $58,599 grant from the California State Library to provide adult literary services. The County will apply this grant toward our award winning adult literacy program, Read OC, which serves residents at all Orange County Public Libraries. The program currently utilizes 300 volunteer tutors who provide individualized tutoring in basic literacy skills and workplace literacy programs for local businesses.

For more information about the Read OC Program, please click here.


TRANSPORTATION INFORMATION
New Flights from Orange County to Hawaii

Continental Airlines will begin providing service between Orange County and Maui on March 7, 2010. The new Orange County-Maui flight will operate four times weekly with plans to increase service to daily flights during the summer months.

Also beginning March 7, 2010, Continental Airlines will increase its service between John Wayne Airport and the Honolulu International Airport from four flights a week to daily flights. For information, please visit http://www.ocair.com/.

Laguna Woods Go Local Shuttle

The Orange County Transportation Authority (OCTA) Board of Directors recently approved a cooperative agreement with the City of Laguna Woods to initiate service planning for the City's shuttle proposal that was submitted to OCTA as part of its Go Local grant program. OCTA's four-step Go Local program is a process to plan and implement city-initiated transit extensions to OCTA's Metrolink commuter rail line.

In this important second step, OCTA staff will work with the City to create a detailed plan to determine the potential route location, operating costs and anticipated ridership. The proposed Laguna Woods shuttle service would serve as a vital link between the Irvine Metrolink Station, The Arbor, Laguna Hills Transportation Center and Laguna Woods. OCTA staff expects Step 2 of the program to be completed by summer 2010.


COUNTY CONNECTIONS
Orange County Grand Jury Seeks Applicants

Every year, the Orange County Superior Court requests applications from residents throughout Orange County to serve on the Grand Jury. Representing your community on the Grand Jury is an important and rewarding experience. It offers an opportunity to get an intimate look at how government operates and to make informed and valuable recommendations regarding possible improvements. If you or someone you know is interested in applying, please call (714) 834-6747 for an application. The deadline to submit applications is Friday, January 8, 2010 at 5:00 p.m. For more information about the Orange County Grand Jury, visit www.ocgrandjury.org.


SOUTH COUNTY NEWS
Laguna Niguel's 20th Anniversary

The City of Laguna Niguel kicked off a year of celebration this month as it enters its 20th year of cityhood. As the founding Mayor of Laguna Niguel, I was invited last week to partake in a ceremonial cutting of the birthday cake during a City Council meeting. This week, I also attended the 20th Anniversary Celebratory Gala where I presented a County Proclamation recognizing this milestone. For photos of the events, please click here.

Record Setting Turkey Trot

The Dana Point Turkey Trot is well-known throughout the state for its beautiful backdrop, charitable nature, and high turnouts each year. This year, the Thanksgiving morning event out did itself, setting a record with over 12,000 runners for the 5k and 10k runs.

The Dana Point Chamber of Commerce started the run 32 years ago as a non-profit event to support its yearly activities and to provide a boost to businesses in the area in what is considered a slow period. Seven years ago the Chamber expanded the impact of the event by giving a portion of the proceeds to the Second Harvest Food Bank. This year's record turnout represented a 16% increase in the number of runners over last year. Organizers say that with this year's proceeds they will be able to provide over 160,000 meals for Orange County families in need. For more information on the Turkey Trot, please click here. For the Dana Point Chamber of Commerce website, please click here.

San Juan Capistrano Food Drive

The City of San Juan Capistrano has teamed up with the Second Harvest Food Bank of Orange County to help those in need this holiday season. Residents are encouraged to bring non-perishable food items and personal care items to San Juan Capistrano City Hall from now until December 18. Items such as canned and dry foods, toothpaste, toothbrushes, diapers and paper products are especially needed. City Hall is located at 32400 Paseo Adelanto. For more information, please visit San Juan Capistrano's website by clicking here. For information about the Second Harvest Food Bank, please click here.


FIFTH DISTRICT SPOTLIGHT
Aliso Viejo Deputy of the Year

Congratulations to Orange County Sheriff's Department Deputy Jack Songer for being named Aliso Viejo's Deputy of the Year. A 20-year Sheriff's veteran, Songer has served Aliso Viejo since September 2008. He works as a field training officer for newly assigned patrol deputies and is a member of the Sheriff's Department Critical Incident Response Team.

In 2001, he received the department's Medal of Lifesaving for his role in saving a woman from a burning car in Rancho Santa Margarita. Songer was honored at a City Council meeting on December 2 for his dedication to the department and his outstanding service to the City of Aliso Viejo.


ENVIRONMENTAL MEMOS
Water Advisories

Ocean and bay water advisories have been issued to alert the public of possible elevated bacteria levels associated with urban and storm runoff at storm drains, creeks and rivers as a result of this week's rain. Swimmers should be advised that levels of bacteria can rise significantly in ocean and bay waters adjacent to storm drains, creeks and rivers after rainstorms. The elevated levels of bacteria may continue for a period of about three days after rainfall depending upon the intensity of the rain and the volume of the runoff. During this time, swimmers should avoid coastal waters that may be impacted and, as always, all beach users should avoid contact with any runoff on the beach during wet weather conditions.


CRITTER CHRONICLES
Pet Pictures with Santa

Bring your pet to OC Animal Care on Saturday, December 19 from 10:00 a.m. to 1:00 p.m. to get his or her picture taken with Santa Claus! You will receive a holiday frame with your pet's picture in it as well as a digital copy that can be sent to your email address. OC Animal care is located at 561 The City Drive, Orange 92686. All proceeds from the event will go to the animals of OC Animal Care. For more information, please click here.

Pet Lost & Found

If you've recently lost your pet, there's renewed hope in finding it! OC Animal Care has launched a special website designed to help you find your pet in the unfortunate instance it ever becomes lost. The website provides a listing for animals that been impounded by Orange County Animal Care and are currently located at the OC Animal Care Center. For easier searching, the site is broken down into three groups: dogs, cats and other pets. To visit the website and begin searching, click here.


NOTES FROM THE FIELD
2010 Annual Passes Now Available

Do you know someone who simply loves the outdoors? Well, just in time for the holidays Orange County Parks 2010 annual day passes and car decals are now available! These passes allow access to all of Orange County wilderness and historical parks as well as county beaches. Great for individuals or the whole family, these passes provide opportunities for excellent hiking, biking, surfing and relaxation throughout beautiful Orange County.

2010 pass prices are as follows:


Annual Park Entry Passes and Decals: $55 ($35 for seniors)
Annual County Beach Parking Decals: $55 ($35 for seniors)
Combination Pass (both parks and beaches): $80 ($50 for seniors)
To purchase your 2010 passes and decals please visit your nearest OC Park location. For more information or for OC Park locations, please click here.


SOUTH COUNTY CALENDAR
Dana Point Harbor's 35th Annual Boat Parade of Lights

"Santa's Surfin' Safari" is this year's theme for the 35th Annual Boat Parade of Lights, which kicks off Friday and Saturday, December 11 and 12, beginning at 7:30 p.m. View the parade for free from anywhere in the Harbor; or enjoy it from a warm, cozy spot by making a reservation at one of the Harbor's many restaurants. For more information about this special Holiday in the Harbor event, please click here.

Laguna Niguel Holiday Parade

Generations of families will gather this Saturday, December 12 beginning at 10:00 a.m. along Crown Valley Parkway in Laguna Niguel to watch the largest and most creative display of community in the City's history. With this year being the City's 20th anniversary, the parade will be bigger than ever featuring beautiful equestrian units, patriotic and inspirational military tributes, spirit filled youth groups, classic auto clubs and talented marching bands. Also included in the mix of fun and eclectic entries are this year's Celebrity Grand Marshals. This is an event not to be missed! I know I'll be there! For more information, please click here.

Candlelight Tour of Heritage Hill Historical Park

Heritage Hill will host the 24th annual Candlelight Tour on Saturday, Dec. 12 and Sunday, Dec. 13, from 5:30 p.m. to 8:30 p.m. More than 1,000 luminarias will light the park's pathways as strolling carolers and musicians fill the air with holiday music. Children can visit with Santa in the arbor and sit at a turn-of-the-century school desk while storytellers spin holiday tales in the one-room El Toro Grammar School.

Visitors can also enjoy beautiful harp music as they tour the 1930s-vintage Bennett Ranch house or watch a Spanish guitarist and Flamenco dance in the 1863 Serrano Adobe. Hot chocolate, apple cider and homemade cookies will be available for purchase. Admission is $4 for adults and $3 for children (3 to 12 years). Tickets are sold at the gate on the day of the events.

Heritage Hill Historical Park is located at 25151 Serrano Rd. in Lake Forest. Please call the park office at (949) 923-2230 for more information.

19th Annual Winter Fantasy in Laguna Beach

The magic continues at the 19th Annual Winter Fantasy on Saturday and Sunday, December 12 and 13. The world-famous Sawdust Art Festival in Laguna Beach has once again been transformed into an enchanting winter wonderland, including art projects for children and adults, live holiday entertainment, art displays, and visits with Santa! For more information, please click here.


FIFTH DISTRICT WRAP-UP
In addition to my many meetings, briefings, and other supervisorial activities, I also:

Participated as a panelist at the 2010 California Public Policy Conference discussing Orange County's accomplishments in the area of pension reform.
Hosted an Open House at my office for South County residents to come mix and mingle with me and my staff.
Met with San Juan Capistrano Mayor Mark Nielsen regarding the City's Open Space initiative.
Was honored as Woman of the Year by WTS, an organization dedicated to advancing the careers of women in transportation. To see the Press Release, please click here.
Met with the District Attorney Tony Rackauckas to discuss the Department's budget.
Presented a County Proclamation at the City of Laguna Niguel's 20th Anniversary Gala Dinner.
Adjourned the Board of Supervisors meeting in memory of Nancy Bergeson, daughter of former Fifth District Supervisor Marian Bergeson.
My office also:

Attended the Orange County Public Affairs Association Holiday Reception.
Attended the first OC Fire Watch Training session.
Attended the Dana Point Chamber of Commerce Legislative Committee Meeting.
Attended OC Health Care Agency's and Goodwill of Orange County's Employment WORKS Open House.
My staff and I look forward to continually providing you updated information in our Fifth District Newsletter and website.

Please feel free to contact my office with your concerns, comments or questions at (714) 834-3550.

It is an honor and a privilege to serve as your Supervisor for Orange County's Fabulous Fifth District.

For an ADA version of our newsletter, click here.

Follow me on Facebook!