December 3, 2010


Welcome to this edition of the Fifth District Report, an electronic newsletter keeping you updated about the events taking place in Orange County and in the Fifth District. It is my hope that you find this distribution informative and I would encourage you to contact me regarding any thoughts, comments, or concerns you may have.
---
IN THIS ISSUE...
1. HOLIDAY OPEN HOUSE

2. BOARD BULLETIN BOARD

3. HEADLINE NEWS

4. TRANSPORTATION INFORMATION

5. ASSESSOR'S ASSESSMENT

6. COUNTY CONNECTIONS

7. SOUTH COUNTY NEWS

8. 'TIS THE SEASON

9. SAFETY SENTRY

10. CRITTER CHRONICLES

11. LIBRARY LESSONS & SESSIONS

12. NOTES FROM THE FIELD

13. FIFTH DISTRICT SPOTLIGHT

14. SOUTH COUNTY CALENDAR

15. FIFTH DISTRICT WRAP-UP

---
OUR STAFF...
Don Hughes:
Chief of Staff
Kristen Thornton:
Deputy Chief of Staff
Ray Grangoff:
Deputy Chief of Staff
Sergio Prince:
Policy Advisor
Sabrina Ross:
Policy Advisor
Brian Probolsky:
Policy Advisor
Ruth Strachan:
Office Manager
Click here to subscribe.

Click here to unsubscribe

---
HOLIDAY OPEN HOUSE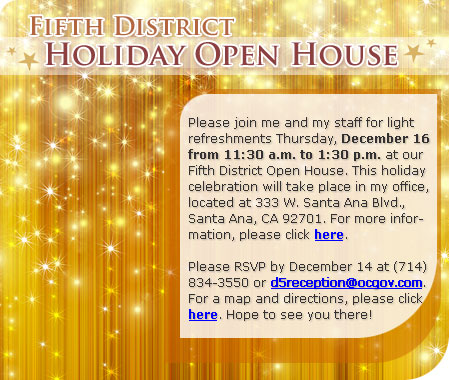 BOARD BULLETIN BOARD
No Board Meeting This Week

There was no regularly scheduled meeting of the Board of Supervisors this week.

Our next Board meeting will be held Tuesday, December 7. To view the Board meeting schedule for 2010, please click here. For Agenda & Meeting Information, please click here.

Live Internet broadcasts of Board of Supervisors meetings are available and archived as video-on-demand. To view live and/or past Board meetings, please click here.


HEADLINE NEWS
County Celebrates Gift of 20,000 Acres of Open Space

On November 30, I was honored to join my fellow Board members, the OC Parks Department and Mr. Donald Bren of The Irvine Company in a historic celebration and ceremonial deed transfer of the 20,000 acre gift of protected open space donated by the Irvine Company to the County for preservation and guided recreation.

As the largest single donation of land to the County in its history, the Irvine Ranch Open Space gift increases OC Parks' parkland by 50 percent, to 60,000 acres. Conservation efforts on the land will continue and Orange County residents and visitors can access it through a variety of programs and activities.

The gifted land encompasses a large portion of the Historic Irvine Ranch, which is designated a Natural Landmark by both the State of California and the U.S. Department of Interior. This honor recognizes the geological and ecological significance and the exceptional value of these lands to California and the entire nation. In 1897, James Irvine donated 60 acres for California's first regional park, now known as Irvine Regional Park.

Through this recent donation, the people of the County of Orange and beyond will have increased opportunities to visit and enjoy rugged canyons and scenic vistas in places like Limestone Canyon's formation called "The Sinks," considered the "Grand Canyon of Orange County."

Much of the Irvine Ranch Open Space is adjacent to existing County Regional and Wilderness Parks. Gypsum and Fremont canyons are next to Irvine Regional Park; Limestone Canyon next to Limestone Canyon and Whiting Ranch Wilderness Park; and the Laguna Laurel portion will be operated as a part of Laguna Coast Wilderness Park.

The gift includes 1,988 acres that will become Black Star Canyon Wilderness Park, Orange County's newest wilderness park.

The protected wildlands of the Irvine Ranch Open Space are available for passive recreation through various scheduled programs. These activities include hiking, mountain biking, equestrian rides, naturalist-guided tours and managed wilderness access days.

The Irvine Ranch Conservancy will continue to operate recreational programs and scientific research under a contract with OC Parks. Additionally, OC Parks Rangers will patrol the land.


TRANSPORTATION INFORMATION
OCTA Environmental Mitigation Program Reaches Milestone

The Orange County Transportation Authority Board of Directors has authorized staff to begin negotiating with willing sellers for the purchase of up to $42 million worth of protected open space lands.

When Orange County voters passed Measure M2, the local transportation sales tax, they did so with the stipulation that at least five percent of the M2 freeway budget be allocated for environmental mitigation of the impacts from the freeway projects. As such, OCTA has worked with various state and federal resource agencies in developing the M2 Mitigation Program which consists of funding restoration and acquisition of open space properties, among other program elements.

The M2 Environmental Oversight Committee, which I chair, has been meeting for the past two years developing and carrying out the process by which properties are evaluated and ranked for biological mitigation credit.

Originally, the first phase of funding to purchase properties was to be broken into two tranches, with $22 million available for the first tranche and $20 million available for the second tranche. In an effort to expedite this process, the Board has authorized combining both tranches so that negotiations can begin to acquire up to $42 million worth of properties as soon as possible. Though this is a 30 year program, the goal is to have properties purchased as part of this first phase before the end of this fiscal year. This funding includes endowments to be set aside for the management of acquired properties by a third party into perpetuity.

As part of the Board action, the Board also directed staff to continue accepting applications until January 14 from any property owners throughout the County that wish to submit their property for consideration of acquisition by OCTA for the purpose of open space land conservation.

Given that the potential value of the current list of candidate acquisition properties exceeds the allocation for both tranches of funds, OCTA staff will proceed to evaluate the newly submitted properties to determine if they possess the biological resources needed to off-set impacts from the M2 freeway projects, and fit within the working budget.

With Measure M2 set to begin collecting revenue in April 2011, the fact that the Environmental Mitigation Program is already so far underway will significantly help streamline the permitting process for M2 freeway improvements when they are ready to come online, bringing traffic relief to Orange County residents sooner than would otherwise occur.

This milestone for OCTA and the environmental community represents responsible and proactive stewardship of Orange County tax dollars and I am extremely pleased to continue to participate in this process.

Traffic Relief on the 91 Freeway – New Lane Open!

Transportation officials from various agencies throughout the region gathered on Thursday to announce the completion of a $65 million project that will relieve congestion and ease a chronic traffic bottleneck along State Route 91, a major transportation artery connecting Orange County with the Inland Empire.

The project was the first American Recovery and Reinvestment Act transportation project in Orange County and was funded primarily ($47.9 million) by the Recovery Act. The remaining funding was provided by the Orange County Transportation Authority and the Riverside County Transportation Commission.

The widening project constructed a new lane on six miles of eastbound SR-91 between State Route 241 in Orange County and State Route 71 in Riverside County. The daily traffic volume on this section can reach nearly 300,000 vehicles.

This project is a positive example of transportation agencies in Orange and Riverside counties successfully coming together to bring traffic relief to our region. Improving the 91 Freeway is a top priority for the Orange County Transportation Authority which has several other upcoming plans to continue improving this freeway.

Transit System Study

The economic downturn of the last few years forced the Orange County Transportation Authority (OCTA) to reduce bus service. Faced with the current economic conditions, OCTA is taking action now to maximize bus service with a new in-depth study called the Transit System Study.

The goal of the study is to find new, affordable ways to provide cost-effective bus services to meet the County's diverse transportation needs by making the best use of OCTA's limited financial resources. The study will focus on efficiently integrating and sustaining services in the short, intermediate, and long term periods.

For more information, please click here.


ASSESSOR'S ASSESSMENT
Don't Be Late for a Very Important Date!

The Orange County Assessor wishes to remind homeowners that December 10 is a very important date, as it is the last day to:

Pay First Installment of Secured Property Tax Bill Before Penalties are Added
Last Day to File a Claim for Partial (80%) Homeowners' and Disabled Veterans' Exemptions
Last Day to Terminate Homeowners' Exemption Without Penalty
For more information, please click here.


COUNTY CONNECTIONS
CSAC Presents Challenge and Merit Awards to Orange County

As part of its annual Challenge Awards competition, the California State Association of Counties (CSAC) presented seven awards to the County of Orange last week for creative and cost-effective programs. This year, the County claimed the competition's highest distinction with the 2010 Innovation Award, presented to the District Attorney's Office for the Trial Attorney Partnership program.

The County's winning programs were selected out of hundreds of entries throughout the state based on their innovative and resourceful solution to a problem, as well as the ability to be replicated and the use of cost-effective practices. For more information, please click here.


SOUTH COUNTY NEWS
Mission Viejo Ranked Safest City in California, Fourth in Nation

The City of Mission Viejo was recently ranked the safest city in the state and fourth safest in the nation. The City was ranked among 132 other cities with populations ranging from 75,000 to 99,999. Mission Viejo's ranking was listed in the annual "City Crime Rankings 2010-2011: Crime in Metropolitan America," using FBI statistics.

For more information, please click here and here.


'TIS THE SEASON
County Homeless Emergency Shelters to Open

The County of Orange Armory Emergency Shelter Program is scheduled to open at alternate sites December 6, while California National Guard Armory locations in Fullerton and Santa Ana will open December 13.

The seasonal emergency shelter program provides up to 400 homeless beds for homeless families and individuals, including a nutritious meal, warm shower, safe place to sleep, warm clothes, a wide variety of support services, and a friendly and safe atmosphere.

The Armory Emergency Shelter Program is possible thanks to the efforts of hundreds of volunteers from County agencies, faith-based organizations and other community groups, and serves as a vital ink in our efforts to provide proper shelter and essential services to homeless families and individuals.

For more information, please click here.

Helping Others During The Holidays

Adding one more gift to your shopping list can make holiday dreams come true for a needy child or teen, an impoverished senior citizen or a low-income family. For information on volunteer and donor opportunities available this holiday season, please click here.

2-1-1 / OneOC Holiday Directory

2-1-1 Orange County and OneOC are excited to collaborate once again to produce the 2010 Holiday Directory. The 2010 Holiday Directory is designed to provide volunteers with an easy-to-use guide of Orange County volunteer opportunities during this holiday season.


SAFETY SENTRY
OCFA Negotiates New Union Contracts

During Thursday night's Orange County Fire Authority (OCFA) Board meeting, the Board of Directors approved a new contract with the Orange County Professional Firefighters Association and the Orange County Fire Authority Chief Officers' Association.

I am pleased to report that after 9 months of intensive discussions, the two new agreements include precedent-setting pension reform among other important components. Highlights of these achievements include an affordability formula that directly ties future raises to the health of the economy and requires that all future raises will be negotiated only after all of the agency's fiscal needs are met.

Additionally, both the Firefighters Association and Chief Officers' Association will begin contributing toward their retirement costs. Effective this year, Firefighters and Chiefs will start by contributing 2.5% of their pay, increasing 2.5% yearly, compounding to 9% by 2014.

Facing a potential $14 million deficit in the next fiscal year, these contracts truly represent a step toward balancing public employee benefits to ensure sustainability into the future and reducing the burden on taxpayers.

Enjoy a Safe Holiday Season

The Orange County Fire Authority (OCFA) wants you and your loved ones to enjoy a safe and happy holiday season. To that end, OCFA has provided some safety tips to ensure your holiday celebrations are fire safe and injury free.

For Holiday Decorating Safety Tips, please click here. For Holiday Lighting and Christmas Tree Safety Tips, please click here. For more information, please click here.


CRITTER CHRONICLES
Holiday Fun at OC Animal Care!

OC Animal Care is hosting several festive holiday pet events in December, including Meet Your Mature Match (Dec. 4), Photo With Santa (Dec. 4, 11, 18 & 19) and a Pawliday Adoption Event (Dec. 18). If you're looking for a lovable pet to include in your family and provide a warm home for in time for the holidays, these events are for you!

For more information, please click here.


LIBRARY LESSONS & SESSIONS
Teen Contest: Voices & Visions

Sponsored by OC Public Libraries, Voices & Visions is a monthly contest for Orange County teens to showcase their creative talents in prose, poetry, art and film. To that end, a new theme will be announced the beginning of each month, with entries due by the last day of the month. The theme for the month of December is "What Moves Me?"

Winners will be notified by the end of the month following their entry and displayed later on the OC Public Libraries website. For more information, please click here and here.

Winter Programs at OC Public Libraries

OC Public Libraries (OCPL) provides a wonderful array of FREE fun-filled events and programs for the whole family – from toddlers to teens to parents and seniors. To see a listing of OCPL events taking place in December at a branch library near you, please click here. For more information about OC Public Libraries, please click here.


NOTES FROM THE FIELD
Popular San Juan Creek Bike Trail Reopens

A popular stretch of the San Juan Creek Trail reopened last week, after being closed for almost a year while the County completed a much-needed flood control project to protect the levees in the City of San Juan Capistrano. The trail offers bike riders, walkers and others a direct route from San Juan Capistrano to the coast and Doheny State Beach in Dana Point.

For more information, please click here.

Enjoy Winter Events at OC Parks

To see a list of events and programs being offered during the month of December at OC Parks throughout the 5th District and Orange County, please click here.

Doheny State Beach Update

The Doheny State Beach Interpretive Association (DSBIA) has released its monthly DOHENY UPDATE to better inform the public about current events in the State Park. To view the DSBIA December newsletter, please click here.


FIFTH DISTRICT SPOTLIGHT
CVHS Marching Band Repeats State Title

The Black and Gold Brigade from Capistrano Valley High School (CVHS) won back-to-back state titles on November 20 at the Southern California Judging Association's (SCJA) California State Band Championships. In addition to its first-place award, CVHS also took home four sweepstakes trophies.

The Brigade has now won four state championships since 2002, bolstering its claim as one of Southern California's premier high school marching bands. This year, in addition to its state win, the CVHS marching band also took first place division trophies at the Marching Band Open Series Competition and the Surf City Open earlier this season.

For more information, please click here and here. To see a photo of the student band leaders and their instrumental music director, please click here.

Laguna Beach Waterpolo Team Wins CIF Championship

A miraculous goal helped the Laguna Beach High School Waterpolo team win the CIF Southern Section Division 3 Championship on November 20 at the William Woollett Aquatics Center in Irvine before a large and enthusiastic crowd of Laguna Beach fans. It was the first CIF Boys Waterpolo Championship in school history.

For more information, please click here.


SOUTH COUNTY CALENDAR
Dana Point: Annual Holiday Events


Holiday in the Harbor
Celebrate the season at the annual Holiday in the Harbor on Friday, December 3, as three areas of Dana Point Harbor – Dana Wharf, Mariner's Village and Mariner's Alley – host festive holiday activities for the whole family. Then bring the kids back December 4 & 5 for Boat Rides with Santa. For more information, please click here and here.

Boat Parade of Lights
"Jingle Bell Rock" is this year's theme for the 36th Annual Boat Parade of Lights in beautiful Dana Point Harbor, which kicks off Friday and Saturday, December 10 and 11, beginning at 7:30 p.m. View the parade for free from anywhere in the Harbor; or enjoy it from a warm, cozy spot by making a reservation at one of the Harbor's many restaurants. For more information about this special annual Holiday in the Harbor event, please click here.

Winter Festival
The City of Dana Point invites you to its Winter Festival on Saturday, December 11 from 12:00 noon to 7:00 PM at La Plaza Park. Enjoy a variety of great family activities, including a children's petting zoo, real snow play area, visits with Santa & Mrs. Claus, tree lighting ceremony, Yuletide carolers, a classic holiday movie, and much more! For more information, please click here.


Laguna Beach: Holiday Treasures
Hospitality Night
A longstanding holiday fixture in Laguna, Hospitality Night is hosted by the Laguna Beach Chamber of Commerce and takes place Friday, December 3, starting at 5:00 PM with a bell choir and community sing-a-long at City Hall. The pepper tree at City Hall will be lighted by Santa at 6:00 PM and the evening will continue with a variety of musical performances. Forest Avenue will be blocked off to traffic for the event, as the Laguna Beach trolleys will be running up and down Coast Highway to bring guests to the holiday celebration. To see Santa's video invitation to Laguna's Hospitality Night, please click here.

First Sundays
First Sundays is a FREE afternoon of chamber music and art in collaboration with Laguna College of Art & Design. As such, the public is invited Sunday, December 5 to enjoy Alexander Sack, a fine arts guitarist and two-time winner of the Randy Rhoads Memorial Award, and twice recipient of the Andres Segovia Award for classical guitar. This FREE First Sundays concert will be held in Studio 8 at the Art College, 2222 Laguna Canyon Rd., from 3:00 PM to 4:30 PM, with the Art Gallery opening at 2:00 PM. There is also ample FREE parking. For more information, please click here.

2010 Winter Fantasy
With this year's theme: A Palette of Holiday Treasures, the 2010 Winter Fantasy held at the world famous Sawdust Art Festival grounds in Laguna Beach will feature amazing art and crafts from over 170 exhibitors, as well as live entertainment, hands-on art projects and picture-perfect moments on weekends through December 12. For more information, please click here.


Laguna Niguel: Holiday Happenings
North Pole Adventure
This fun-filled adventure for the whole family will feature live reindeer and a visit with Santa. Activities include face painting, decorating yummy treats, live entertainment, games and crafts on Saturday, December 4 from 10:00 AM to 1:00 PM at Sea Country Center, 24602 Aliso Creek Road. For more information, please click here.

Christmas Tree Lighting
Mingle with friends, munch on cookies, sip hot chocolate and enjoy songs of the season at the City of Laguna Niguel's Christmas Tree Lighting on Sunday, December 5 at 4:30 PM in the Crown Valley Park Softball Field. For more information, please click here.

2010 Holiday Parade
Families will gather along Crown Valley Parkway on a peaceful and brilliant Saturday morning to watch the Laguna Niguel Holiday Parade, the largest and most creative display of community in the City's history! The theme for the 2010 Parade will be 'Celebrate America!' The Parade on December 11 at 10:00 AM will be filled with beautiful equestrian units, patriotic and inspirational military tributes, spirit filled youth groups, classic auto clubs, talented marching bands and some of the biggest attractions in the nation! Get there early as large crowds are expected! For more information, please click here.


Lake Forest: Heritage Hill Historical Holiday
29th Annual Victorian Christmas
Costumed docents will be on hand Saturday, December 4 from 11:00 AM to 3:00 PM to lead families through the old buildings of Orange County's past, decorated to celebrate the holiday season during the 29th Annual Victorian Christmas at Heritage Hill Historical Park in Lake Forest. This family oriented event provides the opportunity for kids and the young at heart to churn butter and ice cream, make historic crafts, play games, visit with Santa and Mrs. Claus, and capture the magic of a Christmas past. For more information, please click here and here.

Candlelight Tours
Heritage Hill also comes alive Saturday and Sunday, December 11 & 12 from 5:30 PM to 8:30 PM, during two enchanting evenings with luminaria lit paths and historic buildings aglow with holiday lighting. Stroll through the restored 19th century buildings adorned in period decor and listen to Victorian carolers, live entertainment and storytellers in each historic building. Refreshments and Santa will also be around! For more information, please click here and here.
Aliso Viejo: Winter Holiday Events
Winter Holiday Event
Santa & Mrs. Claus will arrive in Grand Park on Sunday, December 5 during Aliso Viejo's Winter Holiday Event. The fun kicks off at 4:30 PM and includes live entertainment, complimentary cookies and hot chocolate, and tons of holiday cheer. Visitors will also be treated to the official lighting of the holiday tree, and kids can visit with Santa after the formal program. For more information, please click here.

Soka University Student Music Recital
Come and enjoy a FREE evening of performances by students in the Music Ensemble courses and some music clubs on Friday, December 10 from 7:00 PM to 9:30 PM in Founders Hall. For more information, please click here.


Laguna Hills: Breakfast with Santa

Santa will be arriving at the Laguna Hills Community Center on Saturday, December 4 from 9:00 AM to 10:30 AM for a morning full of holiday fun! Enjoy a special holiday celebration complete with a scrumptious pancake breakfast, photos with Santa, holiday crafts and special entertainment for the whole family!

For more information, please call (949) 707-2680 or click here.

San Juan Capistrano: Annual Tree Lighting Ceremony

San Juan Capistrano will celebrate the kick-off to the holiday season December 4 with its traditional Tree Lighting Ceremony, a spectacular event that attracts thousands to the downtown area for lively entertainment and holiday cheer.

The celebration starts at 4:15 PM in Historic Town Center Park with performances by orchestra students from San Juan Hills and Capistrano Valley high schools. The Park is at 31852 El Camino Real. For more information, please call (949) 493-5911 or click here.

Mission Viejo: Holiday Webpage

With the holiday season on tap, the City of Mission Viejo has launched its annual Holiday Webpage, offering the community detailed news and information about a host of fun-filled holiday events and programs in town. The webpage includes information about such beloved community events as Letters to Santa; Santa's Workshop; and Visit with Santa.

For more information, please click here and here.


FIFTH DISTRICT WRAP-UP
In addition to my many meetings, briefings, and other supervisorial activities, I also:

Attended a dedication ceremony to celebrate the transfer of 20,000 acres of open space land from the Irvine Ranch Conservancy to the County of Orange.
Attended a Special Meeting of the Orange County Fire Authority (OCFA) Board of Directors.
Chaired the December meeting of the Orange County Coastal Coalition. More on this next week.
Chaired the Orange County Transportation Authority (OCTA) Environmental Oversight Committee.
My office also:

Provided certificates of recognition for the 10-year anniversary of Bubbles of Laguna and the grand opening of Harbor Jeweler in Dana Point.
My staff and I look forward to continually providing you updated information in our Fifth District Newsletter and website.

Please feel free to contact my office with your concerns, comments or questions at (714) 834-3550. It is an honor and a privilege to serve as your Supervisor for Orange County's Fabulous Fifth District.

For an ADA version of our newsletter, click here.

Follow me on Facebook!