December 21, 2012

Welcome to this edition of the Fifth District Report, an electronic newsletter keeping you updated about the events taking place in Orange County and in the Fifth District. It is my hope that you find this distribution informative and I would encourage you to contact me regarding any thoughts, comments, or concerns you may have.
---
IN THIS ISSUE...
1. HOLIDAY THOUGHTS

2. BOARD BULLETIN BOARD

3. COUNTY CONNECTIONS

4. TRANSPORTATION INFORMATION

5. SAFETY SENTRY

6. AIRPORT ARRIVALS & DEPARTURES

7. RECORDER RECORD

8. NOTES FROM THE FIELD

9. CRITTER CHRONICLES

10. HOLIDAY HELPER

11. FIFTH DISTRICT SPOTLIGHT

12. HOLIDAY HAPPENINGS

13. FIFTH DISTRICT WRAP-UP

---
OUR STAFF...
Don Hughes:
Chief of Staff
Kristen Thornton:
Deputy Chief of Staff
Ray Grangoff:
Deputy Chief of Staff
Sergio Prince:
Policy Advisor
Sabrina Ross:
Policy Advisor
Ruth Strachan:
Office Manager
Click here to subscribe.

Click here to unsubscribe

---
HOLIDAY THOUGHTS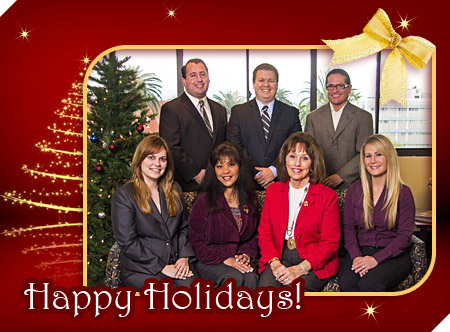 It's that time again and the holiday rush is upon us. This is a season that always seems to demand more of our time than exists in our day. This year however, in the wake of the Newtown, CT, tragedy I sense we all have halted our frenetic pace and our taking stock of how precious is the time we spend with family and friends which could be taken from us without warning. As our nation collectively mourns the loss of those young innocent lives a greater sense of kinship with our fellow man has emerged. It can lift us up and direct our energies and make it possible to find solutions that will ensure such an unspeakable degradation of human life may never again happen.

So going forward with renewed purpose, pray for the victims and survivors, let us focus on the possible so the age old Christmas theme "Joy to the World" will replace the sadness that has left its mark on this holiday season.

From our fifth district family to yours, we wish you all the best as we enter the New Year.


BOARD BULLETIN BOARD

Pension Reform

My Board colleagues and I ended the final meeting of the year by taking two actions, which will result in the reduction of employee salaries and benefits, as the Board ratified a new contract with the Orange County Managers Association (OCMA).

The new agreement will result in managers paying their full pension costs by June 2013. Additionally, the agreement eliminates Pay for Performance (P4P) awards for 2012. The Board will negotiate with OCMA on the future of P4P in 2013.

You may recall that a recent audit of the County Human Resources Department found significant abuses in the P4P program. This agreement is an important step toward reforming that system. Once fully implemented, the new OCMA contract will result in nearly $5 million in annual savings.

As important as the cost savings is the further progress that has been made is repairing the broken public employee pension system. By increasing employee contribution rates, we are making the system more affordable and sustainable for taxpayers and more secure for employees.

To this end the Board took action to adopt the 1.62% @ 65 Retirement formula for new employees. In September, the Governor signed the Public Employees Pension Reform Act of 2013 (PEPRA). Under the law, all non-safety public employees hired after January 1, 2013 will have a new pension formula of 2% @ 62. The law allows a public employer to continue to offer another retirement formula for new employees if that retirement formula has a lower benefit factor at a normal retirement age and results in a lower normal cost that the PEPRA formula of 2% @ 62.

Since 2009, the County has been offering a pension formula of 1.62% @ 65. This formula results in lower costs than the PEPRA formula, thus it is allowed under the law. By formally adopting this formula, Orange County is remaining in the forefront of reforming our pension system.

Over the past four years, the Board has secured a new pension formula for non-public safety employees and negotiated with public safety employees to begin contributing to their pensions. Those initiatives and the two actions taken Tuesday all result in reducing the rapid rising cost of government.

Additionally, this year we began the process to re-centralize County human resources services, which allows for greater controls on the salary and benefit actions of each individual department. From the beginning of our collective terms this Board has been committed to returning fiscal responsibility to our County government.

Fiscal Year 2013-2014 Pension Obligation Bonds

To achieve savings in our annual pension contributions, the Board of Supervisors takes advantage of prepaying our obligations to the Orange County Employee Retirements Systems (OCERS). The County has exercised this option in four previous years, when prefunding our annual payment provided the County with significant savings.

At Tuesday's meeting, the Board approved our 2013 pension obligation bonds in the amount of $270,000,000. As with previous years, we were able to achieve a significant savings of approximately $17,000,000. These bonds are a short term financing option that we have used before to assist us with making this lump sum payment.

As always, our staff is continuously looking for new ways to achieve savings with our pension costs and decrease our unfunded liability. For more information, please click here.

Strategic Financial Plan

The Board approved the 2012 Strategic Financial Plan. The Strategic Financial Plan (SFP) is a financial component of the County's Strategic Plan that provides short and long term operational linkage between the Strategic Plan, budget process, and Department Business Plans and Balanced Scorecards.

The SFP's primary focus is the impacts to the General Fund, establishing a framework for a five-year operating budget and preparing for the development of the next fiscal year budget.

This year's plan focuses on the General Fund gap analysis in an effort to highlight the significant impacts of state budget actions, continuing impact of depressed general fund revenues, and the growing cost of conducting business.

The 2012 SFP focuses on General Fund funding gaps and imbalances that will be addressed during the FY 13-14 Budget Process, and provides an analysis of capital needs and deferred maintenance.

For more information, please click here.

Gobernadora Multi-Purpose Basin

The Board approved an agreement between the County, Santa Margarita Water District and San Juan Investment North, LLC (an affiliate of Rancho Mission Viejo Company) for design and implementation of the Gobernadora Multi-Purpose Basin, located north of the Gobernadora Ecological Resotration Area site and south of the Coto de Caza planned community.

The Basin project will construct a water-recycling facility, flood control improvements, and a multi-purpose trail on the 35-acre site. The agreement approved by the Board defines the respective roles of the parties related to obligations and funding, design, construction, ownership and operation of the basin.

For more information, please click here.

Laguna Coast Wilderness Park Trail

The Board approved a trail easement that will provide additional public access between Bommer Canyon and the Laguna Coast Wilderness Park, as well as adding another piece to the County's Pacific Ridge Trail.

Though this land was originally granted to the County through several easements from the Irvine Company and the Transportation Corridor Agency in 2003, our OC Parks department waited to pursue the connection until complete public access was available.

As your Supervisor, I have been steadfast in my commitment for additional recreation space and am proud to include this new section in the Fabulous Fifth District.

For more information about our regional trail system, please visit our OC Parks website. To view a map of the new trail connection, please click here.


COUNTY CONNECTIONS

Board to Consider Candidates for Vacant County Offices

As reported in my newsletter last week, the Board of Supervisors is now accepting applications from qualified candidates, as we seek to fill three elected offices that are currently vacant.

The Board is seeking candidates for possible appointment to the offices of Auditor-Controller, Clerk-Recorder and Public Administrator. Since these are all elected offices, any individual appointed must be a registered voter within the County of Orange and be qualified to vote for that office at the time of appointment.

The Board appointment will be effective until January 2015, when individuals selected by the voters through the 2014 primary and general elections would take office. Information about the positions, including job descriptions and a link to the online application can be found on the County's website.

For more information, please click here or contact Marguerite Adams at (714) 834-6199.


TRANSPORTATION INFORMATION

New SR-91 Lanes Open in Time for Holiday Driving

The Riverside Freeway (SR-91) is one step closer to finishing its lane addition project.

Construction crews on the $75-million freeway improvement project this week opened up a new, 6-mile lane in each direction to help reduce congestion during peak hour traffic.

The new general-purpose lanes from Lakeview Avenue to the Eastern Toll Road (SR-241) will improve traffic for commuters driving to and from Riverside and Orange counties.

A new, second eastbound exit at Lakeview Avenue, Imperial Highway and Yorba Linda Boulevard / Weir Canyon Road will help to improve these key interchanges.

Construction crews have also reconstructed and realigned 14 of 15 on- and off-ramps to optimize operations at both the westbound and eastbound truck weigh stations.

The Orange County Transportation Authority and Caltrans District 12 also have worked together with crews to add new signage, safety barriers and lighting as well as enhanced drainage operations throughout the Measure M and state funded project.

91 Express Lanes Toll Update

The traffic volumes on the 91 Express Lanes during two hours in the eastbound direction have reached the trigger point for a toll decrease. Effective January 1, the toll rate will be adjusted for the following two hours:

Wednesday 5:00 PM – 6:00 PM. (from $7.00 to $6.50)
Thursday 3:00 PM – 4:00 PM (from $4.95 to $4.45)
Customers will be notified via the in-lane variable message signs, customer newsletter, 91 Express Lanes website, and an e-mail broadcast. Toll rates will now vary depending on hour, day, and direction of travel from $1.35 to $9.55.

Metrolink to Buy Newest, Cleanest Locomotives

On Friday, December 14, the Metrolink Board of Directors voted to approve a contract for the purchase of Tier 4 locomotives. This is a major milestone for the agency that will move Metrolink one step closer to putting cleaner, more fuel efficient locomotives into service. The revolutionary locomotives are expected to reduce emissions by 86 percent.

At this point, Metrolink is on pace to become the first in the nation to achieve Tier 4 status in revenue service.

Procurement of the locomotives and the contract with Electro-Motive Diesel (EMD) is contingent upon securing project funds. The Metrolink Board's decision is the latest step of a lengthy process that has included collaboration with all member agencies and support from the California Transportation Commission. The first three demonstration locomotives are scheduled to be complete in fall 2015.

The locomotive upgrades will have system wide benefits and help reduce emissions in surrounding communities. In addition, these locomotives will have greater horsepower that can increase capacity by adding more train cars to a set.

The phased-approach contract includes a base order of ten locomotives, plus an option to purchase up to ten additional locomotives. Metrolink has allocated $129.4 million for the purchase of the locomotives.

The overall program will allow Metrolink to eventually secure 20 new Tier 4 locomotives. The Board's decision also committed Metrolink to testing alternative fuel sources in future operations. Metrolink will make the first locomotives replaced by the new Tier 4s available to the South Coast Air Quality Management District for the purpose of experimentation with various alternative fuel technologies expected to be commercially available in the next decade.

These technologies include, but are not limited to, liquefied natural gas (LNG) and battery technology. Metrolink will continue to work collaboratively with its funding partners in this pursuit.

For more information, please click here.


SAFETY SENTRY

In the Wake of Last Week's Tragic Events

Due to last week's horrific school-related shooting in Connecticut which resulted in the tragic loss of children and school staff, parents may be interested in supportive information on how to discuss catastrophic events like this with their children. For more information, please click here and here.

A natural response to school tragedies is an increased concern for the safety of one's own family. As such, school districts work collaboratively with the Orange County Sheriff's Department and other agencies to protect students, staff, and school communities. For more information, please click here.

DUI Enforcement Winter Holiday Operations

The Orange County "Avoid the 38" DUI Task Force will be conducting enforcement operations for the Winter Holiday DUI Campaign through January 3.

Enforcement efforts will include five DUI/Driver's License Checkpoints, 15 local DUI saturation patrols, three Multi-Agency DUI Taskforce strike team patrols, and two DUI Warrant/Probation sweeps. The CHP will deploy all available officers during two maximum enforcement periods during Christmas and New Year's weekends.

For a schedule of operations, dates and locations, please click here. For more information, please click here and here.


AIRPORT ARRIVALS & DEPARTURES

JWA Travel Tips for December Holiday Season

John Wayne Airport (JWA) anticipates a busier-than-normal travel period between December 21 and January 4. To ensure a smooth visit to JWA, passengers are encouraged to plan ahead and arrive at the Airport 90 minutes to 2 hours prior to their departure time for domestic flights, and 3 hours for international flights. For more JWA holiday travel tips, please click here.


RECORDER RECORD

Love by the Dozens Scores Record Number of Marriages

A record-setting 283 couples were married Wednesday, 12/12/12, by the Clerk-Recorder Department, beating the previous record of 250 couples married in civil wedding ceremonies on another special symmetrical date, 8/8/08. The marriages were performed at the Old County Courthouse in Santa Ana and at the department's two branch offices in Laguna Hills and historic downtown Fullerton.

Many couples said consecutive date sequences were magical for their rare occurrence and the hidden meaning of numbers. One (1) represents new beginnings, while two (2) represents union, making 12/12/12's triple-digit date a propitious day for joining in matrimony. Others chose the day because it makes it easier to remember their anniversary.

For more information, please click here.


NOTES FROM THE FIELD

2013 Annual OC Parks Passes Now Available

2013 OC Parks annual passes are now available. Give the gift of the great outdoors and join OC Parks in the coming New Year! For more information, please click here.

Doheny: South Swell

The Doheny State Beach Interpretive Association (DSBIA) has issued the 2012 winter edition of South Swell – the DSBIA e-magazine.

To view DSBIA's South Swell, please click here.


CRITTER CHRONICLES

Photo with Santa

Bring your pet to OC Animal Care on Saturday & Sunday, December 23 & 24, for a Photo with Santa! All participants will receive a festive holiday frame with your pet's photo. You will also receive a digital copy to share with your friends and family! All donations will benefit the animals of OC Animal Care!

For more information, please click here.


HOLIDAY HELPER

Assisting the Needy this Holiday Season

Adding one more gift to your shopping list can make holiday dreams come true for a needy child or teen, an impoverished senior citizen or a low-income family.

For volunteer and donor opportunities available this holiday season, please click here.


FIFTH DISTRICT SPOTLIGHT

South County Marching Bands Earn Honors at State Championships

Two high school marching bands from South County made their marks at different state championships recently.

The Black and Gold Brigade from Capistrano Valley High School captured its fourth consecutive state title at the Southern California Judging Association, State of California Championships; and the Aliso Niguel High School marching band earned the Bronze medal at the Southern California Marching Band Championships.

The Black and Gold Brigade's title marks the end of an undefeated season that included its first Black Opal Class Title at the Winter Guard Association of Southern California's Marching Band Open Series Title. Under the direction of David G. Weinberg, the Aliso Niguel High School marching band also captured first place at contests in Poway, Irvine, and Vista.


HOLIDAY HAPPENINGS

Aliso Viejo: Winter Newsletter

The City of Aliso Viejo's Winter Newsletter is now available online and features news and information about upcoming events and programs that impact the way people live work and play. For more information, please click here.

Mission Viejo: Winter Leisure Time

The City of Mission Viejo's winter Leisure Time publication is now available online, offering detailed information about upcoming special events, programs and classes, as well as holiday events. For more information, please click here and here.

Rancho Santa Margarita: New Year's Eve Celebration

Bring your family to join friends, neighbors and community organizations to welcome in the New Year and celebrate the City of Rancho Santa Margarita's anniversary of incorporation. The event begins at 5:00 PM on Monday, December 31. For more information, please click here.


FIFTH DISTRICT WRAP-UP

In addition to my many meetings, briefings, and other supervisorial activities, I also:

Recognized OC Public Works upon receiving the American Public Works Association Project of the Year Award for the Alton Parkway Extension project. To see a photo, please click here.
Adjourned the Board of Supervisors meeting in memory of Dr. Jack Mannix of Coto de Caza and Jeff Blugrind of Ladera Ranch.
On behalf of the Fifth District and my staff, I extend our heartfelt best wishes to you and yours for a safe and Happy Holiday Season and a New Year blessed with good health, good friends, and success in all your endeavors!

Please look for the Fifth District Report to return in January.

My staff and I look forward to continually providing you updated information in our Fifth District Newsletter and website.

Please feel free to contact my office with your concerns, comments or questions at (714) 834-3550. It is an honor and a privilege to serve as your Supervisor for Orange County's Fabulous Fifth District.

For an ADA version of our newsletter, click here.

Follow me on Facebook!