November 22, 2013

Welcome to this edition of the Fifth District Report, an electronic newsletter keeping you updated about the events taking place in Orange County and in the Fifth District. It is my hope that you find this distribution informative and I would encourage you to contact me regarding any thoughts, comments, or concerns you may have.
---
IN THIS ISSUE...
1. HOLIDAY HEADLINER

2. SOUTH COUNTY NEWS

3. BOARD BULLETIN BOARD

4. TRANSPORTATION INFORMATION

5. AIRPORT ARRIVALS & DEPARTURES

6. ENVIRONMENTAL MEMOS

7. SAFETY SENTRY

8. CRITTER CHRONICLES

9. HARBOR HAPPENINGS

10. COUNTY CONNECTIONS

11. TAX COLLECTOR COLLECTIBLES

12. RECORDER RECORD

13. FIFTH DISTRICT SPOTLIGHT

14. SOUTH COUNTY CALENDAR

15. FIFTH DISTRICT WRAP-UP

---
OUR STAFF...
Don Hughes:
Chief of Staff
Kristen Camuglia:
Deputy Chief of Staff
Sergio Prince:
Policy Advisor
Erik Weigand:
Policy Advisor
Emily Osterberg:
Policy Advisor
Veronica Yniguez:
Policy Advisor
Ruth Strachan:
Office Manager
Click here to subscribe.

Click here to unsubscribe

---
HOLIDAY HEADLINER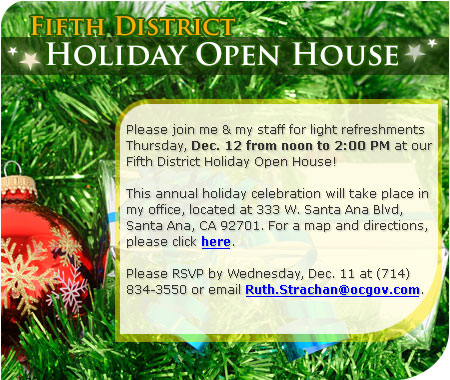 SOUTH COUNTY NEWS

Seven South County Cities among California's 50 Safest!

The Orange County Sheriff's Department is proud to announce that eight of its contract cities have been featured on The SafeWise Report: "The 50 Safest Cities in California", seven of which are in the Fifth District, including three in the top ten!

SafeWise, a safety and home security company, completed extensive research while comparing their data to the FBI's Crime in the US Report. They then created a list of the safest California cities in which to live.

These communities all have a few things in common. Aside from their beautiful homes and nature trails, the citizens of these cities get involved on a daily basis. With very few crimes committed each year, residents have a huge sense of comfort and pride.

The following South County cities were included in the SafeWise Report: "The 50 Safest Cities in California":

Rancho Santa Margarita (#2)
Aliso Viejo (#4)
Laguna Niguel (#6)
Lake Forest (#15)
Mission Viejo (#18)
San Juan Capistrano (#26)
San Clemente (#27)
To read about each of the 50 Safest Cities in California, please click here.


BOARD BULLETIN BOARD

La Pata Avenue Gap Closure Project

Three bids were received and publically opened Wednesday, October 30 by contractors competing to construct the much anticipated La Pata Avenue Gap Closure and Camino Del Rio Extension Project.

The two lowest bids contained irregularities and mistakes, which the Board could not waive. Therefore, the Board voted to reject all bids and re-advertise the project for bids.

The new bidding process will last 15 days, with bids due December 5. The Board anticipates awarding a contract at our December 10 meeting.

Rejecting all bids helped the County avoid possible bid protests, which could have delayed the project. In addition, re-advertising the project could result in more competitive pricing.

The County is optimistic that construction of the project could begin early next year.

Assessment Appeals Board Rule 8

The Board of Supervisors approved amendments to Rule 8 ("Notices") of the Assessment Appeals Board and Hearing Officer Rules of Procedure, effective immediately for new hearings scheduled by the Clerk of the Board.

As the Assessor department and Clerk of the Board staff must review and prepare to defend all property valuations on the calendar, and as many as 40% of applicants do not appear for their scheduled value hearing, this change in procedure is the best interest of the County and taxpayers.

To that end, the Notice of Hearing will include a Reply Notice to be returned to the Clerk of the Board to confirm the applicant's attendance at the hearing, request a one-time postponement, or withdraw the application scheduled for hearing. The Reply Notice must be returned to the Clerk and submitted at least 21 days prior to the hearing date.

If the reply notice is not postmarked, faxed or e-mailed at least 21 days prior to the hearing date, and if the applicant is present on the date of the hearing, the Assessment Appeals Board shall reschedule the hearing to a later date, unless the Board is advised that the Assessor and applicant have agreed to move forward with the value hearing.

For more information, please click here.

Crime Victims Memorial Design Finalists Chosen

Judges have selected five finalists from 59 entries in a competition to design a Crime Victims Memorial at William R. Mason Regional Park in the City of Irvine. The five designs from submitters in the US, Mexico and Yugoslavia were unveiled at our Board meeting.

The finalists have been invited to submit more detailed designs by Jan. 30, 2014, followed by a public exhibition of their submittals in February and March. The formal winner will be announced in April 2014 during Crime Victims' Rights Week.

The County of Orange, Board of Supervisors and OC Parks are sponsoring the competition, which was announced last April during National Crime Victims' Rights Week.

The Crime Victims' Memorial Design Competition is an open, two-phase competition. The first stage solicited concept drawings and a narrative that articulated the designer's vision for the memorial site within Mason Regional Park. A jury panel with members chosen by each member of the Board selected the five finalists.

The second stage solicits detailed design documents in plan and elevation view, logo design and an optional materials board. Finalists also will be asked to present their design concepts to the jury.

The competition was open to all, with 42 percent of the entries coming from outside of the United States, including Australia, China, Japan, Mexico, Sweden, the United Kingdom and Yugoslavia.

For more information, please click here and here.


TRANSPORTATION INFORMATION

Residents Attend Open Houses about I-5 Improvements

In an effort to build awareness for the upcoming I-5, Avenida Pico to San Juan Creek Road Improvement Project, Orange County Transportation Authority (OCTA) staff hosted two open houses in the cities of San Clemente and San Juan Capistrano.

Approximately 45 residents and business leaders attended the open house at Saint Andrews by the Sea in San Clemente on Thursday, Nov. 7. On Thursday, Nov. 14, a dozen residents attended the San Juan Capistrano open house hosted at the community center downtown.

Attendees viewed timelines and information about the project, watched a new video highlighting the improvements to the Avenida Pico interchange, asked questions of the project team members, and signed up to obtain pertinent information.

Construction on the $275 million project will begin in early 2014 in San Juan Capistrano and work its way south to Avenida Pico. The project will add continuous access carpool lanes in each direction of the I-5 from Avenida Pico to San Juan Creek Road and completely reconfigure the Avenida Pico interchange.

For more information, please click here.

OCTA: On The Move

The Orange County Transportation Authority (OCTA) has released its latest edition of "Orange County: On The Move." To view the OCTA e-newsletter, please click here.


AIRPORT ARRIVALS & DEPARTURES

JWA Thanksgiving Holiday Travel Tips

In anticipation of one of the most heavily traveled holiday periods, John Wayne Airport (JWA) offers travel tips to help passengers prepare for a safe and enjoyable holiday. Passengers traveling through JWA between Friday, November 22 and Monday, December 2 will experience higher-than-normal passenger traffic due to the Thanksgiving holiday.

This season, JWA is thankful for its partnership with KeepOCSafe. Together, they are encouraging travelers to be more aware of their surroundings and report questionable objects or activities. A Giant Red Backpack will be on display in the Riley Terminal throughout the holidays to remind passengers and visitors: "If You See Something, Say Something™."

For more information, please click here.

JWA Mexico Air Service Economic Impact Study

John Wayne Airport (JWA) has announced the results of an economic impact study of air service from Mexico to Orange County. The study, conducted for JWA by InterVISTAS Consulting LLC, found that the total economic output in the region generated by JWA's Mexico air service is $131 million.

Nonstop service between Orange County and Mexico (Cabo San Lucas and Mexico City) was introduced by AirTran, a wholly-owned subsidiary of Southwest Airlines, in June 2012. Interjet began daily service to Guadalajara and Mexico City in October 2012.

For a summary of the combined economic impact of the Mexico air service to Orange County and the region, including the total impact of airport related operations and the direct impact of visitor spending, please click here. To view the Economic Impact Study, please click here.


ENVIRONMENTAL MEMOS

Wilderness Preserve Tour Showcases Preservation Efforts

On Saturday, November 16, as Chair of the Orange County Transportation Authority (OCTA) Environmental Oversight Committee, I welcomed approximately 100 visitors to the tour of OCTA's newly acquired conservation land in Trabuco Canyon.

Participants hiked and rode their horses to view coastal sage scrub, oak woodland, grasslands and chaparral, as part of an exclusive look at this addition to OCTA's wilderness preserve. The two-mile guided tour of Ferber Ranch was designed to show how OCTA is contributing to wildlife and habitat preservation in Orange County.

In 2011, OCTA purchased Ferber Ranch, as part of the M2 Freeway Environmental Mitigation Program. Funded by Measure 2 (M2), the County's half-cent sales tax for transportation improvements, the program allocates funds to acquire open space and contribute to habitat restoration projects in exchange for streamlined project approvals for 13 M2 freeway improvement projects.

Acquired properties are purchased and permanently preserved as open space. Funded restoration projects restore preserved open space lands to their native habitat and include removal of invasive plant species.

OCTA's acquisition of this property protects several vital wildlife movement corridors, ensures the preservation of high-quality habitat and allows this core segment of Trabuco Canyon to be permanently protected.

Ferber Ranch is nearly 400 acres of rolling terrain in an unincorporated area of Orange County. Bordered on the north by the Cleveland National Forest and on the south by Trabuco Creek, the property is located within the Trabuco Canyon area of the Foothill / Trabuco Specific Plan.

OCTA has acquired more than 950 acres in the Trabuco Canyon and Brea areas to preserve as permanent open space. Following the completion of scientific studies and preservation management assessments, the area may be open to the public on a limited basis.

For more information, please click here.

Food Grows Where Water Flows

It won't be long before the aroma spreading from kitchens across the nation will signal to hungry family members that the annual Thanksgiving meal will soon be served. For most people, the meal will include turkey, rolls, stuffing, cranberries, sweet potatoes, vegetables, and pumpkin pie for dessert... certainly a feast to be enjoyed by all!

Preparation for the Thanksgiving meal begins long before family and friends sit at the dinner table, as farmers begin raising turkeys and planting other food crops.

About 10,000 gallons of water is needed to raise a 16-pound turkey from birth through its processing stage. The bird only drinks about 30 gallons of water during its lifespan and another 34 gallons are used during processing to clean the turkey. That leaves the bulk of the 10,000 gallons for the growing of feed, such as corn, soybeans and wheat.

So when it becomes time to be thankful, let's be mindful of the farmer and the work put into providing a food supply we all can enjoy. Remember: Food Grows Where Water Flows!

For more information, please click here.

Orange County Coastal Coalition

Please join me Thursday, December 5 for the Orange County Coastal Coalition meeting, featuring presentations from:

Scott Lynch, Water Reuse California Orange County Chapter – Recycling Water in Orange County
Larry Honeybourne, Orange County Health Care Agency – Orange County's 2012 Annual Ocean, Harbor and Bay Water Report
Question and Answer sessions will follow each presentation.

The meeting will be held from 9:00 AM to 11:00 AM in the City of Newport Beach Community Room, 100 Civic Center Drive, Newport Beach.

For more information, please click here. To view the OC Coastal Coalition webpage, please click here.


SAFETY SENTRY

DUI Enforcement Operations in South County

Deputies from the Orange County Sheriff's Department "AVOID the 13" DUI Task Force will be deploying this weekend to stop and arrest alcohol and drug-impaired drivers in the Department's ongoing traffic safety campaign.

DUI Saturation Patrols will deploy Friday, November 22 at 7:00 PM until Saturday, November 23 at 3:00 AM in the cities of Laguna Niguel, Laguna Woods, Laguna Hills, and Aliso Viejo. These patrols will be targeting areas with high frequencies of DUI collisions and/or arrests.

For more information, please click here.

Law Enforcement Phone Scams Soliciting Money

The Orange County Sheriff's Department advises the public to be aware of phone scams involving subjects pretending to be law enforcement personnel. Several instances of this type of fraud have been occurring throughout Orange County.

A recent case in Laguna Hills involved a victim being contacted on his cell phone and advised that he owed back taxes to the IRS. The caller fraudulently identified himself as Assistant Sheriff Mark Billings with the Orange County Sheriff's Department and stated that he was working with the IRS to collect the debt.

The caller told the victim that if he did not purchase $4000 in "MoneyPak" cards and give him the numbers, the SWAT team would be forced to raid his home and arrest him. The caller ID number on the phone call fraudulently indicated the call was coming from the Orange County Sheriff's Department's non-emergency phone number.

The public is advised that the Orange County Sheriff's Department does not solicit by phone. If anyone receives similar suspicious calls, do not give out any personal information, such as your social security number, bank account numbers, etc., and report the call to the Sheriff's Department at (714) 647-7000.

For more information, please click here.

Cooking Safety Tips

The holiday season is upon us, which means lots of cooking and baking. It also means that your risk of having a residential cooking fire increases tremendously! When you are preparing all of your holiday traditions, please use extra caution when using the appliances in your kitchen.

Check cords on appliances, especially ones you don't use very often, and pay attention to where you are putting them. Keep combustibles, such as towels, pot holders, cutting boards, etc., away from heat sources. If you are simmering sauces or keeping things warm on the stove, set a timer to remind you to check on them.

Whatever you do, PLEASE DO NOT USE WATER ON A GREASE FIRE! Water reacts with even the smallest amount of oil/grease. It only takes a split second for a fire to occur. Please make sure your family and friends know the escape plan and your designated meeting place in case there happens to be a fire in the home. Creating a plan can definitely save a life!

For more information, please click here.


CRITTER CHRONICLES

Thanksgiving Safety Tips for Pets

'Tis the season for friends, family and holiday feasts, but also possible distress for our animal companions. Pets won't be so thankful if they munch on undercooked turkey or a pet-unfriendly floral arrangement, or if they stumble upon an unattended alcoholic drink.

To view some safety tips for a fulfilling Thanksgiving our pets can enjoy, too, please click here.


HARBOR HAPPENINGS

Thanksgiving Day Road Closure Advisory

Dana Point Police Services will be implementing the following road closures in and around Dana Point Harbor for the Turkey Trot races held Thanksgiving Day, Thursday, November 28:

12:00 a.m. to 12:00 p.m.
Dana Point Harbor Drive from Golden Lantern to Casitas Place

5:00 a.m. to 12:00 p.m.

S/B Golden Lantern from Lantern Bay Drive to Dana Point Harbor Dr.

This closure should not impact access into the Harbor
Limited access for vendors and gym members
6:30 a.m. to 8:00 a.m.
Dana Point Harbor Drive from Golden Lantern to PCH (eastbound).
This closure will impact access to:

Puerto Place
The Embarcadero Marina/Launch Ramp Area
Mariner's Village and Dana Wharf Parking Lots
Doheny State Beach
6:30 a.m. to 11:30 a.m.
Dana Point Harbor Drive from Island Way to the Ocean Institute.
This closure will impact access to:

The Marina Inn
The Dana Point Harbor OC Sailing & Events Center
The Ocean Institute
Nordhavn
The OC Dana Point Harbor Office and DP Harbor Patrol Office
All yacht club and marina parking lots
Limited, escorted access to and from the island MAY be available after 11:00 a.m.
Anyone planning on visiting Dana Point Harbor on Thanksgiving Day between 6:30 a.m. and 12:00 p.m. should plan their trip accordingly and allow extra time to arrive at their destination.

Questions about how these road closures may impact you should be directed to Deputy Kami Horvath at 949-248-3517 or khorvath@ocsd.org. OC Dana Point Harbor and the marina offices will be closed for Thanksgiving. For more information, please click here.


COUNTY CONNECTIONS

County of Orange Armory Emergency Shelters Need You

Every year, the County of Orange contracts with Mercy House Living Centers, Inc. to operate and provide services for the County's Armory Emergency Shelter Program. The shelter at the Fullerton Armory opened last week and the shelter at the Santa Ana Armory will open on Monday, December 2.

The Armory Program provides a safe place to sleep and shelter from the winter weather, along with hot meals, showers, clothing, blankets, and other supportive services to approximately 400 homeless people per night.

The success of the Armory Program is largely due to the collaborative efforts of County agencies, the State of California's Army National Guard, the participating cities of Fullerton, Santa Ana, and Anaheim, churches, nonprofit agencies, and dedicated individuals who generously volunteer their time.

Volunteer opportunities include: helping the homeless to sign-in, distributing blankets or clothing, serving food, as well as setting up and/or cleaning up. Individuals interested in volunteering can contact Irene Mendoza of Mercy House at IreneM@mercyhouse.net.

Donations of gently used and new items to the Armory Program can be dropped off Monday through Thursday from 5:00 PM to 8:00 PM from December through March at the two armories:

Fullerton Armory, 400 S. Brookhurst Rd. (Corner of Brookhurst Rd. and Valencia Dr.)
Santa Ana Armory, 612 E. Warner Ave. (Between Main St. and Grand Ave.)
For more information on the Armory Emergency Shelter Program, please visit Mercy House's website at www.mercyhouse.net. For any other questions about homeless issues, please contact OC Community Services Director Karen Roper at (714) 480-2805 or karen.roper@occr.ocgov.com.

Renewable Energy Project and Airport Director Honored

A renewable energy project, powered by OC Waste & Recycling, and John Wayne Airport Director Alan Murphy won honors at the 2013 "Turning Red Tape into Red Carpet" awards from the Orange County Business Council.

OC Waste & Recycling was presented with the Award for Public-Private Partnership for the Olinda Alpha Landfill Renewable Energy Development Project. Additionally, John Wayne Airport Director Alan Murphy was recognized with the Award for Public Sector Leadership.

For more information, please click here and here.

Apply Now to Serve on the Orange County Grand Jury

The Orange County Superior Court is actively seeking residents throughout Orange County who want to make a difference in their community to apply for service on the next Grand Jury. The one-year term begins July 1, 2014.

The Orange County Sheriff Department conducts background investigations of qualified applicants and Superior Court judges interview top candidates. The selection of the 19-member Grand Jury panel is achieved by a random drawing of the 30 candidates nominated for service to equally represent each of the five Orange County Supervisorial Districts as required by law.

Requirements to serve include:

At least 18 years old
United States citizen
Orange County resident for at least one year
Sufficiently fluent in written and spoken English
In possession of sound judgment, good character, and a sense of fairness
Individuals meeting the above requirements are encouraged to apply. An application form and more information are available online at www.ocgrandjury.org, by calling (714) 834-6747, or at the Jury Commissioner's Office (700 Civic Center Drive West, Santa Ana, 92701). Completed applications must be received by Friday, January 24, 2014.

For more information, please click here.


TAX COLLECTOR COLLECTIBLES

Current Property Tax Payments and Deadline Information

The Orange County Treasurer-Tax Collector (TTC) advises that the first installment for the 2013-14 Secured Property Taxes is due by December 10.

The TTC hopes that taxpayers will save the cost of a stamp and make their tax payments online by eCheck at no cost through a checking or savings account at ocgov.com/octaxbill on or before midnight December 10. A new feature this year is that you can scan the QR code on your property tax bill to go directly to your parcel tax payment page.

In addition, the TTC offers online payment by credit and debit card, but these payment options do have a convenience fee. The convenience fee for credit card payments and non-VISA Consumer Debit cards is 2.3% (with a minimum charge of $3.95). Visa Consumer Debit cards will be charged a flat fee of $3.95.

When using the TTC's online customer service window, please make sure you include your e-mail address to get a copy of your receipt, print the receipt, or write down your payment reference number from the receipt page.

If you are making payment by mail, the envelope must have a United States Post Office postmark on or before December 10 to avoid the 10% late penalty. The TTC recommends having it hand-stamped by the Post Office if it is close to the tax payment deadline.

Taxpayers can also make payments in person at 625 N. Ross Street, Room G-58, in Santa Ana from 8:00 AM to 4:45 PM on Monday, and 8:00 AM to 5:00 PM on Tuesday, but they recommend either coming in early to avoid the last minute rush or paying online by eCheck to save the cost of parking.

Directions, parking options and costs can be found at ttc.ocgov.com.


RECORDER RECORD

Saturday Hours in December

Appointments are being taken now for marriage licenses and ceremonies, as well as passport services, for Saturday, Dec. 14, when the offices of the Orange County Clerk-Recorder Department will be open from 10:00 AM to 3:00 PM. The Clerk-Recorder has opened office doors one Saturday each month since June to help customers who are unable to visit during regular weekday hours.

The Old County Courthouse will be open Dec. 14 for marriage licenses, civil wedding ceremonies and passport applications, as well as property research. Property and vital record copies and marriage services will be available at the Laguna Hills and Fullerton branch offices. FREE parking will be available at all three locations.

For more information, please click here.


FIFTH DISTRICT SPOTLIGHT

Student Honored for Saving Great Grandmother

Emilio Cisneros, a second grader at Las Palmas Elementary School in the City of San Clemente, was recently recognized for helping to save his great grandmother's life when she suffered a heart attack at home.

As his grandmother assisted his great grandmother, Emilio dialed 911 and reported the need for help. He calmly gave his home address and used his English and Spanish language skills to translate information between the 911 dispatcher and his grandmother. The paramedics arrived in time and were able to save Emilio's great grandmother, who recently turned 101.

To view a photo, please click here.


SOUTH COUNTY CALENDAR

Aliso Viejo: Santa Claus is Coming to Town

Santa Claus will arrive in Grand Park on Sunday, December 1, during the Aliso Viejo's Winter Holiday Event. The fun kicks off at 4:30 PM and includes live entertainment; complimentary cookies and hot chocolate; and tons of holiday cheer! For more information, please click here.

Mission Viejo: Visit Santa in his Workshop

Along with enjoying Santa's grand arrival and celebration Sunday, December 1 at the Mission Viejo Civic Center from 3:00 PM to 6:00 PM, make plans to St. Nick in his workshop beginning December 4. With Mrs. Claus and some elves in tow, Santa will greet visitors, spread holiday cheer and pose for photos from 6:00 PM to 8:00 PM at 200 Civic Center. For dates and more information, please click here.

Laguna Niguel: Chanukah Wonderland & Menorah Lighting

Enjoy a blizzard of holiday fun for the whole family at Laguna Niguel's Chanukah Wonderland & Menorah Lighting on December 1, 3:30 PM at City Hall! For more information, please click here and here.

San Juan Capistrano: Tree Lighting Celebration

Please join the City of San Juan Capistrano for their annual Tree Lighting Celebration and many other wonderful holiday season festivities on Saturday, December 7 at Historic Town Center Park (31852 El Camino Real), beginning at 4:45 PM. For more information, please call (949) 493-5911 or click here.


FIFTH DISTRICT WRAP-UP

In addition to my many meetings, briefings, and other supervisorial activities, I also:

Hosted the Orange County Transportation Authority Wilderness Preserve Tour in Trabuco Canyon.
Delivered a County Update and presented certificates of appreciation to over 50 distinguished veterans of our armed forces at the Casta Del Sol Republican Women's event.
Participated in the LOSSAN Rail Corridor Board meeting.
Attended the third annual "Turning Red Tape into Red Carpet" Awards Reception, where the Orange County Business Council presented awards in various categories to Orange County public agencies for programs that cut through red tape and open the door for business growth and success.
Presented a certificate of recognition to Casa Romantica Cultural Center and Gardens upon the occasion of their dedication ceremony in the City of San Clemente for the newly restored and relocated "La Cristianita" state historical marker, as the monument commemorates the first Christian baptisms by Spanish missionaries in 1769.
Adjourned the Board of Supervisors meeting in memory of Ernie Johnson of San Juan Capistrano and Orange County Sheriff Deputy Pete Ross.


Wishing you and yours a safe and happy Thanksgiving holiday!

My staff and I look forward to continually providing you updated information in our Fifth District Newsletter and website.

Please feel free to contact my office with your concerns, comments or questions at (714) 834-3550. It is an honor and a privilege to serve as your Supervisor for Orange County's Fabulous Fifth District.

For an ADA version of our newsletter, click here.

Follow me on Facebook!