County Connections

Taxpayer Subsidy Reduction and Customer Service Enhancement Package

As County Supervisor, it is my responsibility to be a good steward of your tax dollars and ensure reliable service. Earlier this week, I voted to reduce $7 million in taxpayer subsidies for Development Services and focus those savings on infrastructure and services.

Since the 2008 recession, the County had implemented several stimulus measures to preserve the foundations of our local economy. Given recent years of sustainable economic growth, the Board of Supervisors decided on an 18-month phase out of taxpayer subsidies for development. The County has worked with stakeholders on a comprehensive agreement for them to cover their own costs, modernize the OC Public Works department with a new technology program, and further permit streamlining initiatives. These efforts will greatly enhance service for all residents and businesses in the county.

I would like to thank OC Public Works for working with stakeholders in and around Orange County.

For more information please click here.

Property Owners and Managers are Needed to House OC Veterans

There are at least 446 veterans who are homeless on any given night in Orange County according to the 2013 Orange County "Point in Time Homeless Count". In addition, to this number, there are more than 2,000 veterans with incomes below 50% of the County's median income applied on the Orange County Housing Authority waiting list for housing assistance during a two-week period in February 2012. This demonstrates the immediate needs of local veterans for basic shelter and for long term decent, safe and affordable housing. The 2013 Annual Homeless Assessment Report (AHAR) to Congress stated that many homeless veterans need supportive services and case management to successfully transition from homelessness to permanent housing. In addition, these veterans typically do not have the financial resources to pay rent. They may also face barriers such as poor credit, prior evictions or lack of funds for a security deposit or other move-in expenses.

To help address the needs of homeless veterans, the Orange County Housing Authority (OCHA) has applied for and received HUD Veterans Affairs Supportive Housing (VASH) vouchers. These Vouchers are reserved exclusively for homeless U.S. Veterans receiving services from the Veterans Affairs (VA) Medical Center in Long Beach. VASH veterans receive extensive case management from the VA and also receive support from the Orange County Veterans Service Office, in combination with housing assistance provided by OCHA.

This collaboration has proven successful in housing over 400 VASH veterans since the first allocation of 70 VASH Vouchers was awarded in 2009. OCHA recently received its 6th annual VASH Voucher award and can now assist up to a total of 580 homeless veterans. Approximately 70% of the currently assisted VASH veterans are single persons and the remaining 30% are families.

Veterans who receive a VASH Voucher are able to shop for a rental unit of their choice and pay approximately 30% of their household income for their share of rent. OCHA pays the balance of rent directly to participating property owners and managers. In addition to providing monthly housing assistance payments, OCHA has also secured other funding to help eligible VASH veterans with move-in costs such as security deposits. OCHA is also issuing regular Housing Choice Vouchers to other Veterans who received priority placement on the Housing Choice Voucher Program waiting list. As a result, there are a record number of veterans with Housing Vouchers currently seeking rentals at this time and OCHA is reaching out to rental property owners and managers who can help our veterans find housing in Orange County. Those who are interested can list available rental units at no cost on OCHA's referral listings by calling: 714/480-2866 or visiting OCHA's website at OChousing.org.

In addition to the OCHA programs, the VA has a program called Supportive Services for Veteran Families (SSVF) which is administered by various service providers in Orange County. SSVF is a housing-stability program, primarily designed to help homeless Veterans and their households. Services may include payment of the move-in deposit and for non-VASH Veterans or payment of their rent for a short period of time. Additionally, for Veteran households who are behind in their rent, SSVF can, in some cases assist Veterans with their arrears. For more information on SSVF, contact Phil Bowers at: 714/615-2279.

Doing Business with the County-Vendor Information Day

The County of Orange holds a Vendor Information Day on the last Thursday of each month (except holidays). These sessions are to provide vendors with information on how to do business with the County and to answer questions regarding the County of Orange purchasing process. To participate in this event, RSVP is required. If you have any questions, please contact us at vendorinfo@ocgov.com


| | |
| --- | --- |
| When: | Last Thursday of each month (except holidays) |
| Time: | 9:00 a.m. to 11:00 a.m. |
| Where: | County Procurement Office Conference Room B 1300 S. Grand Building A, 2nd Floor Santa Ana, CA 92705 |


Please click here for more information.

OC MOVES

Measure M2 Environmental Cleanup Allocation Program-Tier 1 Grant Program Call for Projects

The Measure M2 Environmental Cleanup Program, Project X, provides funds to help meet federal Clean Water Act standards for controlling transportation-related pollution. In February 2011, the Board of Directors approved the inclusion of the Environmental Cleanup Program to the Comprehensive Transportation Funding Programs Guidelines.

In May 2010, the Board approved a two-tiered approach to fund the M2 ECP. Specifically, the funding plan called for up to $19.5 million in Tier 1 grants on a "pay-as-you-go" basis through fiscal year (FY) 2017-18, and up to $38 million in Tier 2 grants via bonding through FY 2014-15. The Tier 1 Grant Program consists of funding for equipment purchases and upgrades to existing storm drains and related best management practices. The Tier 2 Grant Program consists of funding for regional, potentially multi-jurisdictional, capital-intensive projects.

The previous Fiscal Year 2014-15 Tier 1 call for projects (call) was finalized on September 22, 2014, with the approval of $2,834,361 of funding. Specifically, the Board approved funding allocations for 18 projects based on the scoring criteria. The past four Tier 1 calls have resulted in funding 104 projects, totaling approximately $11.3 million.

On Monday, the Board approved this year's Tier 1 call which is anticipated to commence March 16, 2015. During the call, staff will offer one-on-one meetings to assist local agencies with the application process. Applications are due on May 15, 2015, and staff will return with funding recommendations to the Board by late summer 2015.

For more information please click here.

I-5 / Ortega Highway Full Closures Scheduled for March 14, 15


Full closures of I-5 in San Juan Capistrano and the Ortega Highway bridge are scheduled for March 14, 15. The freeway will be closed from midnight to 6 a.m. each night. The Ortega Highway bridge will be closed from 11 p.m. to 6 a.m. each night.The closures are necessary to allow falsework to be installed for the new bridge on the north side of Ortega.

The closures were originally scheduled to take place this weekend, March 7,8, however they have been canceled.

During the closures, motorists traveling north on I-5 will be diverted to the Ortega Highway off-ramp and will use Rancho Viejo Road and Junipero Serra Road to re-access the northbound I-5.

Motorists traveling south on I-5 will be diverted to the Ortega Highway off-ramp and back to southbound I-5 via the Ortega Highway on-ramp.

Motorists who want to drive into San Juan Capistrano from I-5 must use the Camino Capistrano or Junipero Serra exits.

For more information please visit www.octa.net/ortega.

PORTIONS OF NORTHBOUND 241 TOLL ROAD TO CLOSE THIS WEEKEND

Caltrans crews will completely close the northbound 241 Toll Road between the 133 Toll Road and Chapman/Santiago Canyon off-ramp beginning 10 p.m., Friday, March 13 through 5 a.m., Monday, March 16. All southbound 241 Toll Road lanes will remain open.

This 55-hour closure is necessary to grind and resurface the pavement across all three northbound lanes to repair a dip in the roadway.

Drivers heading north on the 241 Toll Road from Lake Forest or Rancho Santa Margarita, may still access Irvine or Tustin by using the Southbound 133 Toll Road.

Detour signs and electronic message boards are posted and the suggested detour routes are as follows:

For drivers heading north on the 133 Toll Road: - Exit Irvine Boulevard and turn left - Continue west on Irvine Boulevard* - Turn right to enter northbound 261 Toll Road to access northbound 241 Toll Road toward Chapman/Santiago Canyon exit and/or 91 Freeway

For drivers heading north on the 241 Toll Road from South Orange County: - Use the southbound 133 Toll Road connector - Exit Irvine Boulevard and turn right - Continue west on Irvine Boulevard - Turn right to enter northbound 261 Toll Road to access northbound 241 Toll Road toward Chapman/Santiago Canyon exit and/or 91 Freeway

*Drivers exiting Northbound 133 at Irvine Boulevard will not be tolled while the closure is underway.

To view this closure and its suggested detours, please visit www.thetollroads.com/closures.

Take Metrolink to the San Juan Capistrano Swallows Day Parade!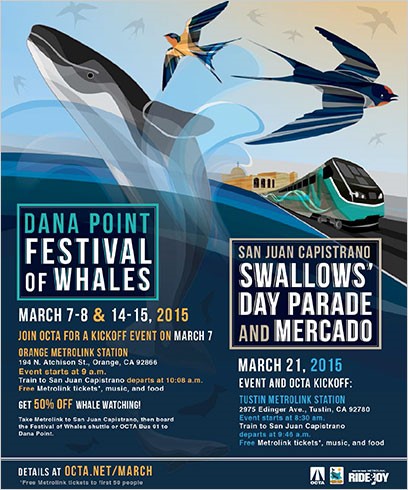 For more information please visit is www.octa.net/whales

Airport Arrivals

Alaska Airlines Seeks Government Approval to Begin Service from Orange County, California, to Los Cabos and Puerto Vallarta, Mexico

Alaska Airlines submitted its application today to begin two nonstop service from Orange County, California, to Los Cabos and Puerto Vallarta, Mexico. The flights are pending approval by the U.S. Department of Transportation and the Mexico Dirección General de Aeronáutica Civil (DGAC).

The planned year-round service will operate thrice-weekly between Orange County and Puerto Vallarta and four-times weekly between Orange County and Los Cabos.

Alaska Airlines began flying to Puerto Vallarta and Los Cabos more than 25 years ago. Today, the carrier operates 36 weekly peak-season flights to Puerto Vallarta and 50 weekly peak-season flights to Los Cabos—more than any other carrier from California.

The new flights between Orange County and Mexico will be operated with fuel-efficient, next generation Boeing 737 aircraft. Customers can watch hit movies, TV shows and short films wirelessly on their devices, enjoy locally sourced food and beverages, and experience Alaska's award-winning service. It's all part of Alaska BeyondTM — a new way to travel, designed to go above and beyond your expectations.

For more information please visit www.alaskaair.com/newsroom.

Healthcare Advisory

CalOptima Monthly Board Meeting Highlights

Member Choice Grows With the Launch of CalOptima Community Network

The Board of Directors praised the March 1 launch of CalOptima Community Network. The network expands member choice by increasing access to quality health care services from providers they know and trust. It opened with more than 300 primary care providers and 1,000 specialists, strengthening CalOptima's already-robust delivery system and protecting existing doctor-patient relationships by giving doctors a new way to contract with CalOptima. CalOptima Community Network is the culmination of two years of hard work that incorporated input from stakeholders and CalOptima's other contracted health networks to create the best possible framework for success. In the changing health care landscape, CalOptima Community Network creates additional flexibility and capacity for growth, ensuring Medi-Cal members will continue to receive the quality care they have come to expect from CalOptima and its provider partners.

I am also pleased to report that my colleagues appointed me to serve on the CalOptima Foundation Board of Directors.

For more information about CalOptima please visit www.caloptima.org.

OC LINKS


The OC Links Information and Referral Line provides telephone and online support for anyone seeking information or linkage to any of the Health Care Agency's Behavioral Health Services. These services include children and adult mental health, alcohol and drug inpatient and outpatient, crisis programs, and prevention and early intervention services. Callers can be potential participants, family members, friends or anyone seeking out resources, or providers seeking information about Behavioral Health programs and services. Trained Navigators provide information, referral, and linkage directly to programs that meet the needs of callers.

If you would like to learn more about services available through Behavioral Health Services, please call (855) OC-LINKS between the hours of 8 am - 6 pm to be connected to a Behavioral Health Navigator, or click on the OC Links Chat icon during open chat hours. TDD Number: 714-834-2332.

Orangewood Children's Foundation Resource Center Tour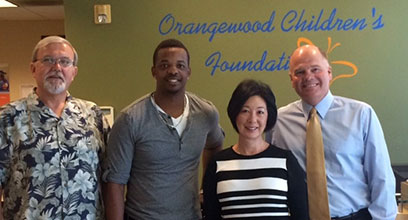 Last week, my staff and I toured the Orangewood Children's Foundation Resource Center and the Academy charter high school with Chris Simonsen, Chief Executive Officer and Bob Theemling, Chief Programs Officer.

The mission of Orangewood Children's Foundation is to provide life-changing prevention and intervention programs for abused and neglected children, young adults, and at-risk families through one-on-one support and community partnerships to end the cycle of child abuse. I had the opportunity to witness this firsthand, through the wide spectrum of services offered by both venues.

The proof is in the pudding at The Academy - this is evidenced by the 97% attendance rate. The thorough engagement of the student's in project-based learning is truly inspiring. I would like to extend a special thanks to the Orangewood Staff for hosting us!

Get Out and Vote!

Senate Special Primary Election on Tuesday, March 17th!

The Orange County Registrar of Voters has put everything about the upcoming March 2015 election in one location. From polling locations, sample ballots, voting options and more.

Please click on the image below to get more information.




Out and About South County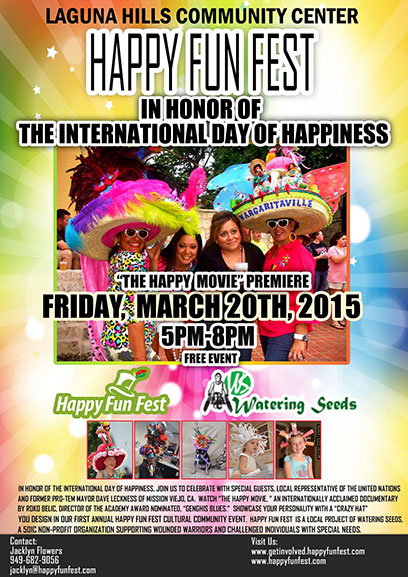 Last but not least this week I:

Participated in the Orange County Transportation Authority's (OCTA) Board of Directors Meeting.
Received an update on the I-405 Improvement Project from OCTA CEO Darrell Johnson
Presented in this month's Orange County Veterans Advisor Council.
Participated in the Transportation Corridor Agencies Board of Directors meetings.
Attended the Orange County Sanitation District's Board of Directors Orientation.
Attended and led the Pledge of Allegiance at the City of San Juan Capistrano's State of the City Address.
Participated in the Orange County Parks Foundation Board of Directors meeting.
My Staff: