February 27, 2015
Volume 2

Issue 8

County Connections

New Security Measures Planned for Board Meetings

Beginning March 3, 2015, those attending Orange County Board of Supervisors meetings will be required to pass through a metal detector before entering the Board Meeting Room, a move designed to boost security in line with other large urban California counties.

The recommendation to install metal detectors came from the Orange County Intelligence Assessment Center, a multi-jurisdictional network of law enforcement agencies that develops best practices to protect the residents, visitors and critical infrastructure of the county. Courthouses in Orange County have used metal detectors since 1999.

The metal detector inside the Hall of Administration will be staffed by two Sheriff's Department special officers. Purses and bags also will be subject to search.

Other counties using metal detectors for security purposes during Board of Supervisors meetings include Los Angeles, San Bernardino, San Diego, and Alameda counties. In San Diego and Alameda counties, the metal detectors are located at the building entrances.

Security costs, estimated at $23,000 annually, will be paid from the County Executive Office budget.

Next Tuesday, marks the first Regular Board of Supervisors meeting with the new security precautions, please allow for additional time if you plan on attending the meeting.

To view the agenda please click here.

OC MOVES

Take Metrolink to the Dana Point Festival of Whales and the San Juan Capistrano Swallows Day Parade!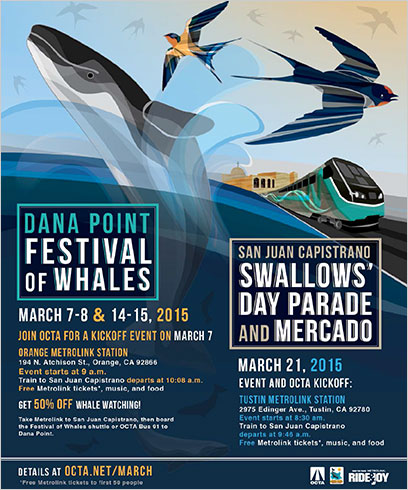 Click on the image above to view a PDF version.

The Toll Roads Partner With 7th Annual Orange County Restaurant Week

The Toll Roads are excited to partner with OC Restaurant Week, featuring more than 100 Orange County restaurants that will offer discounted prix fixe lunch and dinner menus from March 1st to 7th . The Toll Roads are offering $100 in toll credits to the lucky winner of OC Restaurant Week's Instagram photo contest.

To participate in OC Restaurant Week's Instagram Photo Contest, diners are encouraged to post a photo from their dining experience to Instagram using the hashtag #OCRW2015 and #OCRestaurantWeek. Photos will be shared on OC Restaurant Week's Facebook page for a vote. The photo with the most votes wins $100 in toll credits from The Toll Roads (toward an existing or new account) and dinner and a movie for two for an entire year.

Many of Orange County's great destinations and eateries are easily accessible using the 73, 133, 241 and 261 Toll Roads. Leave the cooking and dishes at home and drive The Toll Roads to get where you want to be during OC's Restaurant Week.

Tips for Toll Road Drivers:

Remember, on The Toll Roads, all drivers must pay tolls electronically - there are no toll booths at which to stop and pay cash.
No FasTrak® or ExpressAccount®? No problem. Drive the toll roads and pay your toll with One-Time-Toll® within five days after travel to avoid receiving a violation notice. Pay your toll online at www.thetollroads.com.
Plan ahead and use the toll calculator to calculate the toll for your trip, select the road you will drive, your entry and exit points, how you will pay the toll and the number of axles on your vehicle.
Before you get moving, get mobile. Download the free Toll Roads app from the Google Play or Apple App Stores to open a new account, make a payment and pay with One-Time-Toll.
For more information on OC Restaurant Week visit www.ocrestaurantweek.com. For more information on The Toll Roads visit www.thetollroads.com.

JOHN WAYNE AIRPORT UNVEILS NEW EXHIBITION HIDDEN TREASURES: Art from the Permanent Collections of Orange County Colleges and Universities

Travelers can explore local art from five Orange County colleges and universities in the HIDDEN TREASURES exhibit on display at John Wayne Airport now through August 2015. From the art collections of California State University, Fullerton; Chapman University; Fullerton College; Laguna College of Art + Design and the University of California, Irvine, this exhibit includes historic artworks that may have been previously unavailable to the public. The exhibit featuring local, regional, national and international artists can be seen in the Vi Smith Concourse Gallery in the Thomas F. Riley Terminal across from Gates 18 through 21.

The HIDDEN TREASURES exhibition ranges from contemporary art as seen below, to works with historic significance done in a variety of styles and media including watercolor and oil painting, photography, screen printing, etching and more.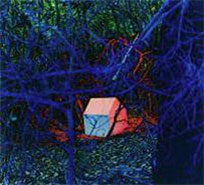 "B-House" by John Divola, 1987
More images can be seen here.
"This exhibition highlights a few of the most compelling university and college collections in Orange County," said Chris Hoff, guest-curator of the HIDDEN TREASURES exhibition. "In many cases they rival collections of major art museums in size, scope and uniqueness." Longtime Orange County resident, Chris Hoff is a curator, writer and artist. Mr. Hoff's diverse curatorial approaches were formed during his time as director of the Orange County exhibition space The Office: An Art Space, which ran from 2003 through 2008. Later in 2008, Mr. Hoff formed the Hoff Foundation, a private arts foundation that provides quarterly grants to artists and/or art organizations that are based in Orange County and/or Long Beach.

To learn more about JWA's Art Programs, visit www.ocair.com/terminal/artexhibits.

SOUTHWEST ANNOUNCES NEW NONSTOP SERVICE FROM JOHN WAYNE AIRPORT

More nonstop flights are taking off from John Wayne Airport (JWA)! Travelers will be able to fly on Southwest Airlines to Seattle (SEA) and Chicago (MDW) beginning June 28, and to Portland (PDX) beginning August 9, 2015.

Southwest also announced its plans to increase the number of daily, nonstop departures between John Wayne Airport and Dallas-Love Field (DAL) and Denver (DEN) effective August 2015. As previously announced, the airline plans to inaugurate daily service to Puerto Vallarta, Mexico (PVR) on June 7, 2015, subject to governmental approvals and to Austin (AUS) on June 28, 2015. Please click here for more information.

South County Connections

San Clemente Mobile Hub

I am pleased to report that San Clemente kids, teens and adults will once again have a library in their city! A temporary Mobile Hub has arrived in the Vista Hermosa Sports Park to provide best sellers, new nonfiction, books on CD, and new and popular children's and teen materials. Limited computer service will also be available.

The Mobile Hub opens on Wednesday, February 4 at 12 noon. Regular hours are Wednesdays through Saturdays, noon to 5 pm. The Hub is located in Vista Hermosa Sports Park, 987 Avenida Vista Hermosa, San Clemente, CA 92673

For full library service, including telephone customer service, please visit or call the San Juan Capistrano Library located at 31495 El Camino Real in San Juan Capistrano, (949) 493-1752 or any branch of OC Public Libraries.

Colorado River Aqueduct Tour

Water is a treasured resource here in Southern California, especially South Orange County. In February, I sent my Policy Advisor (Victor Cao) to tour the Colorado River Aqueduct to get a first-hand experience of our water infrastructure. Completed in 1939, the Colorado River Aqueduct is a 242-mile water conveyance system that delivers over 336 billion gallons a year to nearly 23 million Southern California residents.

As good stewards of our water resources, we have a heightened responsibility to conserve water during challenging drought conditions. I would like to share some investments you can make that will help you save water and money:

Contact your local water agency about turf removal and drought tolerant-landscaping
Replace old fixtures and pipes in your home to reduce water use and leaks
Check your sprinkler systems for leaks
Wash your vehicle at a commercial car wash that recycles water
Replace old washing machines or dish washers with Energy Star compliant models
Learn more about more ways to conserve water at OC Water Smart
Thank you to Director Linda Ackerman for her invitation to my staff to participate in this informative experience. I would also like to thank my South Orange County colleagues from the City of San Clemente, City of Laguna Woods, City of San Juan Capistrano, and South Coast Water District for participating on the tour.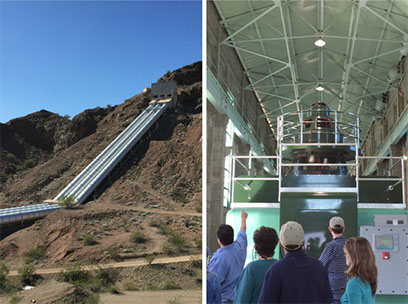 COASTAL CLEANUP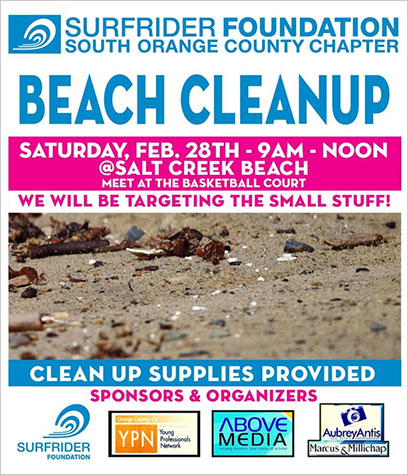 Healthcare Advisory

OC LINKS


The OC Links Information and Referral Line provides telephone and online support for anyone seeking information or linkage to any of the Health Care Agency's Behavioral Health Services. These services include children and adult mental health, alcohol and drug inpatient and outpatient, crisis programs, and prevention and early intervention services. Callers can be potential participants, family members, friends or anyone seeking out resources, or providers seeking information about Behavioral Health programs and services. Trained Navigators provide information, referral, and linkage directly to programs that meet the needs of callers.

If you would like to learn more about services available through Behavioral Health Services, please call (855) OC-LINKS between the hours of 8 am - 6 pm to be connected to a Behavioral Health Navigator, or click on the OC Links Chat icon during open chat hours. TDD Number: 714-834-2332.

Children's Hospital of Orange County Tour

Last week, my staff and I toured the Children's Hospital of Orange County (CHOC) with Jena Jensen, CHOC Chief Government Relations Officer, and Nick Anas, Pediatrician in Chief.

As of January 2015, CHOC was designated as a pediatric trauma center in Orange County. CHOC serves as a community and regional resource for pediatric trauma patients fourteen years of age or less.

There are eight stages (0-7) that measure a hospital's implementation and utilization of information technology applications. The final stage, Stage 7, represents an advanced patient record environment. This is an outstanding achievement given the rigorous evaluation process CHOC underwent to receive this award.

CHOC has a rich 50 year history of nurturing, advancing and protecting the health and well-being of children through innovative care and state-of-the-art facilities. I was thoroughly impressed with the high caliber of services available. Recently, CHOC earned the International Award for Information Technology.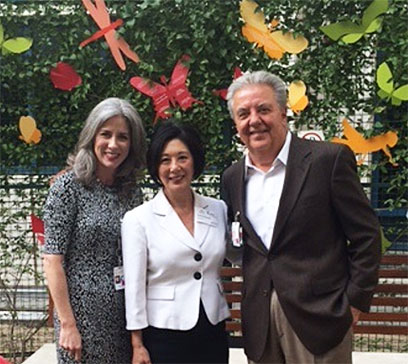 Harbor Happenings

DANA POINT FESTIVAL OF WHALES – A CELEBRATION OF THE CALIFORNIA GRAY WHALE'S MAJESTIC MIGRATION

Fun and festivities for the entire family Saturday and Sunday, March 7 & 8 and 14 & 15, 2015

The 44th annual Dana Point Festival of Whales, Saturday and Sunday, March 7 & 8 and 14 & 15, celebrates the return of the once-endangered California Gray Whale with a leviathan-size event. This annual celebration draws nearly 100,000 visitors from around the world to Dana Point each year during the height of whale watching season.

Dana Point offers visitors a great opportunity to get up close and personal with these incredible creatures and also enjoy sightings of other sea life unique to the California coast. Dana Point's Festival is unique in that there are so many different events and activities for visitors to enjoy. Whether it's the opening parade down Coast Highway, the Polynesian Connection at Baby Beach, Ocean Awareness, Clam Chowder Cookoff, Art in the Park or the grand finale concert on the water, visitors get a real feel for this great destination and can even be transported free of charge on the Festival shuttle that offers stops at each event venue. Visitors can actually 'migrate' just like the whales and this year the Festival will once again provide a water taxi to traverse the harbor. However, what visitors really want to experience is the thrill of spotting a pod of gray whales, a mega pod of dolphins or other sea life, and Dana Point Harbor offers the very best location along the California coast.

Located midway between Los Angeles and San Diego, experts report that Dana Point's 200-foot cliffs serve as a navigational landmark for migrating whales. Nearly 25 percent of the gray whale population follow the coastline during migration – which means many whales pass by Dana Point daily. An added bonus is Dana Point's harbor design that allows for a quick trip out to sea (approximately five minutes or less) so that whale watchers can spend more time spotting whales than winding through a harbor. Whale watching enthusiasts may also view these beautiful creatures from the Headlands Conservation Park. The Park includes a public trail system, over three miles in length, and links all the parks and open space areas of the Headlands. The system includes pedestrian trails, coastal and beach access, scenic overlooks and the Nature Interpretive Center.

For updated information on events and a wide variety of whale watching excursions, call 1-888-440-4309 or visit online at www.festivalofwhales.org.

Community Notice 2015 Festival of Whales Parade Road Closure

Dana Point Police Services will be implementing the following road closures during the Festival of Whales Parade on Saturday, March 7, 2015 from 9:00 AM until 12:00 PM.

PCH will be closed from Golden Lantern to Selva Road
San Juan Ave. will be closed from Violet Lantern to Golden Lantern
Blue Lantern will be closed from La Cresta to PCH
There will be no vehicular traffic allowed on PCH during the closures, nor will traffic be allowed to cross PCH during the closures.

Access to and from the Dana Point Harbor Area will be continuously available through the intersection of PCH and Del Obispo or by using Golden Lantern. Golden Lantern will not be closed during the event, however drivers should expect delays.

If you have any questions about how these closures, please contact Matthew Sinacori, City Engineer at 949-248-3574.

Furry Friends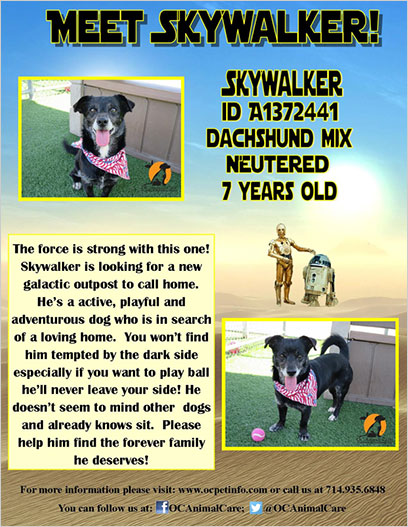 Out and About the Fabulous Fifth District

Aliso Viejo

Aliso Viejo Aquatics Center Swim Season Kick off party!
29 Santa Barbara,Aliso Viejo,CA United States
March 7th @ 11:00am – 1:00pm

Last but not least this week I:

Attended the Laguna Hills Little League Opening Day Ceremony to throw out the honorary first pitch.
Participated in the Orange County Transportation Authority's Board of Directors Meeting.
Met with Boys & Girls Club of Capistrano Valley Executive Director James Littlejohn to discuss a proposed community center for Rancho Mission Viejo and Ladera Ranch.
Delivered a County Update to the Rotary Club of Laguna Niguel. Attended the California State Association of Counties New Supervisors Institute.
My Staff also:

Attended the Annual San Clemente Chamber Meeting & Award Ceremony to present a proclamation in honor of outgoing Chair Adele Lux, and certificates of recognition to 2014 award recipients Sandra McKinney (Educator of the Year), Jim Holden (Citizen of the Year), Left Coast Brewing Company (Business of the Year, Jim Richardson (Volunteer of the Year), Beth Apodaca (Ambassador of the Year), and Kent Campbell (Outstanding Lifetime Achievement).
Attended the OC Leadership Forum on Aging at the Alzheimer's Association, Orange County Chapter.
Presented a certificate of recognition in honor of the ribbon cutting ceremony for Beauty Smash in the City of Laguna Niguel.
Presented certificates of recognition to San Clemente Councilwoman Lori Donchak and San Clemente Branch Library Manager Karen Wall in honor of the grand opening of the Mobile Hub in Vista Hermosa Sports Park.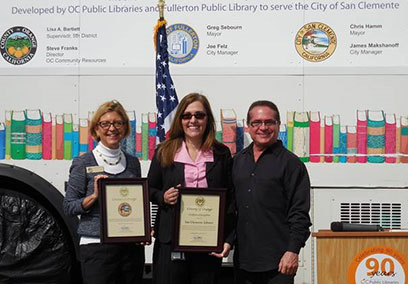 Presented a certificate of recognition in honor of the ribbon cutting ceremony for Treasure Box Jewelers in the City of San Clemente
Attended the Lake Forest "State of the City / Meet the Mayor" event at the Grove at Shea Baker Ranch.
Attended the 2015 OC Collaborative Services Summit.
Attended the Orange County Asian Pacific Islander Community Alliance Policy event.
Attended the 1st Annual South Orange County Economic Coalition Report.
Attended the Community of Orange Foundation Gala.


DISTRICT

STAFF
Paul Walters
Chief of Staff

Victor Cao
Policy Advisor

Veronica Carpenter
Policy Advisor

Evan Chaffee
Policy Advisor

James Dinwiddie
Policy Advisor

Kelley Jimenez
Policy Advisor

Sergio Prince
Community Relations Advisor

Tanya Flink
Office Manager



Stay Updated!