Fifth District Calendar

Don't Miss the 10th Annual Fête de la Musique Tomorrow!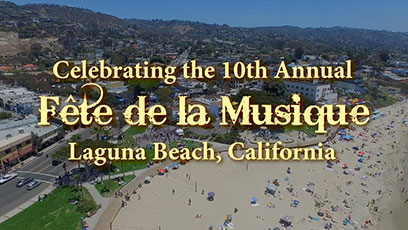 Click above to view the Fête de la Musique video.
I cordially invite all music lovers to enjoy the 10th anniversary celebration of Fête de la Musique in Laguna Beach! The award-winning Fête de la Musique, the largest and best attended musical event in Laguna Beach, takes place Saturday, June 17 from 12 noon to 4 PM, kicking off at Main Beach.

This FREE milestone event is being presented by the Laguna Beach Sister Cities Association in partnership with my office, the City of Laguna Beach, Laguna Beach Chamber of Commerce, Visit Laguna Beach, and the Orange County Visitors Association.

Also known as World Music Day, Fête de la Musique originated in Paris in 1982. Today, this international phenomenon draws music lovers to hundreds of cities worldwide. Like other locales around the globe, musical performers will be scattered throughout the streets of Laguna, playing a myriad of music and offering wonderful surprises around every corner!

For more information, please click here or on the flyer below.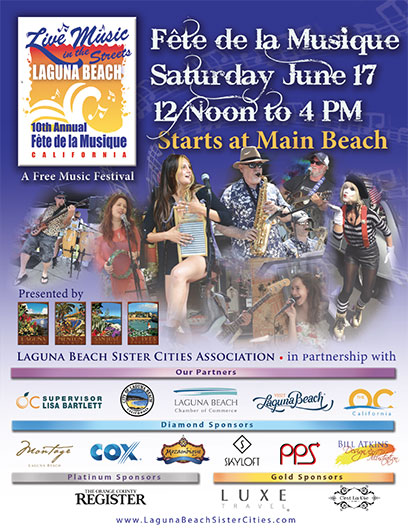 Click on the image above to view a PDF version.

Ride FREE to Laguna Beach on a Summer Breeze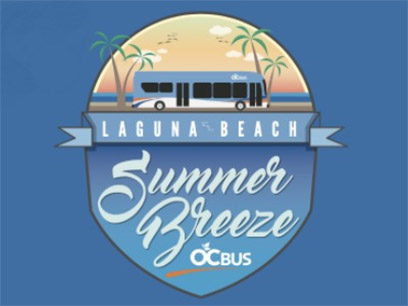 On Saturday, July 1, please join me and the City of Laguna Beach for a fun-filled affair kicking off this year's Summer Breeze bus service. This FREE event will take place from 10 AM to 2 PM, featuring festivities for the whole family, carnival games, refreshments, and fabulous prizes!

A special drawing will be held for the first 100 people who ride the Summer Breeze into Laguna Beach that day. Prizes include 2 premier seats to the Festival of Arts & Pageant of the Masters, in addition to tickets for Laguna Playhouse, Taste of Laguna, excellent restaurants, and much more!

Laguna Beach's Summer Breeze offers FREE parking and a FREE bus ride. Blowing through the jasmine of Laguna Canyon Road, the Summer Breeze offers convenient stops at the Festival of Arts & Pageant of the Masters, Sawdust Art Festival, Art-A-Fair, and Laguna Playhouse, as well as the Laguna Beach Bus Station, where riders can easily connect with the FREE Laguna Beach Trolley.

The Summer Breeze runs every Saturday and Sunday, 11 AM to midnight, from July 1 through September 3. This FREE park & ride service originates from the Summer Breeze parking lot located at the I-405 & SR-133 (Laguna Canyon Road) interchange in Irvine, previously the site of the Odysseo/Cavalia horse show.

No need worrying about parking hassles in Laguna Beach this summer! Blow freely into town on a sweet Summer Breeze and be returned safely to your vehicle when you're done! For more information - including the Summer Breeze bus schedule, route map, and directions - please click here or see the flyer below.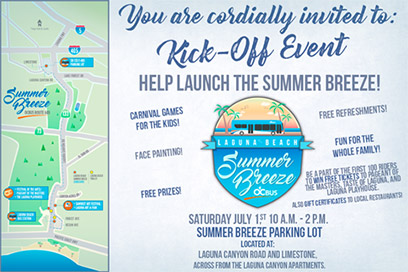 Click on the image above to view a larger version.

The 2017 South County Job Fair Connected Job Seekers to Employment!

My annual South County Job Fair at the Laguna Hills Mall was a huge success! Of the three hundred and fifty attendees, approximately two hundred will be scheduled for second interviews with the opportunity to achieve full-time employment. The Surf & Sand Resort in Laguna Beach was excited to report they extended ten employment offers to South County Job Fair candidates.

One candidate from Laguna Hills, applied for a Patent Coordinator position at Canon USA, Inc. prior to attending the event, and had the opportunity to connect with a Senior Talent Acquisition Specialist at the South County Job Fair. As a result, the candidate is currently being reviewed for the position.

Another employer, Robinson Pharma, is advancing a number of candidates to the second round of interviews from resumes received at the Job Fair.

Additionally, a recruiter from Alzheimer's Orange County and South County Adult Day Services who attended the event stated the candidate pool was excellent, and they will be following up with up to eight CNAs and RNs for further opportunities. The recruiter also indicated they were able to gather candidates' resumes at the 2017 South County Job Fair for a future administrative position.

The sixty four participating employers reported they would be eager to participate in the annual event again. I want to thank Bob Bunyan and the OC Development Board, and Lisa Burns and the Orange County One-Stop Center, for helping to make the South County Job Fair a great success.

Please feel free to contact Business Services at the Orange County One-Stop for your workforce needs. For more information, please click here.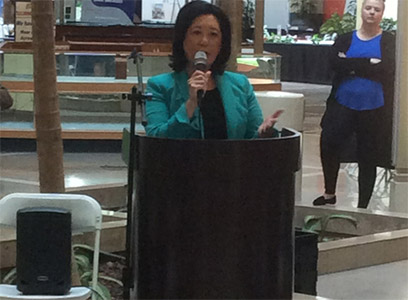 Welcoming the participants to the 2017 South County Job Fair.

County Connections

County Makes Final Bankruptcy Debt Payment

On July 1, the County of Orange will make the final debt service payment to bondholders of the Lease Revenue Refunding Bonds, Series 2005, retiring all bond debt related to the County's recovery from the 1995 Chapter 9 bankruptcy filing.

Since the bankruptcy, the County has implemented a variety of processes to strengthen financial management and oversight. In 1995-1996, the County established the Treasury Oversight Committee (TOC), the Audit Oversight Committee (AOC) and the Public Financing Advisory Committee (PFAC) to ensure compliance with state and federal laws and County policies and procedures. At least one member of the public serves on each committee.

Additionally, in 1998, the Board of Supervisors approved the County's first comprehensive, five year Strategic Financial Plan. The Strategic Financial Plan, which is updated annually, provides a long-term tool to ensure the County is able to respond to economic fluctuations and unanticipated events while maintaining the quality and range of services provided to the community. In 2016, the Board approved a comprehensive Debt Management Policy as part of the annual Strategic Financial Plan update.

Recovering from the bankruptcy required a great deal of sacrifice and hard work over many years. While completing the final debt payment marks a significant milestone, I will continue to ensure the County's finances are handled in an open, transparent and accountable manner.

To read the full details, please click here.

Take the OC Parks Survey

OC Parks are important to our communities. This brief questionnaire is your opportunity to let the County of Orange know your thoughts about our parks. What is working? What would you love to see more of in your OC parks? Your feedback is valuable, and your individual responses will be kept confidential. KH Consulting Group (KH) will use your input to help us shape OC Parks' strategic plan to make your parks and community even better!

Please click the image below to complete the questionnaire (English, Spanish, and Vietnamese). We encourage you to share the link with others - friends, family members, neighbors, park users, constituents - who care about our parks and their future. We want to hear from you!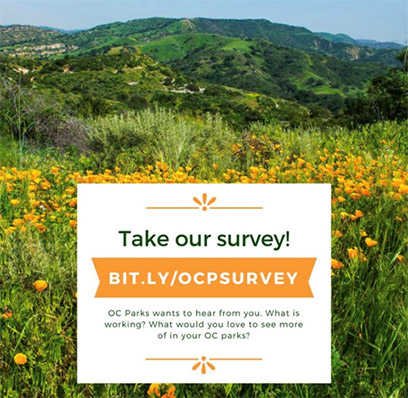 Click on the image above totake the survey.

Marconi Auto Museum Exhibit at John Wayne Airport

"The Marconi Automotive Museum & Foundation for Kids" exhibit is on display at John Wayne Airport's Orange County: Destination Art & Culture exhibition space through September 2017. Featured as part of John Wayne Airport's (JWA) Arts Program, the exhibit may be viewed pre-security along the pedestrian walkway connecting Riley Terminals B and C.

The Marconi Automotive Museum & Foundation for Kids was founded by Dick Marconi and opened to the public in 1994. Always a great car enthusiast, over the years Marconi amassed an impressive collection of high performance street cars and race cars. The Marconi Automotive Museum in Tustin features one of the largest collections of rare, exotic and high performance street cars in North America.

Dick developed his life's mantra which is to "learn, earn and return." In keeping with this personal philosophy, Marconi established the Marconi Foundation for Kids and donated all of his vehicles and the building which housed his former race team. Today, the Marconi Auto Museum & Foundation for Kids hosts private events and sponsors fundraisers to support charities serving at-risk children that include Olive Crest, Drug Use is Life Abuse, Child Help, Orangewood, Covenant House, KidWorks and OC Rescue Mission.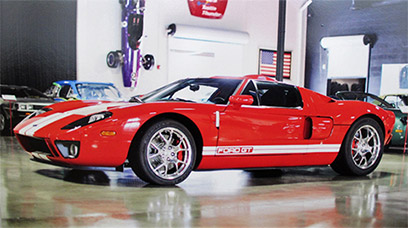 More images can be seen here.

Youth Summer Bus Passes Available for Half Price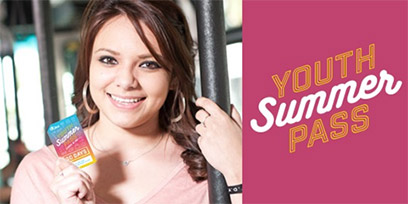 The Orange County Transportation Authority is encouraging youth to explore their community this summer using the discounted OCTA Youth Summer Pass.

The 30-Day Youth Summer Pass is a limited-time discount on the youth monthly pass. It's being offered to youth ages 6 to 18 and costs $20, half off the regular price. It is valid for unlimited rides on the 65 OC Bus routes for 30 consecutive days between June 1 and August 31. The Youth Summer Pass can be conveniently purchased using the mobile ticketing feature of the OC Bus app. Click the link below for other purchasing options.

As part of this year's promotion, OCTA is offering prizes, including Knott's Berry Farm tickets, movie theater tickets and gift cards, to a lucky winner each week. To enter, participants are asked to hop on an OC Bus, take a selfie with the special summer bus decal and share their photos on social media using #OCSummerBus.

To find out more about the OCTA Youth Summer Pass, please click here.

WANTED: Orange County Ethics Commissioners


The Orange County Board of Supervisors is now accepting applications for Commissioners to serve on the County's Campaign Finance and Ethics Commission.

The Commission will consist of five appointed members, one appointment by each Supervisor. Commissioners shall serve terms up to three years and may not serve more than two full terms. A full list of the qualifications and an online application can be found on the Office of Campaign Finance and Ethics Commission website. Proposed commissioners must be confirmed by a majority vote of the Board of Supervisors.

In addition to the Office of Campaign Finance and Ethics, the County of Orange has a fraud hotline for use by County employees, the general public, or vendors reporting suspected waste, fraud, violations of County policy, or misuse of County resources by vendors, contractors or County employees.

The County Fraud Hotline number is (714) 834-3608. For more information about reporting fraud, please click here.

Eco Challenge Poster Contest Deadline is June 30

There is still time to enter the 2017 Eco Challenge Poster Contest. OC Waste & Recycling is teaming up with Angels Baseball again to inspire environmental stewardship in youth between the ages of 8 and 14.

The focus of this year's contest is organics recycling – reducing the amount of food waste and green waste sent to landfills from our homes, schools and communities. Contestants create original art that illustrates how to reduce and recycle green waste and food waste. One winner from the Fifth District will win a Bat Kid Experience, including a visit to the dugout to meet the Angels, tickets to a game, a Bat Kid Jersey, and an on-field introduction!

Full rules and eligibility details are available at OC Bat Kids.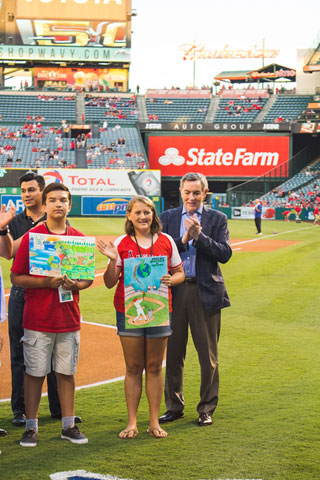 My Chief of Staff, Paul Walters, with last year's
Fifth District Winner, Elisa Sirin.

OC Transit Vision


What's your vision of transit in Orange County? Do you want trains, buses, shuttles, or something different?

The Orange County Transportation Authority is asking for your help in shaping the future of transit. You can design your own transit system with the fun and interactive Build Your Own System survey that allows you to select from various transit features that could enhance transit in Orange County. These features include stops, stations, vehicle types, and service. As you develop your transit system, you can see the benefits, such as enhanced ridership, travel time, accessibility, or passenger experience change in real-time. For more info, please click here.

Metrolink $10 Weekend Day Pass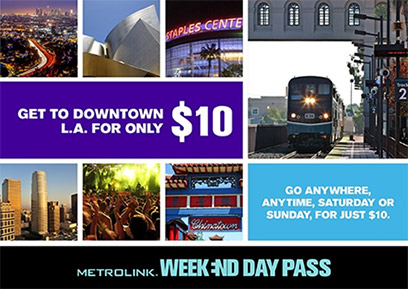 Metrolink is offering a Weekend Day Pass for only $10 per day. This pass allows a rider to ride anytime, anywhere system-wide on either Saturday or Sunday.

The Weekend Day Pass offers FREE connectivity to most rail or busses throughout Southern California. For example, after you purchased your Weekend Day Pass and took Metrolink from Irvine to downtown LA, you can board the subway at Union Station and ride all the way to Hollywood and Highland for FREE!

Metrolink Monthly Pass holders have the ability to ride any Metrolink train from 7 PM Friday through 11:59 PM Sunday, anywhere in the Metrolink system for no additional charge.

The $10 Weekend Day Pass is available for purchase through all Metrolink ticket vending machines (TVM) and the mobile app on Saturday and Sunday only. For more information, click on the video below.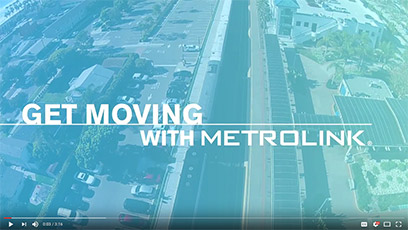 Click on the image above to view a the video.

Meet OC Animal Care's Pet of the Week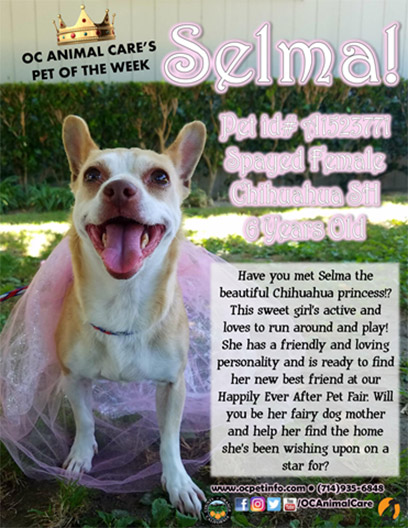 Click on the image above to view a PDF version.

Happily Ever After Pet Faire


Looking to add a furry friend to your family? Head down to the OC Animal Shelter on Saturday, June 17, to find your purrfect match! All adoption fees are waived, just pay for licensing and microchip. In addition to adoptions, there will be food trucks, pet demonstrations, rescue organizations, and even a knight from Medieval Times! Don't miss this annual event to help our homeless pets find loving, permanent homes. Click here for details.

Out and About in South County

Aliso Viejo: Sweet 16 Anniversary Party

Please join the City of Aliso Viejo on Saturday, June 24 from 12 PM to 3 PM at the Aliso Viejo Aquatic Center for its "Sweet 16" Anniversary Party! The festivities include swimming, family games, food, music and more. Admission is free. For more information, please visit city's event page or call 949-425-2537.

Dana Point: International Surfing Day

June 17 is International Surfing Day! Grab your board and head down to Doheny State Beach for a fun, family-friendly event for all ages. See the flyer below or click here for details.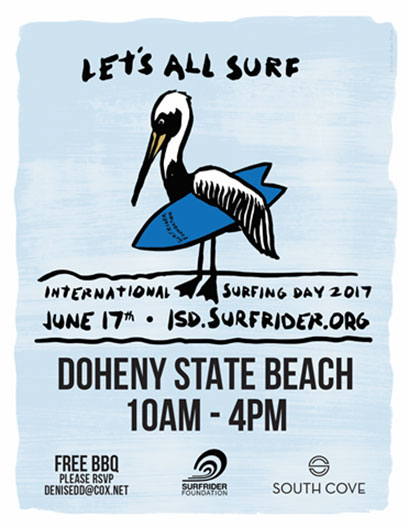 Click on the image above for more details.

Mission Viejo: Saddleback College VETS 5K & Kids Ruck Run

The Saddleback College Veterans Education and Transition Services (VETS), the Society of American Military Engineers, and the Veterans Student Council is proud to present the inaugural "VETS 5K & Kids Ruck Run" benefiting student Veterans in South County. This event will be held Sunday, June 18 at Saddleback College, with the 5k beginning at 8:00 AM. Registration can be completed online or the morning of the race. By participating in this event, you have the opportunity to honor and give back to those who have proudly served our nation. For more information, please click here or on the flyer below.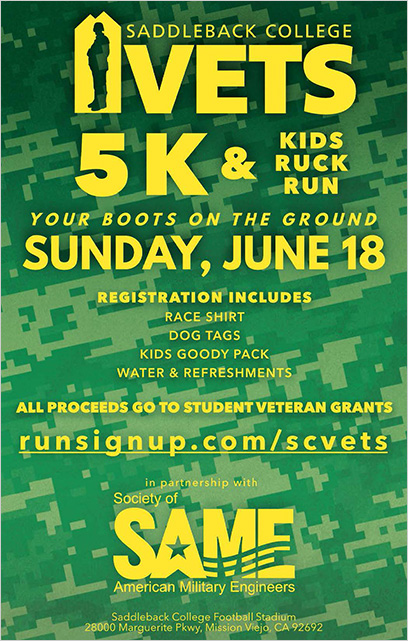 Click on the image above to view a PDF version.

Mission Viejo: Dawg Walk & Pet Faire

Enjoy a morning walk with your dog on Saturday, June 17, along the gorgeous Oso Creek Trail and help support the homeless pets at Mission Viejo Animal Shelter. The event will feature pet contests, pet adoptions, vendors, raffles, food and more! For more information and to register for the walk, click here.

San Juan Capistrano: Summer Nights Concert Featuring Redneck Rodeo

On Wednesday, June 21, enjoy a free concert at Historic Town Center Park - including live music, dancing, youth activities, and a business expo - from 6 PM to 8 PM. Food is available for purchase from local restaurants. Beer and wine can be purchased at the San Juan Capistrano Chamber of Commerce booth. Vendor space is available in the Business Expo. For the safety and enjoyment of others, please leave pets at home. For more information, please click here.

County Wide: OC Parks Sunset Cinema Series

The temperature is heating up! Enjoy our gorgeous Orange County summer weather while watching a great film under the stars. All movies are family-friendly (PG rating). Bring your beach towel and mark your calendar for a screening near you!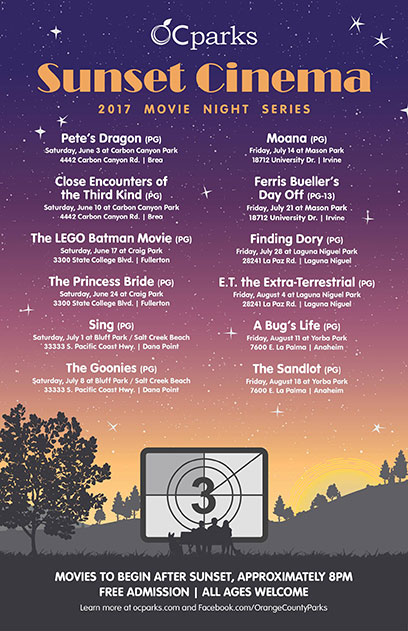 Click on the image above to view a larger version.

This Week I:

Participated in the OCTA Board and Legislative and Communications Committee meetings.
Participated in the County IT Ad Hoc meeting.
Educated attendees at the Laguna Beach Farmer's Market about the Office on Aging's produce vouchers for qualifying low-income seniors.
Participated in the Local Agency Formation Commission's (LAFCO) Board meeting.
Met with the new Dana Point Harbor Manager, Shannon Levin.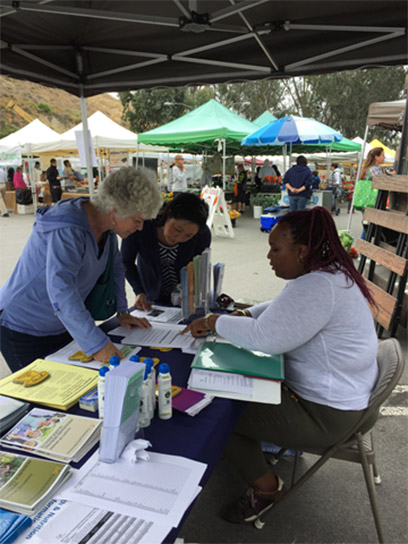 At the Office on Aging booth at the Laguna Beach Farmer's Market.

My Staff:

Staffed a County Information Booth at the RanchoFest event in Rancho Santa Margarita and presented a proclamation to retiring RSM Chamber of Commerce CEO Suzanne Singh.
Attended the Orange County Fire Authority's (OCFA) Promotional and Length of Service Ceremony.
Attended the OC Historical Commission event at Irvine Ranch Historic Park.
Attended the California Women's Leadership Association (CWLA) luncheon.
Attended the Laguna Beach City Council meeting to present a proclamation to Jackie Miller, daughter of Stu Saffer, in honor of her father's memory.
Presented Certificates of Recognition to the honorees at the Mission Viejo Chamber of Commerce Annual Awards Breakfast.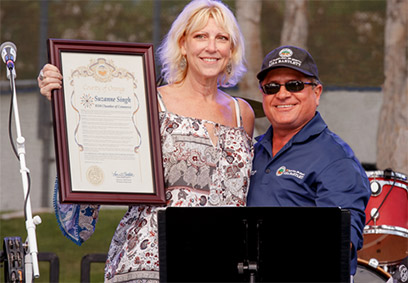 Presenting a proclamation to RSM Chamber CEO Suzanne Singh at RanchoFest. (Photo courtesy of Takata Photo & Design)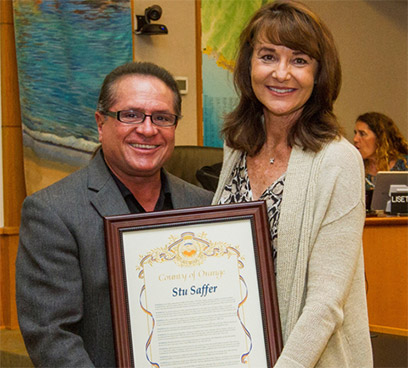 My Community Relations Advisor, Sergio Prince, presenting a proclamation to Jackie Miller in honor of her father, Stu Saffer. (Photo courtesy of Mary Hurlbut/Stu News Laguna)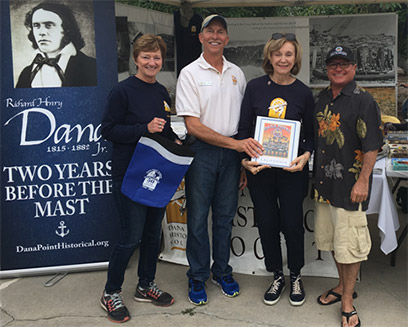 Visiting the Dana Point Historical Society booth at the OC Historical Commission event.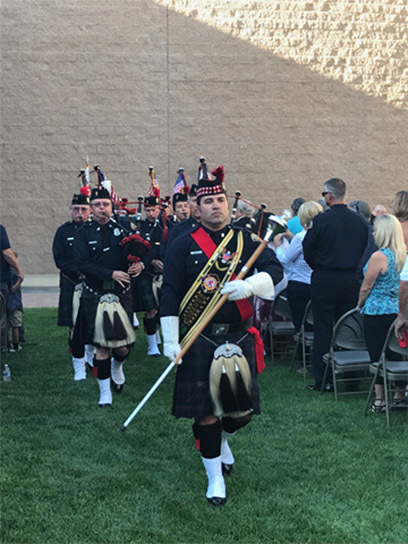 OCFA Graduation and Length of Service Ceremony.

Elected Officials in the Community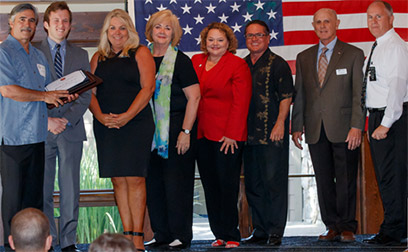 Mission Viejo Mayor Wendy Bucknum (center in red) and MNWD Director Richard Fiore (2nd from right) at the Mission Viejo Chamber of Commerce Annual Awards Breakfast. (Photo courtesy of Takata Photo & Design)

For questions or comments regarding Supervisor Bartlett's E-Newsletter please contact the Supervisor's office staff at: (714) 834-3550 or email Sergio.Prince@ocgov.com or Tanya.Flink@ocgov.com.