Bartlett Bulletin

Dana Point Harbor Revitalization Project

Last week I had the pleasure of appearing on THIS DAY - a weekday morning talk show on Village Television in Laguna Woods. Joining me and host Ken Goldenberg to discuss the Dana Point Harbor Revitalization Project was Bryon Ward, President of Burnham-Ward Properties, one of our P3 partners with Dana Point Harbor Partners LLC.
Dana Point Harbor was created in 1968 from a natural cove along the shoreline as a small boat marina. The majority of the harbor's facilities were constructed from 1971 through 1975. During the nearly five decades since that time, much of the harbor's infrastructure has deteriorated or reached its useful life, and requires modernization and/or replacement.
Following our direction to pursue a public-private partnership (P3) development structure, with the support of many stakeholders and community groups, my Board colleagues and I last month unanimously approved the Master Lease and Option Agreements with our P3 partners - Dana Point Harbor Partners LLC (DPHP).
Click image above to view the preliminary artist rendering.
The proposed public-private partnership (P3) master agreements will result in a truly fantastic revitalized harbor with enhanced amenities at the lowest expense to the County and without public financing.
Click image above to view the preliminary artist rendering.
DPHP's plan provides the best combination of master planning, ground rent to the County, past performance as well as performance guarantees, and a vision that will result in a single cohesive master operator.
Going forward, DPHP is committed to public outreach, and the County looks forward to seeing what is produced. Please be assured that I will continue to keep you posted every step of the way. Click here to watch this week's Dana Point Harbor Revitalization Project discussion on THIS DAY.

OCSD / OCFA Announce Joint Air Operations Plan

This week, the Orange County Sheriff Department (OCSD) and Orange County Fire Authority (OCFA) held a press conference in Mission Viejo to release a new operating plan governing the helicopter operations of both agencies. The newly implemented plan outlines how emergency air operations will be coordinated and conducted between the two agencies.
Historically, there has been considerable tension between the two agencies relating to their helicopters. As such, it wasn't uncommon to read an article in the local newspaper or hear a news report about the two agencies battling to respond to emergency calls. However, with the announcement of the new Joint Air Operations Plan, the two agencies have committed to work in a collaborative and coordinated fashion.
The new plan outlines the responsibilities of both agencies. To that end, OCSD helicopters are now tasked with air search and rescue responsibilities, as well as emergency medical calls for service that occur on non-paved roadways that are not suitable for vehicular traffic.
Additionally, OCFA is now the primary agency for fire related missions and ground based emergency medical calls that occur on paved highways and roads suitable for vehicular traffic. This approach will hopefully ensure the two agencies are working in coordination to compliment capabilities rather than duplicating efforts.
Throughout the development of this new plan, collaboration has been key. Both OCSD and OCFA are premier public safety organizations, and the coordination of their assets is critical to ensuring appropriate responses to emergency calls. The new plan enhances public safety for all residents and visitors of Orange County, and ensures our air assets are used in a manner that is most effective and efficient.
Read the new joint Air Operation Plan or view the OCSD/OCFA press conference video for more information.

Oso Parkway Bridge Project Now Underway

I'm pleased to report that construction has started on the Oso Parkway Bridge Project! The two-year project will replace a portion of Oso Parkway with a new bridge structure to improve traffic flow and construct a more efficient connection between SR 241 and Los Patrones Parkway.
Pedestrian access to Tesoro High School will also be improved with construction of a new sidewalk on the south side of Oso Parkway.
With construction activities underway, here's what to you can expect over the next several months as crews work on Phase I of the project:
Work is scheduled on weekdays, 7 a.m. to 5 p.m., with limited night work. Crews will be widening the south side of Oso Parkway Bridge as well as constructing a new sidewalk.
Existing traffic patterns will be maintained; motorists will not be impacted during this initial phase. During future construction activities, at least two lanes in each direction on Oso Parkway will remain open at all times.
Bike lanes may be impacted; motorists and bicyclists will share the road.
Be aware of construction signs and personnel while traveling through the project area; please drive with caution.
Visit the Oso Parkway Bridge Project website for more info.

DUI Checkpoints in Dana Point and Laguna Beach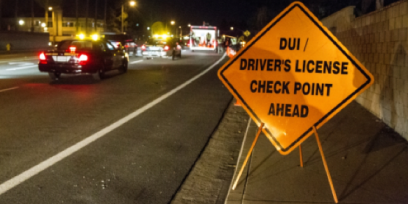 The Orange County Sheriff's Department (OCSD) DUI Enforcement Team will hold a DUI/Driver's License Checkpoint in Dana Point this weekend to stop and arrest alcohol and drug-impaired drivers. The checkpoint will be held from 7 PM Friday, Aug. 17, to 3 AM Saturday, Aug. 18.
In addition, the Laguna Beach Police Department (LBPD) will also be conducting a DUI/Drivers License Checkpoint Saturday, Aug. 18 at an undisclosed location within the city limits between the hours of 9 PM and 3 AM.
California has seen a disturbing increase in drug-impaired driving crashes. OCSD and LBPD support the new effort from the Office of Traffic Safety that aims to educate all drivers that "DUI Doesn't Just Mean Booze."
Officers will be looking for signs of alcohol and/or drug impairment. Specially trained officers will be available to evaluate those suspected of drug-impaired driving, which now accounts for a growing number of impaired driving crashes.
High Visibility Enforcement using both DUI checkpoints and DUI Saturation Patrols have proven to lower the number of persons killed and injured in alcohol or drug impaired crashes. Research shows that crashes involving an impaired driver can be reduced by up to 20 percent when well-publicized proactive DUI operations are conducted routinely.
Drivers are encouraged to download the Designated Driver VIP, or "DDVIP," free mobile app for Android or iPhone. The DDVIP app helps find nearby bars and restaurants that feature free incentives for the designated sober driver, from free non-alcoholic drinks to free appetizers and more. The feature-packed app even has social media tie-ins and even a tab for the non-DD to call Uber, Lyft or Curb.
The cost of a ride home is cheap! Drivers caught driving impaired can expect the impact of a DUI arrest to include jail time, fines, fees, DUI classes, license suspensions and other expenses that can exceed $10,000, not to mention the embarrassment when friends and family find out!

Laguna Art Museum Centenial Exhibit at JWA

Calling all historians and everyone with an interest in history! John Wayne Airport (JWA) is pleased to share the story of Laguna Art Museum in its "Orange County: Destination Art & Culture" exhibit now through December 2018.
The "Laguna Art Museum Turns 100 – An Artistic Legacy in Orange County" exhibit at JWA is a fascinating journey that reflects on its origins.
Take a stroll through the Airport's pedestrian walkway connecting Riley Terminals B and C (pre-security), rewind the clock to the 1920s to a board-and-batten cottage, travel through the historic decades, and see the evolution of where the museum is today!
In summer 1918, a group of artists formed the Laguna Beach Art Association (LBAA) and opened their first exhibition. Ten years later they built a permanent gallery, which opened in 1929 and survives within the present Laguna Art Museum.
In 1972, there was a name change to Laguna Beach Museum of Art; and in 1986, the current name, Laguna Art Museum, was adopted to coincide with the most recent building expansion, as it now stands.
The founding of the LBAA is the beginning of the story of Laguna Art Museum, as well as the story of Laguna Beach, the art colony.
To celebrate the official day on which the Laguna Beach Art Association was founded in 1918, the museum will host a FREE day with art activities, docent-guided tours, community partner programs, and a birthday cake! This family-friendly event will be a day-long celebration of the historic milestone.
I invite you to join me in attending the LBAA 100-year birthday party August 25 at Laguna Art Museum, as I will be presenting a proclamation at 1:00 PM in honor of the centennial celebration!

Please Welcome the Newest Member of My Staff

James Alley, Communications Advisor
James Alley began his career in communications at Anaheim Public Utilities and has held various communications positions, including at Orange County Business Council, where he worked to create engaging campaigns and further the economic interests of Orange County. Mr. Alley holds a bachelor's degree in Communications Studies from Concordia University, Irvine and is currently pursuing a master's degree in Public Administration with an emphasis in Local and County Management at the University of Southern California.
He has a demonstrated track record in professional communications, including major website redevelopment, email campaigns, community outreach and engagement, media relations, and social media management.
In his professional capacity James has worked on major communications projects, ranging from drought response campaigns to organizational rebranding. In addition, he currently serves as Co-Chair of Advocacy and Communications at Orange County Chapter of Public Relations Society of America.
Mr. Alley will advise on all communications efforts in support of myself and the 5th District. For more information, visit my office website.

Critter Chronicles

LAPD Determines Sexual Abuse of Dog False

Over the last several days, many individuals have heard of the tragic story of a dog named Valerie (a.k.a Cargo), that was adopted last month from the Orange County Animal Shelter. Since being adopted, Valerie was found in LA and passed away due to an alleged case of animal abuse.
As the alleged incident occurred in Los Angeles, the Los Angeles Police Department (LAPD) Animal Cruelty Task Force is the investigating Agency, which has assigned three investigators solely focused on this case since August 7. The investigators have spoken to witnesses, obtained search warrants, reviewed videos, interviewed veterinary staff, and had a forensic veterinarian complete a second necropsy.
LAPD's Animal Cruelty Task Force has concluded with certainty that Valerie was not adopted from our shelter for malicious reasons and was not sexually assaulted and thrown from a vehicle. View the LAPD News Release.
While this incident did not occur as originally reported in the news, I am committed to ensuring incidents like what was alleged do not happen. With this in mind, earlier this week during the Board of Supervisors meeting, we provided direction to begin to discuss and work with other local governments within the region to develop an information sharing system that can be utilized to track animal abusers.
Essentially, the system could be described as a "Do Not Adopt" list. All of us on the Board of Supervisors and staff at OC Animal Care want to be proactive in trying to prevent animal abuse from happening, and this information sharing system can certainly help provide an additional investigative tool.

Clear The Shelters

Click image above to enlarge.

County Connections

OC Parks Summer Concert Series 2018


OC Parks Sunset Cinema Series 2018


Out and About in South County


Aliso Viejo: Summer Concerts & Movie Nights


Dana Point: 9th Annual Lobster Fest

Click image above to enlarge or here for more info.

Laguna Beach: Passport to the Arts 2018

Receive unlimited admission to the Laguna Beach art festivals and everything they offer the rest of summer! Passports can be purchased at festival box offices, the Visitors Center or online. Ride the Summer Breeze to the festivals Saturdays & Sundays!

Laguna Beach: Sunset Serenades

Sunset Serenades returns Friday evenings in September at 5:30 PM. The FREE concerts take place in a stunning setting at the Heisler Park Amphitheater, located at Cliff Dr. and Jasmine St. in Laguna Beach. See below for details:
9/7 - Valerie Geason (Jazz Vocalist)
9/14 - Jack Benny (Eclectic Rainbow Pop Group)
9/21 - Dr. Jane G. Ferruzzo (Virtuoso Harpist)
9/28 - Beatles Singalong with Jason Feddy

Lake Forest: 'Find Your Fit' Fitness & Health Expo


Lake Forest: Concerts in the Park

End summer with a country good time August 26 at Lake Forest Sports Park from 5:30 PM to 8:30 PM with "Morgan Leigh Band" and "Redneck Rodeo." See the city website for more info.

Laguna Niguel: Senior Expo


Rancho Mission Viejo Rodeo

The Rancho Mission Viejo Rodeo is celebrating 18 years of good old family entertainment August 25-26 at RMV Riding Park in San Juan Capistrano. The event draws the best contestants around the world to compete in the richest two-day rodeo in the nation. The top 30 contestants compete in each event for cash prizes in hopes of continuing on for the grand prize at the Nationals Final Rodeo in Las Vegas in Saddle Bronc, Bareback Riding, Tie-Down Roping, Steer Wrestling, Bull Riding and Team Roping.

San Clemente: Special Olympics 'Tip-A-Cop'


San Clemente: Music & Movie Series


San Clemente: 31st Annual Seafest

The Seafest is FREE, featuring a Chowder Cook-Off Competition, Fisherman's Lobster, Business Exposition, Arts & Craft Show, Surf Contest, Children & Teen Contests, Children's Complementary Arts & Crafts, Entertainment and a U.S. Coast Guard Search & Rescue Demo Operation, taking place Sunday, October 7 at the historic San Clemente Pier area! Free shuttle parking at San Clemente High School from 10 AM to 3 PM.

San Juan Capistrano: Summer Nites


This week I:

Participated in the Orange County Board of Supervisors meeting and joined my colleagues in presenting a resolution proclaiming August 2018 as Eligibility Professionals Month.
Chaired the Orange County Transportation Authority (OCTA) Board of Directors meeting.
Participated in the joint press conference in Mission Viejo with the Orange County Sheriff's Department (OCSD) and Orange County Fire Authority (OCFA).
Adjourned the Board of Supervisors meeting in memory of Scott Colton, Vice President of the Moulton Niguel Water District Board of Directors, who passed away last week.

My Staff:

Presented a certificate of recognition in honor of the ribbon cutting ceremony for South Ocean Dental in Lake Forest.
Presented a certificate of recognition in honor of the 10-year anniversary of Easy Living Home Care in Laguna Hills.
Presented a certificate of recognition in honor of the grand opening of Esencia School in Ranch Mission Viejo.
Participated in the Dana Point Chamber of Commerce Government Affairs Committee meeting.
Presented a certificate of recognition in honor of the ribbon cutting ceremony for Nexus Family Chiropractic in Dana Point.
Presented a certificate of recognition in honor of the ribbon cutting ceremony for Huntington Learning Center in Laguna Niguel.
Presented a certificate of recognition in honor of the ribbon cutting ceremony for MadaLuxe Vault at Outlets at San Clemente.
Introduced "The White Buffalo" at the OC Parks summer concert at Salt Creek Beach. Don't miss the final 2018 OC Parks summer concert August 23 with popular South County bands "Family Style" and "Tijuana Dogs" at Salt Creek Beach!

Elected Officials in the Community

For questions or comments regarding Supervisor Bartlett's E-Newsletter please contact the Supervisor's office staff at: (714) 834-3550 or email Sergio.Prince@ocgov.com.