Bartlett Bulletin

National Prescription Medication Take Back Day


Addiction Treatment and Recovery Registration

Poorly operated addiction treatment facilities and sober living homes have horrible impacts on our quality of life and public safety in South Orange County. Cities and counties across the United States have struggled to reign in sober living homes through traditional methods and are handcuffed by litigation under officious rules. Several notable attempts to amend legislation are still pending.
It appeared public officials had run out of options to address the problem, until now. Over the past year, I have worked with Second District County Supervisor Michelle Steel, District Attorney Tony Rackauckas, and the Orange County Health Care Agency (HCA) on an innovative approach for greater oversight of the addiction treatment industry in Orange County.
On October 16, the Orange County Board of Supervisors approved (3-0, w/Supervisors Spitzer and Nelson abstaining) the Addiction Treatment and Recovery Business Registration Ordinance (Registration Ordinance). The Registration Ordinance would require all addiction treatment businesses operating in the unincorporated areas to disclose information about their business, principals, and all affiliated entities, including sober living homes.
Recent prosecutions led by the District Attorney's Sober Living Home Investigation and Prosecution Project have exposed significant abuses in the addiction treatment industry, such as body brokering and insurance fraud. Further investigations reveal that these illicit activities have provided funding for sober living homes.
The Registration Ordinance is a major first step that will allow public agencies to document the network of addiction treatment companies and allow prosecutors to better identify abuses within the health care system. Our goal is that successful prosecutions will eliminate illicit funding that sober living homes depend on.
While the Registration Ordinance is a major first step for protecting quality of life and public safety, there is more work that needs to be done to expand the program countywide. To that end, I have directed County staff to research ways to partner with our cities. I encourage South Orange County cities to participate in the program. Through partnership, we can ensure those suffering from addiction get the care they need and, above all, protect our neighborhoods. The Board will consider expanding the program countywide on November 1.
I want to thank District Attorney Tony Rackauckas, HCA, and grassroots advocacy groups for developing a fresh approach toward eliminating bad actors in the addiction treatment industry and sober living homes.

"Pop Up" Mobile Voting Returns to The OC

"Pop up" mobile voting has returned to Orange County in time for the November General Election. In South County, mobile voting locations will be featured in Irvine, Ladera Ranch, Mission Viejo and San Juan Capistrano.
Any Orange County voter can vote their official ballot at any "pop up" mobile voting location. All locations, including days and times of operation, can be found by clicking here.
Although early in-person voting is the top feature in the Mobile Voting Center, it is not the only service that will be offered. Ballot drop off, replacement ballots, voter registration and voting information will be offered at each location.
The Registrar of Voters (ROV) mobile unit offers a quick service option for voters looking to save time on Election Day (and offering voting in locations not usually set-up as traditional polling places). Casting a ballot early is suitable to many voters that do not wish to vote-by-mail, but cannot make it to their polling place on Election Day.
For more information, visit the ROV website.

Laguna Niguel: "United to End Homelessness"


South Orange County: Homelessness 101


South County Disaster Preparedness Expo Recap

Last weekend, my office had the pleasure of participating in the 11th annual South County Disaster Preparedness Expo held in the City of Mission Viejo at the Norman P. Murray Community Center.
Thousands of attendees received a wealth of information from numerous participating agencies and organizations, including our OC Sheriff's Department and OC Fire Authority, on important ways to ensure their families, homes and businesses are prepared before, during and after a natural disaster or major emergency.

Dana Point Harbor Revitalization Meeting Recap

Earlier this week, my office joined our P3 partners and County staff at a meeting of the Dana Point Harbor Advisory Board to provide an update on the status of the Dana Point Harbor Revitalization Project.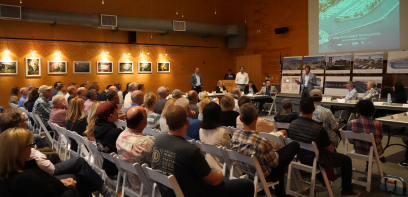 The informational meeting, held at the Ocean Institute's Samueli Hall, was attended by over 80 members of the community.
Preliminary Harbor Revitalization documents and artist renderings from our P3 Partner are available for viewing, including the proposed construction schedule, commercial core site plan, marina layout, hotel drawings, and more. To view the documents and other information, click here.
To view the new Dana Point Harbor Revitalization Project video presented at the meeting, click here or on the image below.

South County Spotlight

Polynesian Voyaging Canoe at Dana Point Harbor

Earlier this week, the Ocean Institute welcomed to Dana Point the Polynesian Voyaging Society and crew of the Hikianalia, a traditional Polynesian voyaging canoe, carrying forth the message of Mālama Honua – Caring for our Island Earth.
Over 1,000 spectators cheered the Hikianalia while it made its way into Dana Point Harbor, accompanied by local outrigger canoe clubs, as the crew was later greeted on shore by representatives of the Achajamen Nation.
Upon docking, the Hikianalia crew was then escorted into the Ocean Institute for an official welcoming ceremony, featuring traditional songs and dances, as well as presentations from my office and Senator Pat Bates in honor of their arrival to Dana Point Harbor from the shores of Hawaii. For more information, see the Ocean Institute press release.
Ever wondered what it's like to sail, navigate and live for weeks at sea aboard a Hawaiian voyaging canoe? Enjoy a tour of the Hikianalia this weekend during their dockside open-house canoe tours at the Ocean Institute, as well as free showings of Disney's "Moana" and the Hikianalia Crew Talk Story. The tours and presentations are free for all ages.

County Connections

Conditions of Children in Orange County Report

The 24th Annual Report on the Conditions of Children in Orange County was released last week, offering a comprehensive assessment of the health, economic well-being, education and safety of the County's children.
To that end, the following have shown improvement for the lives and well-being of Orange County's youth:
Good Health - Orange County children remain in good health with an uninsured rate of 2.5 percent; teen birth rates and infant mortality rates are at their lowest in 10 years.
Academic Improvement - Students continue to show academic improvement, especially children in migrant education and children who are economically disadvantaged.
Economic Well-Being / Child Support - The rate of current child support distributed to Orange County families has increased by 27 percent in ten years, higher than the rate in California. These improvements signify increased financial support for parents to provide for the basic needs of their children.
Safe Homes and Communities / Permanency - The percentage of children and youth entering foster care and placed in a permanent home within 12 months has shown significant improvement and is now higher than the rate in California - the first time in six years.
In addition to the positive outcomes previously highlighted, the rate of women in Orange County receiving early prenatal care is higher than the national rate; immunizations for our kindergartners are at the highest level in 10 years; and the Orange County high school dropout rate has decreased to 5.3%, lower than state and national rates.
Click here or on the image below to read the full report.

Orange County Secured Property Tax Bills

The Orange County Treasurer-Tax Collector (TTC) now offers property tax payment reminders electronically. Just click here to sign up your mobile number or your email address.
The Fiscal Year (FY) 2018-19 Secured Property Tax Bills have all been mailed to taxpayers and are now available to view, print or pay on the TTC's website.
The first and second installments are due Nov. 1, 2018, and Feb. 1, 2019, respectively. The last day to make your timely payment for the first installment will be Dec. 10, 2018; and the second installment deadline will be April 10, 2019. Payments made or postmarked after these dates will be assessed a late penalty.
If you received a RED property tax bill, you have a prior year's property tax bill that is unpaid. To check to see if you have any delinquent property tax bills or any property tax refunds on your property, view your online property tax statement by inputting your parcel or address.
The TTC encourages you to use the ease and convenience of paying your property taxes by eCheck at no cost through their secure website. You can also pay online using debit/credit cards (service charges apply).
If you plan to mail a check for your payment, please make sure your envelope has a USPS postmark on or before the last timely payment dates to avoid late penalties! If you wait until the last day to mail your payment, we highly recommend you get a hand-stamped postmark at the post office, since mail is not always postmarked the same day it is received. Sign up to receive an email or text reminder!
If your mailing address has changed or if you are a new owner of a property and did not receive a property tax bill, please print a copy from the TTC website. It is imperative that you file a change of address as soon as possible to ensure that you receive future property tax bills to the correct location. Click here to view or print a Change of Address Notice. You can complete and mail it to the Office of the Assessor at the location provided on the form.
If you sold a property and still received a property tax bill, you can forward the bill to the new owner or disregard it. The new owner of the property is responsible for payment of taxes due.
If you need to come into the TTC office to pay in person, please be advised that the Civic Center is undergoing construction, and parking is impacted significantly. For directions and parking information, click here.
For more information, see the TTC press release. If you have further questions, e-mail the TTC or call (714) 834-3411 weekdays from 9 AM to 5 PM.

John Wayne Airport: Helping Hands


EcoChallenge Day Collection at the Honda Center

Are you an Anaheim Ducks fan and have a few old items you need to get rid of? If so, OC Waste & Recycling (OCWR) is hosting its 2018 Eco Challenge Day Collection event Saturday, Nov. 10 from 8 AM to 11 AM in the Honda Center parking lot.
The public is encouraged to take advantage of free certified paper shredding, or donate e-waste, gently-used clothing and household goods. This year, patrons can also donate gently used pet items for OC Animal Care (no pet toys please). For more information on what you can bring, please click here.
Stop by the family fun zone for educational activity booths, a roller hockey zone, hang out with the Ducks Street Team, or get a chance to win Anaheim Ducks tickets, autographed Ducks memorabilia or tickets to Discovery Cube OC!
Please note Household Hazardous Waste will not be collected at this event. For more information, visit the OCWR website.

Critter Chronicles

High Winds Cause Overcrowding of Lost Pets

OC Animal Care took in over 33 stray dogs and 38 stray cats when high winds wreaked havoc on the County last week. Due to an overabundance of animals, OC Animal Care is currently waiving adoption fees.
The Orange County Board of Supervisors approved the Fee Waiver Resolution in 2016, which calls to forego regular adoption costs when shelter capacity reaches above 80 percent.
Owners of animals impounded as a first time stray October 15 and 16 due to the high winds will have significant cost savings when redeeming their animals, covering only minimal costs and licensing fees. In addition, if owners are unable to pick up their animals from the shelter, transportation home by an Animal Control Officer can be provided through arrangements with our Field Services Department.
As a reminder, pet owners should be aware of weather alerts and make sure their properties are maintained and secured and/or keep pets inside to prevent them from running loose and possibly being injured. We ask all pet owners to make sure your pets are micro-chipped and wearing proper identification at all times, as this greatly improves the odds of getting them back to you safely.
OC Animal Care encourages animal lovers to come adopt or consider signing up to be a foster caregiver. Fostering is a great opportunity to save lives and give a little personal time and attention to these animals while they search for their permanent homes!
OC Animal Care is located at 1630 Victory Road, Tustin 92782. Don't miss the opportunity to visit today and provide a forever home for an animal in need!

Celebrate Howl-o-ween at OC Animal Care!


Out and About in South County

Mission Viejo: Trunk or Treat at MOO Kid City!


Laguna Beach: Pageant of the Monters

Only returning every five years to the Festival of Arts grounds in Laguna Beach, the Pageant of the Monsters will offer attendees a frightfully fun time October 26, 27, 28 and 31 from 6:00 PM to 9:30 PM. Themed as Raiders of the Lost Art, join "Indy" on a treasure "haunt" through the workshop labyrinths and behind-the-scenes catacombs. The Festival of Arts grounds will be filled with halloween-themed art activities, music, and other "spooktacular" surprises!

Lake Forest: Halloween Movie/Costume Contest

Enjoy a showing of "Casper" on the big screen along with a costume contest Saturday, October 27 at Etnies Skate Park of Lake Forest. Pizza, snacks and drinks will be available for a nominal fee. The costume contest begins at 6 PM and the movie starts at 6:30 PM. Winners of the costume contest will be announced and awarded their prizes directly following the movie. Click here for more info.

Mission Viejo: Hometown Halloween

Celebrate Hometown Halloween in Mission Viejo at the Norman Murray Community Center, featuring themed carnival games, crafts, music and much more on Saturday, October 27 from 4 PM to 6 PM. Then from 6 PM to 7 PM, it's fun or fright as you travel through the glowing haunted maze!

2nd Annual Spooky San Clemente

Don't miss the 2nd Annual Spooky San Clemente taking place October 27 from 4 PM to 7 PM at the Community Center, 100 N. Calle Seville!

RSM: Halloween Family Festival

Enjoy spooktacular fun October 31 at the Halloween Family Festival in RSM! This FREE, festive and safe event from 2 PM to 5 PM offers families an afternoon to trick-or-treat at community booths, play in a variety of inflatables, join in the child and pet costume parade, costume contests and photo opportunities, as well as purchase refreshments from local vendors. Bring your trick-or-treat bags to fill at the booths around Central Park!

Laguna Hills: Día de Los Muertos Celebration


This Week I


My Staff

Attended the Dana Point Harbor Revitalization Project meeting at the Ocean Institute.
Presented a certificate of recognition to the Polynesian Voyaging Society at a welcoming ceremony held at the Ocean Institute in honor of the arrival of the Hikianalia to Dana Point Harbor from Hawaii.
Presented a certificate of recognition in honor of the ribbon cutting ceremony for Knolls Restaurant in Laguna Niguel.
Presented a certificate of recognition in honor of the ribbon cutting ceremony for Urbane Café in Aliso Viejo.
Presented a certificate of recognition in honor of the ribbon cutting ceremony for Rockwell's Bakery, Café & Bar in San Clemente.
Presented a certificate of recognition in honor of the ribbon cutting ceremony for Dance Daly Ballroom in Mission Viejo.
Attended The Toll Roads Town Hall in San Clemente.

Elected Officials in the Communty

For questions or comments regarding my E-Newsletter, please contact my office staff at (714) 834-3550 or email my Community Relations Advisor, Sergio Prince, at Sergio.Prince@ocgov.com.